Why do you need packing slips? Free packing slip templates with Fordeer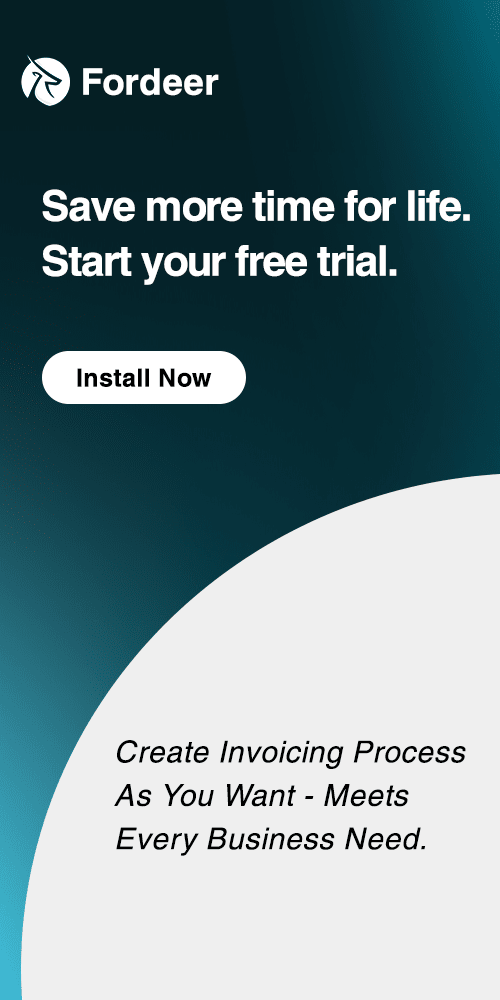 Nearly all parts of shopping can be done online in the digital age we live in, including getting our receipts emailed to us. Thus, you may be asking why packing slips are even necessary.
Don't, however, write them off right away! Packing slips are simple to complete and can help you save time and money, despite the fact that you might want to ignore them. A packing slip can act as a safety net, ensuring that your goods are packed and sent out correctly.
This article will discuss why it might be essential to your shipping procedure, some comparisons, and how to create free packing slip templates with Fordeer Invoice Order Printer.
Why are packing slips important to eCommerce business?
Despite the fact that we live in a digital age where online shopping for goods and email receipt issuance have taken center stage, the idea of the packing slip has received less attention. The majority of businesses and customers have access to their purchasing histories, but they are less interested in packing slips.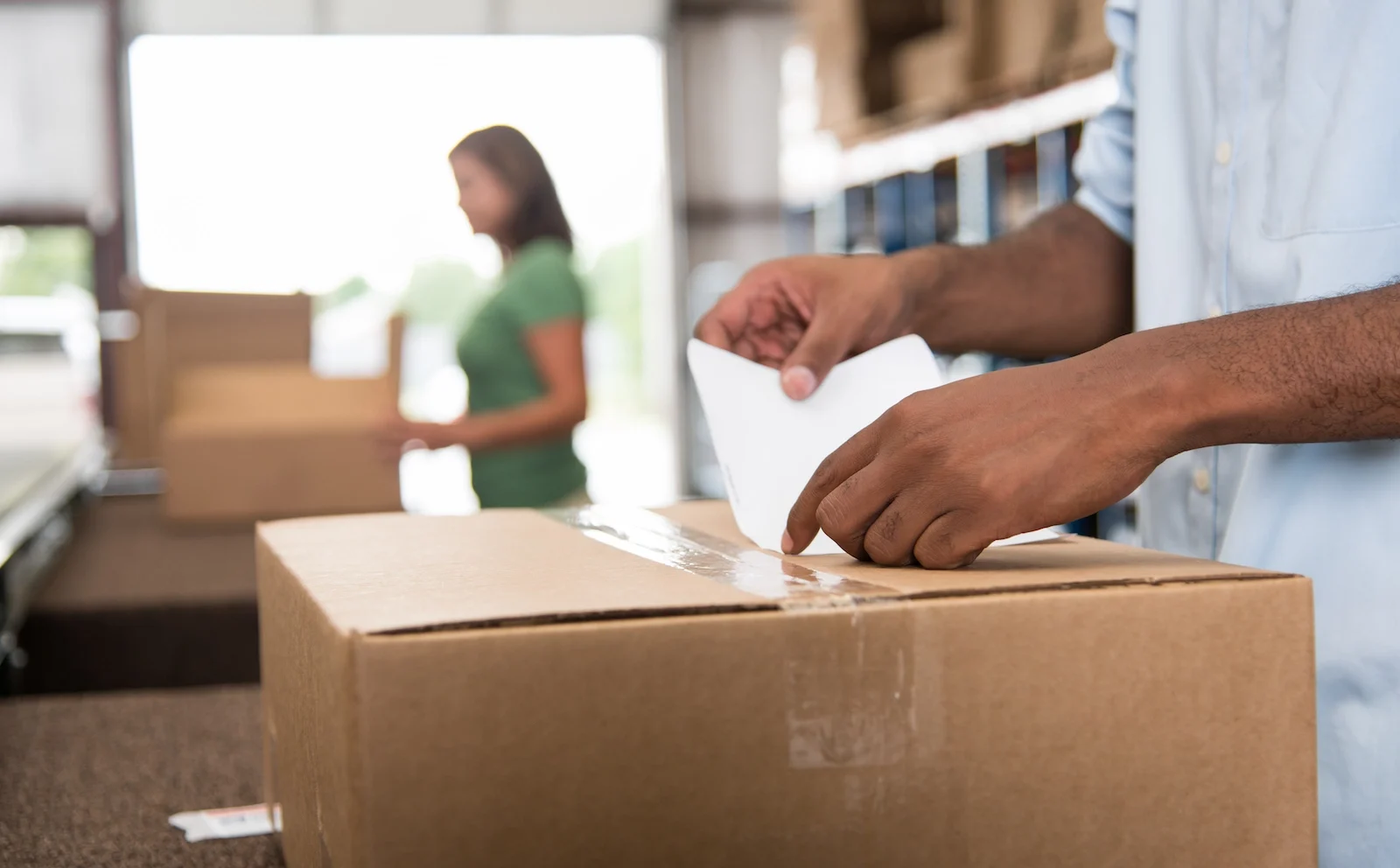 The majority of online customers have never bothered to look at their packing slip or check to see if it came with their item. To cut down on packaging waste, some platforms have started to remove packing slips from single-box deliveries. Nonetheless, packing slips are useful during the packing process and have a big impact on the world of e-commerce shipping.
Packing slips help to ensure that the shipment is complete and accurate
Before marking and sealing the package, a packing slip serves as a checklist to ensure that all orders are contained within it. Before approving shipment, the packer must verify and cross-check all orders, including the precise numbers of several SKUs. Before shipping, the packing slip is inserted into the box.
A packing list allows for easy tracking of all orders
Depending on the size of the order, the number of products, and the SKU location, which may be in separate warehouses, it can be necessary to divide a single order into many boxes. A packing slip may make it easier for the buyer and seller to stay organized when orders are packed in multiple boxes.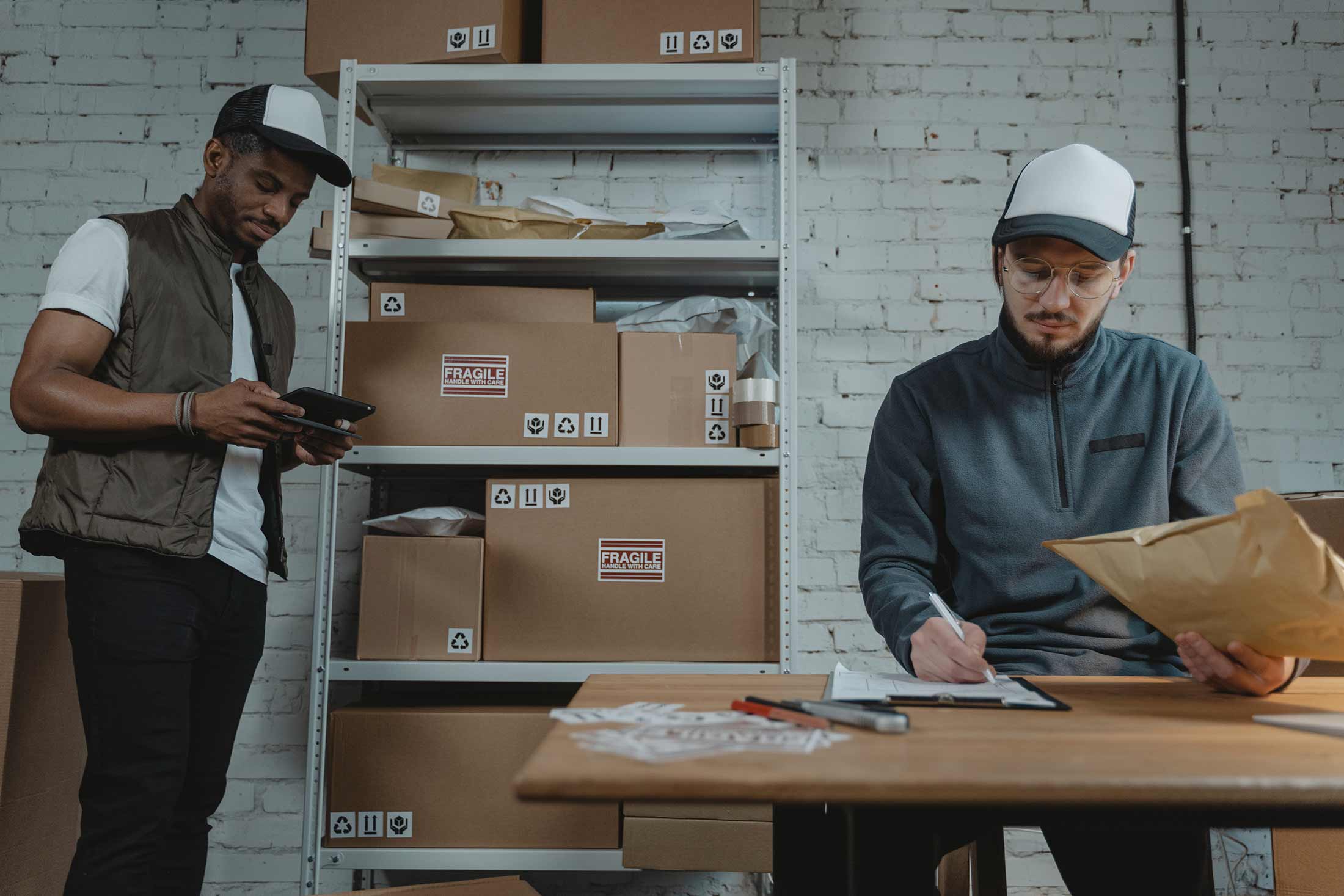 Identification of damaged items
Packing slips make it simple to identify and separate damaged goods. A packing slip will expedite the refund or resending of the package, whether there was damage to the entire package or just one fragile item that broke during transport.
A packing list serves as a confirmation that all items were duly received
A packing list is used to double-check every item before it is shipped out, preventing the situation where something is missing after the shipment has been delivered. Packing slips can be viewed as a record or paper trail that enables you to keep track of everything you shipped. When more than one package is used to ship an order, a packing slip may make it easier to see any mistakes when the package is received.
Packing slips give customers the ability to estimate the value of their shipments
A packing list may be used by customs to determine the shipment value for people who might be transporting goods to other nations. Customs may prefer a commercial invoice, which must include the product's description, value, terms of payment, and destination.
You can read more details about Shopify Packing Slip.
What is a return packing slip?
A collection of fields on a packing slip is used as a packing slip return form when customers send back orders. The customer gives details such as the reason for the return and the kind of reimbursement they want (cash or in-store credit).
Consumers then deliver the merchandise to the business along with the completed return form. Return forms are frequently designed to make it easier to complete the essential tasks after receiving the merchandise.
Packing slip vs shipping label
The information about the ordered item and its amount is shared on the packing slip. It is put inside the container.
The shipping company makes use of the shipping label. It is attached to the outside of the package and provides information that aids in the precise delivery of the box, including the tracking code and the customer's address. Moreover, it contains the sender's address, which is useful in the event of returns.
Product information is not printed on the shipping label since the shipping company is not concerned with what is inside the package.
Free Packing slip templates
There are several ways to create packing slips. Packing slip templates are available for Google Sheets and Excel. Using a labeling provider or generating them from inventory management software, you might select to print packing slips.
Whichever way you choose to go about it, make sure your packing slips are straightforward, understandable, and comprehensive. Not to mention, they need to have all of the necessary information, which is available in the Fordeer Invoice Order Printer.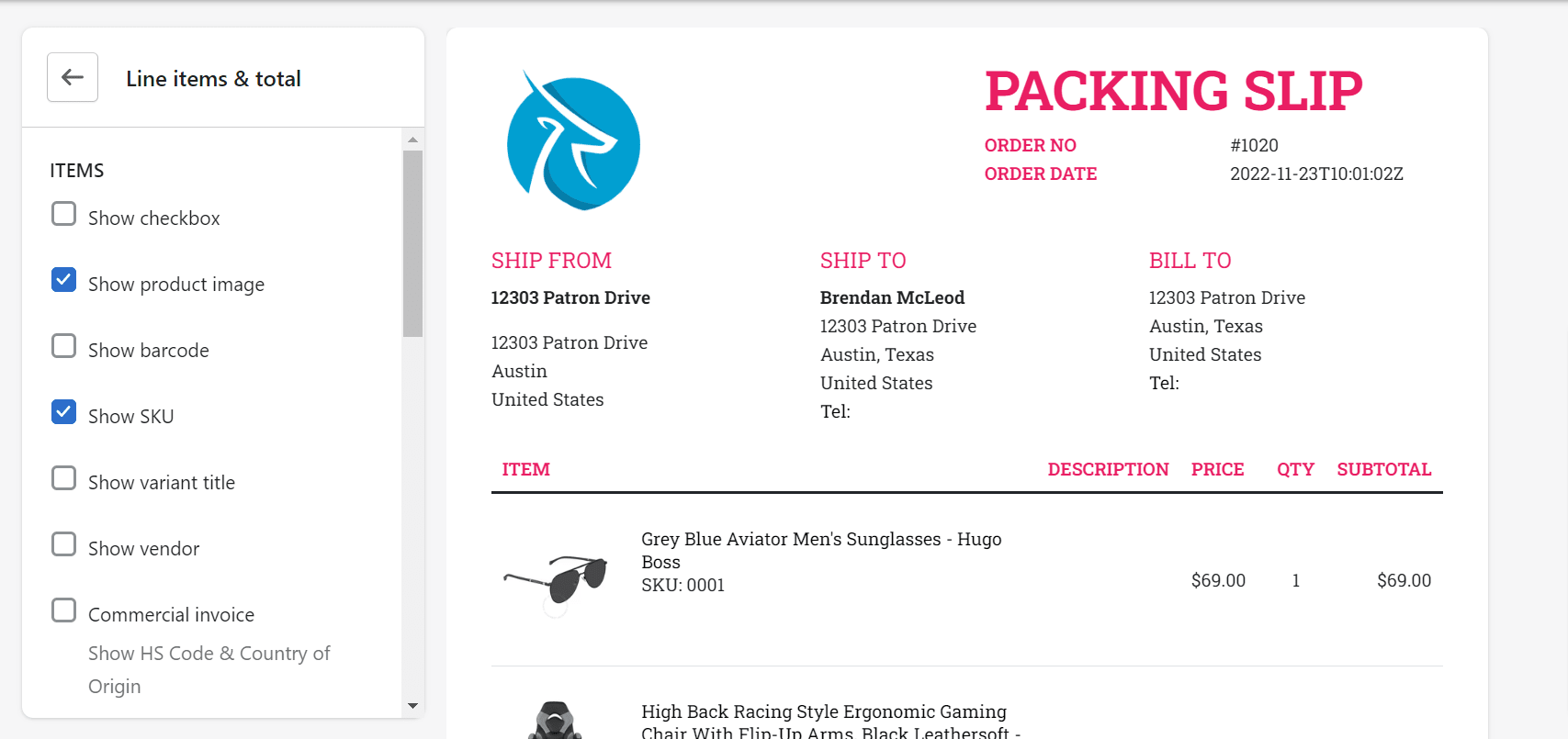 With the free Fordeer Invoice Order Printer, you can completely create your own dazzling and law-compliant packing slip templates. Once you have a brand idea, it would be beneficial if you stuck it with your packing slip. Your brand is the identity of your business.
Make sure your packing slip, packaging, as well as other billing documents, are as clear and organized as your blog, social media profiles, and online storefront. You don't want to give your consumers confusing information.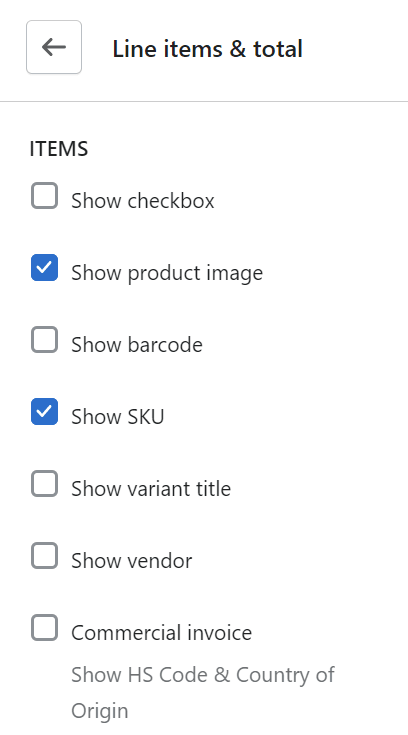 Here are some crucial components that might make your brand more dependable:
Tone and voice: What key characteristics do you want to convey to your audience? Establish a brand voice that captures your audience's attention.
Color palette: Brand color consistency aids in brand identification. Make visual assets consistent and not repetitive. Pick a primary color along with 3 or 4 complementary hues.
Logo: Plan how your logo will appear in various formats.
Images: Decide whether or not you'll use stock or proprietary photography and images.
Fonts: Usually, brands have primary and secondary fonts for titles, paragraphs, and captions. Consistent brand fonts help in brand recognition. Check out this template library that you can use for your Shopify store.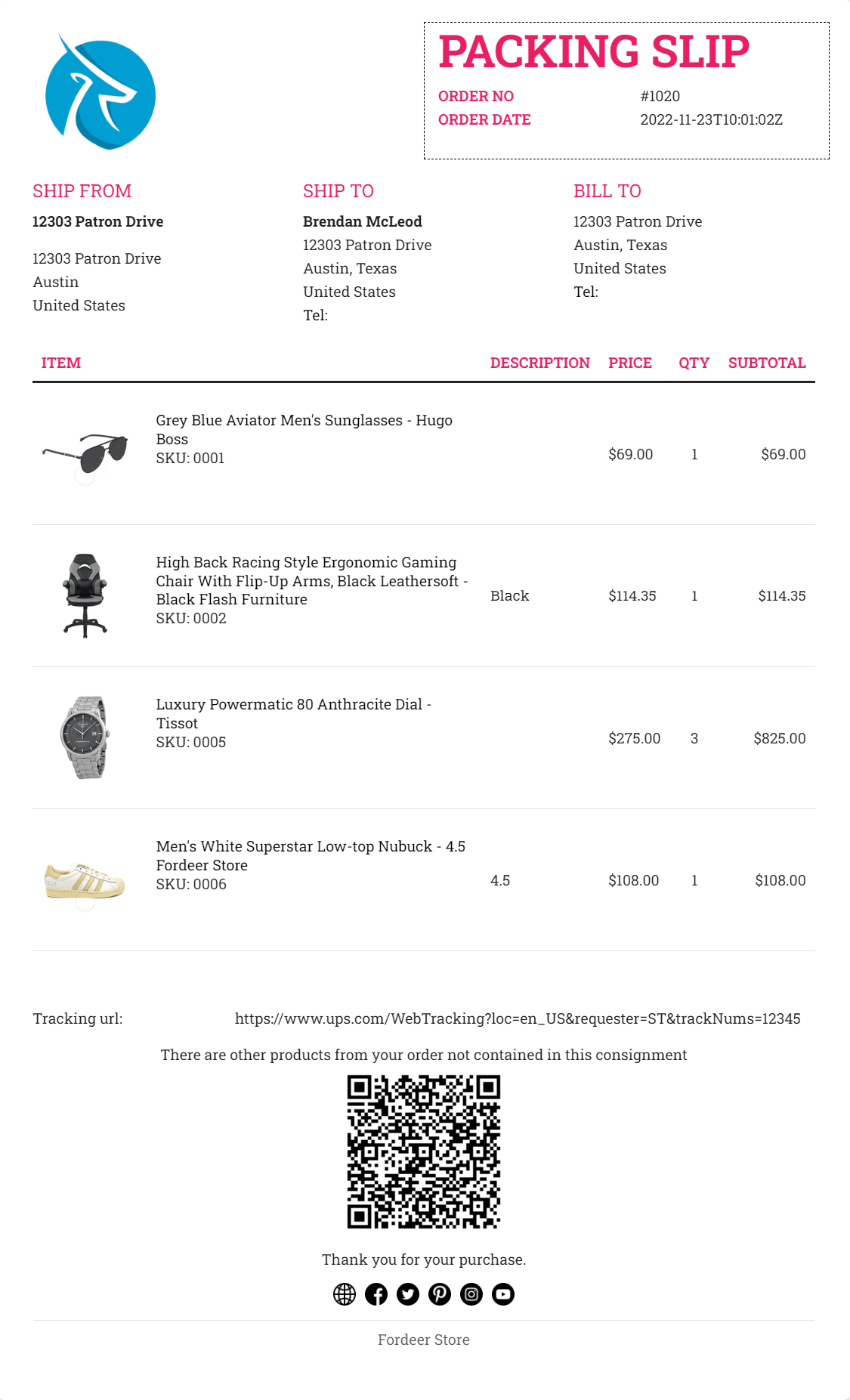 Fordeer enables you to have all the above elements displayed on the billing documents. You may also define any other characteristics and adjust the logo's width and height. Its font size and head color are customizable. You can substitute your company name alone for the logo. Again with the provision to modify its font and other details.
Explore more deeply here.
All in all
Your main source of income as the owner of an eCommerce company is from timely and effective shipment. Because the modern customer expects a product to reach securely and affordably in addition to being delivered from your warehouse to their doorstep.
Because of this, you're probably already constantly searching for methods to improve the effectiveness and precision of your inventory management and shipping procedures. Don't forget the importance of the simple packing slip as you proceed. In today's digital age, a printed packing slip can seem unnecessary, but it's actually an integral element of the customer experience.
---
👉 Fordeer, which is a start-up software agency in 2022, is so honored to be founded with the mission of producing support tools for businesses all over the world. "The great tools for the best businesses". Our highly qualified programming engineers, with all their passion, are always ready to dedicate themselves to creating the most useful apps for your business and Shopify online store.
📌 Fordeer Invoice Order Printer (FIOP) is a Shopify app, which was built as a professional alternative to Shopify Order Printer. With FIOP, you are able to "print" or "download" invoices, packing slips, orders, etc., in bulk and send them to your customers directly.
Learn more about app
.