Top Shopify Print-on-Demand apps in 2023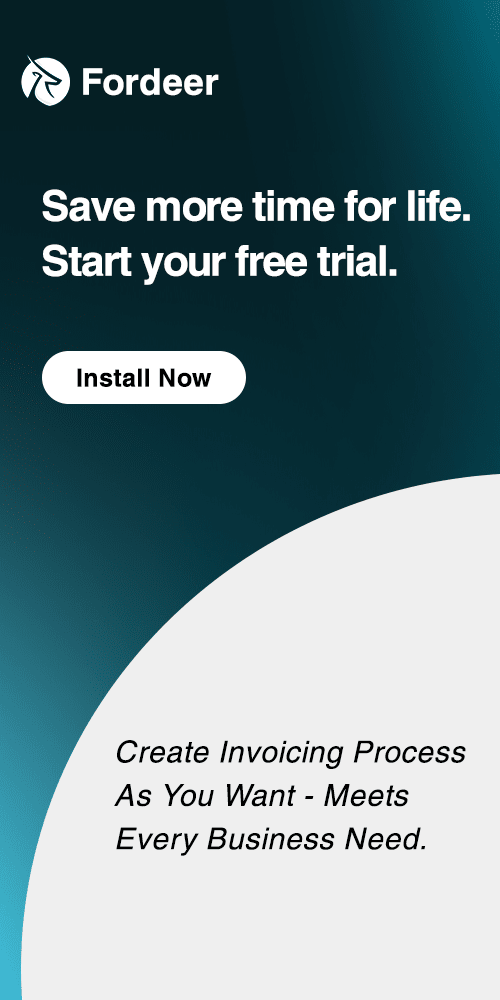 Are you new to the expanding print on demand industry? You have an interesting adventure ahead of you! You'll want to locate the ideal software to turn your artistic fantasy into an eCommerce reality after you've settled on a design, or even before that.
For your convenience, Fordeer has compiled a list of the top Shopify print-on-demand applications. Continue reading to select your Shopify partner and start selling print-on-demand goods right away!
Let's get right to it and avoid any unnecessary deliberation. Here are the top best applications that you may install and use right away on your online business.
Top Shopify Print-on-Demand apps in 2023
Printful - Largest Product Range
Due to its large assortment of print-on-demand items, Printful is a top option. We chose it to be number one on the list since it is also one of the top-rated print-on-demand dropshipping applications on Shopify.
Printful assists you in creating a design even if you don't already have one to use on any of their +250 items. Clothing, phone cases, jewelry, purses, shoes, wall art, magnets, pin buttons, pillows, drinkware, stationery, and even personalized book covers are among the things you may offer.
US-based Printful ships products all around the world. Download the Printful app from the Shopify App Store to get going. Depending on the weight of the order, Printful's standard delivery time is from 3 to 8 business days. Direct to garment, cut and sew (also known as all-over print), and embroidered printing solutions are available. On Shopify, the business has 4,173 reviews with a 4.6/5 rating for customer satisfaction.
Printify - Multiple Warehouses, Eco-Friendly Options
Another excellent choice for people wishing to begin selling print-on-demand goods is Printify. They have warehouses throughout the USA and Europe, which speeds up shipment.
A great selection of items is available. You have a choice of hoodies, t-shirts, baseball caps, beach towels, book covers, magnets, pin buttons, and business card holders, among other items.
A print-on-demand dropshipping provider is Printify. They provide a variety of environmentally friendly goods. For Printify, the typical shipping period is 3 to 8 days. On Shopify, Printify has 1,859 reviews with a 4.4/5 average rating.
Printify is one of your finest possibilities if you want to launch an eco-friendly print-on-demand company since they provide organic materials like organic cotton. For $29 per month, you may purchase a premium subscription that offers a 20% discount on all items.
SPOD - 48-hour Shipping Inside of US & Europe
The quickest print-on-demand software for Shopify, SPOD promises 48-hour delivery in the US and Europe. It is nevertheless important to note that quicker shipment times will increase your shipping expenses, which will reduce your profit margins. This must be taken into account while choosing a service.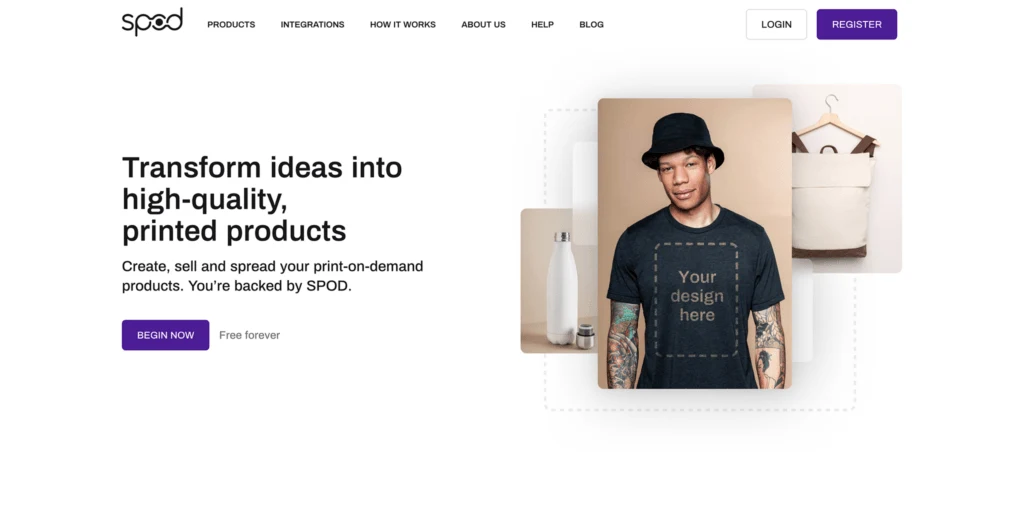 Clothing, bags, pillows, hats, drinkware, phone covers, buttons, stickers, wall art, and organic goods are all part of their product line. On Shopify, SPOD has 702 reviews and a 4.1/5 average. Rapid printing yielding 2,304 prints per day and quick delivery time. The typical product pricing is less than what the majority of print-on-demand suppliers provide. T-shirts start at $6.39, and shipping to the US is $3.57.
Teelaunch - Best Selection of Homeware Products
Teelaunch may be the perfect choice if you want to launch a brand for home goods products. You may choose from a variety of bespoke home goods at Teelaunch, including drinkware, wall art, furniture, cookware, clothing, and even items like shower curtains.
Teelaunch may be downloaded from the Shopify App Store to begin going. Depending on the country you are going to, there are many delivery choices for international shipments. Teelaunch, which offers a vast selection of bespoke home goods, has 620 reviews and a 4.2/5 rating on Shopify.
Gooten - Excellent For More Rare Items
Gooten can be your best choice if your target demographic is something different from the clothing example. The distinctive selling feature of Gooten is that they provide a large assortment of goods that many other Shopify print-on-demand stores do not.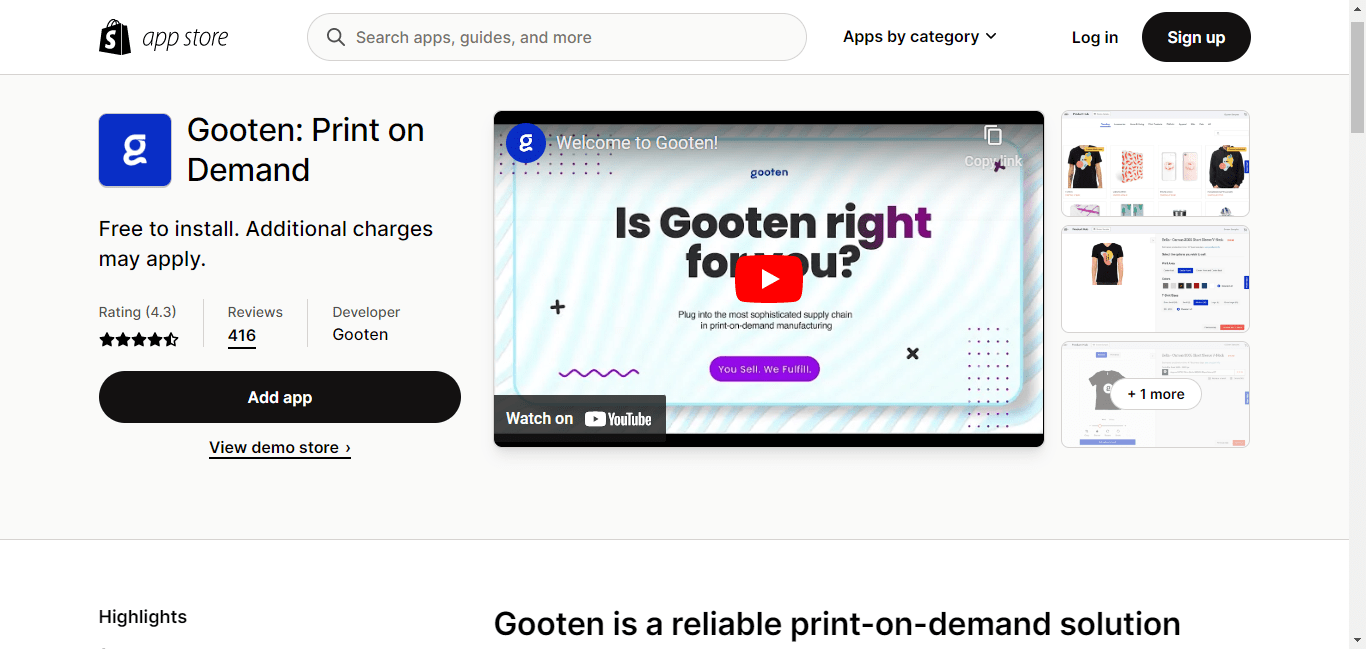 On Shopify, Gooten has 416 reviews with an average rating of 4.3/5. Gooten employs both direct-to-garment and dye-sublimation printing for the printing process. They provide a range of goods in specialties including the pet and infant industries, as well as drinkware, accessories, wall art, home & lifestyle, clothing, and even business cards.
JetPrint: Print On Demand
The distinguishing feature of JetPrint is the items it provides that many other Shopify print on demand stores don't. The two major items are shoes and watches, both of which may be quite appealing to many customers. On Shopify, JetPrint gets 270 reviews with an average rating 4.0/5.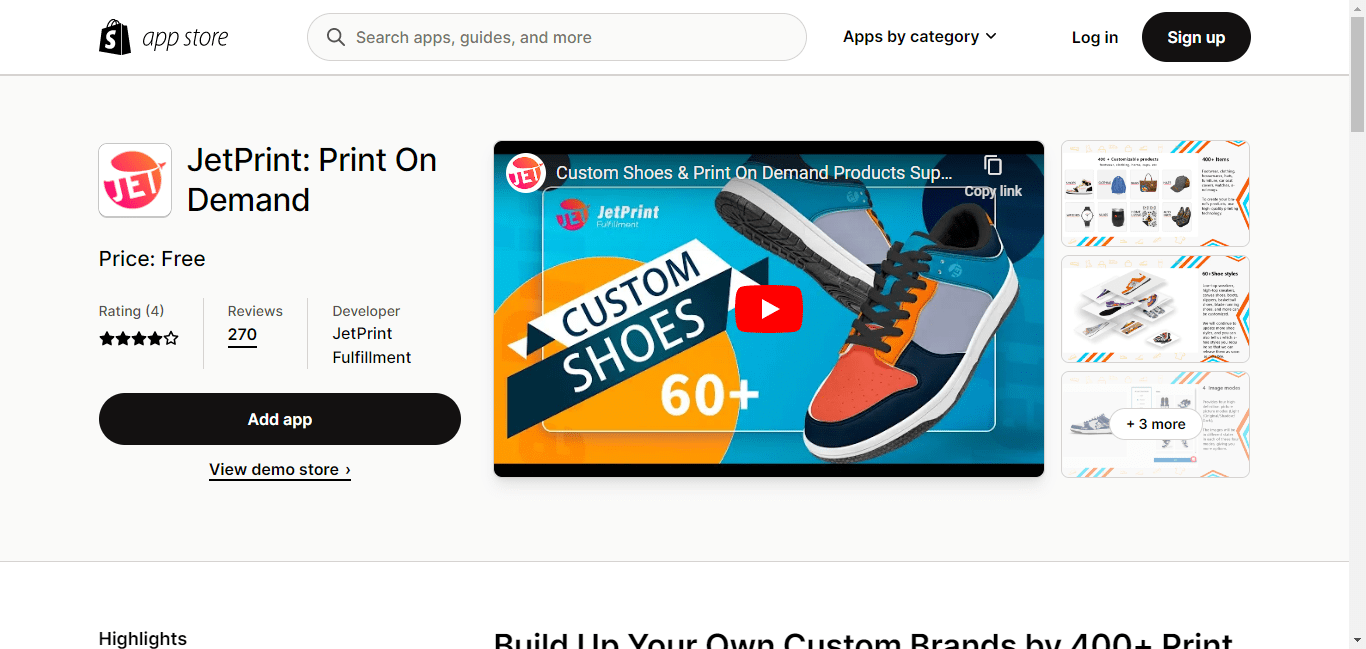 Lots of options when it comes to creating distinctive and appealing items with a solid product library. Products are often updated, and the main page prominently lists any new additions. No further charges are added; the price of the service is plainly stated. The use of JetPrint is also free.
TPOP: Ethical Print on Demand
A brand-new print-on-demand Shopify app with an innovative concept. TPOP is adamant about being environmentally responsible, from the use of only organic cotton and non-plastic packaging. TPOP largely adheres to vegan principles, and their printing process employs eco-friendly ink.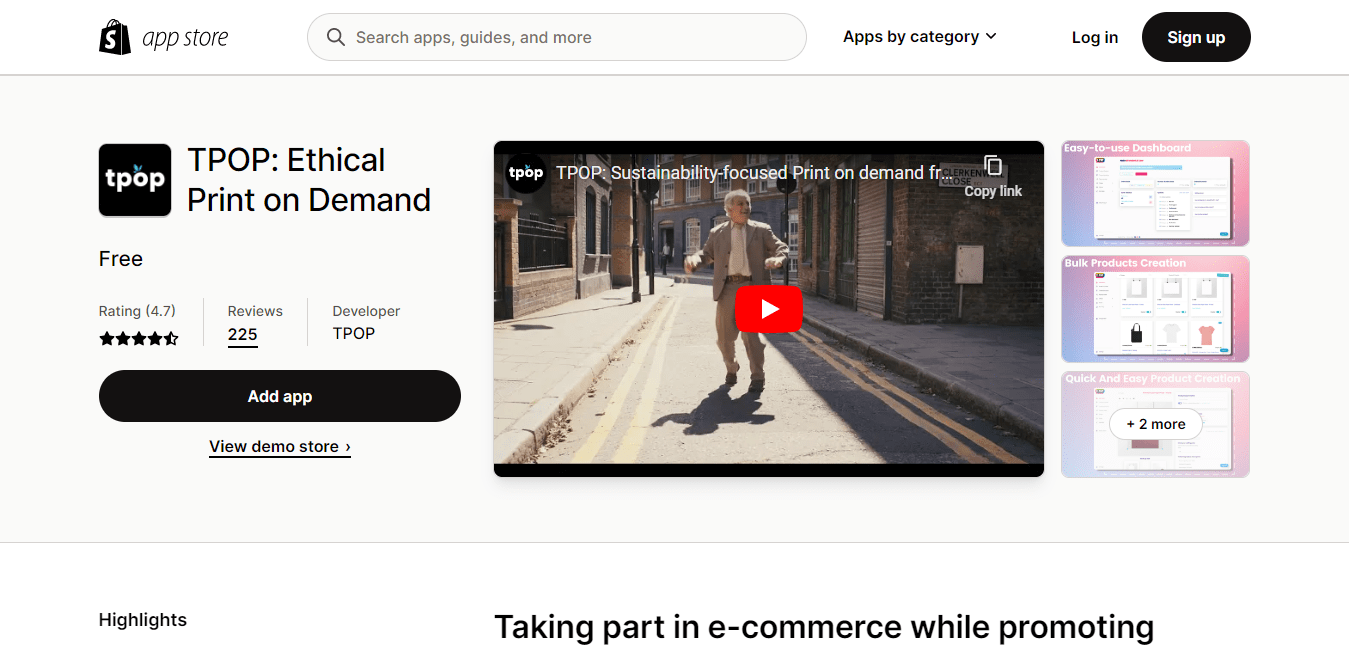 Not merely the operations are environmentally friendly. In comparison to most other Shopify print on demand apps, T-goods Pop's come in a staggering array of colors, including green, among many others.
On Shopify, TPOP has 225 reviews with an average rating of 4.7/5. TPOP retains a sizeable portion of each sale, although that is typical for an app of this nature. All pricing are quite obvious. The main selling point for environmentally conscious Shopify shops and their customers is T-green Pop's business practices.
Gelato: Print on Demand
Despite being a relative newcomer to the POD scene, Gelato is causing a stir thanks to its standout design and competent customer support. It provides a startling array of colors to pick from in addition to the traditional white and black when it comes to product design help. Gelato has 174 reviews with an overall rating of 4.5/5 in the Shopify app store.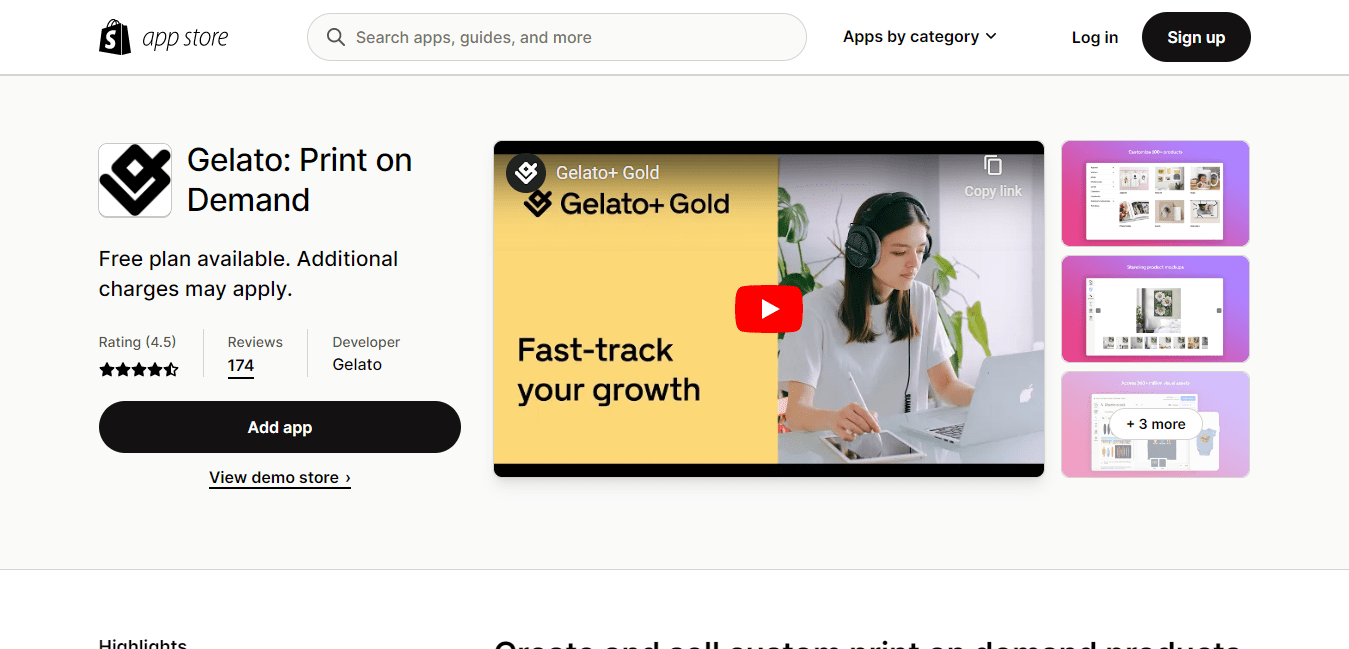 In the very similar realm of Shopify's print on demand applications, gelato offers something extremely unique. Its layout is exquisitely made, and navigating it is simple. The Gelato dashboard's sizable analytics section is a fantastic feature. Other POD applications just do not provide a large variety of in-depth analytics that we have. Wonderful design tools are quite simple to use, offer a ton of customizable possibilities, and have a ton of built-in assistance for novice printers.
Final Words
With the Print-on-Demand business, people are generating millions of dollars every day, and you might too. If you use the finest strategies and stay up to date with the most popular trends, your chances of success are excellent.
Go for it if your concept is sound and within your means. If you don't try, you'll never know what could occur!
---
👉 Fordeer, which is a start-up software agency in 2022, is so honored to be founded with the mission of producing support tools for businesses all over the world. "The great tools for the best businesses". Our highly qualified programming engineers, with all their passion, are always ready to dedicate themselves to creating the most useful apps for your business and Shopify online store.
📌 Fordeer Invoice Order Printer (FIOP) is a Shopify app, which was built as a professional alternative to Shopify Order Printer. With FIOP, you are able to "print" or "download" invoices, packing slips, orders, etc., in bulk and send them to your customers directly.
Learn more about app
.