Top Shopify PDF Invoice Apps in 2023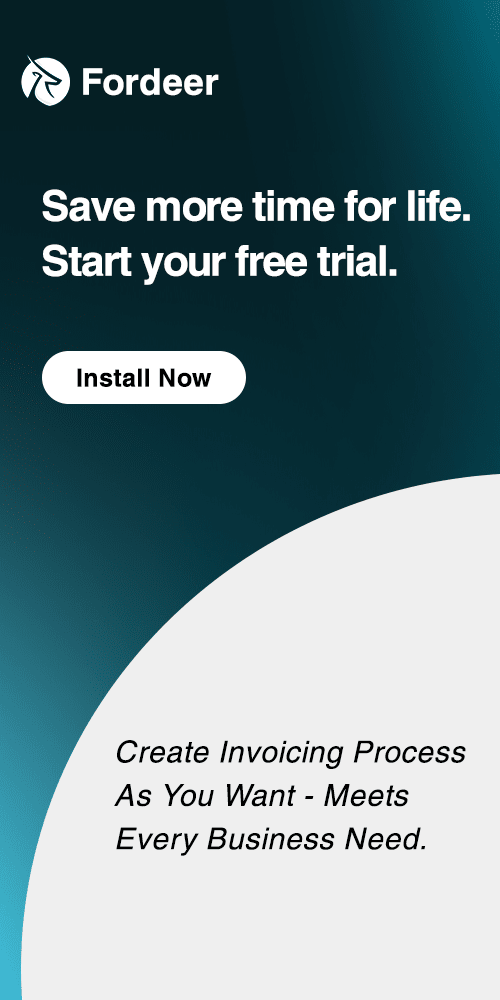 Have you ever had trouble creating invoices for your orders as a business that sells goods online using Shopify or any other e-commerce platform? Have you ever had problems getting them just right? Customers will use invoices to determine how much to pay you and the terms of the transaction. Invoices will also help you keep track of your sales and any taxes you may have collected. However, if you don't understand them correctly and find the right template for your business operation, they can become a big issue.
If you have a Shopify store, you may utilize Shopify PDF Invoice to expeditiously and consistently create excellent invoices. Fordeer will provide you with additional information about the best Shopify PDF Invoice applications in 2023 in this article.
Top Shopify PDF Invoice Apps in 2023
There are several of excellent Shopify invoicing applications to pick from. You could prefer an app that gives a straightforward method to keep track of invoices and payments, or one that includes more sophisticated capabilities like designing invoices, monitoring inventory, and connecting with accounting software.
Finding the best invoicing software for your company is simple thanks to Shopify's sizable app store.
Order Printer: PDF Invoice Pro by Vify
A contemporary yet comprehensive tool for personalizing invoices, packing slips, and refunds in pdf format is Order Printer by Vify. When compared to other Shopify invoicing tools, the support from Vify is quick and always willing to assist. In addition, the price is reasonable when compared to similar Shopify applications.
On January 8, 2021, Vify released this app with a number of helpful features. By default, 11 distinct templates are provided to merchants. To make each template more unique, it is simple to add or remove parts, change the color or add text. When certain actions or events occur, invoices are set up to be delivered automatically. Above all, utilizing a POS-like interface, retailers may independently create customized invoices and, if necessary, automatically send them to consumers.
Rating: 5/5
Mega PDF Invoice Order Printer by Architechpro OÜ
For online retailers, the Mega PDF Generator tool offers numerous standout features. One of its most useful advantages is that it enables store owners to create invoices with a lovely template and distinctive logos. Since this program doesn't require coding, even non-techies may utilize it effectively.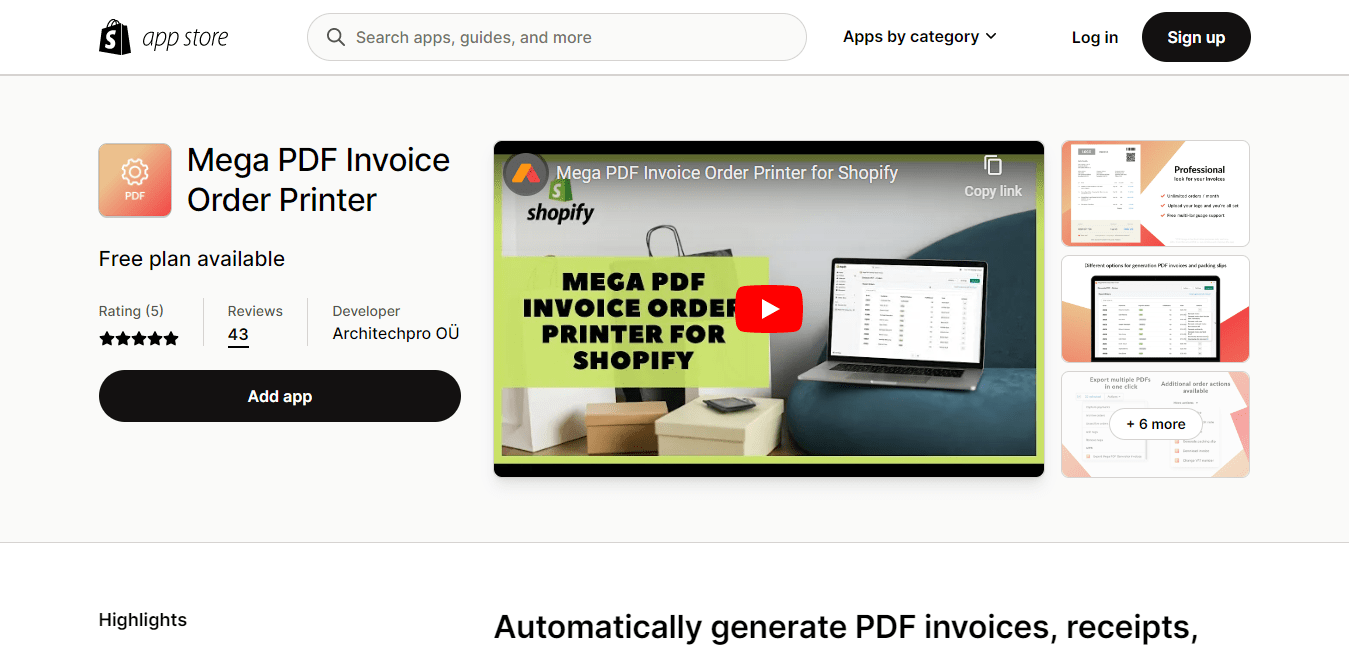 There are additional capabilities that allow customers to create draft invoices before making a final purchase. The Shopify store owners can decide to apply their discounts to any products in order to boost sales and client loyalty. Additionally, they may put extra details regarding tax calculation and shipping costs into the invoices to clarify things. To sum up, the PDF Generator App is a helpful tool for everyone who creates invoices.
Rating: 5/5
Fordeer: Invoice Order Printer by Fordeer
In the modern world, time is money which means that any shops that help their buyers save time on shopping will win in this competition. By creating quick invoices and simplify the order process, the Fordeer: Invoice Order Printer app will be one of the most effective tools for online sellers to boost their sales. Being launched on October 31, 2022, this Fordeer's app is a helpful assistant for all eCommerce store owners to create beautiful invoices with a professional-looking design.

With the Fordeer: Invoice Order Printer app, you will be able to speed up the processes of creating, sending, and printing invoices and other important documents such as packing slips, refunds, etc. to your clients. As a result, you can provide superior customer service and enhance the professionalism of your brand. Additionally, thanks to Automation Emails, your employees can also boost their work proficiency and precision, as well as save time and effort for both you and your clients.
Rating: 5/5
PDF Invoice: Order Printer+ by AVADA Commerce
One of the best order printer applications available is PDF Invoice, Order Printer by AVADA Commerce, which enables you to effortlessly print orders, invoices, and packing slips. More precisely, you may get a variety of pre-made templates from this incredible Shopify app, including PDF Order, PDF Invoice, PDF Refund, and PDF Packing Slip.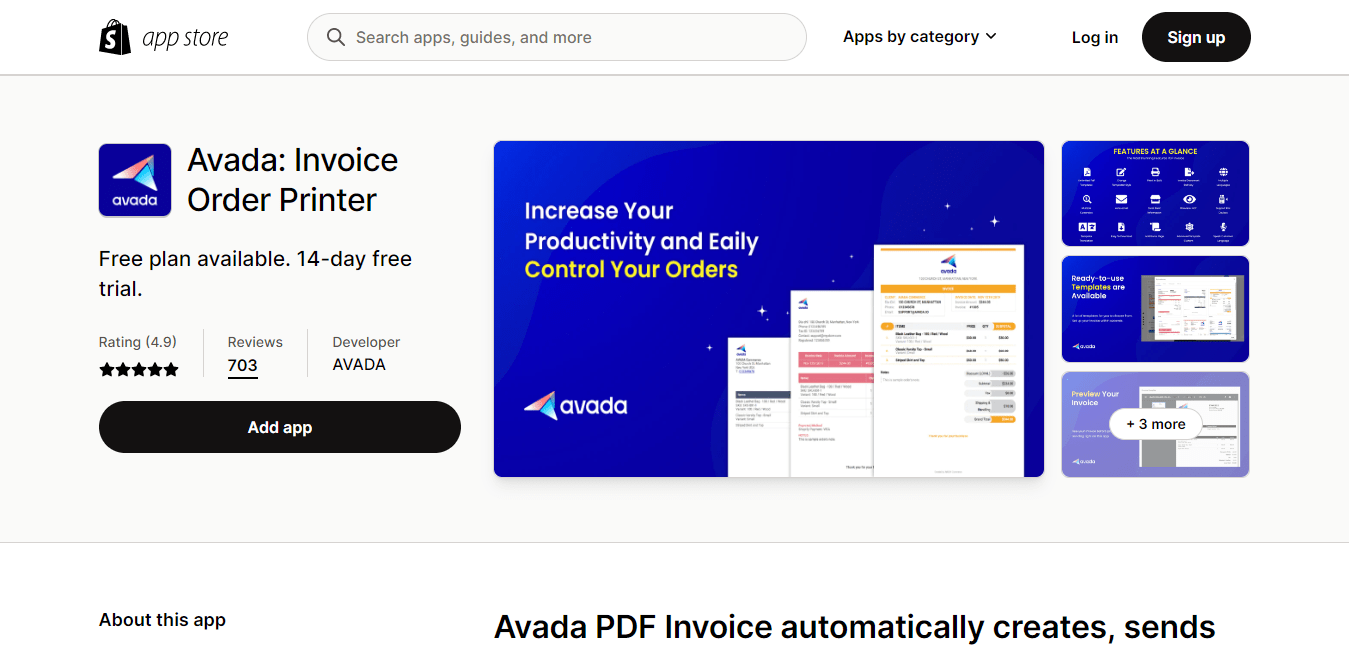 Particularly, these templates are editable, allowing you to quickly modify the accessible PDF templates to match your website. When your template is made available, this would assist to significantly reduce the amount of errors. Additionally, consumers may quickly and easily download and print their PDF invoicing documents from order emails using AVADA PDF Invoice.
Rating: 4.9/5
Order Printer Pro: Invoice App by FORSBERG+two ApS
The Order Printer Pro app was created by FORSBERG+two, a Shopify app provider, seven years ago in order to address this issue. Depending on client requirements, this app may support many Shopify orders at once. Additionally, this software enables users to write an order before finalizing their purchase.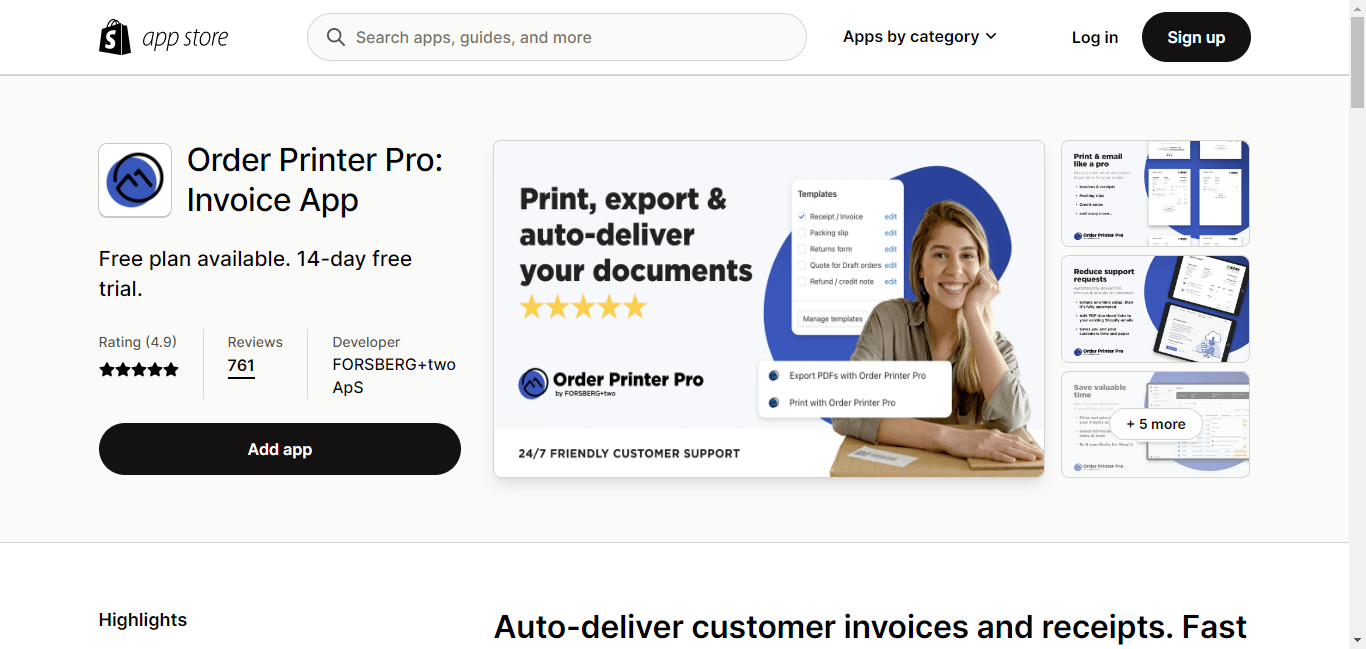 Installing this app on any Shopify store only takes a single click, and the entire procedure is automated. As a result, hundreds of Shopify businesses have implemented this Order Printer Pro, which enables increasing their sales. Additionally, this tool is integrated with Shopify POS and Mobile, enabling business owners to enhance their browser performance.
Rating: 4.9/5
Sufio: Professional Invoices
Sufio: Professional Invoices, created by the Sufio team, is an excellent tool for any e-commerce site owners worldwide to produce their own beautiful and distinctive invoice. Your invoices are automatically generated and sent by Sufio whenever an order is placed, paid for, or completed. Sufio offers you gorgeous designs from leading print designers as well as the option to modify the color scheme and other template features to generate unique invoices that reflect your brand. Additionally, this program aids in the creation of quotations, pro forma invoices, and credit notes, among other document kinds.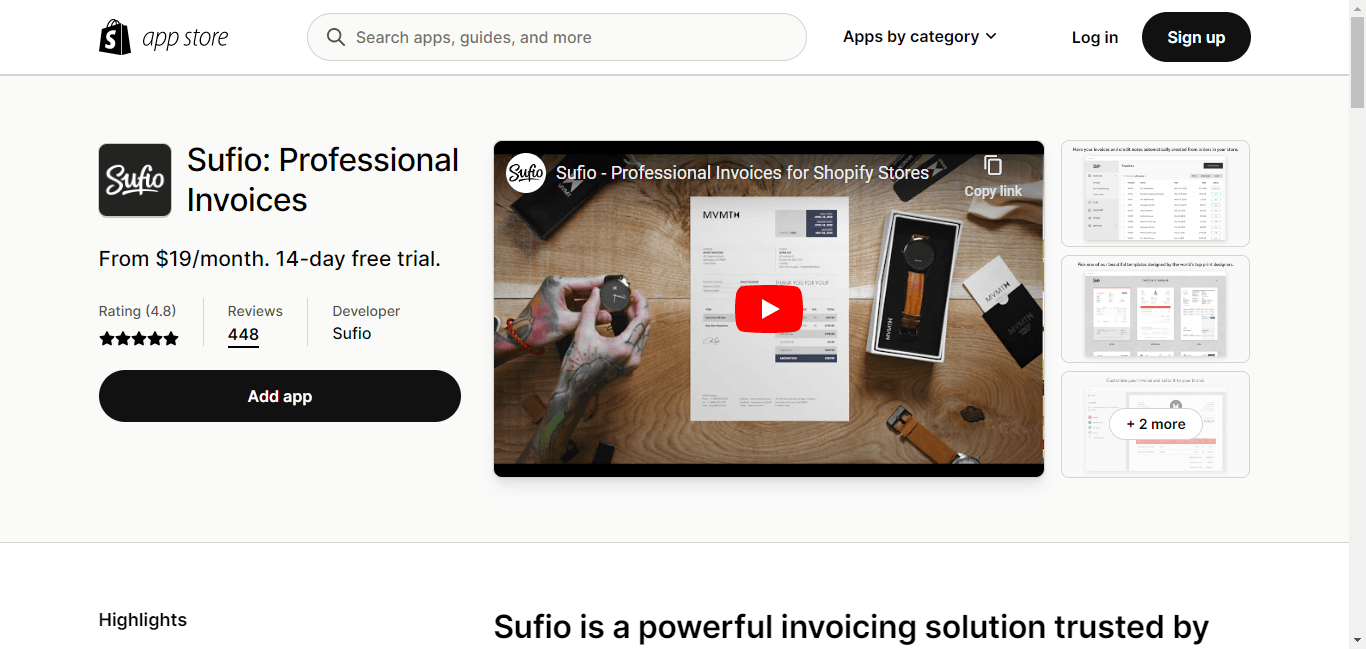 Additionally, this program supports over 30 languages and generates invoices in the local currency of your client. Sufio also has the great benefit of offering papers that are completely consistent with accounting laws in the US, Canada, Australia, New Zealand, India, Singapore, UK, Ireland, and other EU nations.
Rating: 4.8/5
Invoice Hero: PDF Invoices App by MLVeda
With the help of personalized invoices, store owners can increase sales and improve the professionalism of their businesses with the Invoice Hero Shopify app. The Shopify store owners that use this software can use numerous currencies and languages. Any customer visiting their stores will be impressed by a stunning invoice with striking logos.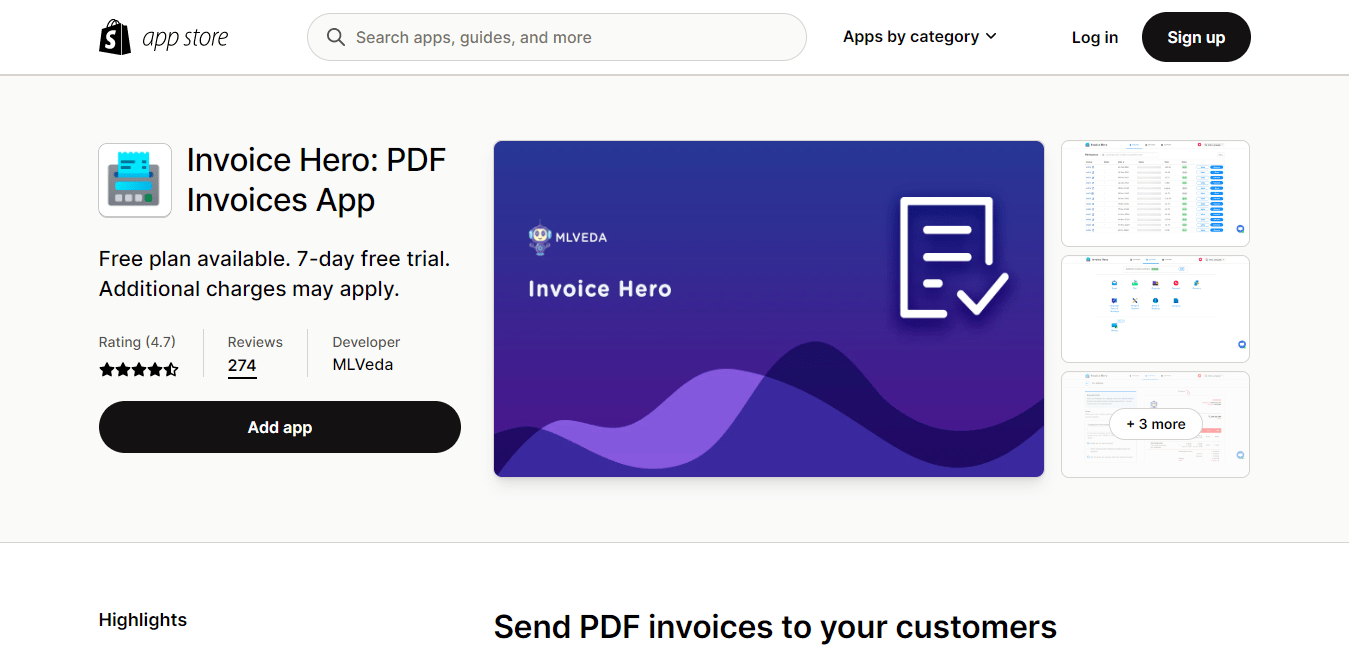 All these invoices will be generated with detail information about taxes, shipping cost, etc. The Invoice Hero also enables users to submit their invoices effectively via Email. On the product page, consumers have the option to download the invoices. It is simple for app users to contribute the trust for their consumers with clear PDF invoices.
Rating: 4.7/5
How to choose the most suitable invoice app for your Shopify store?
When selecting the finest invoicing application for your Shopify business, there are several things to take into account. The app's Shopify integration is the most crucial aspect. The simplicity of use, the features, the cost, and customer service are further crucial considerations.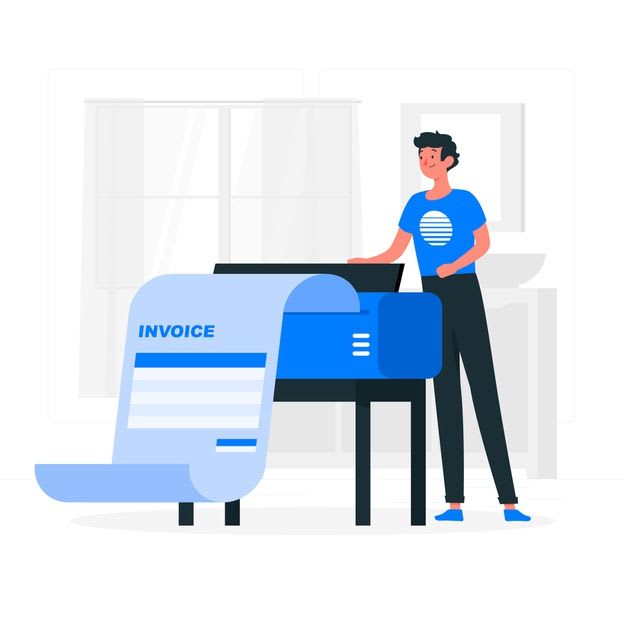 The top eCommerce platform, Shopify, gives consumers access to a variety of services. However, billing is one of the most crucial functions for any internet business. Creating and sending bills to clients is done using invoicing software. Being able to track payments and handle funds makes it an essential component of every internet business.
Although there are several Shopify invoicing applications, not all of them are equal. When selecting the best invoicing software for your Shopify business, consider the following criteria:
Integration with Shopify: The app and Shopify should work together effortlessly so that you can create and send invoices from your Shopify admin panel.
Usability: The application must be simple to use so that you can rapidly produce and send invoices without any effort.
Features: A variety of features, including the option to personalize invoices, automated reminders, recurring payments, etc., should be included in the app.
Pricing: The app should be suitably priced to avoid straining your company's financial resources.
Customer support: The app should offer excellent customer support in case you need help
Wrap up
Although it's a crucial activity for every e-commerce business, billing may be automated and doesn't need your personal attention. You may save time and concentrate on growing your shop with the aid of an app for invoice automation.
All of the invoicing applications that are included in this article are the finest in terms of their functionality, customer service, and cost. However, we are still unable to determine which particular invoicing tool is appropriate for your Shopify shop. Decide which of these top Shopify PDF Invoice app is ideal for you by considering your company's demands.
---
👉 Fordeer, which is a start-up software agency in 2022, is so honored to be founded with the mission of producing support tools for businesses all over the world. "The great tools for the best businesses". Our highly qualified programming engineers, with all their passion, are always ready to dedicate themselves to creating the most useful apps for your business and Shopify online store.
📌 Fordeer Invoice Order Printer (FIOP) is a Shopify app, which was built as a professional alternative to Shopify Order Printer. With FIOP, you are able to "print" or "download" invoices, packing slips, orders, etc., in bulk and send them to your customers directly.
Learn more about app
.