Top Print-on-Demand sites in 2022
Platforms for print-on-demand have completely changed how shops distribute their goods. Almost anyone can make a trendy design and have it reproduced on a number of t-shirts, mugs, water bottles, tote bags, or other products thanks to the effectiveness of a print-on-demand service.
However, how to find the top print-on-demand entrepreneurs? When initially starting in the print on demand field, many online businesses will have this question in mind.
Starting a business can be both daunting and thrilling. Since you will not have to worry about upfront investment, inventory management, or shipping, starting your own business with print on demand looks less daunting. Making a successful and lucrative print on demand store requires selecting the best print on demand supplier and visiting their website.
Thus, by evaluating their offerings and websites, this Fordeer's new article will assist you in selecting the top print on demand businesses for your online store.
Printify - The Best Effortless Print on Demand Product Solution
A small group of e-commerce specialists launched Printify in 2015, and since then, it has expanded to become one of the industry's top print on demand businesses with about 300 staff members. Printify, a print-on-demand company based in Riga, Latvia, will assist you in turning any ideas into a fully functional online store.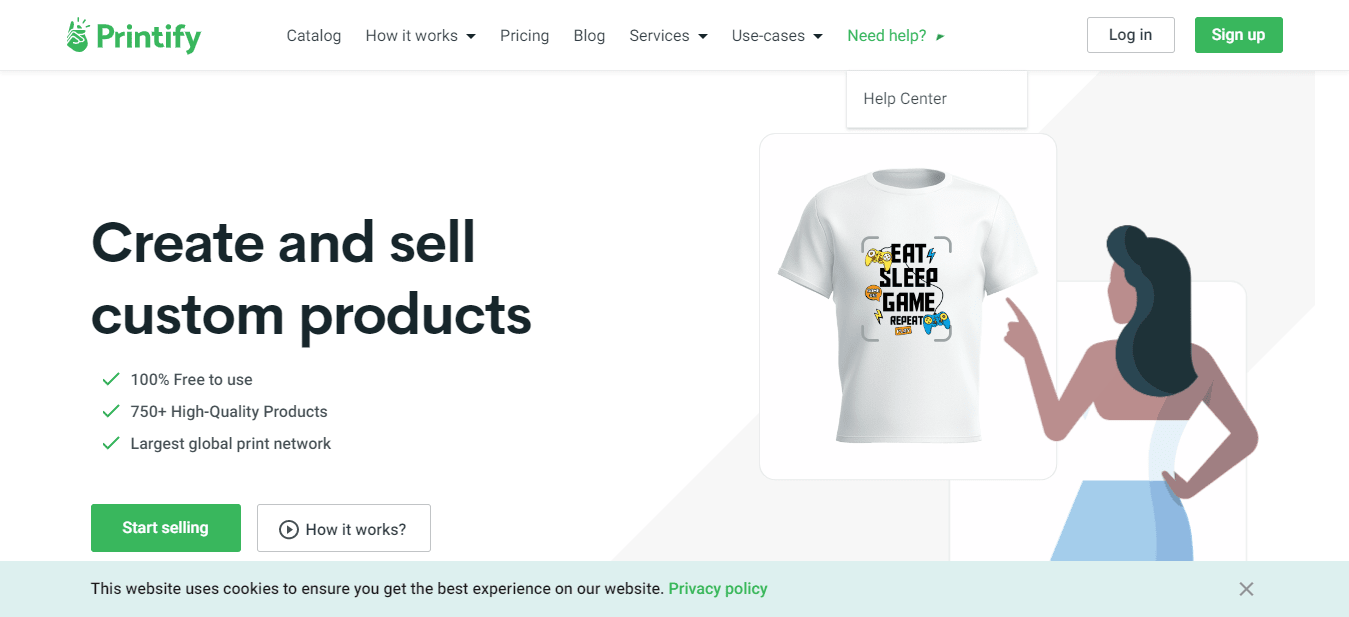 It's an easy procedure! Simply visit the Printify website and look through their selection. Choose the required item from more than 600 alternatives, and then indicate the printing company of your choice. You then have a variety of color options to select from, depending on the product and supplier. After choosing a product, you may upload a design and arrange it anyway you like.
The flexibility of Printify is one of its best features. You have the option to modify a hoodie's inside label or a t-one shirt's sleeve. This applies to every product in their line, including:
T-shirts
Hoodies
Backpacks
Canvas wraps and framed prints
Fridge magnets
Stickers
Water bottles
Skirts
Blankets
Sneakers
Phone cases
And over 250 more
Printify will take care of all business-related tasks after you've customized your products, including order fulfillment, manufacturing, shipping, and billing requirements. Simply unwind and sit back as the platform handles your sales. Know more about Printify - The best effortless Print on Demand product solution
Printful – The Best Option for Fast and Free Shipping
T-shirts, posters, mugs, phone covers, and a broad variety of other print-on-demand goods are available from Printful, a print-on-demand and drop-shipping business. Printful, a company with headquarters in Charlotte, North Carolina, employs more than 1000 people and has fulfillment facilities throughout Europe and North America.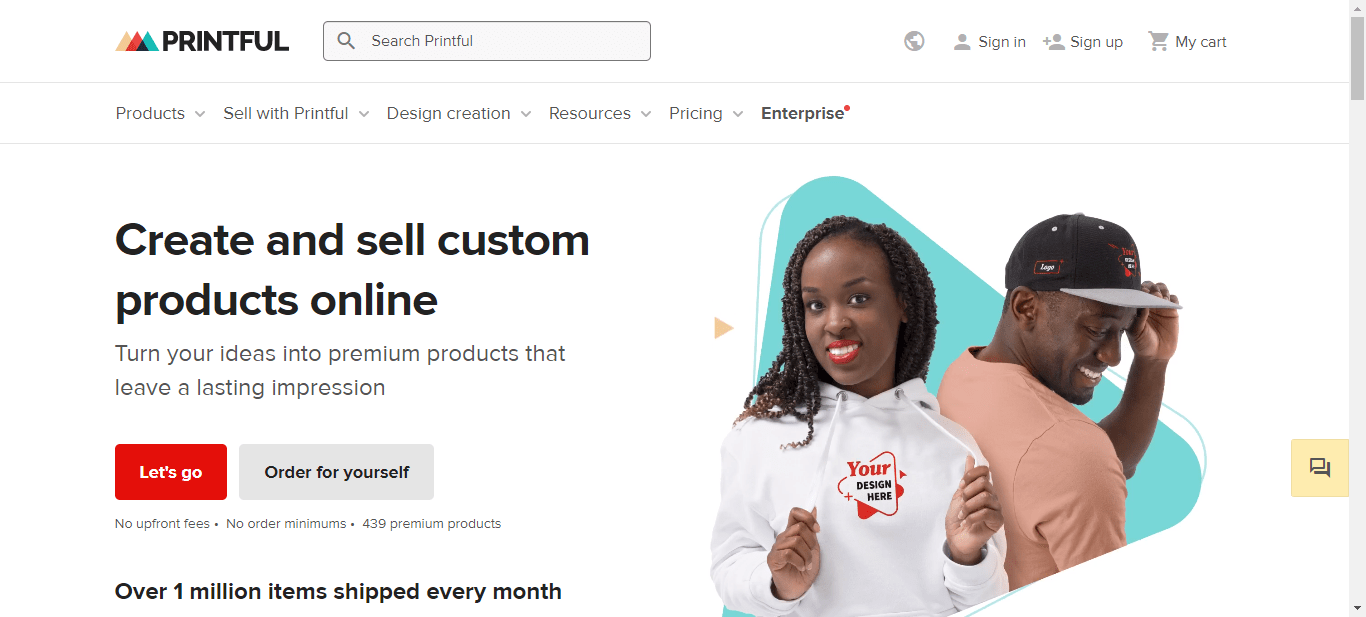 To assist promote another product line or encourage repeat business, you may also add your own branding to your items and packaging at an extra expense. This includes inner labels and package inserts. In addition, Printful provides marketing films and graphic design services, as well as up to 30% off bulk orders.
Product catalog:
T-shirts
Sweatpants, leggings, and joggers
Tote bags and backpacks
Mugs
Phone cases
Bean bag chairs
Framed posters
Prints
And over 220 more
This firm merits consideration because of its extensive POD services. However, the cost is rather exorbitant when compared to other industry rivals. A lucrative and enduring firm may be built with effective pricing, especially in a sector like print on demand where the profit margin is quite low.
Nonetheless, Printful is the ideal choice for you if you're searching for a print-on-demand company that provides quick and free shipping. Printful makes it simple to add print-on-demand goods to your existing business and start selling right away thanks to its extensive integrations and customization possibilities. See what a user-friendly print-on-demand website can do for you by checking them out. Try Printful.
Redbubble – Best Print on Demand Site for Artists
Redbubble is one of the most popular print-on-demand marketplaces in the world. Over 700,000 artists and designers use it to sell their designs on custom merchandise to customers all over the world.
Compared to the print-on-demand websites we've previously examined, Redbubble is unique. It's an online marketplace, not a fulfillment service or an e-commerce platform, where over 34 million customers every month go to purchase distinctive goods created by artists.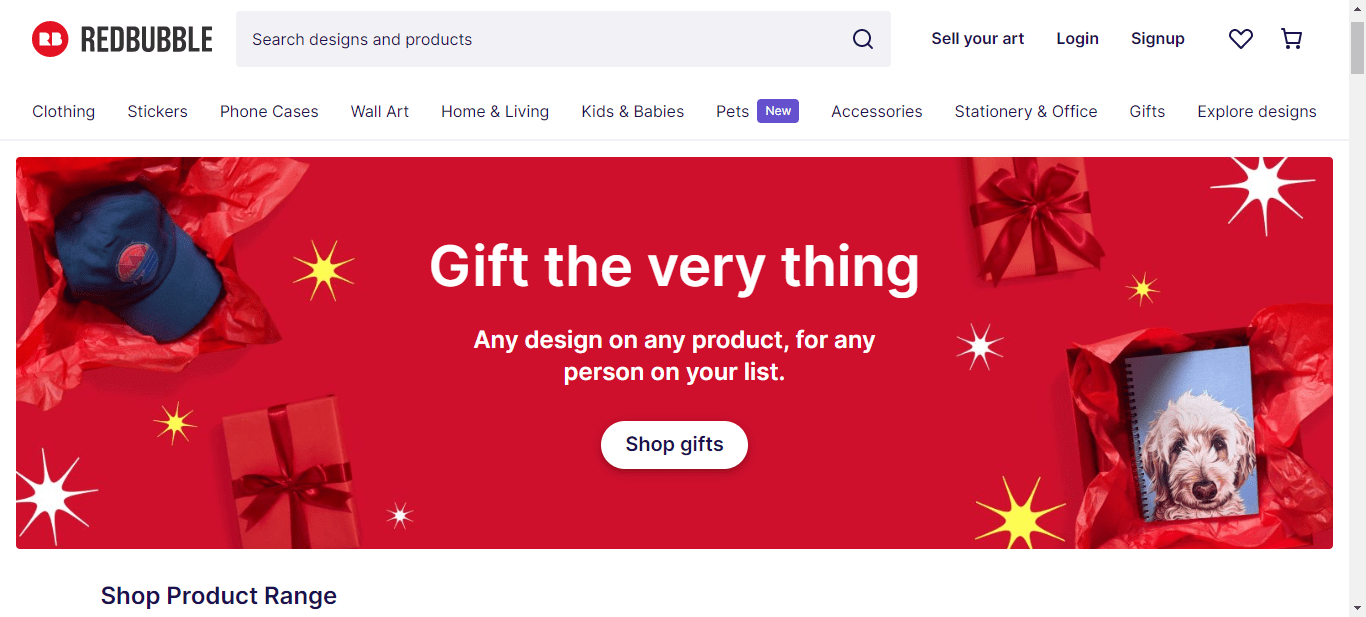 On Redbubble, anyone can start a store and take use of the enormous client base. There are over 70 things to select from, including t-shirts, mugs, and masks. All you have to do is sign up, submit your designs to the products, and wait for sales to start coming in.
When you sell on Redbubble, you don't have to waste time creating your own website. It pays for their own Google Shopping Advertising and retargeting ads. Overall, it doesn't take much time input, which makes it a fantastic option for novices.
The fact that Redbubble has adjustable pricing is another awesome feature. There is no upper limit to the amount you may make because artists can choose their own profit margins. Additionally, because Redbubble is such a well-known and popular marketplace, its users are frequently more prepared to pay more for a product, provided that it is worthwhile, than users of other platforms.
Sellfy – The Best Choice for Starting an Online Store
In contrast to the other companies on this list, Sellfy is a full-featured ecommerce platform, much like Wix or Shopify.
Sellfy, however, offers print-on-demand fulfillment services, so you may market your own personalized POD merchandise through your Sellfy shop, in contrast to these conventional e-commerce platforms (as well as regular inventory and digital products). Additionally, as Sellfy is a full ecommerce platform independent of any marketplace, you have total control over the appearance of your shop. You get to completely construct your own website using your own branding and domain.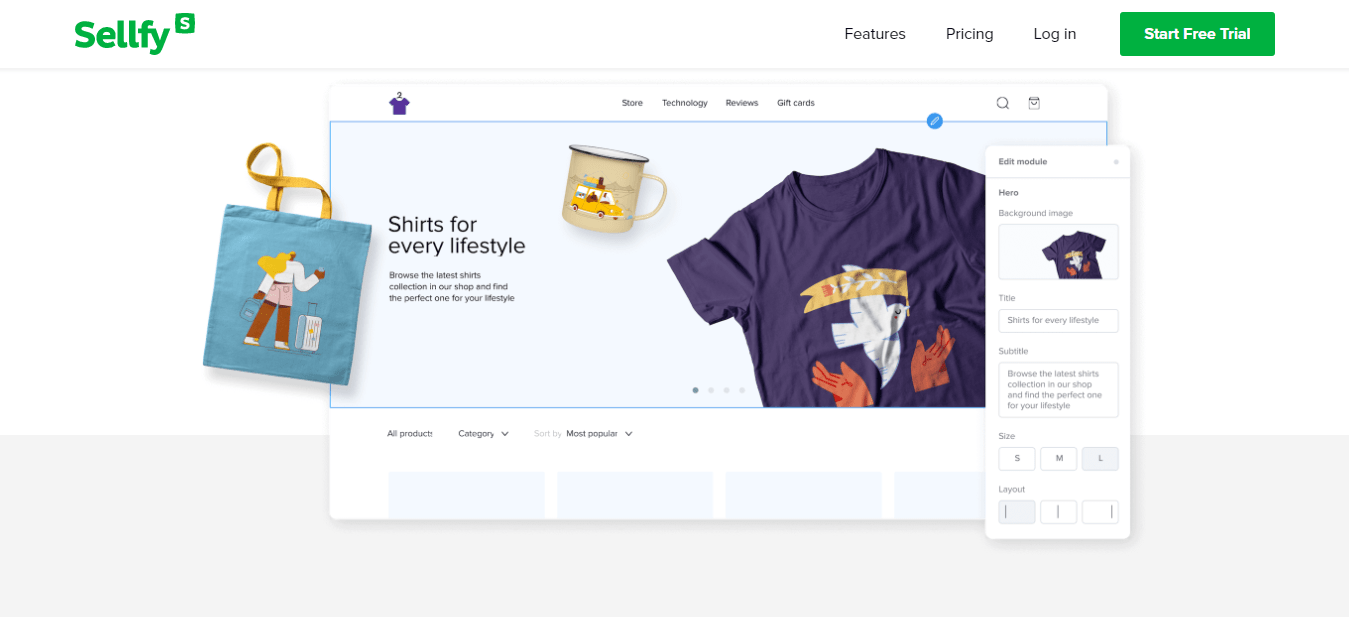 From there, you can develop your designs and upload your print-on-demand goods to your product catalog using the built-in tools. After that, all you need to do to start selling is establish your prices.
Sellfy will handle order fulfillment when a client submits an order. You merely pay for the base item cost plus taxes and shipping, and they take care of printing, shipping, etc. The most well-liked products are clothing, bags, phone covers, mugs, and stickers. Sellfy charges you and the price you charge for the goods. You also may add your own unique labels, embroidery, text, and graphic prints if you offer customized garments.
SPOD - The Best Sustainable and Eco-Friendly POD
Another top print-on-demand website is SPOD. It is run by Spreadshirt and distinguishes itself by emphasizing sustainability and quick, trustworthy shipping.
Like Printify and Printful, SPOD is primarily a print-on-demand fulfillment company. The process is the same: you just join up, link it to your online store, add your items, and let SPOD do the rest. You only need to handle sales; they take care of the logistics of printing and delivery.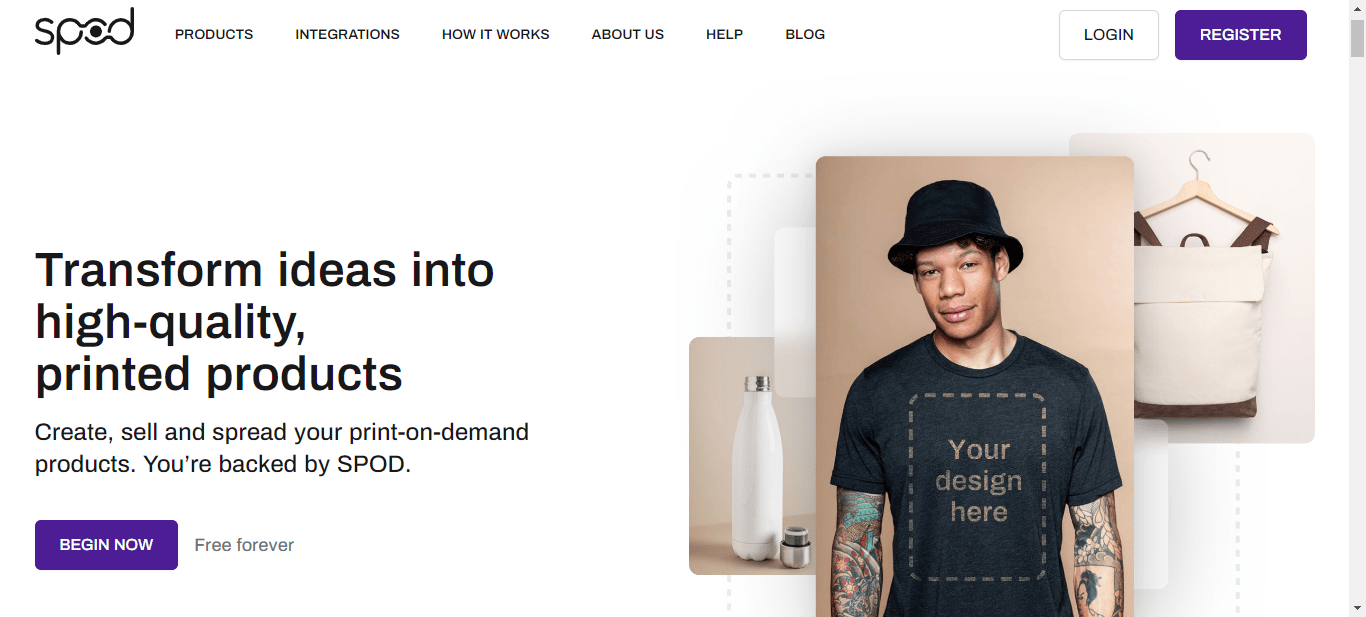 However, there are a few aspects that set SPOD apart from its rivals. First of all, compared to others, it is a lot "greener" print-on-demand business. To lessen its influence on the environment, SPOD sends items in plastic-free packaging and employs water-saving printing methods.
Using low-impact materials like organic cotton farmed in Turkey, SPOD provides a sizable and expanding "organic selection" of goods. To prevent waste, all products that are returned to SPOD are recycled into insulation or given to charity. You can sell to consumers anywhere in the globe because they have facilities in the US and the EU.
Zazzle – A Longstanding Leader in Print on Demand Services
Zazzle is another well-known print-on-demand platform where designers may sell their products. With more than 10 million visitors every month from shoppers throughout the world, it isn't nearly as widely known as some others, but it isn't far off.
Zazzle is an online marketplace for custom merchandise designed by artists. It's been around since 2005, so it's got a solid reputation and a steady customer base. You can open up an online store and start selling POD merch through Zazzle. Categories include clothing, drinkware, posters, and super-niche products like beer pong tables and baby bibs.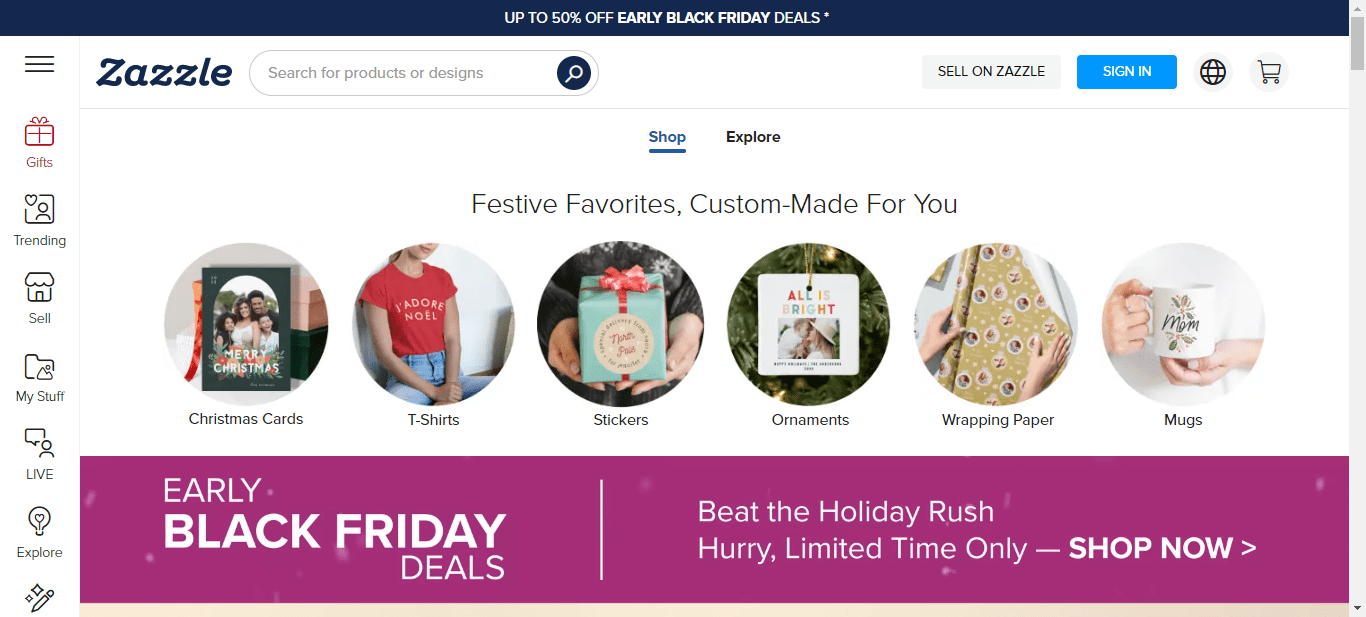 You may pick your own royalty rates, and you will be compensated each time a product with your design is purchased from the marketplace. Zazzle handles all aspects of fulfillment, including shipping, printing, and customer support.
Zazzle also allows for the acceptance of bespoke orders. You may earn paid to make consumers' design ideas come to life if you register as a LIVE designer!
The one thing seems like a drawback of Zazzle is how oversaturated the market is. There are many designers using the platform, thus there is intense rivalry. If you want to differentiate yourself from the competition and generate sales, you must build something that buyers actually desire.
Merch by Amazon - POD of One of The Best online Selling Platform
The POD branch of Amazon, one of the best online retail sites in the world, is called Merch by Amazon. The Merch by Amazon website, which was created by Amazon, is the preferred option for thousands of Amazon-based businesses. Based on one of the biggest online marketplaces, the merchants may easily and quickly access a significant number of Amazon customers. Note that you must apply to become a seller before using it because it's invite-only.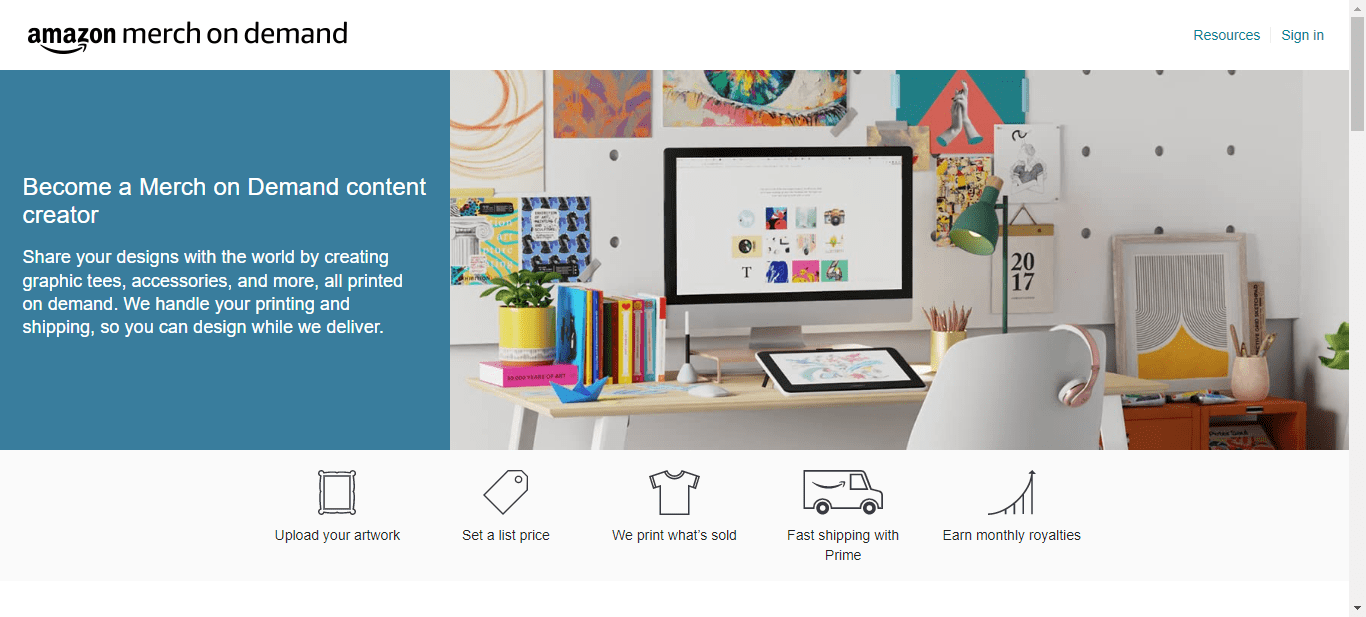 The world's most popular online retailer, Amazon, is the perfect spot to offer your custom-designed goods for sale once you've been granted membership in the Merch by Amazon program.
This makes it much simpler to make sales without spending a fortune on marketing given how many people use Amazon every day. The sky is the limit in terms of how much you can make because you can establish your own margins.
Your items will arrive at your consumers' doors more quickly thanks to Merch by Amazon's printing and shipping capabilities, which are undoubtedly the fastest and most dependable in the industry. Happy consumers are more inclined to make more purchases from you as a result of this.
---
👉 Fordeer, which is a start-up software agency in 2022, is so honored to be founded with the mission of producing support tools for businesses all over the world. "The great assistance tools for the best businesses". Our highly qualified programming engineers, with all their passion, are always ready to dedicate themselves to creating the most useful apps for your business and Shopify online store.
👉 Entrepreneurs need to focus on customer service and maintaining a credible brand image if they want to achieve long-term and sustainable success, regardless of the business model they pursue. Therefore, finding and selecting the appropriate business support tools is extremely crucial. That's why we have launched an app in order to help you swiftly and conveniently resolve any invoice-related issues at a reasonable price. Let's experience it with our
Fordeer Invoice Order Printer
.