Top Must-Have Free Shopify Apps for Your Online Store 2023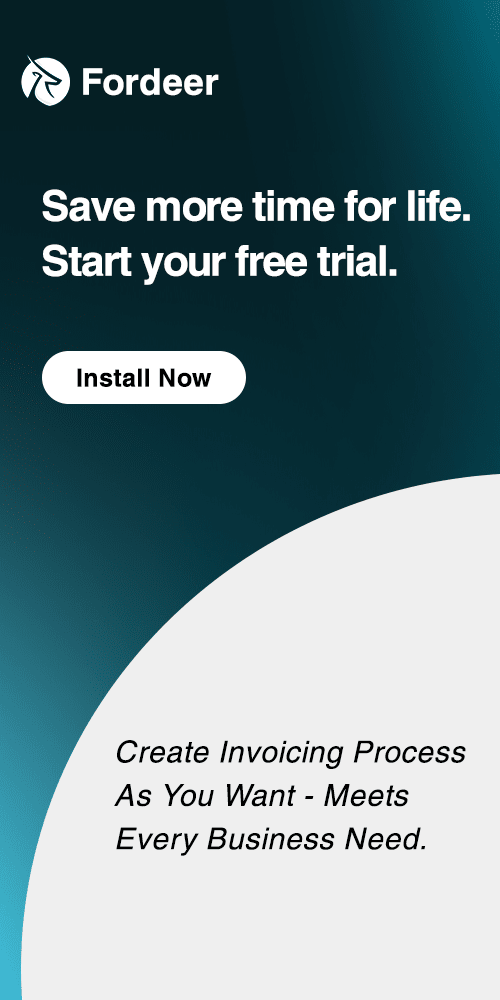 Adding applications to your Shopify-powered e-commerce store might be costly, but they can bring a lot of value to your online store. We'll walk you through the greatest free Shopify apps on the market that you should install right now.
Whether you use a dropshipping importer or an email marketing service, you can quickly build your store—even on a low budget. They must exist. Shopify apps offer free choices and paid ones that can scale with your e-commerce business regardless of budget.
So let's get started listing the must-have free Shopify apps available.
Top Must-Have Free Shopify Apps for Your Online Store 2023
UpPromote Affiliate & Referral
With over 90,000 users globally, UpPromote is the top-recommended affiliate marketing/referral app in the Shopify App Store. It is an all-in-one app that enables businesses to drive growth and boost loyalty through building affiliate and referral programs. With UpPromote, brands can power affiliate, referral, loyalty, and influencer marketing to create growth loops around affiliates and customers.

UpPromote is the ultimate app that makes it easy for businesses to find and manage their affiliate network and brand ambassador collaborations. With customizable forms, links, coupons, and affiliate portals, businesses can easily tailor everything to their brand. Shopify merchants can also create referral programs that incentivize word-of-mouth marketing and reward customers for referring their friends. Additionally, UpPromote offers flexible pricing options to cater to the needs and growth of any business.
Ryviu is a review app designed for eCommerce platforms like Shopify, WooCommerce, and Prestashop. It allows store owners to import customer reviews from AliExpress, Amazon, and other major marketplaces, and display them on their own website to build trust and social proof among potential buyers.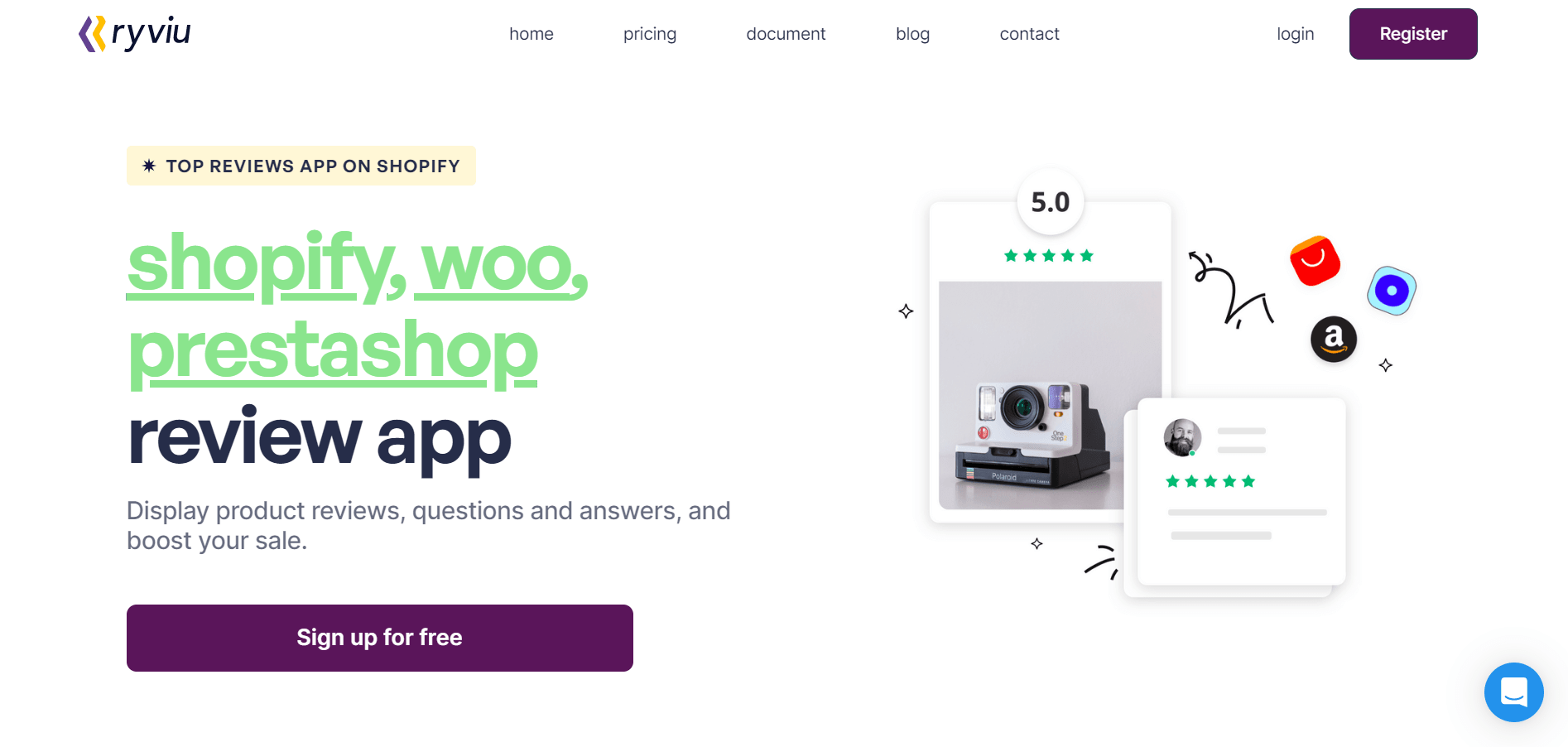 The app offers a range of customizable templates and widgets for displaying reviews on product pages and also provides a dashboard for managing and moderating reviews. Store owners can reply to customer reviews and use the feedback to improve their products and customer service.
Ryviu also offers a range of additional features, such as the ability to send Shopify automated emails to ask customers to leave reviews on your store, social sharing options, and filter reviews by rating or keywords.
Overall, Ryviu is a user-friendly and effective review app that can help online store owners boost their credibility and increase sales by showcasing positive customer feedback.
Printful
Dropshipping has been a popular business model for the last two years and is projected to grow exponentially in the future. Printful is a free dropshipping app for Shopify that helps businesses print customer products, streamline order fulfillment, and handle shipping processes.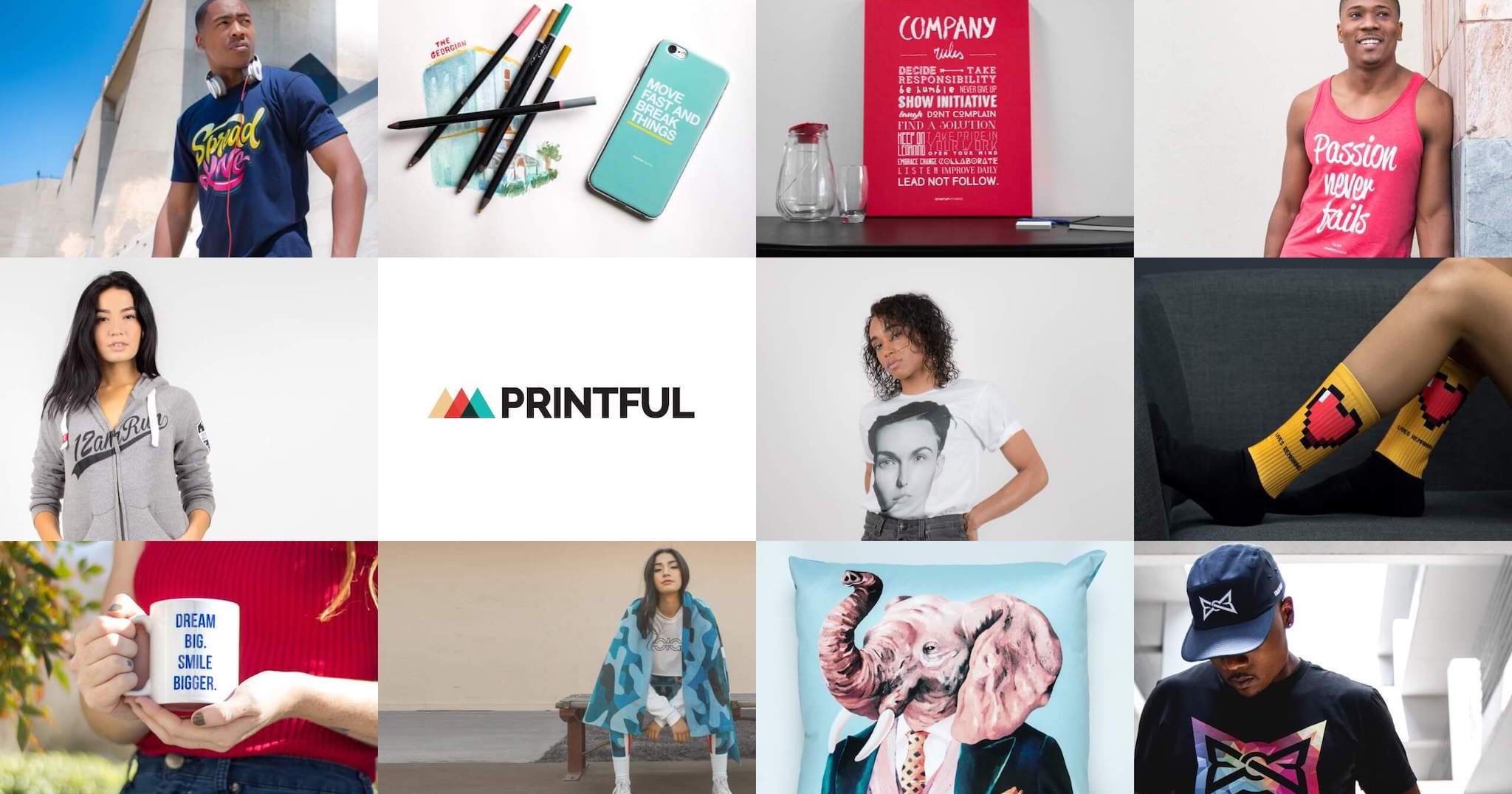 The company ships over one million items per month and handles all shipping, inventory, and production, so you can focus on building your business. It also offers tools such as a mockup generator, customizable digital storefronts, custom logos and packing slips, and customer feedback and ratings.
PageFly
With the help of the landing page builder PageFly, users may create unique pages for their websites without any prior coding knowledge. Users may construct stunning, expert-looking pages more easily thanks to its drag-and-drop capabilities. It offers sophisticated features, including dynamic content, timers, pop-ups, and app integrations.
Also, it is search engine optimized, allowing users to raise the rank of their website in search results by building pages that have a high conversion rate. Beginners may easily construct pages using it, and its customer support team is ready around the clock to address any queries or problems. All things considered, PageFly is a fantastic tool for anyone who wants to design unique pages for their website without any coding knowledge.
Mega Menu Creator Pro
Mega Menu Creator Pro helps store owners create customized and visually appealing menu items for their online stores. It provides a user-friendly and intuitive interface that allows users to easily create and customize menus using drag-and-drop elements. It also provides different design options, such as custom fonts, colors, and images, as well as configuration options to control how and where menu items appear.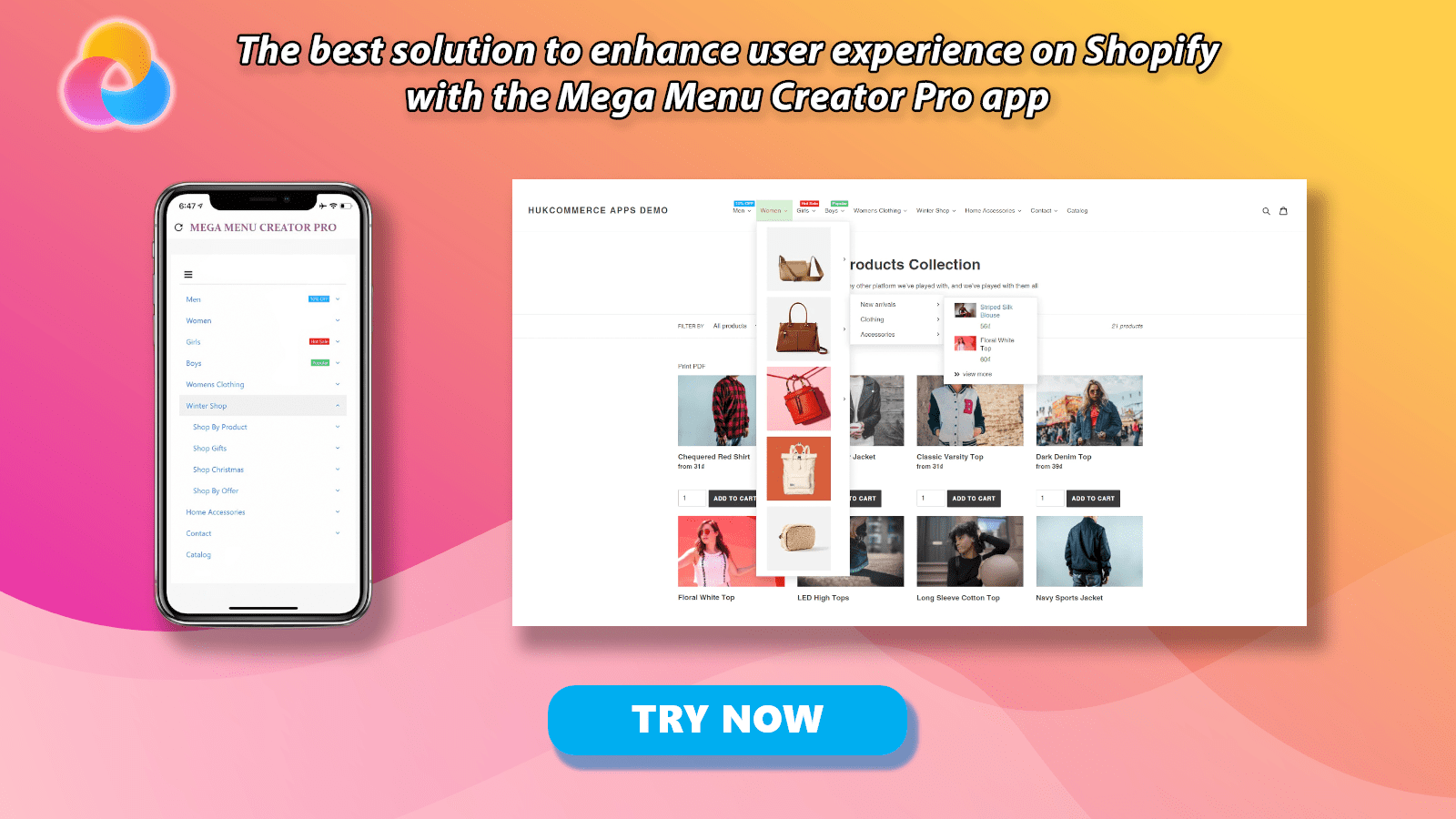 Additionally, it has a built-in analytics tool that provides insights into customer behavior and engagement with the menu, which can help store owners optimize their menu designs for maximum engagement and conversions. Overall, Mega Menu Creator Pro is a powerful app for creating professional-looking and functional mega menus on Shopify stores.
17TRACK Order, PayPal Tracking
17TRACK Order, PayPal Tracking is an app that provides tracking information for orders placed on an online store. It supports over 500 carriers and allows customers to track their orders using their Paypal email addresses. It also provides information about shipping times, helping to manage customer expectations and minimize customer support queries.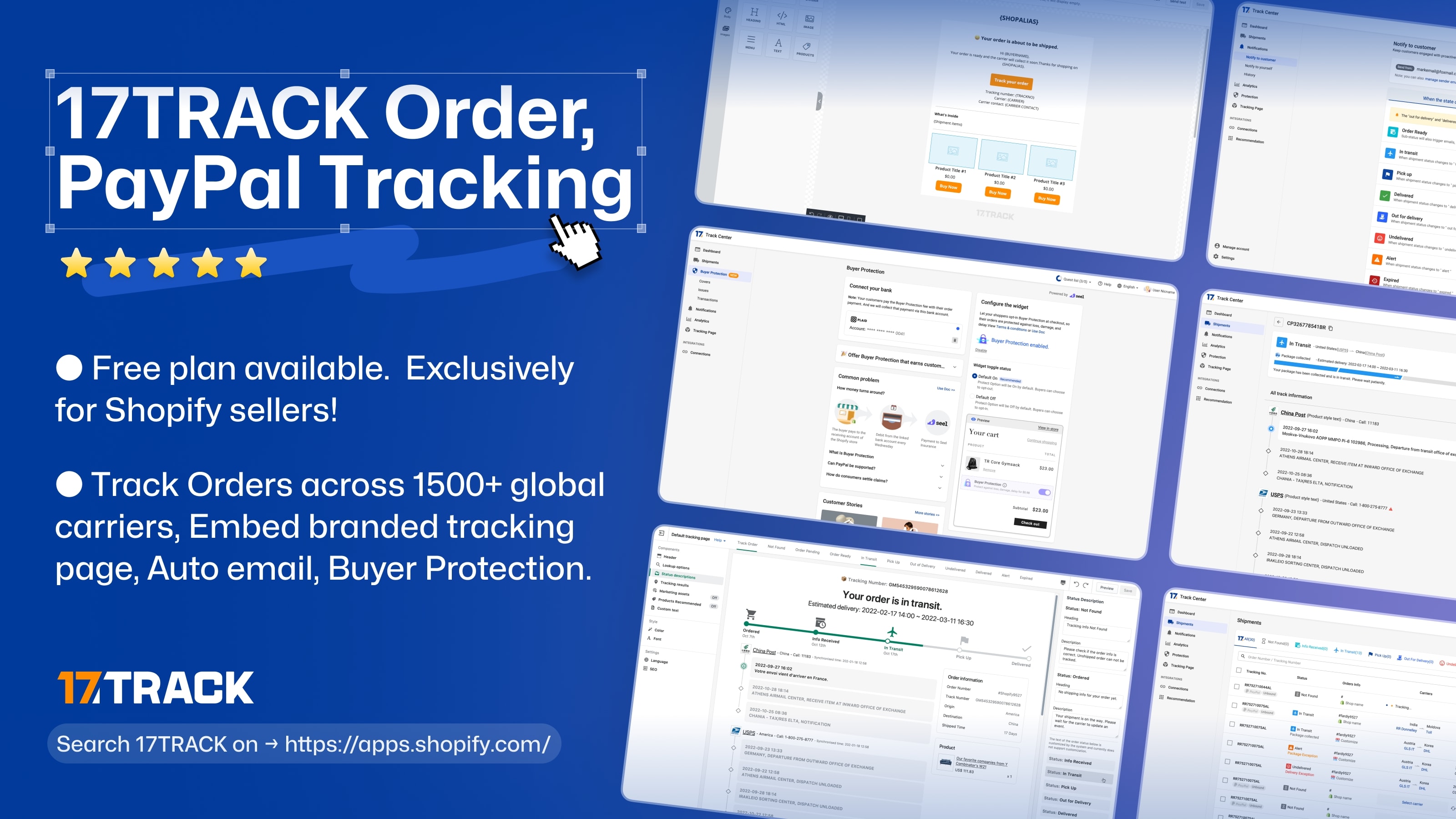 Overall, 17TRACK Order, PayPal Tracking is an essential Shopify app for store owners who want to provide customers with an easy-to-use and comprehensive tracking system.
Fordeer: Invoice Order Printer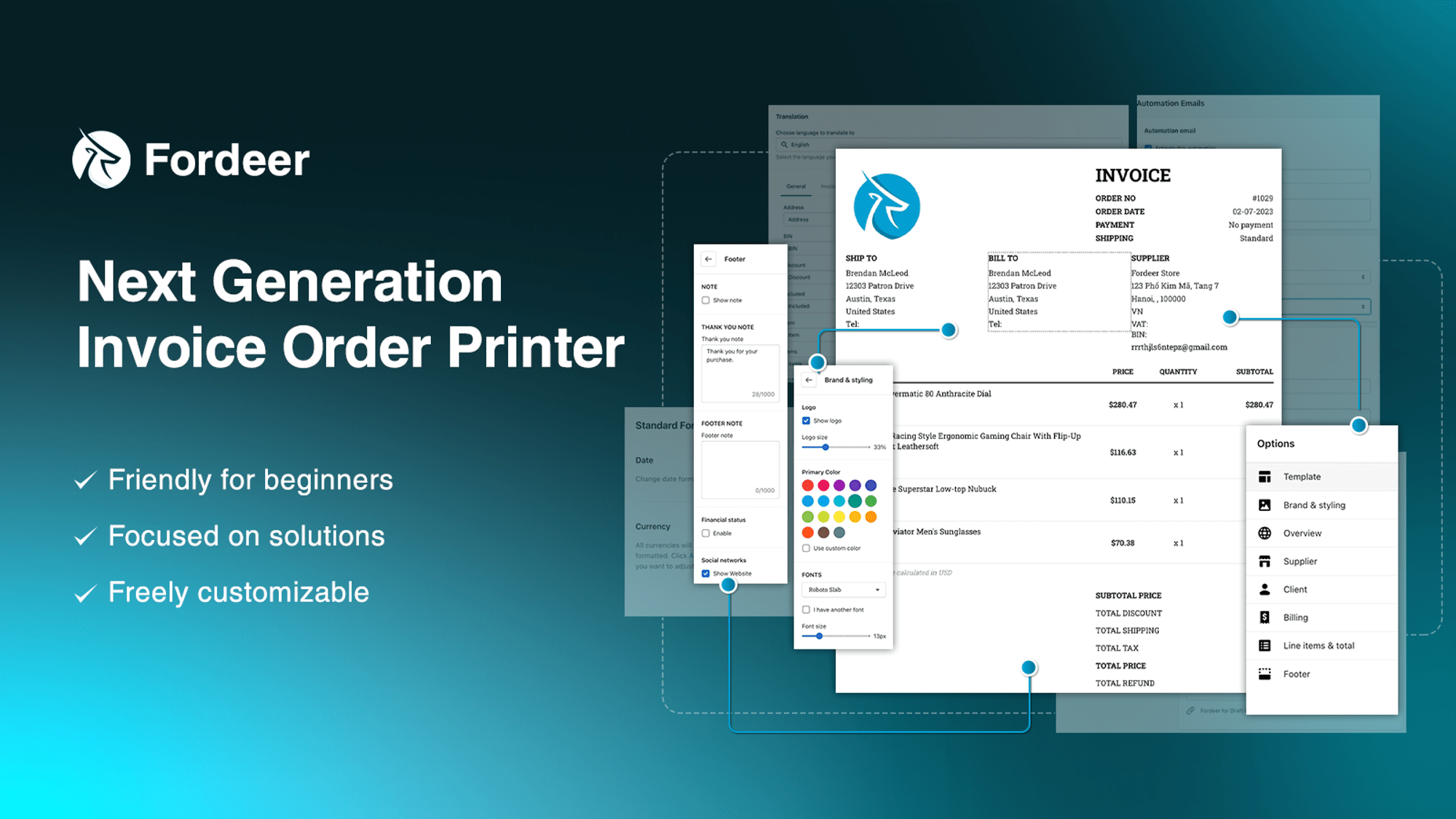 Fordeer Invoice Order Printer 1.0 is a professional alternative to Shopify Order Printer that enables users to print and download invoices, packing slips, orders, etc., in bulk and send them directly to their customers with the "Email Automation" feature. Fordeer: Invoice Order Printer is a PDF invoice app that allows sellers to create their own dazzling invoice templates by adjusting the store details and currency standard on the setup page.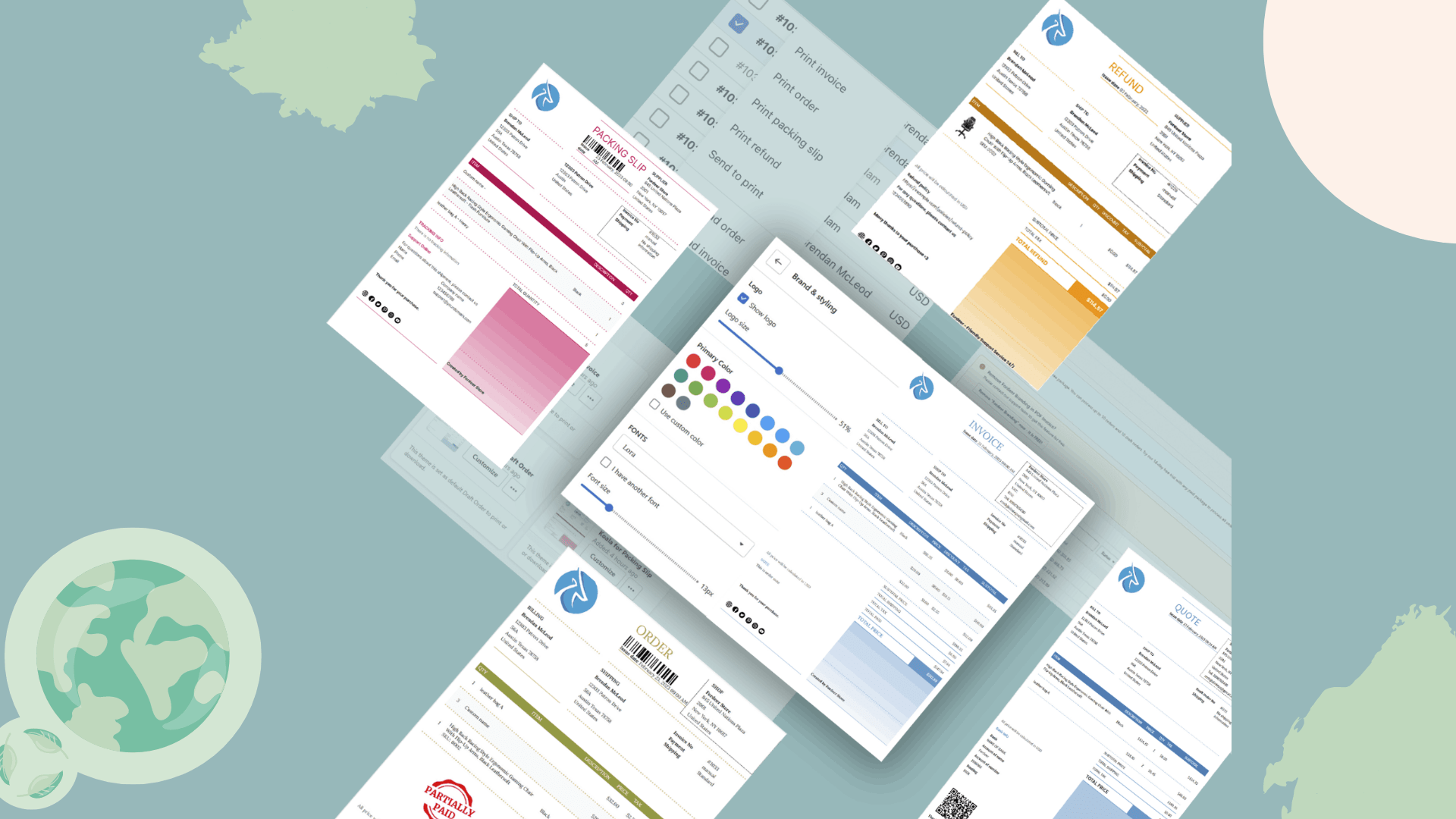 The app also allows users to create invoices in either the main language and currency of their business or the language and currency in which their customers make purchases from them. Additionally, the app is optimized for all POS and mobile devices and can translate into up to 10 foreign languages. Above all, by being compatible with the Shopify Admin API, Fordeer supports users to work every time and everywhere they want.
Proof Bear ‑ Sales Popup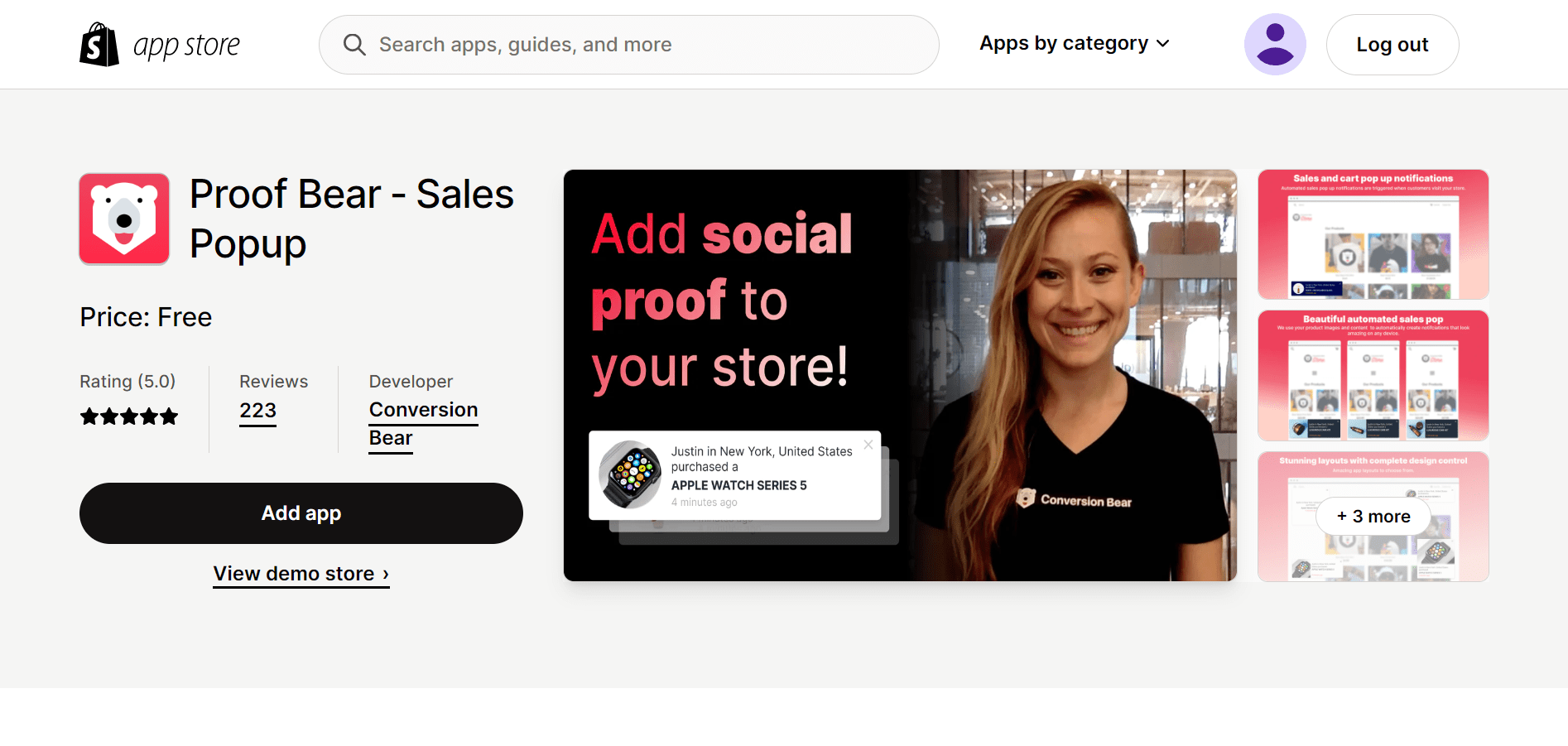 One of the best Shopify apps for boosting sales at your online business is Proof Bear ‑ Sales Popup. You have the option to use sale notifications to boost purchases. Configure cart alerts to increase the pressure for customers to buy as well as the social proof of a product's popularity. To make your store appear busy and professional, you might even post recent visitor alerts. The app also allows you to hide goods, like private or free products, that you don't want to appear in the sales notifications.
Omnisend
Omnisend goes beyond email, in contrast to many Shopify email marketing tools. With easy-to-customize templates, you can build complex automation workflows to which you can add a variety of channels, including email, SMS, Facebook Messenger, push notifications, WhatsApp, and more.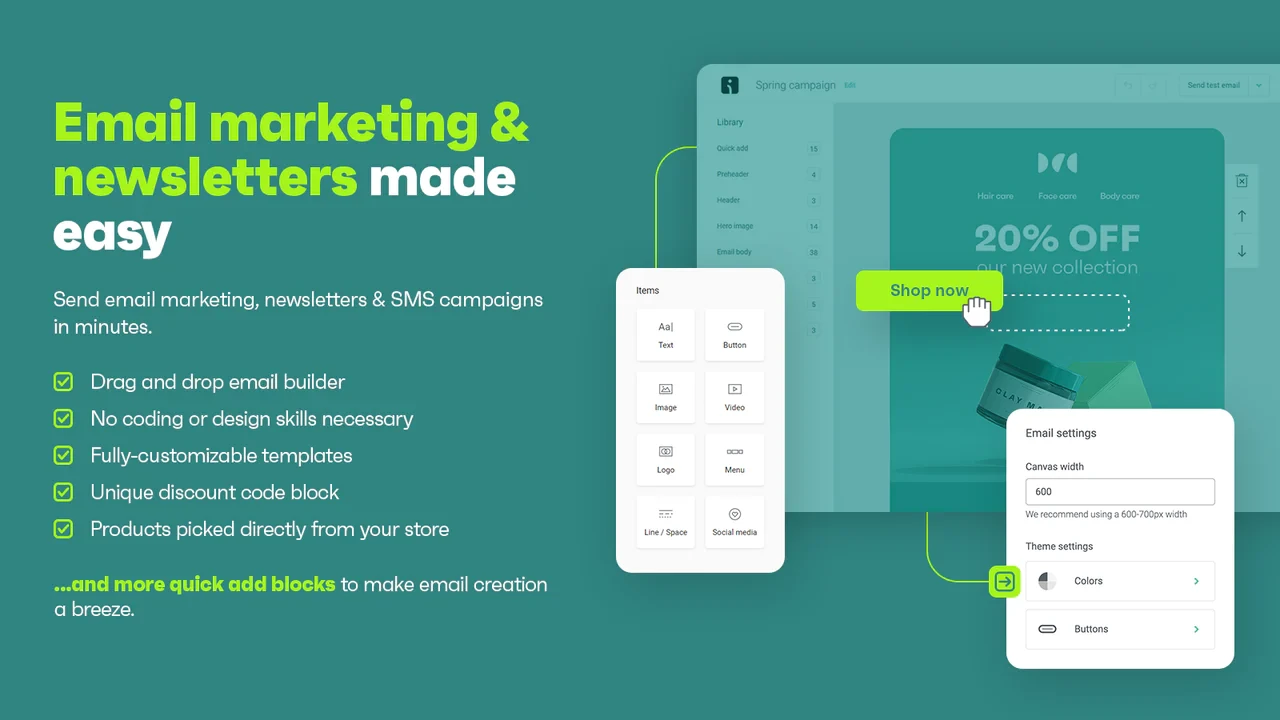 This program assists online merchants in sending the ideal message to their clients, whether it be a cart abandonment SMS to recover lost sales or an email capture popup with a delicious incentive. Its astute segmentation aids in targeting depending on the information about your customers, how they interact with campaigns, and how they shop. Omnisend is undoubtedly worth a shot for ecommerce marketers who need to advance email marketing.
Judge.me Product Reviews
Product Reviews, one of the most essential Shopify apps for creating social proof, enables you to include a customer review feature on your product pages. This provides a technique to win prospects' trust. Prospects get to hear directly from your consumers, which helps them make an educated decision.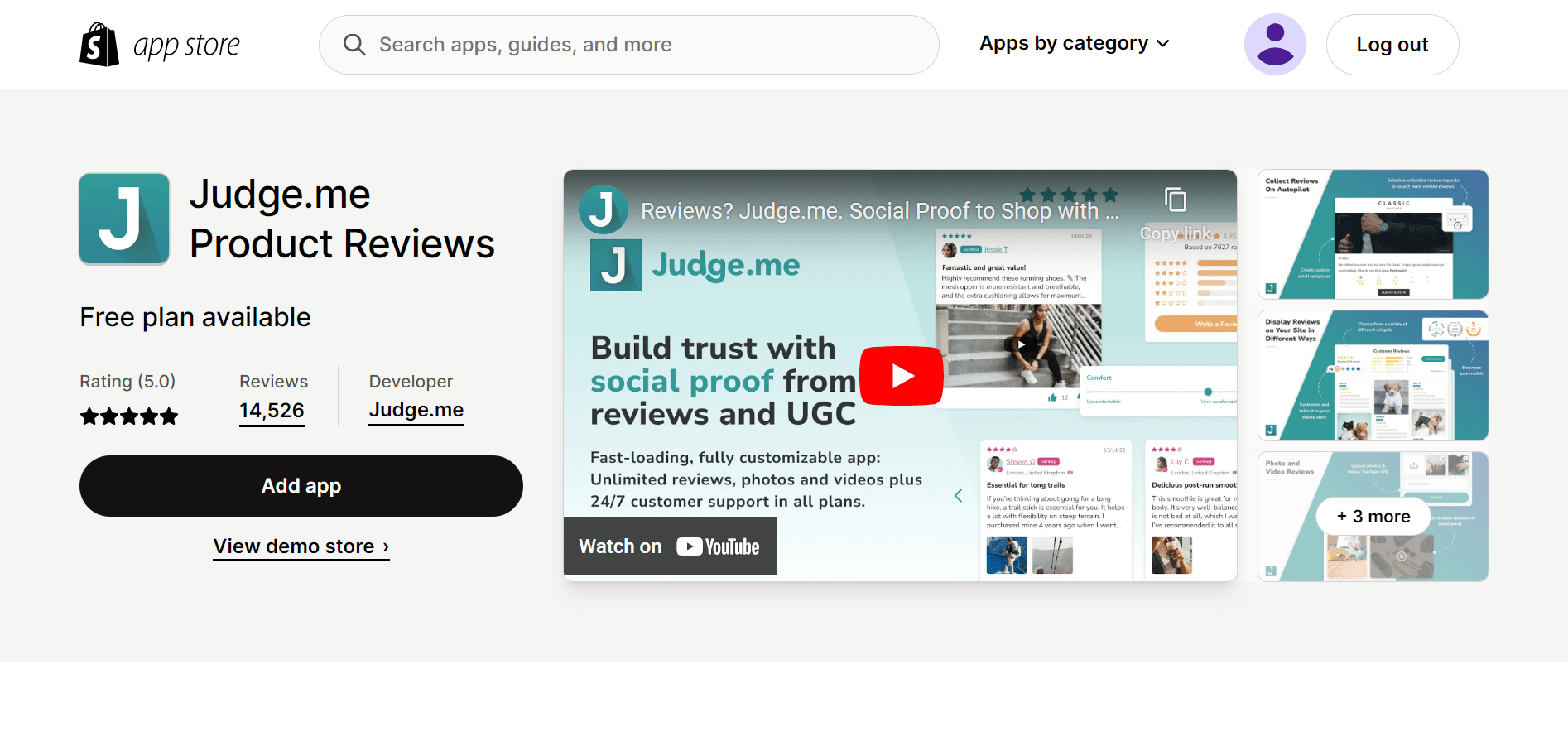 Also, the app is SEO-friendly and lets you include the results of your product reviews in Google searches. Your product score might increase clicks when buyers conduct searches on Google, bringing you customers you might not have otherwise attracted.
UpCart—Cart Drawer Cart Upsell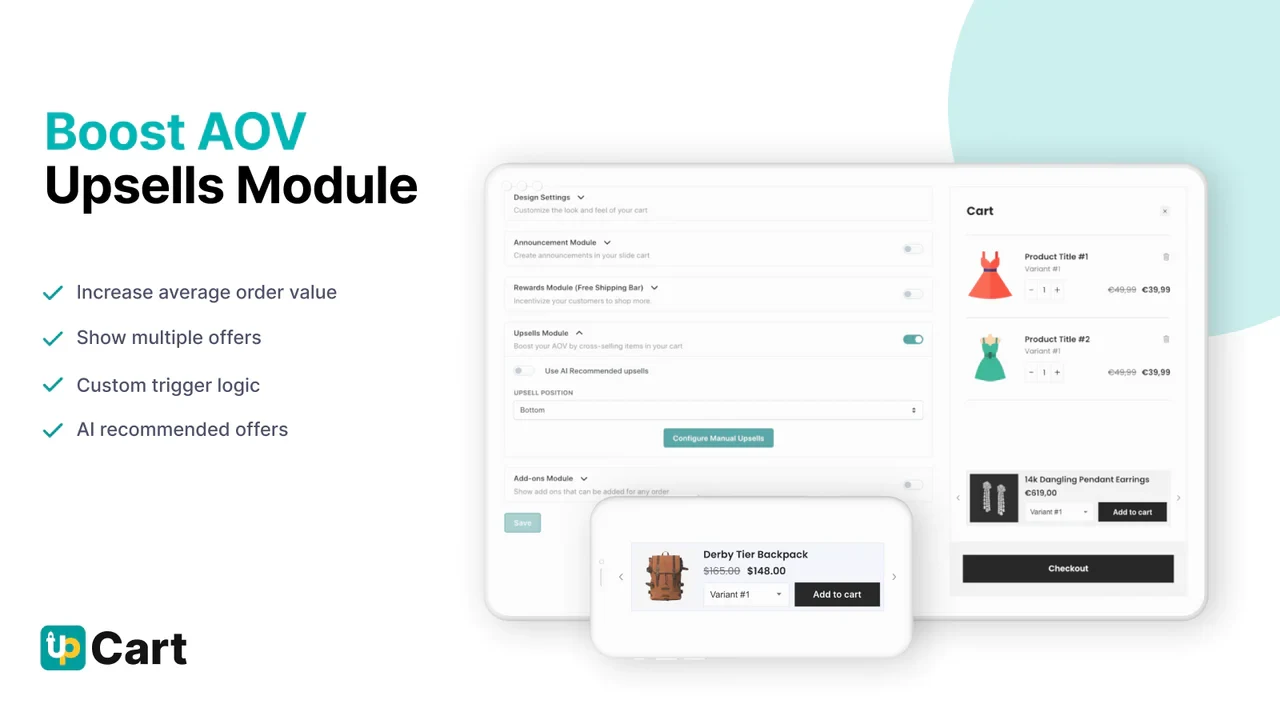 UpCart is a fully functional drawer cart builder that can let you set up and personalize an amazing cart experience automatically. Our carts are created to have a consistent aesthetic with the rest of your website. Maintain customer satisfaction by offering a simple cart experience. Use UpCart's cross-selling, upselling, and add-ons modules to raise your average order value. Create a "sticky cart" button to increase conversion rates and decrease basket abandonment.
BestChat ‑ Live Chat & Chatbot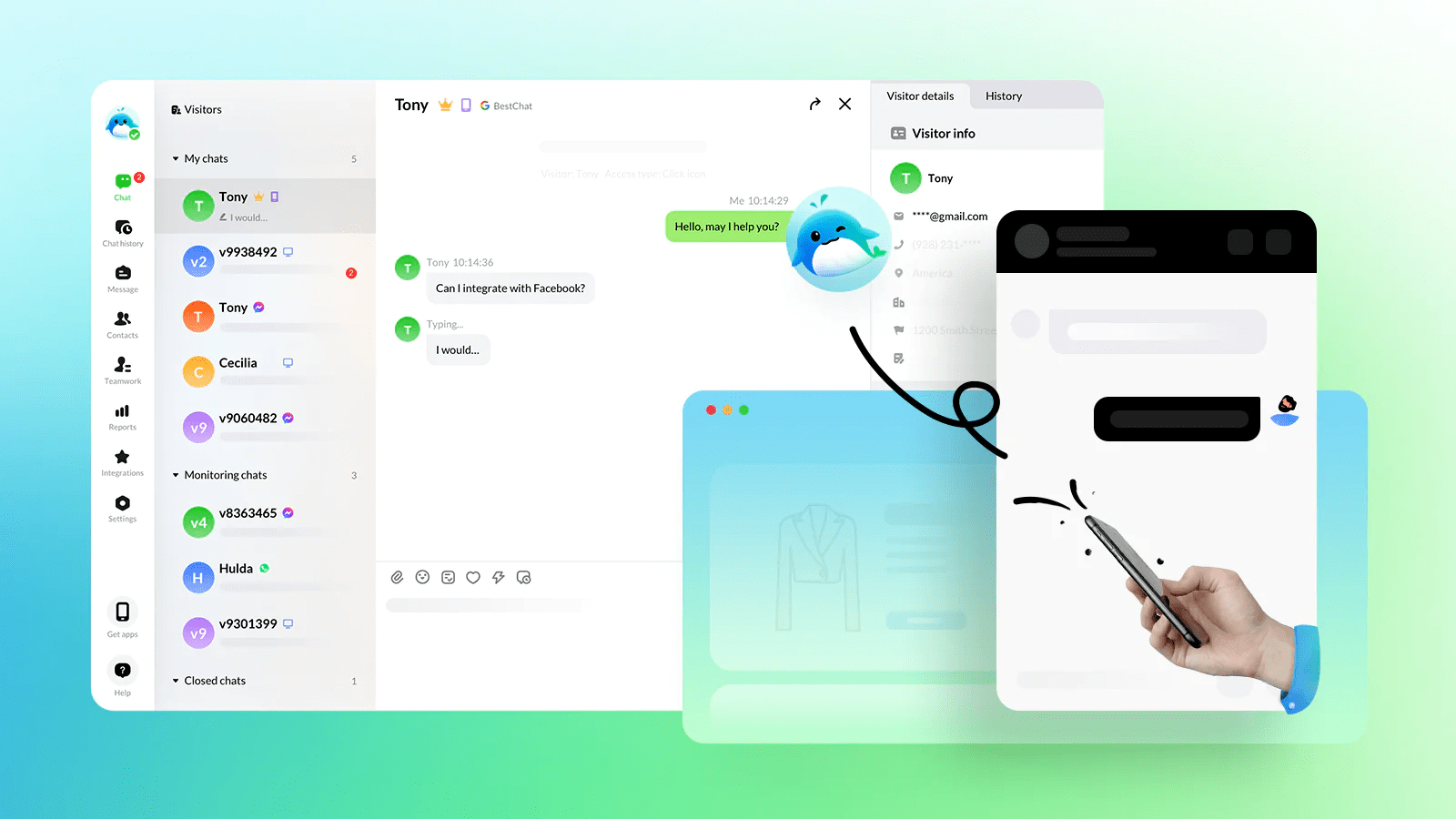 A good customer experience can make or break a business. BestChat is a live chat and chatbot tool that allows you to track your customers' browsing history on your website, identify them across different stores, connect multiple social media, and provide 7/24 customer service with AI chatbots when you are out of work, making you know your customers better thus satisfy your customers in every dimension.
Wrap up
You can gain access to new features that help you optimize websites for a better user experience by using Shopify applications. But, it's crucial to just incorporate apps that are effective and aid in business expansion.
With the top 5+ must-have free Shopify apps listed above, we hope you have more options to use for your particular company while minimizing website operating expenses. Finding the finest software and pricing plan that suit your business needs is what it all comes down to in the end.
Don't hesitate to send us a message if you're seeking the best app to manage the billing process more efficiently. Fordeer offers top-notch branding and sales growth solutions, with a free plan available.
With our powerful advanced features in the billing process and reasonable pricing plans, we can help you get your business to where you want it to be in no time. Contact us today and grab the chance to grow your business with the promo code "FORDEER50" to enjoy 50% off right away!
You can also become a member of our vibrant eCommerce community to stay updated on all the latest and useful advice! Enjoy reading on the Fordeer Blog!
---
👉 Fordeer, which is a start-up software agency in 2022, is so honored to be founded with the mission of producing support tools for businesses all over the world. "The great tools for the best businesses". Our highly qualified programming engineers, with all their passion, are always ready to dedicate themselves to creating the most useful apps for your business and Shopify online store. Keep following our blog to get more helpful business knowledge and top trends daily.
💡
Entrepreneurs need to focus on customer service and maintaining a credible brand image if they want to achieve long-term and sustainable success, regardless of the business model they pursue. Therefore, finding and selecting the appropriate business support tools is extremely crucial. That's why we have launched an app in order to help you swiftly and conveniently resolve any invoice-related issues at a reasonable price. Let's experience it with our
Fordeer Invoice Order Printer
.