Top Must-Have Free Shopify Apps for Your Brand New Store in 2023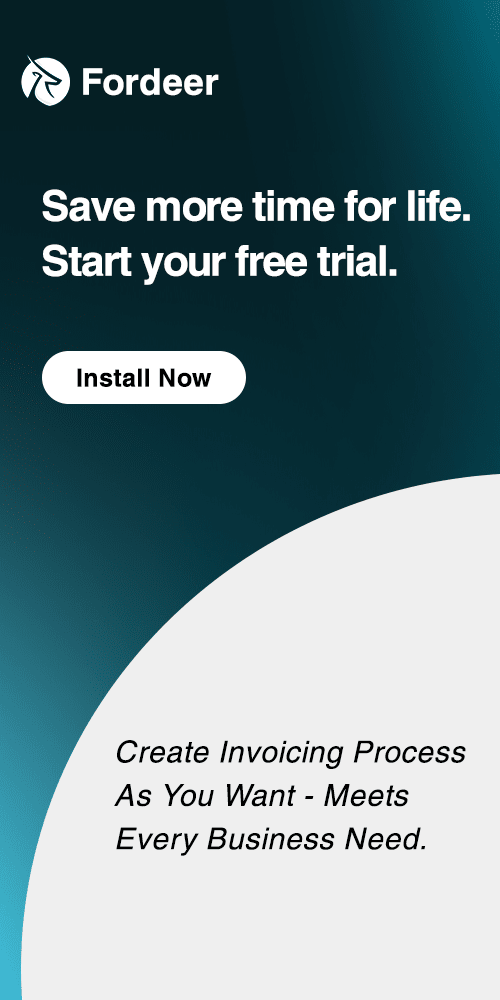 Setting up a new Shopify store is an exciting venture, but it requires careful planning and the right tools to succeed in today's competitive e-commerce landscape. Shopify apps offer a wide range of functionalities that can enhance your store's performance, streamline operations, and boost sales.
Fordeer will explore the top must-have Shopify apps for a new store in 2023 in this article. From optimizing SEO and marketing efforts to improving customer experience and managing inventory, these apps will empower you to scale your business and achieve success.
Top Shopify Apps for Orders and Shipping
Invoice Generator: PDF Invoice by Fordeer
Free plan available. 7-day free trial.
Rating: 5.0/5.0

This Shopify free invoice generator is a versatile and user-friendly app that every retailer requires. There is no need for any coding. With an easy-to-use invoice generator, you can easily customize your invoices.
Beginners can create a brand by using professional PDF invoice templates, packing slips, refunds, and so on. Batch print and download invoices to save time; set up multi-language and currency invoices to automatically send to overseas customers when a specific event occurs. Connect to POS and mobile devices. Live chat is available 24 hours a day, seven days a week.
Fully customize and edit code invoice templates following your demand freely;
Automatically generate and send invoices, credit notes, receipts, and reminders;
Manually print and download invoices, billing documents individually or in bulk;
Set up email automation campaigns with attached PDF invoices easily;
Integrate with POS and mobile devices; support multi-language & currency
Releasit COD Form & Upsells by Releasit
Free plan available. Additional charges may apply.
Rating: 5.0/5.0

Releasit allows your clients to order your products with Cash on Delivery in a single click, eliminating the tedious stages of Shopify Checkout. Using our simple form builder, create a fully customisable COD order form and integrate native Upsells and Quantity Offers to boost your AOV.
Downsells increase conversions while OTP phone number verification reduces false orders. Import your orders into Google Sheets to track your events and conversions on Facebook, TikTok, Google, and other platforms.
Fully customizable order form and layout (Popup or Embedded) with custom fields;
Add Upsells (Pre/Post-purchase and One-Tick), Quantity Offers and Downsells;
Track events automatically with Facebook, TikTok, Google, Pinterest, Snapchat;
Import orders on Google Sheets and use discounts and abandoned checkouts;
Verify phone numbers with OTP, limit postal codes, block IP addresses.
17TRACK Order, PayPal Tracking by 17TRACK
Free plan available. 14-day free trial. Additional charges may apply.
Rating: 5.0/5.0

Increase upsell and cross-sell chances while improving the shopping experience! By offering a self-service tracking page, your clients may instantly answer the query "Where's my order?" without requiring any support.
Incremental sales are driven by status notifications and promoted products on the tracking page. Suit for off-shore hide completion. Reduce chargebacks and accelerate funds release with PayPal Push. Do you have any questions? Contact them via chat or email at any time.
Global Tracking. Track your international & domestic packages together;
Customized tracking page. Let buyers lookup orders on your site;
Triggered Email. Let customers know as soon as their order status changes;
Buyer Protection. Allow customers to protect orders against loss, damage, delay;
Management Dashboard. Monitor your shipment statuses and upsell conversion data.
Track123 Order Tracking Upsell by Track123
Free plan available. Additional charges may apply.
Rating: 4.9/5.0

Track123 can automatically import your orders and update the shipping information for you and your customers in real-time from any carrier.
Track123 allows you to simply construct a multilingual tracking page and smart-triggered notice for your customers, which can help you attract more visitors to your shop, increase sales, and save time from answering endless emails regarding order status. Track123's order manager allows you to track and evaluate your order shipments.
Integrate with 1500+ carriers, auto order import and accurate carrier match;
Provide dropshipping mode, hide/replace specific keywords in tracking details;
Track your order with a branded tracking page perfectly suited to your theme;
Boost sales by mail marketing and driving customers back to your tracking page;
Automatically upload the tracking info of your orders to PayPal.
Top Shopify Apps for Store Design
EComposer Landing Page Builder by EComposer
Free plan available
Rating: 5.0/5.0
Using a live drag-and-drop editor, EComposer Page Builder enables merchants to quickly and easily design any page type or segment. Even inexperienced users can quickly alter pages using the extensive collection of EComposer elements, settings, and templates.
Save a lot of time and money by employing third-party apps with built-in extensions to enhance sales. With EComposer's speed-up tools and optimized programs, you won't have to worry about store speed. Their live chat assistance is available 24 hours a day, 7 days a week!
Build any page type or section you need from landing to homepage, product, etc.
Live drag-drop page builder that is easy to use and instantly preview changes;
Design library: various page layouts, section templates, countless elements;
Built-in add-ons: Ajax Cart, Color Swatch, Image Optimizer, Cross-selling, etc.;
Advanced: Page Analytics, Global Blocks, AI Content Generator, Lazy load, etc.
Pagetify Landing Page Builder by Pext
Free plan available. Additional charges may apply.
Rating: 5.0/5.0
Pagetify page builder - create store pages without coding! Slideshow, video banner, hero banner, parallax effect, and other components and templates are among the 50+ pre-made elements and templates.
Countdown timers, testimonials, scrolling text, delayed loading, and other sales-driving components are examples. Integrate easily with Judge.me, Loox, Ali Reviews, Stamped, and other services. It can also be used to make About Us, Contact, FAQs, and Coming Soon pages. Now is the time to try out for your dream store!
Powerful live drag-and-drop page builder with 50+ pre-made elements;
Professional page templates and sections optimized for SEO and loading speeds;
Compatible with any Shopify theme. Auto-sync when switching themes;
Flexible responsive design for all devices. Supports custom HTML/Liquid & CSS;
Safe revisions: save, revert and reuse blocks, templates and pages anytime
Design Packs: Theme Sections by Design Packs Inc
Free plan available
Rating: 5.0/5.0

You can design amazing landing pages, sales pages, and product promos by combining over 150 high-quality, no-code theme sections and themes. Video backdrops, promotions, countdown timers, featured collections, parallax effects, custom font uploads, and more features are available in our design packs. For a fraction of the cost of hiring a web developer, you can obtain the same professional look.
Customizations include size, fonts, colors, animation, and mobile settings;
Will not slow down your store - built for performance and speed;
Fast and friendly support from expert developers - email and live chat available;
New releases and updates are added to your library every month;
Quick and easy to install free sections directly in your Online Store
Top Shopify Apps for Marketing and Conversion
Judge.me Product Reviews by Judge.me
Free plan available
Rating: 5.0/5.0
Judge.me is a lightweight, completely customizable review software available in 38 languages. Schedule automatic emails with photographs and videos to receive reviews following order fulfillment or delivery, or import them from other apps.

Increase your conversion rate by displaying reviews and user-generated content (UGC) on your storefront widgets, sharing them on social media, and adding stars to Google for SEO. Setup is simple and personalized to your store: modify widget messages, colors, and themes, or request basic design tweaks from their 24/7 support team.
Unlimited email review requests with photo and video, and in-email review forms;
Display star ratings, store and product reviews, trust badges, reviews carousel;
Share reviews on Facebook, Instagram, Twitter, rich snippets and Google Shopping;
Synchronize and group product reviews across different products and stores;
Engage your reviewers with Q&A, coupons, and email marketing integrations
CedCommerce ‑ Facebook & Insta by CedCommerce
Free plan available
Rating: 5.0/5.0
Looking for a revolutionary Shopify Facebook Integration? The newly redesigned CedCommerce: Facebook & Instagram App is here to assist you in realizing your sales potential.

Integrate your Shopify store with the Facebook and Instagram selling platforms without a hitch. Custom product titles, real-time inventory and price syncing, simple Facebook advertisements, and product feed management are just a few of the amazing capabilities available. All of this can be done with a single app.
Seamless setup and linking of your Facebook Business Accounts;
Enhanced Catalog and Real-time Inventory and Price Sync;
Maximize ROAS with Single Click Pixel Setup and Conversion API;
Product Optimization with relevant keywords for better visibility;
Around-the-clock support for all your needs, 24x7.
SMSBump: SMS Marketing & Email by SMSBump Ltd
Free plan available. Additional charges may apply.
Rating: 4.9/5.0

Yotpo SMSBump allows you to seamlessly expand your SMS and email lists, recover abandoned carts, and deliver revenue-driving texts and emails that increase your sales. Select from a library of high-converting SMS templates and automations to interact with customers in real time and maximize the impact of each customer engagement.
Easily craft, personalize, and A/B test campaigns to text and email subscribers;
Build SMS flows powered by real-time events and custom conditions;
Create hyper-targeted segments to engage subscribers;
Flexible and transparent pay-as-you-grow SMS & email pricing plans.
AI: Upsell—SMS—Email Marketing by ONE
Free plan available. 10-day free trial. Additional charges may apply.
Rating: 4.9/5.0
Personalizes customer journeys as you sleep with this all-in-one super app for Shopify Plus and Basic stores. Whether a company is new or established, ONE may assist in converting ad traffic and existing customers into repeat buyers.

Unify email/SMS messaging, rewards, one-page checkout upsell, pop-ups, forms, analytics, AB testing, AI sidekick, and Shopify marketplace to scale quicker. Integrate optional utilities such as mail Chimp, Klaviyo, SMS bump, Postscript, and Shopify magic AI. With ONE AI marketing Shopify companion, you can be superhuman.
Ask ONE AI Sidekick — AI Chatbot Writes Product Description, Emails, Translation;
Add One-Click Checkout Page — Cross-Sells & Sweet Upsell Product Recommendations;
Automate Shopify Email/SMS Marketing — Cart Recovery, SMSBump, Klaviyo MailChimp;
Add Sales Pop-Up Window — Countdown Timer, E-Mail Newsletter, Spin Wheel/Wheelio;
A/B Test Coupon Codes — Pop Up Discount, Gift Card, Buy X Get Y, Buy One Get One
Fordeer ‑ Sales Popup POP by Fordeer
Price: Free
Fordeer popup tool with numerous capabilities for promoting sales, building trust, and powering your store. Inspire visitors' FOMO and establish more sales trust by displaying real-time purchases and the visitor counter.

Popups with discounts to your email marketing list, retaining exit intent and leads, and completely customizable to match your brand. Fordeer operates without the use of any code. Do you need assistance? Setup simply by contacting us 24 hours a day, 7 days a week.
Collect your email marketing list with opt-in pop-ups or email signup forms;
Chances of conversions with discounts, vouchers..., fully customizable pop-ups;
Sales pop-ups that work instantly with any other app or theme. No coding is needed!;
Social proof: show Recent Purchases, Sales Pop-ups, Visitor Counter;
Smart Dashboard: Track campaign metrics, impressions, clicks and more.
Come to the point
As you embark on your journey as a new Shopify store owner in 2023, leveraging the power of the right apps is essential for success.
The world of e-commerce continues to evolve rapidly, and having the right tools and resources at your disposal is crucial for the success of your brand-new Shopify store. Fortunately, a wide range of must-have free apps are available to help you optimize your store, enhance customer experience, and drive sales.
By leveraging these top must-have free Shopify apps, you can enhance your store's functionality, improve customer engagement, and drive sales without breaking the bank. Remember, staying up-to-date with the latest trends and technologies in the e-commerce landscape is key to staying ahead of the competition in 2023 and beyond.
---
👉
Fordeer
, which is a software agency founded in October 2022, is so honored to strive with the mission of producing support tools for businesses all over the world. "The great tools for the best businesses". Our highly qualified programming engineers, with all their passion, are always ready to dedicate themselves to creating the most useful apps for your business and Shopify online store. Keep following our blog to get more helpful business knowledge and top trends daily.
💡
Fordeer: Invoice Order Printer
is a
free invoice generator
on Shopify. There are various fabulous templates available for invoices, orders, refunds, and packing slips. You can customize all these templates and print out the documents in bulk simply. The best thing is a reasonable pricing plan and multiple amazing features! Be faster, wiser, and more effective for your brand preferences with Fordeer.