Top Invoicing Apps in 2023 for Shopify Sellers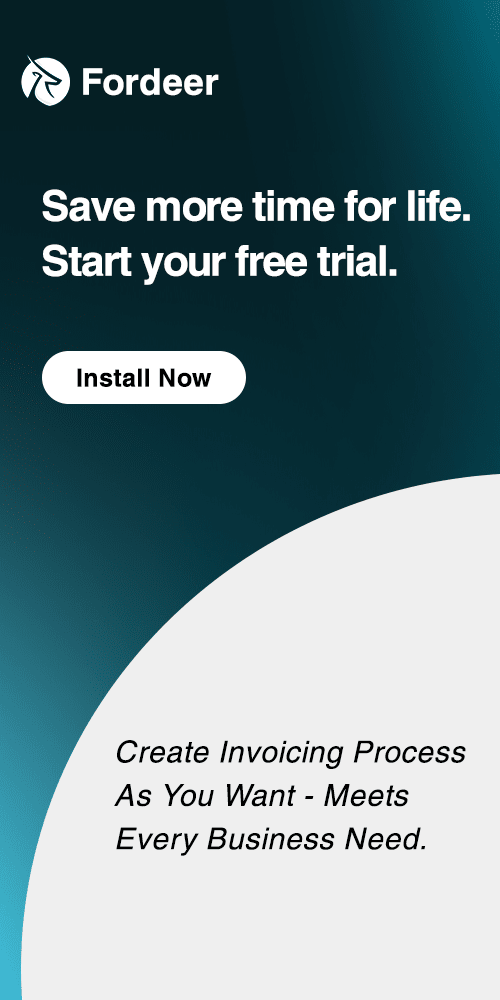 Have you ever struggled with generating invoices for your orders as a business selling goods online through Shopify or another e-commerce platform? Have you ever struggled to get them exactly right? Invoices are used by customers to determine how much to pay and the terms of the transaction. Invoices will also assist you in keeping track of your sales and any taxes collected. However, if you don't comprehend them well and don't find the right template for the company you run, they can become an enormous challenge.
If you have a Shopify store, you can use Shopify PDF Invoice to quickly and consistently create high-quality invoices. Fordeer will offer you a lot more information about the top invoicing apps in 2023 for Shopify sellers.
Top Shopify Invoicing Apps in 2023
There are several fantastic Shopify invoicing apps to choose from. You may pick an app that provides a simple way to track invoices and payments, or one that offers more complicated features such as generating invoices, managing inventory, and linking with accounting software.
The Shopify app store makes it simple to find the most suitable invoicing software for your business.
Fordeer: Invoice Order Printer
In the modern world, time is money, which means that any shop that helps its buyers save time on shopping will win in this competition. By creating quick invoices and simplifying the order process, the Fordeer: Invoice Order Printer app will be one of the most effective tools for online sellers to boost their sales. Being launched on October 31, 2022, this Fordeer app is a helpful assistant for all eCommerce store owners to create beautiful invoices with a professional-looking design.

Key features:
Use easily and flexibly with Shopify Admin API's compatibility;
Print and download an order or orders in bulk at once for easier sharing;
Personalize invoice templates and branding with logos, featured colors, and fonts;
Create automated emails with attached PDF files of invoices, orders, and packing slips;
Automatically detect and send invoices based on the customer's primary language;
Make sure of being tax-compliant and customizable;
Support multiple languages and currencies;
Provide friendly and effective customer support.
Get Fordeer: Invoice Order Printer 50% off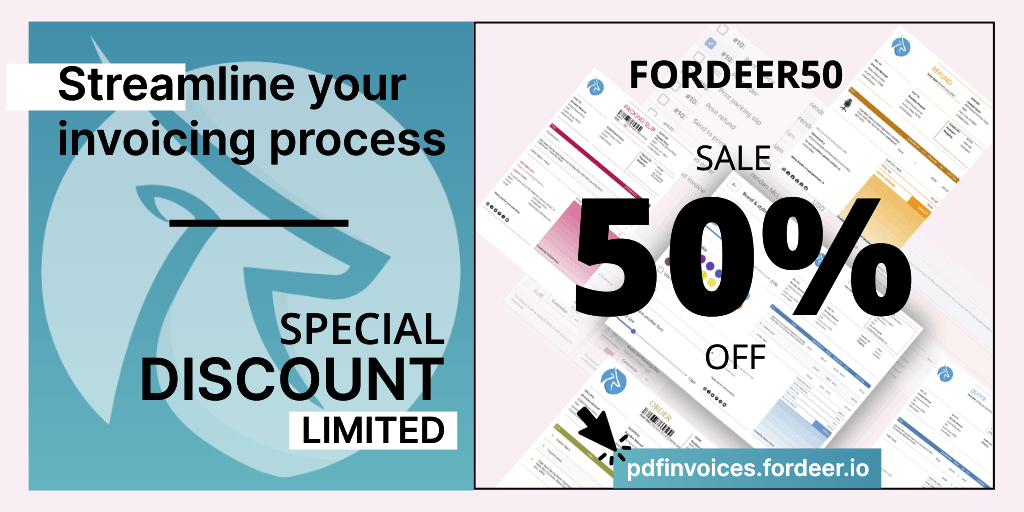 With the Fordeer: Invoice Order Printer app, you will be able to speed up the processes of creating, sending, and printing invoices and other important documents such as packing slips, refunds, etc. to your clients. As a result, you can provide superior customer service and enhance the professionalism of your brand. Additionally, thanks to Automation Emails, your employees can also boost their work proficiency and precision, as well as save time and effort for both you and your clients.
In spite of being a newbie, the Fordeer Team is confident enough to guarantee that they are working hard to bring customers sustainable value and an outstanding experience.
Rating: 5/5
Vify Order Printer: PDF Invoice Pro
The Shopify invoicing app is incredibly easy to set up. You don't need to know coding to customize everything; we offer simple toggle options instead. You can print or download unlimited invoices, packing slips, and refund PDF files according to your needs. Invoices can be sent automatically to you, your customer, or third parties when specific events are triggered. If you want independent invoices, our app can help with that too. Additionally, our team is online almost 24/7 to help if you ever need anything.

Key features
Easily customize invoice template to hide/show the custom information;
Automatic delivery of PDF invoices for all orders (or specific orders if needed);
Manually print and download invoices/commercial invoices individually or in bulk;
Allow customers to download invoices anytime they need, via Customer Portal;
Automatically capture and display Customer VAT (or other) numbers on invoices
Vify released this app with a number of useful features on January 8, 2021. Merchants are presented with 11 unique templates by default. It is simple to add or delete components, change the color, or add text to make each template unique.
Invoices are set up to be distributed automatically when specified actions or events occur. Above all, shops can independently construct customized invoices and, if necessary, automatically send them to customers via a POS-like interface.
Rating: 5/5
Sufio: Professional Invoices
This app allows you to create your own invoices automatically when orders are created, paid, or fulfilled. You can choose when those PDF invoices are created. You can send customers their invoices by email or let customers download them from your store in their customer accounts.
There are ways that you can improve the payment of your invoices by providing information about how the customer can pay with options available like wire transfer, cash on delivery, or online with a credit card.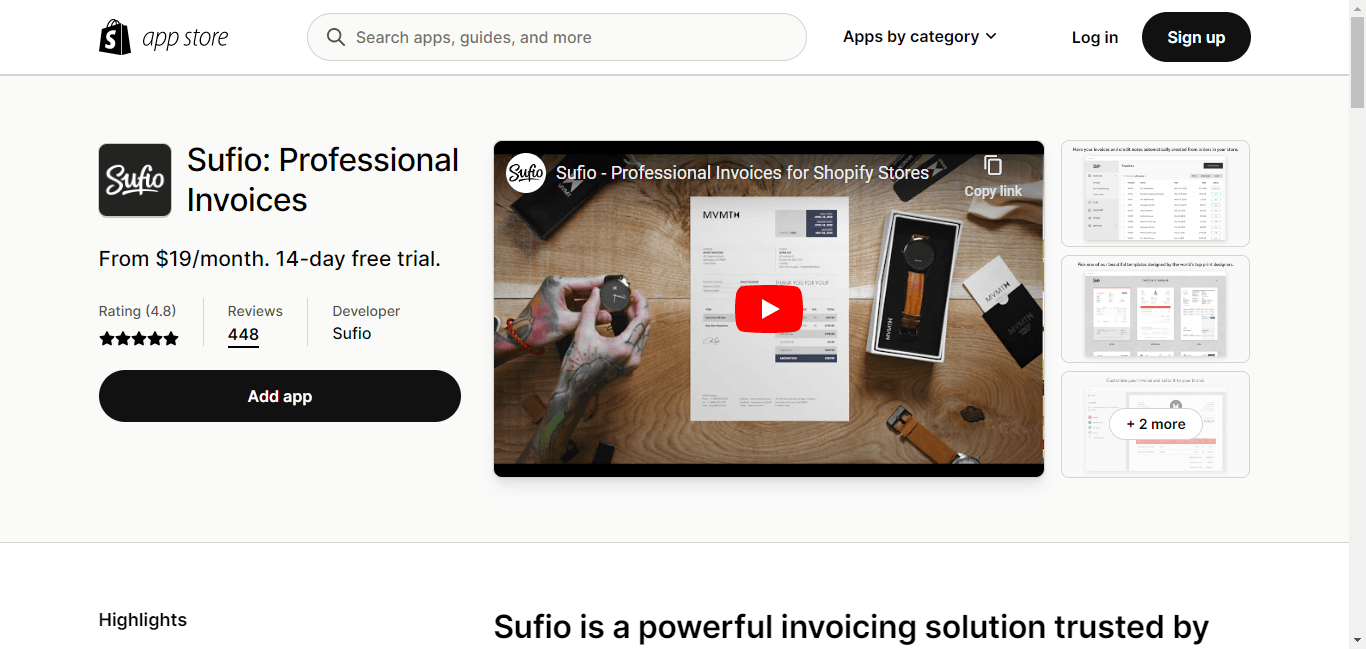 Key features:
Automatically create and send invoices, credit notes, receipts, and reminders;
Be compliant in over 50 countries and translate your documents into 35 languages;
Customize your template by including your logo, brand colors, and premium fonts;
Print or download thousands of PDF invoices at once for easy sharing;
Sell B2B by validating EU VAT numbers and setting customers as tax-exempt
You can print or download all your PDF invoices in bulk, which allows you to save time when you need to process orders. You can also share these with your team and accountant with ease.
The app supports other documents too, like credit and delivery notes, packing slips, pro forma invoices, quotes, and estimates for your customers. Estimates and quotes can be quickly turned into orders with ease through your Shopify dashboard.
Rating: 4.9/5
AVADA PDF Invoice Order Printer, POS
Handling PDF invoices is a must-have task for any Shopify store owner who wants to streamline their invoicing process. With this app, you can easily generate professional invoices that can be downloaded, printed, or emailed to customers with just a few clicks.
To customize your store's logo and branding, this app also allows you to add important details such as order information, shipping and billing addresses, and payment details. Increase efficiency and improve customer satisfaction now!
Key features:
Template customization;
Orders management and draft orders creation;
Email notifications with PDF attachments;
Delivering billing documents to Google Drive, FTP, or SFTP;
Multiple languages
Particularly, these templates are editable, allowing you to quickly modify the accessible PDF templates to match your website. When your template is made available, this will significantly reduce the number of errors. Additionally, consumers may quickly and easily download and print their PDF invoicing documents from order emails using AVADA PDF Invoice.
Rating: 4.9/5
FORSBERG+two ApS Order Printer Pro: Invoice App
With this application, you can easily print and email invoices, packing slips, quotes, and return notes for your Shopify website. This one-time setup can also send PDF invoices and other documents to consumers automatically. It only takes a few clicks to get started with the invoicing app. This can all be done in bulk and easily from the dashboard, freeing up your time for other critical business duties.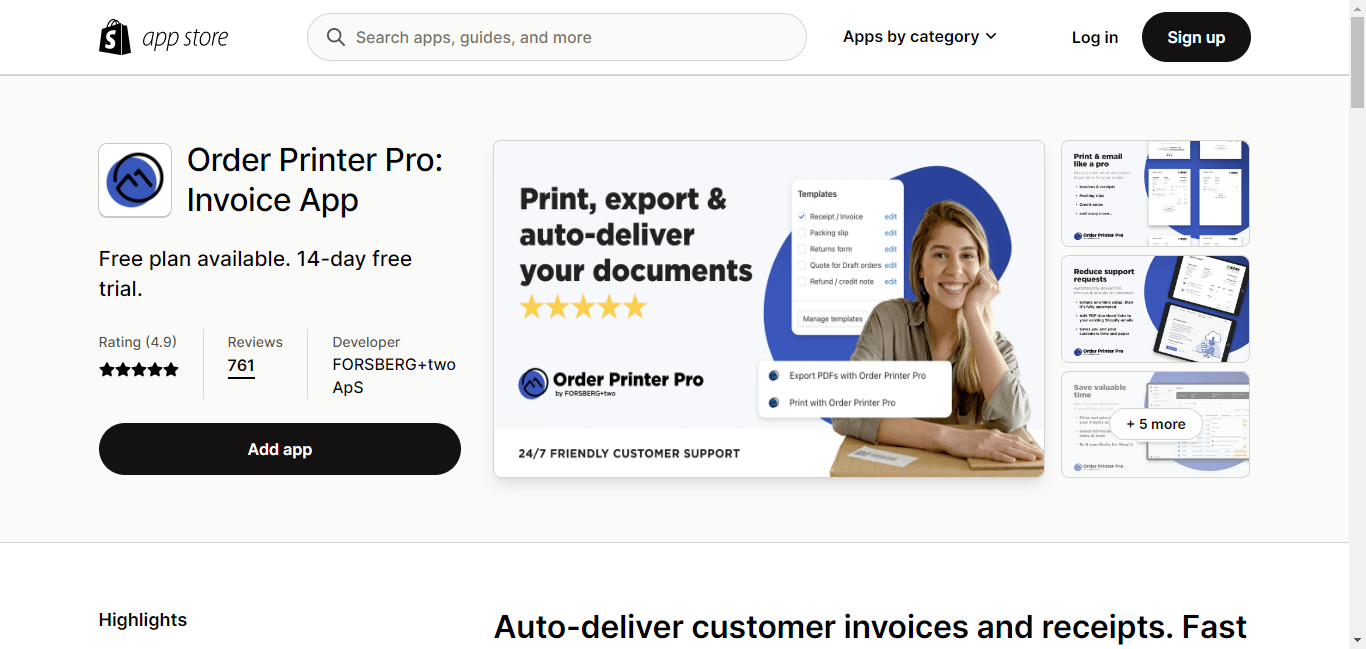 Key features:
Automatic delivery of PDF invoices and receipts for every customer order;
Print and export documents for many orders at once, draft orders also supported;
Customizable invoices, receipts, packing slips, return forms & other templates;
Quickly filter & print orders from your Shopify admin, Shopify POS, and Mobile;
Supports Shopify Markets (translations, multi-currency, taxes, duties, etc.)
You can provide download links for invoices in emails and on your website. Customers can then download the invoice if they like. This can save customers time.
The program is capable of working with both invoices and draft invoices. All invoices can be automatically translated into 20 different languages, allowing you to sell globally if desired.
Rating: 4.9/5
Architechpro OÜ Mega PDF Invoice Order Printer
The Mega PDF Generator application provides various distinguishing features for online retailers. One of its most essential features is that it allows store owners to make invoices with a beautiful template and unique logos. Because this program does not require coding, even non-technologists can use it efficiently.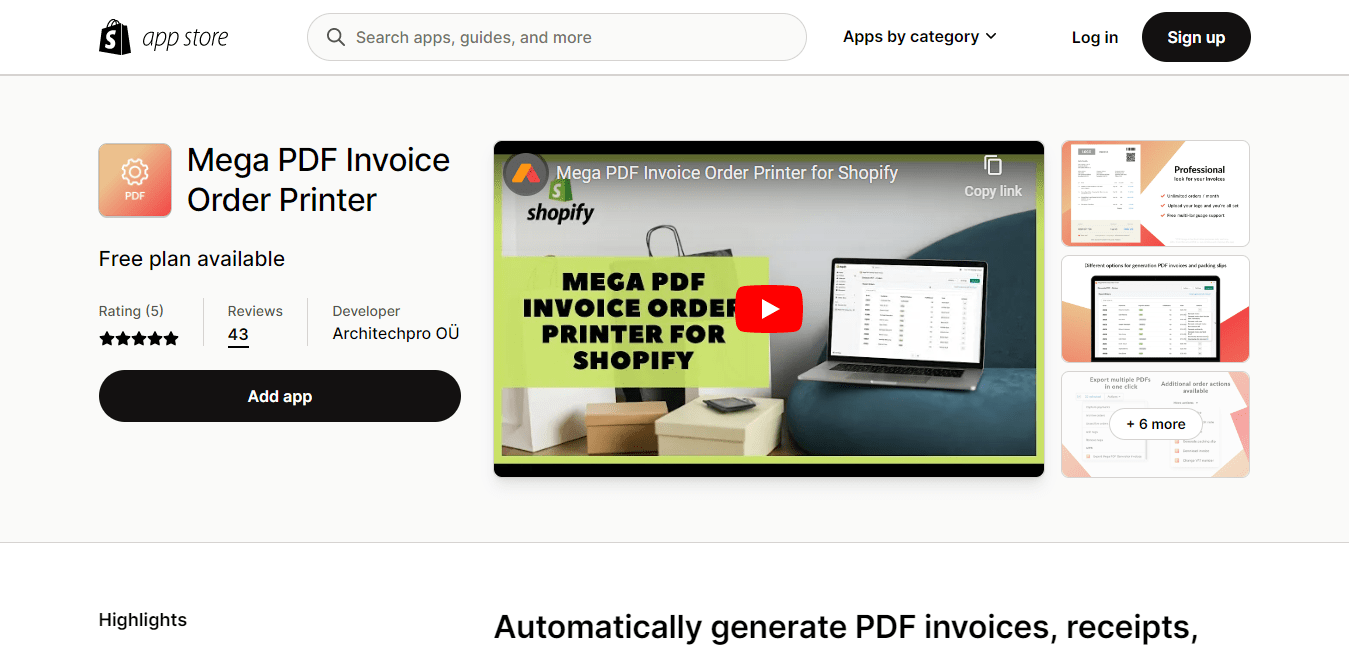 Key features:
Generate invoices, packing slips, credit notes + bulk export;
Capture VAT/tax numbers from your customers to include them in invoices;
Custom PDF invoice / wholesale invoice template creation on Enterprise plan;
Available in 20 languages + free translation to your language;
ZATCA / KSA / Fatoora (RTL) compliant premium template available
Customers can make draft invoices before making a final purchase using additional features. Shopify store owners can apply their discounts to any product to increase sales and client loyalty.
They may also include additional information on tax calculations and shipping charges in the invoices to clarify things. To summarize, the PDF Generator App is a valuable resource for anyone who prepares invoices.
Rating: 4.8/5
How do you choose the most suitable invoice app for your Shopify store?
There are various considerations to take into account when choosing the best invoicing tool for your Shopify shop. The app's Shopify integration is its most important feature. The ease of use, features, affordability, and customer service are all important factors to consider.
Shopify, the leading eCommerce platform, provides customers with a wide range of services. However, billing is one of the most important aspects of any Internet business.
Invoicing software is used to create and deliver bills to clients. The ability to track payments and manage finances makes it a necessary component of any Internet business.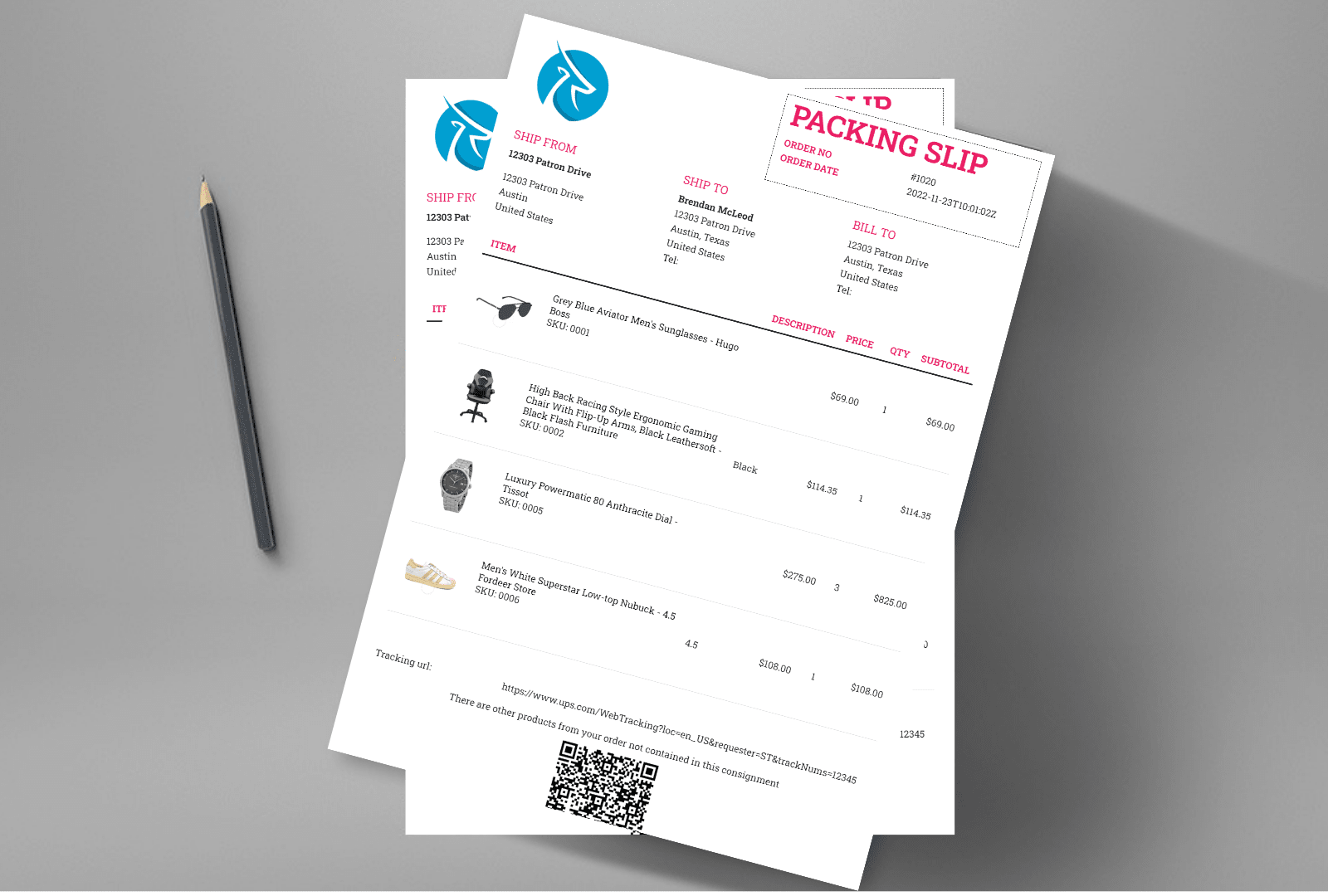 Although there are numerous Shopify invoicing apps, not all of them are created equal. Consider the following criteria when choosing the most ideal invoicing software for your Shopify business:
Integration with Shopify: The app and Shopify should work together effortlessly so that you can create and send invoices from your Shopify admin panel.
Usability: The application must be simple to use so that you can rapidly produce and send invoices without any effort.
Features: A variety of features, including the option to personalize invoices, automated reminders, recurring payments, etc., should be included in the app.
Pricing: The app should be priced appropriately to avoid straining your company's financial resources.
Customer support: The app should offer excellent customer support in case you need help
Conclusion
Although invoicing is a vital task for every e-commerce business, it may be automated and does not require your personal attention. With the help of an invoice automation app, you can save time and focus on developing your business.
All of the invoicing apps mentioned in this article are the best in terms of functionality, customer support, and price. However, we are still unable to decide which invoicing tool is best for your Shopify store. Consider your company's needs to determine which of these top Shopify invoicing apps is best for you in 2023.
---
👉 Fordeer, which is a start-up software agency in 2022, is so honored to be founded with the mission of producing support tools for businesses all over the world. "The great tools for the best businesses". Our highly qualified programming engineers, with all their passion, are always ready to dedicate themselves to creating the most useful apps for your business and Shopify online store. Keep following our blog to get more helpful business knowledge and top trends daily.
💡
Fordeer: Invoice Order Printer
is a PDF Invoice app on Shopify. There are multiple beautiful templates available for invoices, orders, refunds, and packing slips. You can edit all these templates and print out the document simply. The best thing is a reasonable pricing plan and various amazing features! Be faster, cheaper, and more effective for your brand preferences with Fordeer.