Top Baby Product Dropshipping Suppliers 2023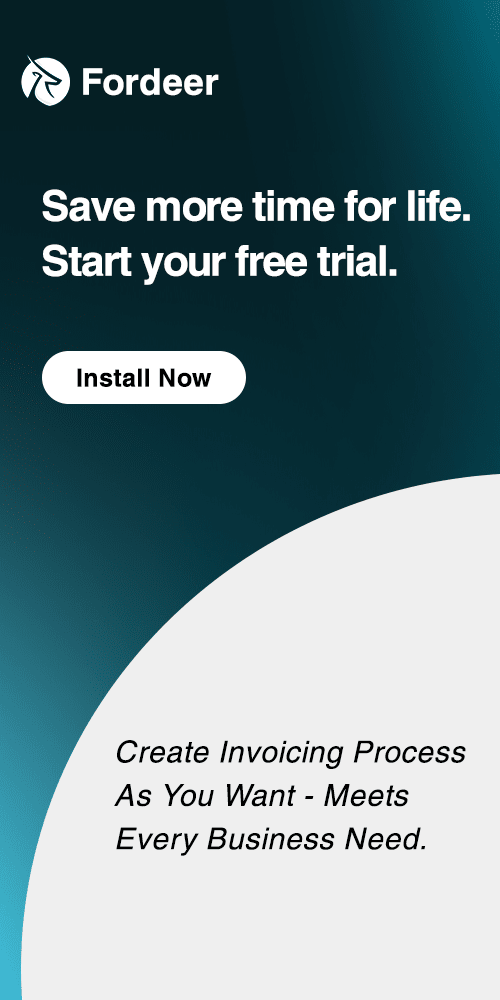 Considering that 385,000 kids are born every day, the baby products sector is unavoidable. In 2026, it is predicted that the global market would be valued more than 88.72 billion US dollars.
Therefore, it is undoubtedly a field worth considering. The attention of new and upcoming parents has been particularly captured by the growth of social media and influencer marketing. This group is very enthusiastic and eager to test new products as they hit the market. However, given that there is year-round demand, the nicest part about dropshipping baby items may be your ability to access a market year-round.
Let's explore the top baby products dropshipping suppliers for 2023 with Fordeer!
How to find the reliable supplier for baby products?
These days, having a list of baby things to sell is just insufficient. For these things, you must also locate trustworthy providers.
But don't worry, we've compiled advice on how you can quickly identify the suitable suppliers.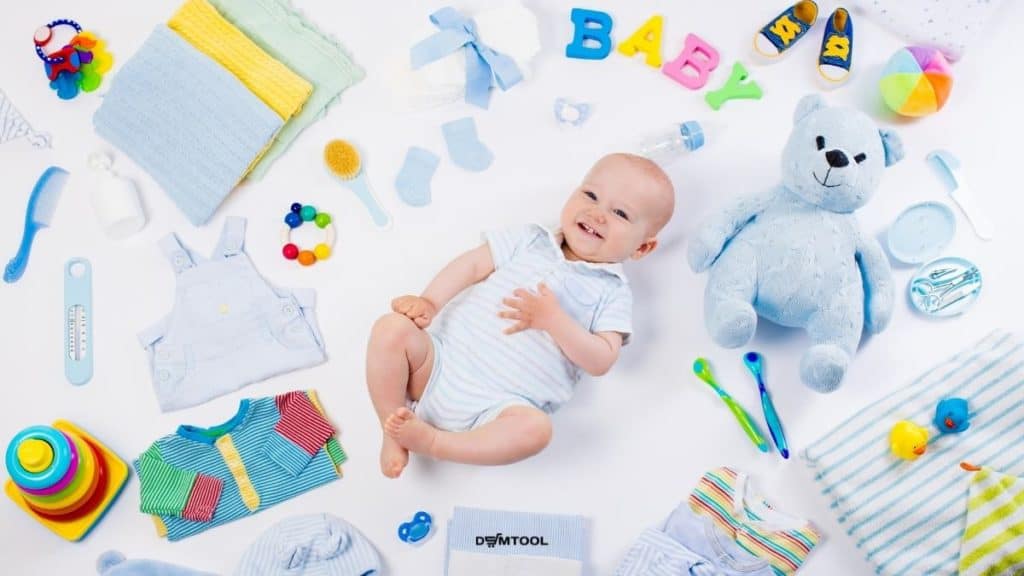 Utilize online communities and directories
Regardless of geography or area, searching internet directories is the quickest approach to discover a provider. You may use keywords or Google to search for directories of reputable vendors. Visit communities that provide evaluations of these vendors is often very helpful.
From the following web directories, you may frequently locate excellent suppliers:
Wholesale Central
SaleHoo
Doba
Shopify Marketplace
These are trustworthy websites with a sizable fan base and an excellent network with other successful companies. If you make good use of these resources, you might be able to locate a provider in about an hour.
Contact their customer service
The simplest approach to determine if they are a suitable fit is to just give them a call and inquire about their goods and services. Make a list of inquiries that will aid you in deciding whether or not to collaborate with them.
It is simpler for you to determine whether a candidate meets your needs when you speak with an employee who is well-versed in the company. Additionally, it saves a lot more time than waiting for them to respond by email.
Additionally, being able to speak with an employee demonstrates that they have excellent customer service, which is essential for your field of work.
Check to determine if they own specific qualities
You must determine whether a potential dropshipping provider possesses particular qualities in order to identify them as such. They must, first and foremost, have reasonable and affordable product prices. If they already have a pricing point like that, look for alternatives that are more reasonably priced. If they maintain a sizable stock of goods, there is something else to watch out for.
Finding one that already sells the majority of the items you want to sell is fantastic as well. You won't have to deal with several providers for various goods, which will save your expenditures as well.
Finally, whether it be membership fees or shipping costs, they should have reasonable fees. Keeping them at appropriate price points will also help you reduce your spending because they are the only two of these fees you will encounter.
Top baby product dropshipping suppliers for 2023
Let's quickly find out top five outstanding dropshipping suppliers to source baby products:
AliExpress
Starting off the list is AliExpress, one of the most well-known e-commerce sites that links dropshippers with a variety of Chinese vendors. We can dropship a wide range of baby goods from this provider at affordable costs.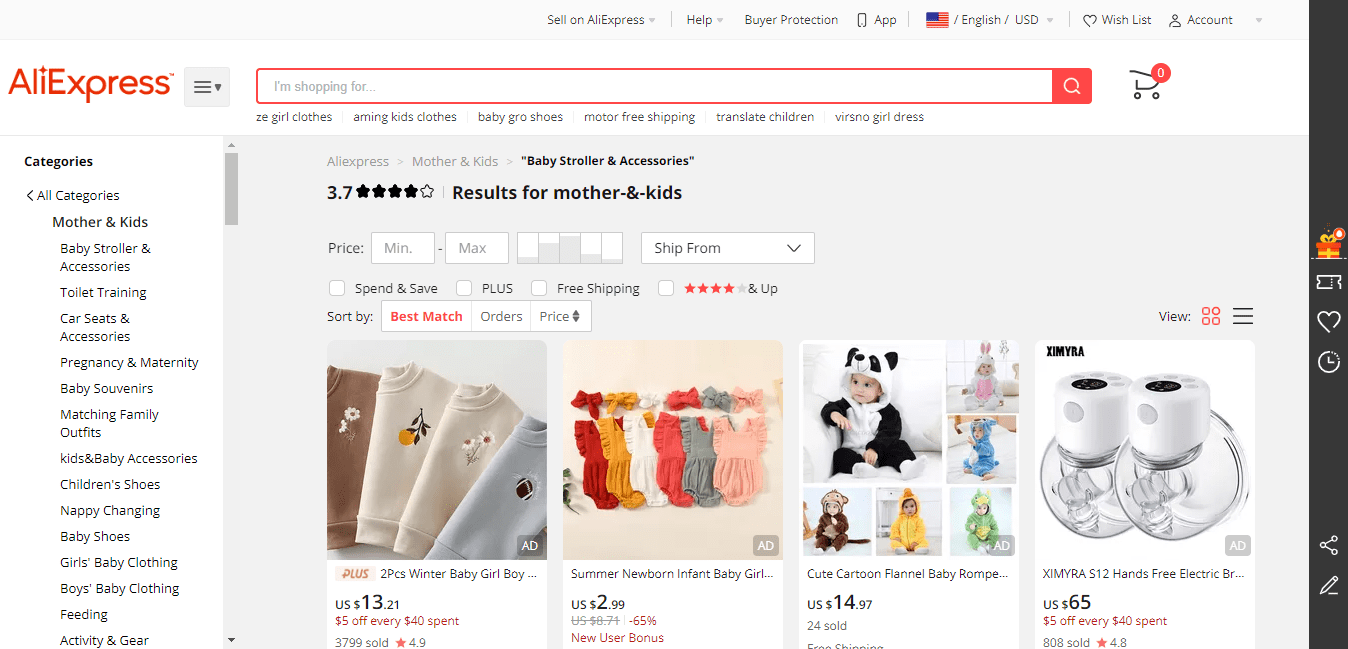 Our access to a wide variety of infant items is made possible by AliExpress, one of the biggest eCommerce sites. Additionally, we can use the AliExpress Dropship Center to discover which baby items are the most popular on AliExpress. Additionally, vendors on AliExpress provide baby items at reasonable costs, which enables us to make a lot of money. Overall, AliExpress is a great supplier from which we can obtain top-notch goods to drop-ship in our shops.
Walmart
Walmart is yet another significant provider of baby items. Despite being a well-known grocery chain, its extensive internet presence allows us to identify top-selling baby items on its website.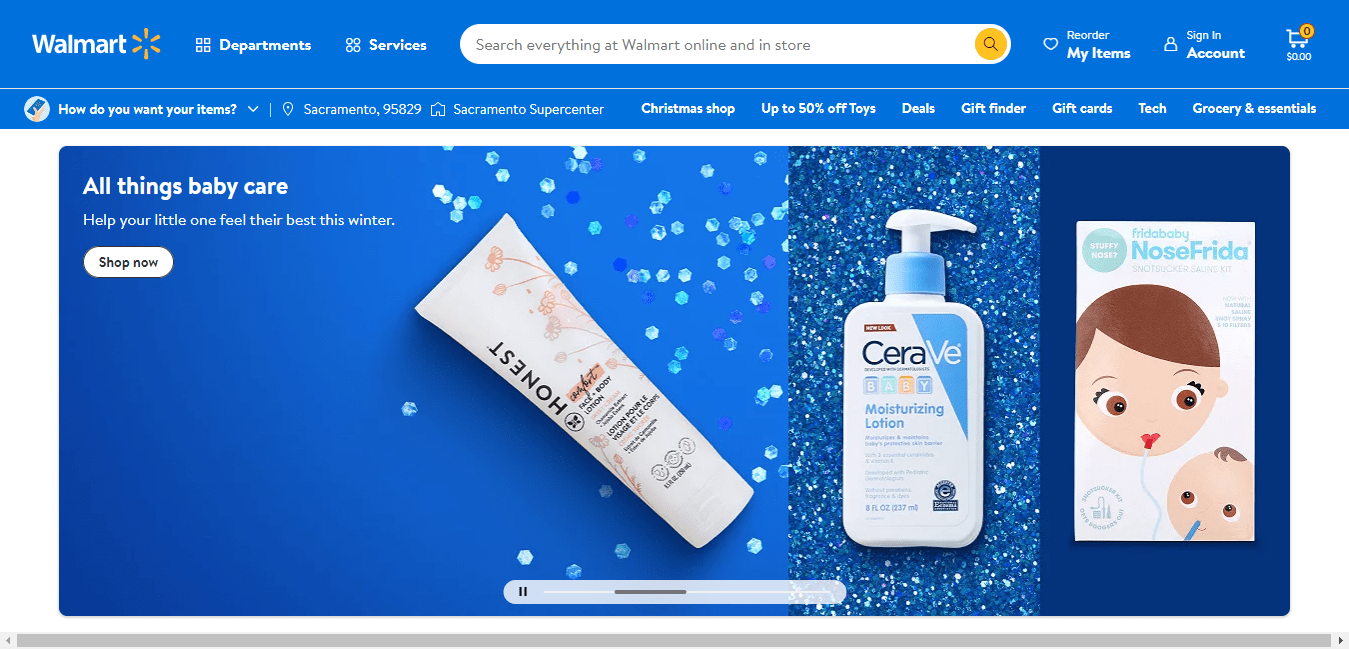 Walmart mostly provides a wide range of baby items. Additionally, they continuously provide unique offers and discounts all through the year. We may also choose next-day delivery, which would increase client happiness. Additionally, Walmart's price-matching policy guarantees that we are obtaining goods at reasonable costs.
Wayfair
Let's take a closer look at Wayfair, a specialized dropshipping vendor where we may get baby furniture items. Their product line includes playsets for the backyard, lighting, and kids' dcor.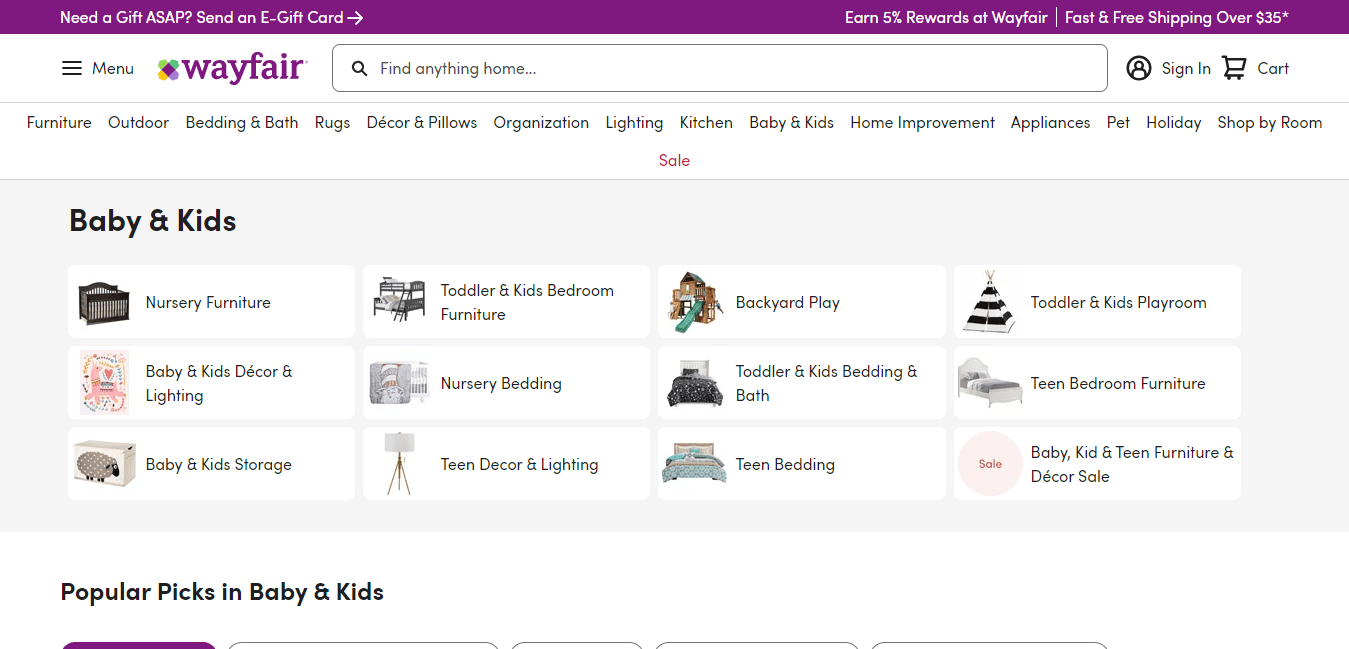 Wayfair provides us with trendy furniture items that are appropriate for babies and children because it mostly sells items in the furniture sector. Furthermore, Wayfair provides free two-day delivery on purchases of $49 or more. Additionally, Wayfair's "MYWAY" program gives free shipping on all online purchases as well as same-day delivery on the majority of its items. In addition, we have immediate access to thousands of original baby goods.
CJDropshipping
The next item on our list is CJDropshipping. It is a dropshipping provider similar to AliExpress, with thousands of Chinese suppliers of baby products.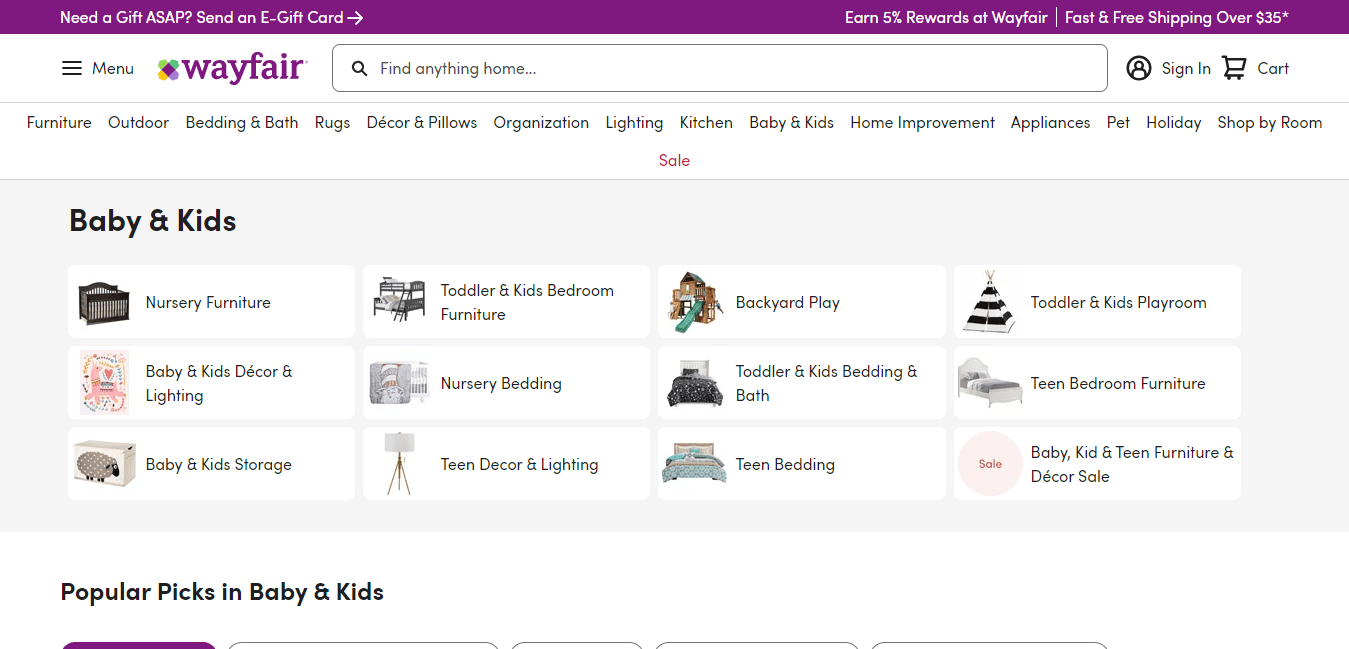 We can dropship a lot of popular baby items thanks to CJDropshipping's large product selection. Additionally, they have domestic storage facilities and delivery hubs all throughout the world. They provide speedy delivery times as a result. Additionally, they provide several advantages and savings through special offers, reward programs, and discount promotions.
Costco
Costco is the last business on our list of the top manufacturers of baby products. They frequently give discounts as a result of their business approach, allowing us to provide our customers with affordable costs.

Costco provides free and quick shipping and has several local warehouses throughout the world. It also has an accommodating return policy with a 90-day return window. And last, Costco provides outstanding customer service, which enables us to address consumer issues swiftly. Additionally, we have access to a variety of dropshipping-friendly services that we can offer to our clients. Additionally, we can increase sales and boost client happiness with the use of these features.
How to dropship and sell baby items online?
You must think carefully about how you can compete in the market for infant products because there are many well-known and established companies. One of the most lucrative baby things to dropship is likely clothing. The list of further industries you may consider entering is virtually unlimited and includes strollers, baby wipes, toys, shoes, and even pregnancy supplies!
Just keep in mind how you differ from others. Maybe you focus on low-cost baby supplies, designer or high-end apparel, or perhaps eco-friendly goods. Utilize a gap and smart marketing.
Just take into consideration that it's crucial to promote your products via social media to reach your target audience where they are. Consider creating items that will stand out from the competition and attract the attention of parents. Anything that will make the parents happy is sure to succeed!
Final thoughts
At this moment, we are fully aware of the best dropshipping providers for baby products. With this information, we are equipped to start a dropshipping business in the infant area. Overall, one of the evergreen categories that sells all year long is baby goods dropshipping.
Once we've established our dropshipping business for baby products, we can use automation to grow it more quickly. We can even expand to a different specialty if we achieve success. Here is the article that will offer you a general overview of top best-selling products that sell well in light of that. Read on.
---
👉 Fordeer, which is a start-up software agency in 2022, is so honored to be founded with the mission of producing support tools for businesses all over the world. "The great tools for the best businesses". Our highly qualified programming engineers, with all their passion, are always ready to dedicate themselves to creating the most useful apps for your business and Shopify online store.
📌 Fordeer Invoice Order Printer (FIOP) is a Shopify app, which was built as a professional alternative to Shopify Order Printer. With FIOP, you are able to "print" or "download" invoices, packing slips, orders, etc., in bulk and send them to your customers directly.
Learn more about app
.