Tips to start a Print-on-Demand business on Shopify
Do you enjoy designing clothing, accessories, or home décor because you have a creative streak? If so, creating a print-on-demand company on Shopify can be the ideal business endeavor for you!
We'll help you through creating your online store and putting your customized goods up for sale. We'll also discuss some of the top social media marketing strategies you may employ to launch a profitable print-on-demand business.
Fordeer will walk you through every step of starting your very own Print-on-Demand business with Shopify in this post.
The basic definition
Shopify
An all-inclusive, hosted ecommerce platform called Shopify provides tools for creating an online shop, selling goods, and taking payments from consumers. It's a full-featured website builder and online store manager with tools for managing orders, advertising your business, and monitoring client purchasing patterns.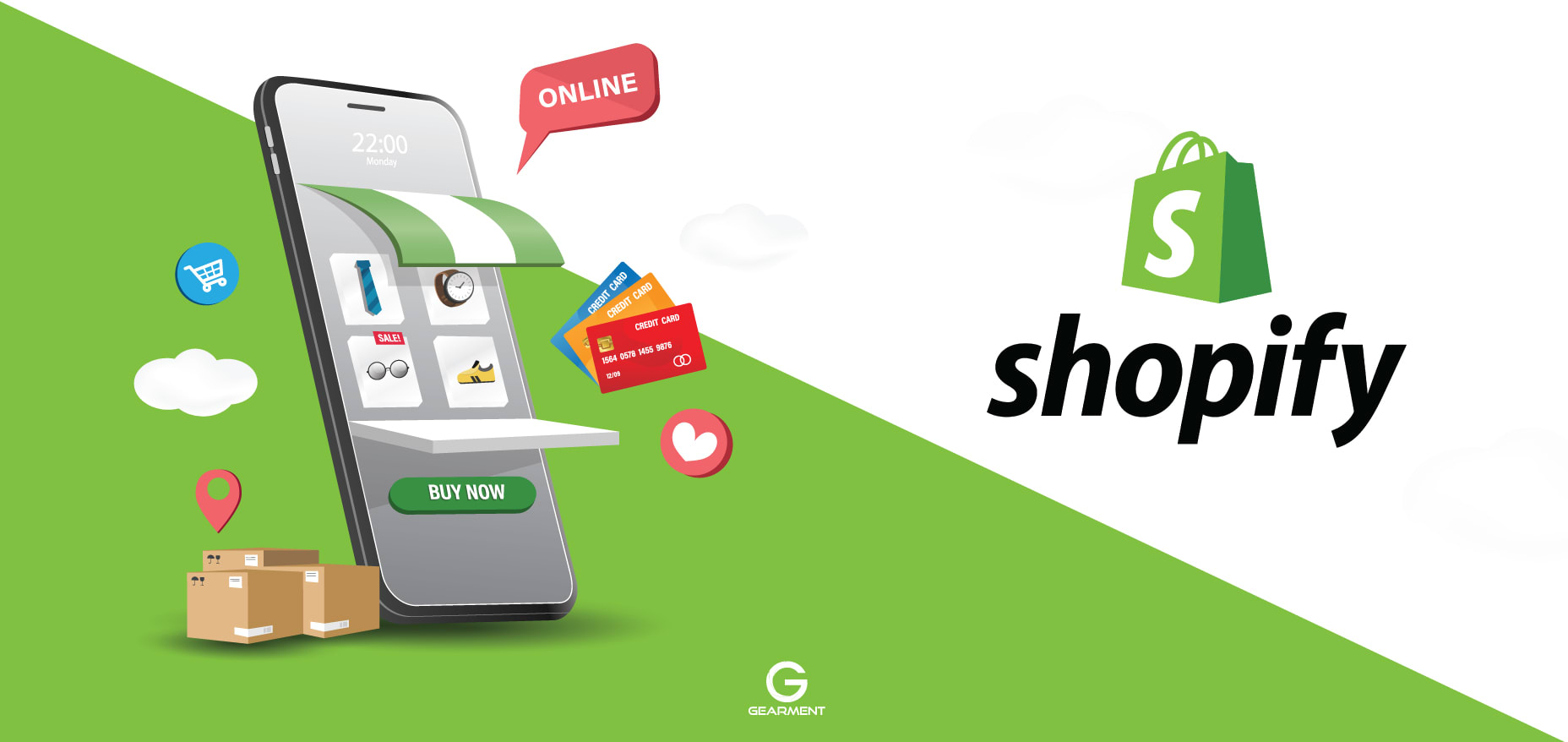 One of the most well-known ecommerce systems available is Shopify. The monthly cost of Shopify ranges from $9 to $299. For reputable online companies, the greatest value is the $79 per month Shopify plan.
Shopify is your storefront for a print-on-demand business. The products would then be listed on your Shopify website once you combined it with an app that provides POD services.
Print-on-Demand
Print-on-demand (PoD) manufacturing refers to the practice of printing goods only as orders are received. Due to on-demand printing, you don't have to worry about inventory or storage space.
With print on demand, you can advertise common items like t-shirts, posters, backpacks, and novels, give them your own unique twist, and make money online.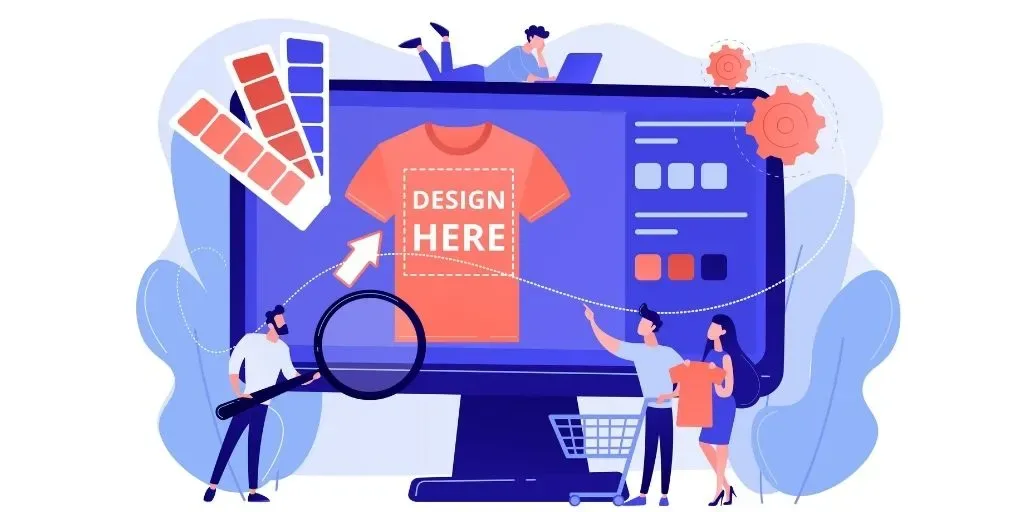 The dropshipping business model and print-on-demand have many parallels. Third-party vendors manage the logistics for both print-on-demand and dropshipping businesses. Online stores or individuals who wish to sell personalized goods without the headache of inventory management should use this sort of production. It's one of the easiest methods to find things or launch an internet company, but you should be aware of the benefits and drawbacks before getting started.
Tips to start a Print-on-Demand business on Shopify
Things you need to start a Shopify Print-on-Demand store
A computer with internet connection: In order to set up your eCommerce store and create your items, you will need a computer or laptop with internet access.
Tools for graphic design: To produce your designs, you'll need design programs like Adobe Photoshop or Illustrator.
Print-on-Demand supplier: You will need to locate a print-on-demand provider that can produce and deliver your items.
Shopify account: You will require a Shopify account to set up your online store.
Steps to set up a Print-on-Demand store with Shopify
Shopify makes it as simple as possible to start up a business with them, whether it be a print-on-demand store or something completely else. The following are some crucial actions you should take while setting up your PoD store:
Step 1: Create a Shopify store
Setting up your print-on-demand store is the first step. The most popular eCommerce platform, Shopify, is ideal for this company strategy. You get everything you need to start selling online, and it's simple to use.
Shopify is also quite inexpensive; you simply pay $29 a month. This enables you to invest more in marketing initiatives. Additionally, Shopify offers 24/7 support, so you can get in touch with them whenever you need assistance.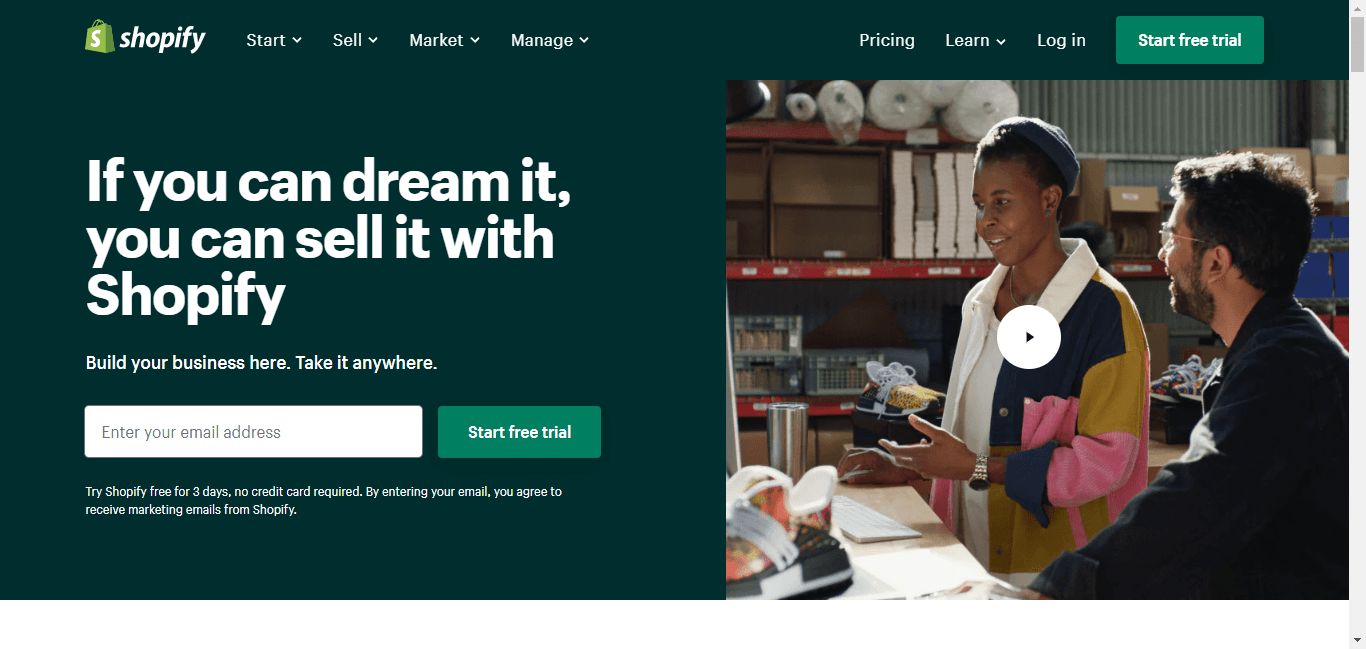 Go to shopify.com and click the "Start your free trial" button to set up your Shopify store. Select your nation and currency after entering your email address and creating a password. After doing that, click "Start your free trial" once again.
You'll need to input some store-related information on the next page. Click "Next" after entering the name of your shop.
Put a credit card in and select plan
Now that you have a Shopify account, it's time to put a credit card on file and select a plan. You can choose from Shopify's three main plans.
Each plan has its own set of features and pricing structures. Choose the plan that best suits your needs. Usually, the Basic plan is enough to get started with.
Set up your domains
Every store on Shopify gets a free "myshopify.com" domain, but it looks like a scam and will lower your conversion rate. If you use a domain provider, you'll need to set up DNS records with them. Shopify makes it easy. Simply go to the "Domains" section of your Shopify admin and enter your domain name.
Create a logo
Making a beautiful logo is one of the most crucial things you can do for your brand. Fortunately, tools like Canva have made it simple.
You may get inspiration from thousands of logo templates on Canva. Any specialty phrase entered into the Canva search field will return many logos for you.
Customize theme
Start developing your Shopify store right away.
Selecting a theme should be your first step. Shopify offers both free and paid themes. We suggest using a free theme if you're just getting started. If you decide you want a premium theme later, you can easily upgrade.
Step 2: Choose a Print-on-Demand supplier
It's time to choose a print-on-demand website now that your Shopify business has been set up. You must select a print-on-demand supplier from the Shopify App Store. Shopify provides a selection of Print On Demand vendors.
You should choose a service with the quickest shipment time and the greatest price-quality ratio based on the country you want to sell to. You ought to stick with one core provider when you first launch your print-on-demand company.
The most well-known print-on-demand companies on Shopify are mentioned here. We examined important aspects like shipment time, product quality, and customer support to make it even simpler for you to choose the finest print-on-demand service.
Step 3: Create design and products
Your designs can be created in at least a few different methods. Making your own designs will save you the most money.
Creating designs yourself by using Adobe Illustrator;
Hiring a professional designer;
Using Mockup Generator;
"Unique and simple designs tend to work best when doing Print-on-Demand."
Step 4: Add products to your online store
You may start adding goods now that your Shopify store is set up and connected to a fulfillment partner for print-on-demand!
Verify the following to ensure that your products are ready to use:
Pick the proper product category;
Set the price for your product;
Include a succinct and clear product description;
The best possible product photos;
Pick the appropriate shipping choices.
Step 5: Launch your store
The launch of your Shopify store is now complete! Although the situation is exhilarating, remember to take a few deep breaths first.
Make sure all your settings are right, your website is well-designed, and all your goods are configured properly before pressing the "Publish" button. By selecting Customize under "Online Store" on Shopify, you may publish your eCommerce store. The "Publish" button will then be visible in the right upper corner.
Once your store is operational, you'll need to start marketing it to drive visitors to your website.
Step 6: Market your products on Social Media
Now is the perfect moment to set up social media profiles for your shop, if you haven't already. Running a store's many operations while excluding social media might be difficult. Therefore, we advise you to set up the crucial ones first and concentrate on them.
We advise you to create social media profiles for Instagram, Facebook (Page), Twitter, Pinterest, and YouTube as a general rule. Of course, if you'd like, you may set up more!
There are several secure ways to gain a following, depending on the network you are on. We use the word "Safe" since it would be pointless to try to manipulate this by purchasing likes or follows. They almost never add value to your page, generate purchases, or help you rank higher since they are trash accounts.
Conclusion
The Shopify and POD combo creates a superb ecommerce environment, covering everything from integrating the two platforms to creating items, processing orders, and providing customer service.
You may create your own products and use the mockup generator, and the items won't be produced until a customer makes a purchase after visiting your website. For those that buy test items before shipping to clients, this entails no storage expenses, little shipping issues, and a respectable level of quality control.
We wish you well as you start your Shopify POD journey! When your business is growing well, you will need us as your helpful back. We are providing our customers with one of the best free invoice generators on the Shopify App Store. Feel free to contact us whenever you need support.  
---
👉 Fordeer, which is a start-up software agency in 2022, is so honored to be founded with the mission of producing support tools for businesses all over the world. "The great tools for the best businesses". Our highly qualified programming engineers, with all their passion, are always ready to dedicate themselves to creating the most useful apps for your business and Shopify online store.
📌 Fordeer Invoice Order Printer (FIOP) is a Shopify app, which was built as a professional alternative to Shopify Order Printer. With FIOP, you are able to "print" or "download" invoices, packing slips, orders, etc., in bulk and send them to your customers directly.
Learn more about app
.