Tips Shopify merchants enhance their brand identity with Fordeer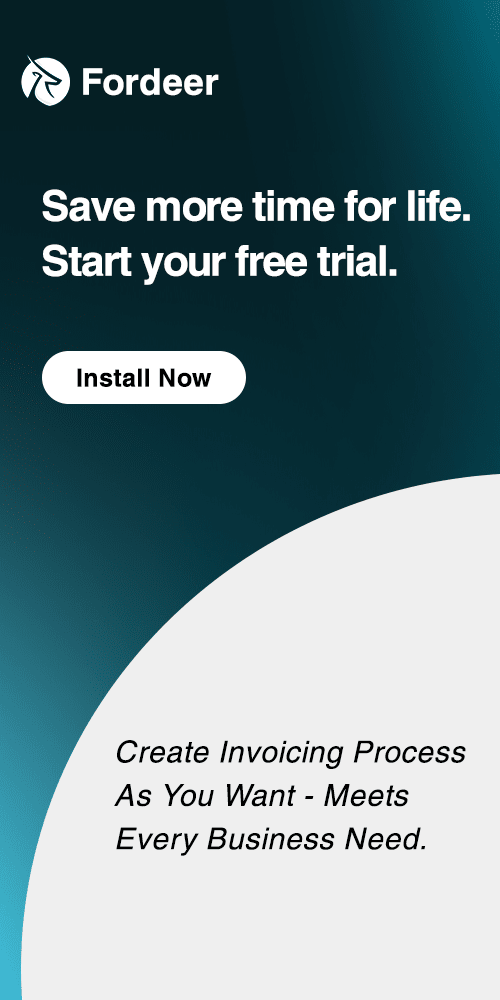 One guaranteed strategy to keep ahead of the competition in the very competitive eCommerce field is to brand your Shopify store. However, creating a brand from scratch is a challenging task, and you most likely have no idea how to achieve it. Naturally, when you consider creating a brand for your Shopify shop business, you'll have a lot of questions.
This post will cover the value of enhancing the brand identity for your Shopify store as well as practical advice and tactics you can use to create a strong brand for your business with Fordeer. You may use anything in this tutorial, whether you're a beginner or an experienced Shopify merchant trying to develop a brand for your business.
Let's begin immediately!
What is the foundation of brand identity?
Everything you do in terms of branding and marketing forms the basis of your brand identity. An important consideration in how you interact with your consumers is company-wide integration.
The quality of your brand and who you are must be reflected in the messaging of your brand. In order to reflect the consistency of your brand identity, your brand messaging should be cohesive and connected to your logo.
In order to incorporate all relevant information about your Shopify store and its products, your Shopify store must have a "home-based" website. In order for consumers to comprehend your brand's vision, you should also tell your brand's story.
Benefits of branding for the Shopify stores
A brand is more complex than its distinctive name and emblem. It determines the full customer experience consumers have while interacting with your business and how they view your brand. Branding serves as a link between your items and your intended market. Therefore, if you can establish a trusting relationship between a consumer and your brand, you will be forging a strong emotional bond that will increase the likelihood that they will make a purchase from your establishment.
Future business performance is significantly impacted by your brand. The following seven benefits come from branding your Shopify store:
Helps people identify and recognize your business
Your brand is more than just your name and logo, as was already mentioned. It is your company's entire personality. It is what distinguishes your business. By giving your company a distinctive character through branding, you make it easier for customers to recognize you.
You can do branding in various ways, such as the following:
Visual brand identities elements like your logo, brand name, and colors;
Brand tone and voice;
Brand values;
Product and packaging design;
Pricing;
Shopping experience;
Advertising and communications.
Helps your business stand out from the competition
Products don't help people form relationships. They frequently support and adhere to the brand. Therefore, branding your Shopify store encourages customers to connect your products to your brand. Because people can relate to your brand and the promises you have made to them, this will influence them to choose your items over those of the competitors.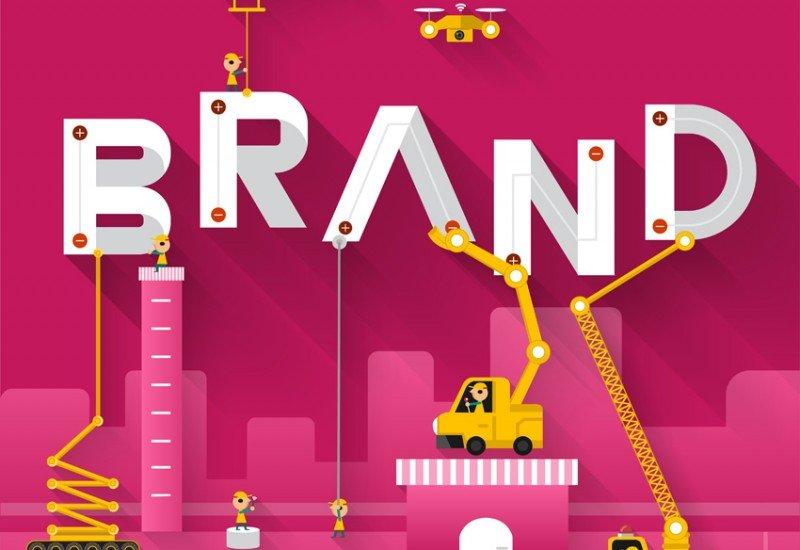 Builds an emotional connection with customers
Your business's values are a crucial aspect of its brand and aid in forging an emotional bond with its customers. This bond is what encourages clients to purchase from you.
It takes little time to establish trust when there is an emotional connection. Once trust has been established, customers will become devoted to your brand and almost always come back to you for purchases.
Helps to set customer expectations
Your customers will know what to expect each time they want to purchase when branding and a good customer experience are combined. Customers develop mental shortcuts as a result, and they are more comfortable making purchases from you.
People have solid reasons to select a good brand's goods and services each time. If you continuously uphold your brand promise, it becomes what your customers expect. In turn, this will assist you in gradually establishing a strong base of devoted clients.
Makes marketing and advertising easier
By branding your Shopify store, you can make your company stand out from the competition and make it simpler for customers to visualize working with you. They will respond more favorably to your marketing and advertising techniques if they can identify with your brand.
Your customers are more inclined to recommend your brand to their friends and family because they have faith in it.
Inspires you and your employees
If you have any employees, branding provides them with values they can live and work by. If the members of your team are inspired by the brand values, they will work harder. Your team will comprehend and share your goals, which will help you focus on them.
It will act as a guide to direct your work attitude and reflect on the goal, plan, and communications of your brand.
Helps to grow your business
Because branding encompasses more than just marketing and advertising, it is valuable to businesses. Every additional benefit of branding for your Shopify company revolves around boosting your revenue and attaining business expansion, which is the main reason you possess a Shopify store in the first place.
You may raise the market value of your business through branding. You can produce more money and profit with more customers.
Tips Shopify merchants enhance their brand identity with Fordeer
It is clear to see that branding plays a significant role in the success of your Shopify store in particular, and your e-commerce business in general. Thus, let's explore how Shopify merchants can enhance their brand identity with Fordeer Invoice Order Printer.
Apply your logo to billing documents
The most important component of your brand identity is your logo since it conveys your identity to the public. It serves as a brand's identity's foundation. Your store's identity must be conveyed in the logo you create. Make sure your logo is clear, simple to interpret, and eye-catching. It gives the audience a lasting impression of your Shopify store.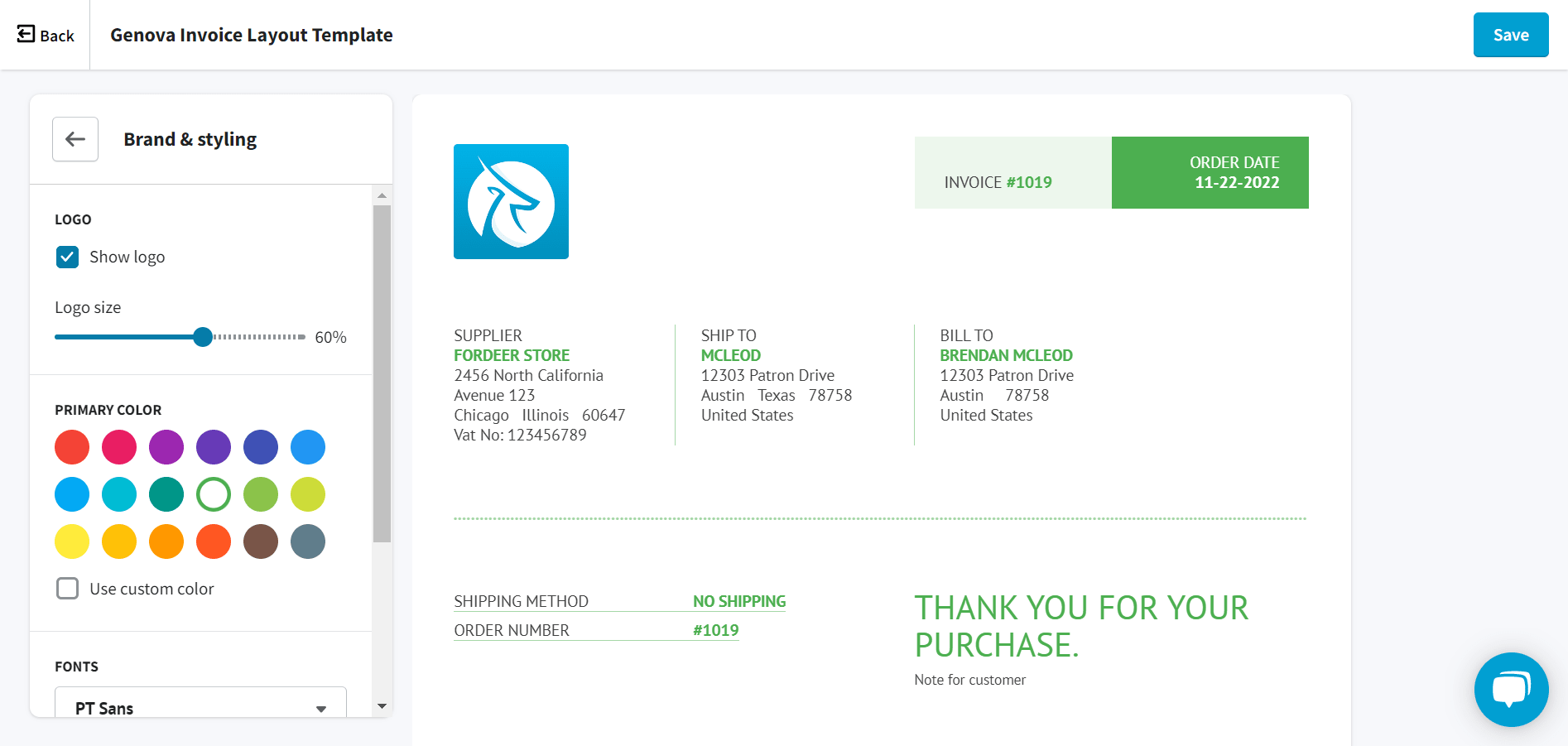 Put a checkmark in the checkbox "Show logo". Just with one click, your company's logo will be displayed on the billing documents. In the template, the previously set logo will be immediately filled in. You can adjust the logo size as you desire.
Select your brand colors
One of the most enjoyable parts of branding your Shopify store is using colors. However, brand colors are more than just for entertainment. Customers can easily understand specific emotions by looking at colors. To connect emotionally with your customers, you can use color psychology.
The message you want to convey to your audience and the feelings you want to arouse in them should impact the color of your brand. Additionally, your brand colors can help you stand out from the competition and maintain consistency across all of your marketing and communication channels.
With the Fordeer Invoice Order Printer, there are a number of things that could be shown with the color you choose. Not only the available color bar, but you also can use your favorite color or the primary color of your business by putting a checkmark in the checkbox "Use custom color".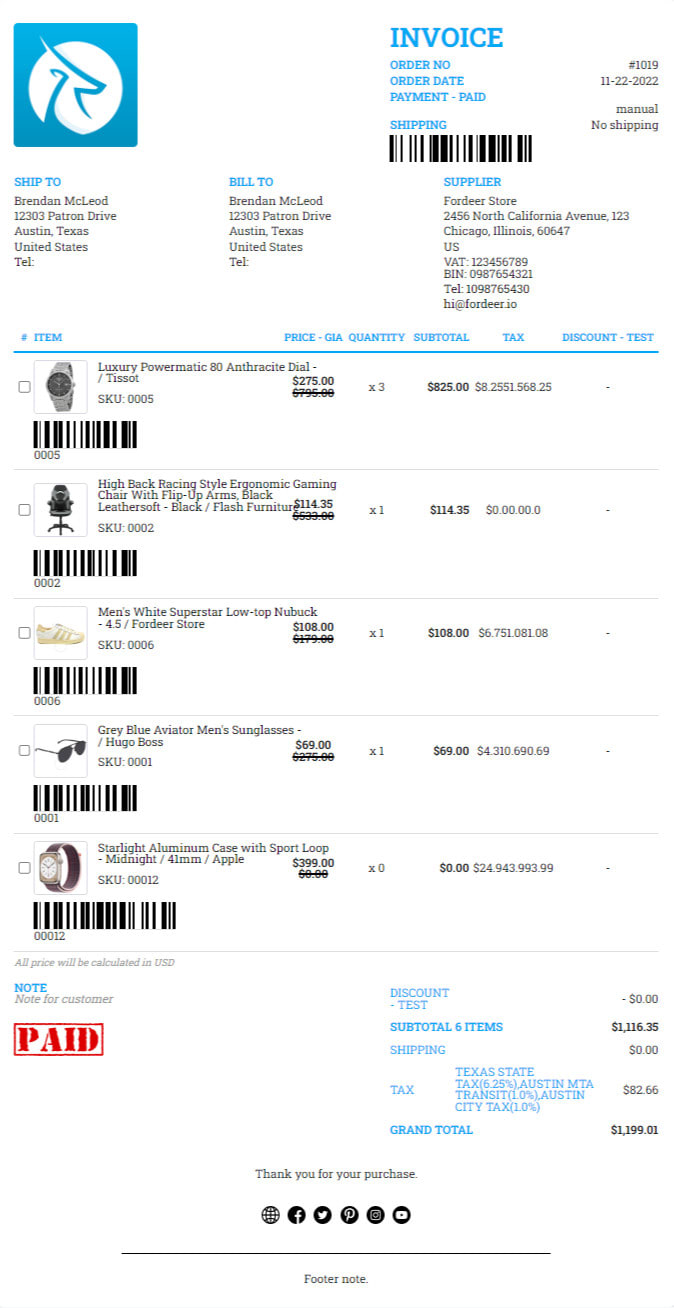 Choose a typography
Your choice of typefaces and how you combine them are all that typography is concerned with. Your clients' experiences may be dramatically impacted by the fonts you use and how you incorporate them.
The rule of thumb when choosing typefaces for your brand is simplicity. On your invoice templates, utilize no more than two fonts. You can choose one font for body text and another for headings.
There is a font system available that you can apply to your documents. More than that, you can also use your own font by putting a checkmark in "I have another font." Then, you enter your font URL on the blank bar to apply your font. Moreover, you can also modify the font size and line height.
Conclusion
You will be able to stand out from the sea of rivals and be highlighted at the same time with a distinctive and beautiful brand identity. Your brand identity, which is the first thing buyers and visitors see when they enter your online store, will let them know about you and your company.
By creating specific themes, logos, typefaces, and other elements that reflect who you are, you can spread happiness across your Shopify store. That concludes today's article, which I hope was helpful to you in developing your distinctive brand identity.
Remember that your brand identity is a reflection of your brand, so build it carefully. If you need assistance, don't hesitate to get in touch with us.
---
👉 Fordeer, which is a start-up software agency in 2022, is so honored to be founded with the mission of producing support tools for businesses all over the world. "The great tools for the best businesses". Our highly qualified programming engineers, with all their passion, are always ready to dedicate themselves to creating the most useful apps for your business and Shopify online store.
📌
Fordeer: Invoice Order Printer is a PDF Invoice app on Shopify. There are multiple beautiful templates available for the invoice, order, refund, and packing slip. You can edit all these templates and print out the document simply. The best thing is a reasonable pricing plan and various amazing features! Be faster, cheaper, and more effective for your brand preferences with Fordeer.