The Top Shopify Apps Every Online Store Needs 2023
With over 8,000 apps on Shopify, it's becoming increasingly difficult to select the perfect app for your Shopify site, especially since each business has distinct aims. You'll be relieved to know that we completed all of the legwork for you.
We let the people lead us with their mainstay tools. Our list was compiled using questions and recommendations from TikTok, Reddit, Quora, Facebook, and LinkedIn groups, as well as top-rated applications from the Shopify app store.
This list can come in helpful whether you are constructing your website, researching the finest apps for a new Shopify store, or wanting to optimize the speed of your existing website using various tools. So, let's take a look at the top Shopify apps every online store needs in 2023.
The Top Shopify Apps Every Online Store Needs in 2023
Fordeer: Invoice Order Printer
Fordeer Invoice Order Printer is a professional alternative to Shopify Order Printer that allows users to print and download invoices, packing slips, orders, and other documents in bulk and send them straight to consumers using the "Email Automation" function. Fordeer: Invoice Order Printer is a PDF invoice tool that allows sellers to generate their own stunning invoice templates on the setup page by modifying the store details and currency standard.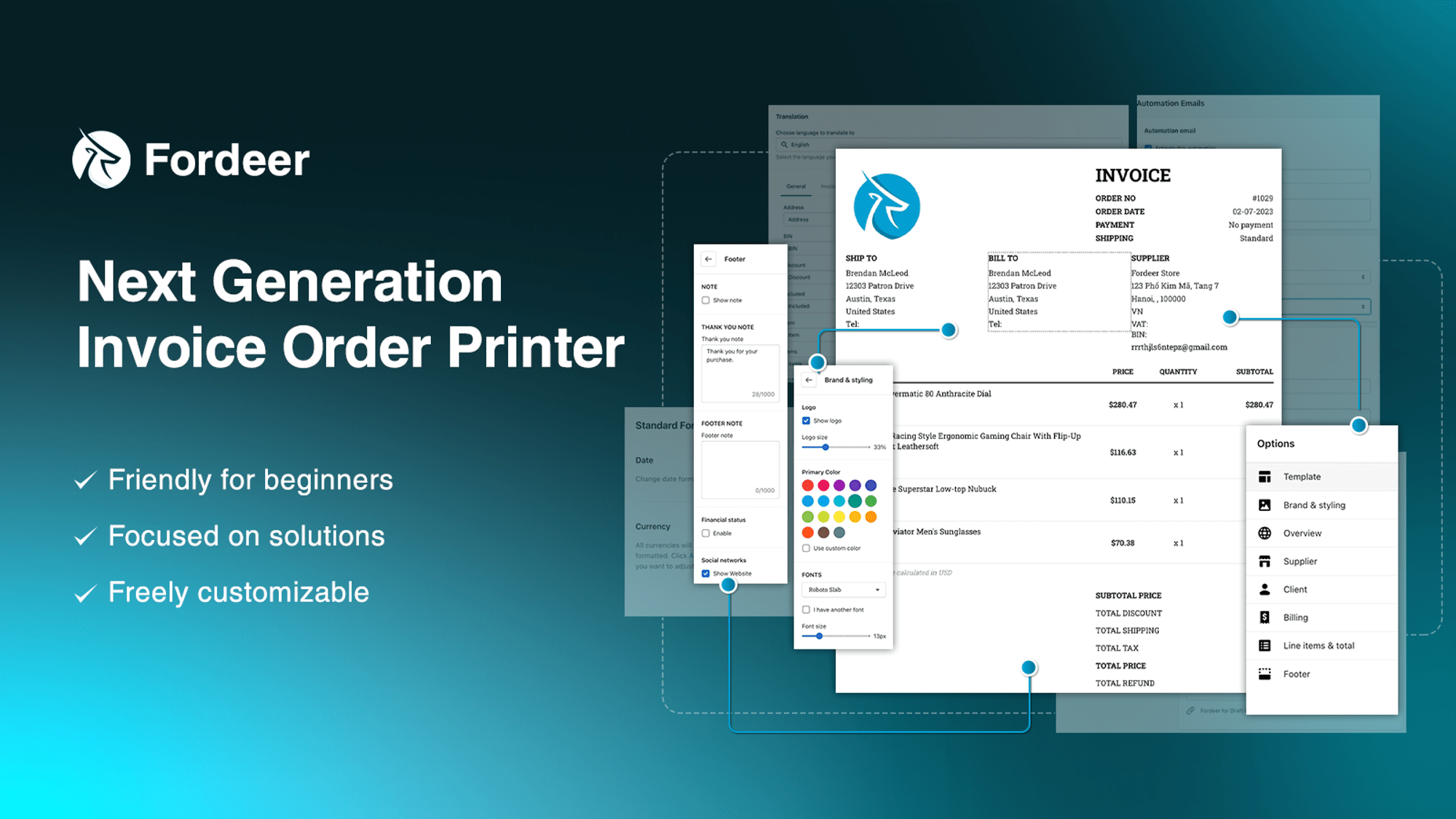 Users are able to generate invoices in either the business's main language and currency or the language and currency in which their customers make purchases from them. Furthermore, the app is suited for both POS and mobile devices and can be translated into up to ten different languages. Above all, Fordeer allows users to work whenever and wherever they choose by being compatible with the Shopify Admin API.
With all-powerful advanced features in the billing process and reasonable pricing plans, Fordeer can help you get your business to where you want it to be in no time. Contact their support team today and grab the chance to grow your business with the promo code "FORDEER50" to enjoy 50% off right away!
Rating: 5/5
Pricing plan: Free plan available. 14-day free trial. Additional charges may apply.
PushOwl Recover Abandoned Cart
Finding strategies to alert customers about new products or items that are back in stock can help enhance sales and reduce abandonment rates. The Pushowl app allows you to deliver push notifications to customers to place new orders or remind them to complete transactions.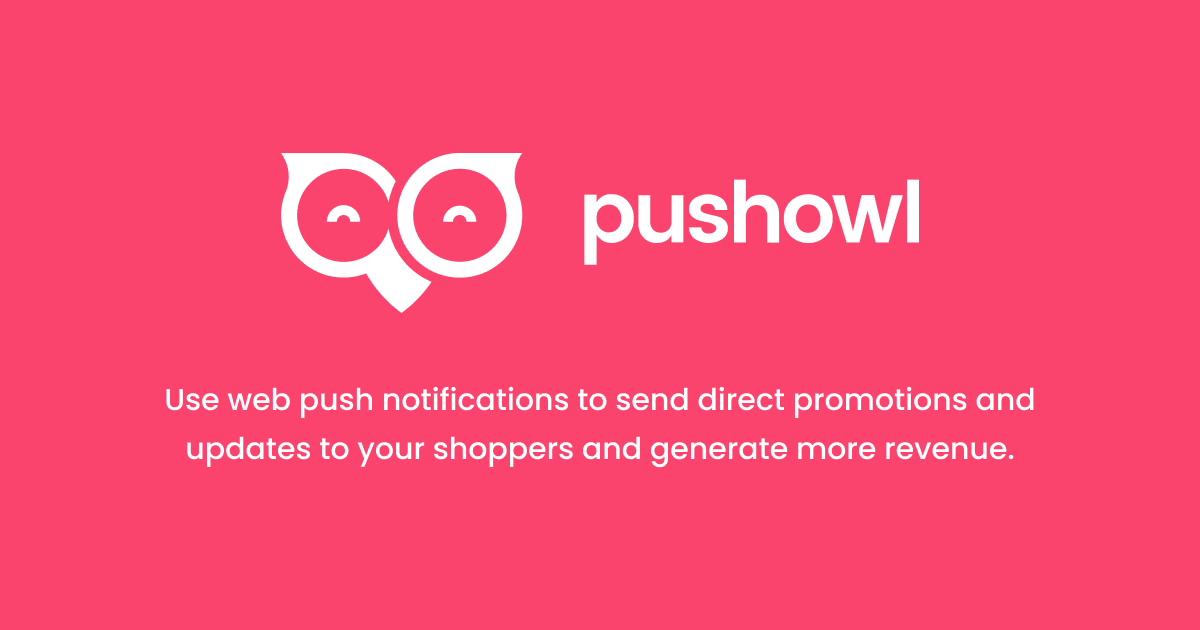 PushOwl's web push allows you to sign up store visitors as subscribers with a single click, without requiring any personal information such as an email address or phone number. Send online push alerts about products and offers directly to the device screens of your subscribers to convert them into purchasers and sell more. Web push notification is the ideal marketing method for rapidly capturing and selling to anonymous shoppers. PushOwl can help you convert your anonymous consumers into customers and increase your income.
Rating: 5/5
Pricing plan: Free plan available. 14-day free trial.
UpPromote Affiliate & Referral
UpPromote is the most popular affiliate marketing/referral app in the Shopify App Store, with over 90,000 users worldwide. It is a one-of-a-kind tool that helps businesses to promote growth and increase loyalty by establishing affiliate and referral networks. Brands can use UpPromote to support affiliate, referral, loyalty, and influencer marketing in order to establish growth loops around affiliates and customers.

UpPromote is the best app for businesses to identify and manage their affiliate networks and brand ambassador partnerships. Businesses may effortlessly personalize everything for their brand with customizable forms, links, coupons, and affiliate portals. Shopify merchants may also develop referral programs to encourage word-of-mouth marketing and reward consumers who refer their friends. Furthermore, UpPromote provides customizable pricing options to meet the needs and growth of its customers.
Rating: 4.9/5
Pricing plan: Free plan available. 14-day free trial. Additional charges may apply.
Trust Badges Bear

Customers make purchasing decisions in seconds and are quick to disregard a store that they do not trust. Enhance your store with trust badges and payment icons to reassure customers that your store is safe and trustworthy. Install the app to gain access to 300+ badge options that will complement your store's look. Change the message, colors, orientation, size, and more! With a single click, copy-paste your trust and payment badges on any page in any part (cart / footer / hero / product page). Try it right now!
Rating: 4.9/5
Pricing plan: Free
MC Limit Quantity Purchase
MC Limit Quantity Purchase app helps Shopify store admins apply minimum & maximum limits to products, product variants, collections, customer tags, order amounts, quantities in the cart etc. The main purpose of this app is to sorting out the problem of over-ordering & manage the inventory effectively.
This app has multiple ways for setting restrictions on item quantities that can be ordered by customers. Min & max limits can be set on individual product or its variant, collection or all products available at the store.
Moreover, MC Limit Quantity Purchase app also offers the functionality of making the sets of products with min & max limit restrictions. The customers can purchase the set products according to the rules applied by the store admin.
Utilizing the future limit mechanism of this app, the admin can apply the min & max limits on products his customers can purchase in terms of lifetime or days. This app also offers the convenience for importing & exporting limits in bulk via CSV file to make everything go fast.
Rating: 4.6/5
Pricing Plan: Free plan available. 7-day free trial.
SMSBump: SMS Marketing & Email
Yotpo has perhaps the best Shopify app for SMS management. SMSBump allows you to develop and automate subscriber lists that are GDPR and TCPA-compliant. The software provides a number of processes to assist you in increasing conversion rates and improving customer service.

Yotpo SMSBump allows you to seamlessly expand your SMS and email lists, recover abandoned carts, and deliver revenue-driving texts and emails that increase your sales. Select from a library of high-converting SMS templates and automation to interact with customers in real-time and maximize the impact of each customer engagement.
Rating: 4.9/5
Pricing plan: Free plan available. Additional charges may apply.
Seguno: Email Marketing
Seguno is an excellent tool for implementing internet marketing and converting new clients into repeat customers. Seguno makes it easy to send welcome emails to new customers. The program also creates thank-you emails and fosters client trust. This is especially beneficial in the long run because it ensures purchasers remember your brand.
When you own a shop, your most precious asset is time. Seguno expedites the delivery of email marketing outcomes. Create compelling emails, activate automated sends, and track your success from one simple location inside the platform you already know. Spend less time worrying about making mistakes and more time on what matters—growing your business—with best practices built-in and your shop's data instantly available. The experience is nothing short of extraordinary.
Rating: 4.9/5
Pricing plan: Free plan available. 10-day free trial. Additional charges may apply.
Mega Menu Creator Pro
Mega Menu Creator Pro helps store owners create customized and visually appealing menu items for their online stores. It provides a user-friendly and intuitive interface that allows users to easily create and customize menus using drag-and-drop elements. It also provides different design options, such as custom fonts, colors, and images, as well as configuration options to control how and where menu items appear.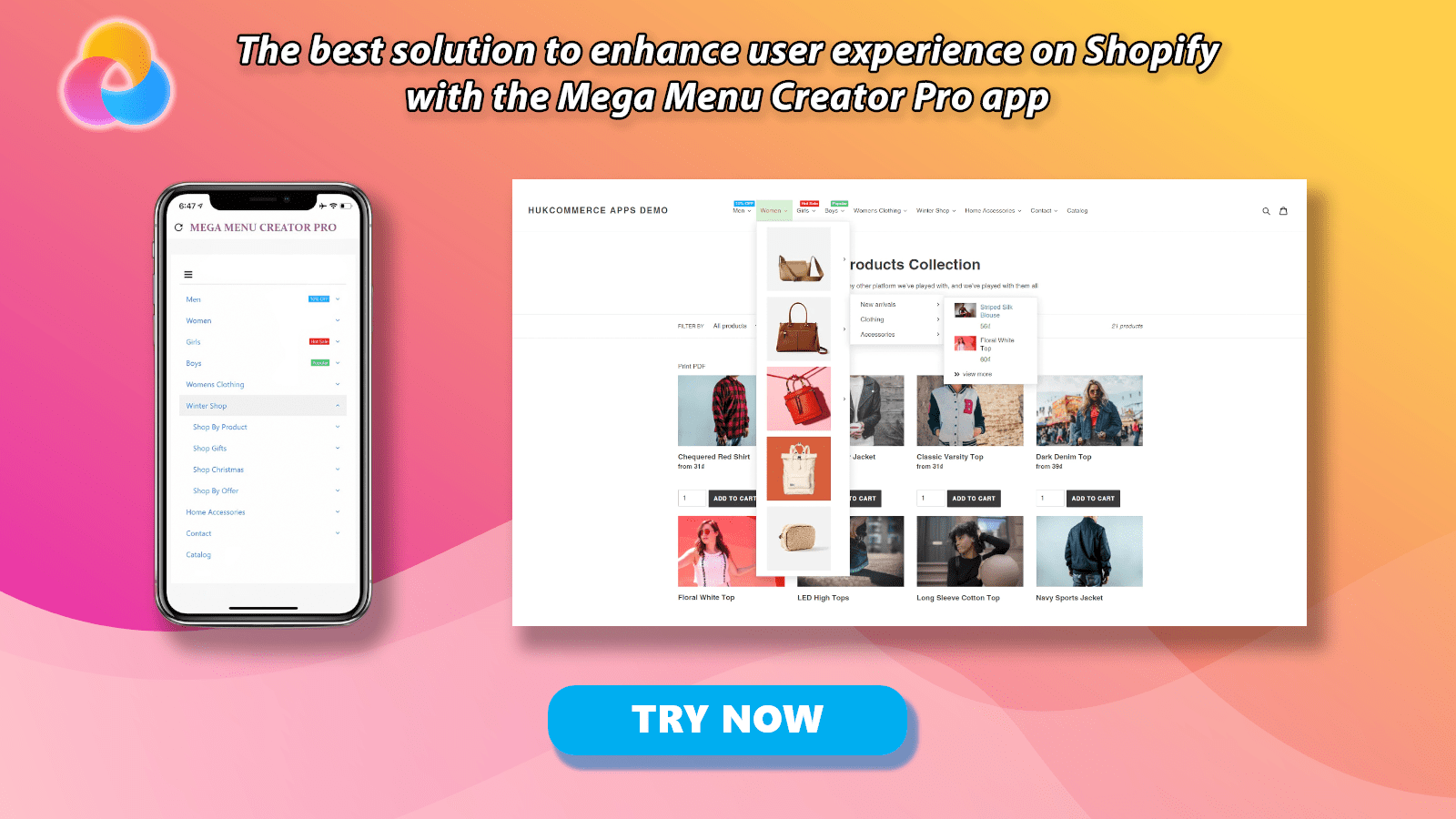 It also includes an analytics tool that delivers insights into consumer behavior and menu engagement, allowing restaurant owners to adjust menu designs for optimum engagement and conversions. Overall, Mega Menu Creator Pro is an effective tool for generating professional-looking and practical mega menus for Shopify sites.
Rating: 4.8/5
Pricing plan: Free plan available. 3-day free trial.
Ryviu is a review app designed for eCommerce platforms like Shopify, WooCommerce, and Prestashop. It allows store owners to import customer reviews from AliExpress, Amazon, and other major marketplaces, and display them on their own website to build trust and social proof among potential buyers.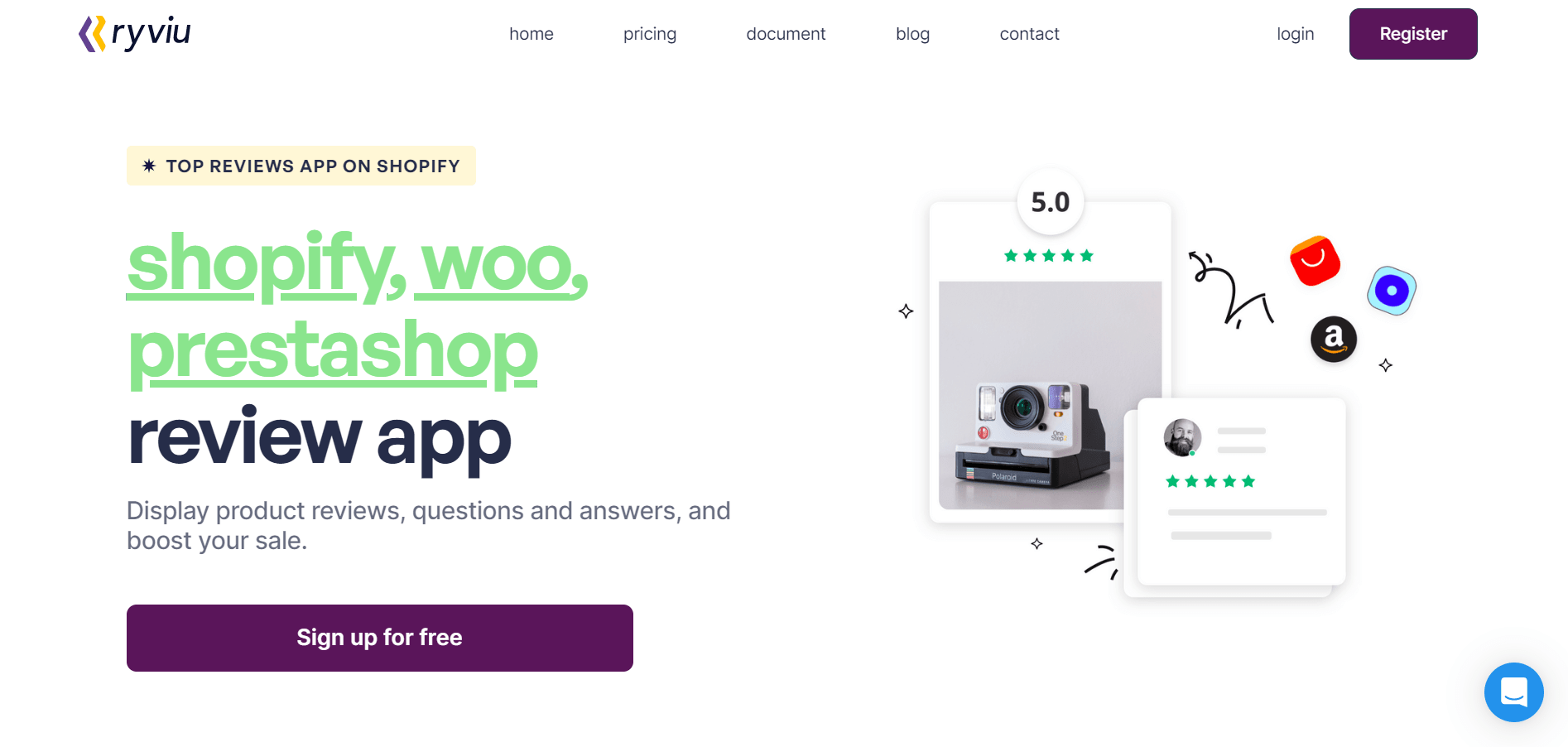 The app offers a range of customizable templates and widgets for displaying reviews on product pages and also provides a dashboard for managing and moderating reviews. Store owners can reply to customer reviews and use the feedback to improve their products and customer service.
Ryviu also offers a range of additional features, such as the ability to send Shopify automated emails to ask customers to leave reviews on your store, social sharing options, and filtering reviews by rating or keywords. Overall, Ryviu is a user-friendly and effective review app that can help online store owners boost their credibility and increase sales by showcasing positive customer feedback.
Rating: 4.8/5
Pricing plan: Free plan available. From $6.99 per month
Conclusion
Shopify has a lot of functionality, and you can expand on that by using the numerous apps available in the Shopify marketplace. Shopify Plus also includes certain special apps. While we recommend exploring the entire App Store, these ten are some of the greatest Shopify apps for your online store. These apps will undoubtedly help you increase sales, retain customers, and build your eCommerce reputation.
---
👉 Fordeer, which is a start-up software agency in 2022, is so honored to be founded with the mission of producing support tools for businesses all over the world. "The great tools for the best businesses". Our highly qualified programming engineers, with all their passion, are always ready to dedicate themselves to creating the most useful apps for your business and Shopify online store. Keep following our blog to get more helpful business knowledge and top trends daily.
💡
Fordeer: Invoice Order Printer
is a PDF Invoice app on Shopify. There are multiple beautiful templates available for invoices, orders, refunds, and packing slips. You can edit all these templates and print out the document simply. The best thing is a reasonable pricing plan and various amazing features! Be faster, cheaper, and more effective for your brand preferences with Fordeer.