The difference between print-on-demand and dropshipping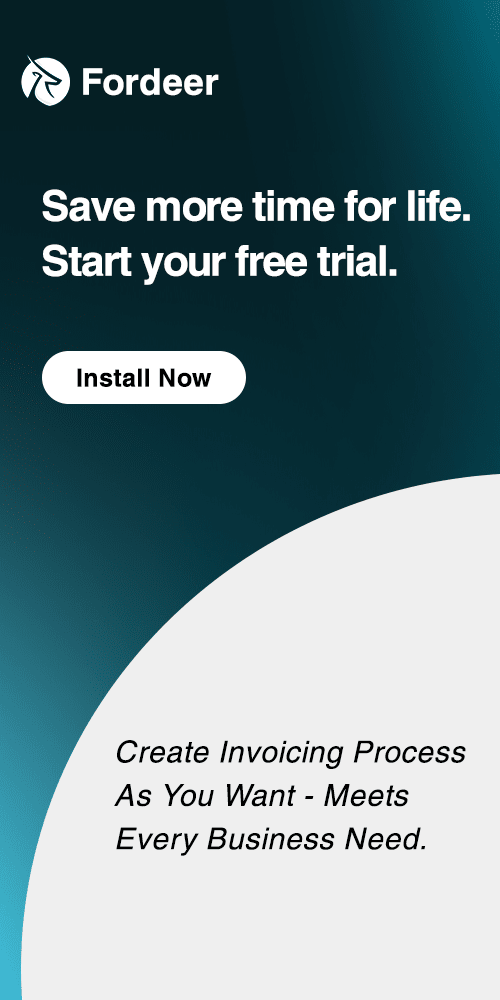 Greetings on your adventure via e-commerce and all of its varied forms!
It could be a little terrifying if this is your first time to begin! Several significant options between various business models and service suppliers. What is beneficial for you and your company may come into your mind.
You could find yourself confused by terms like "dropshipping" and "print on demand" (POD) as you learn more about this business plan.
Fordeer'll examine how they vary in order to better comprehend it.
Print-on-demand (POD) vs Dropshipping: An overview
What is print-on-demand?
White label items are sold when orders are placed in a print-on-demand company. The business won't have goods on hand and will collaborate closely with a print-on-demand vendor to fulfill orders.
Let's go into more detail about the procedure, beginning with what white label goods are.
White label goods are basic goods that producers sell to several merchants. Typical goods include caps, bags, and t-shirts. Owners of print-on-demand businesses can select white label items to carry their own designs that they make to sell. They then search for print-on-demand vendors to carry out their requests.
Thus, following a customer's order, the business owners will forward it to the supplier. After processing the order, the supplier sends the goods immediately to the consumer.
What is dropshipping?
Dropshipping is a way of completing orders in which a company doesn't maintain an inventory of the goods it offers. Instead, orders placed by customers will be delivered to dropshipping vendors for completion.
Processing orders, packaging, and shipping the goods are all parts of fulfillment. This procedure demonstrates that dropshipping companies don't handle their items physically and are not obliged to place large orders for and maintain large inventories. Additionally, all you need to launch a dropshipping business is an internet store.
Through integrations, the items may easily be listed in the store. Owners only need to increase their listings after they are listed to make sure the proper clients see them.
Low start-up costs make this form of business attractive to individuals who don't want to take the chance of losing a significant amount of money. Many have tried their hand at this kind of company strategy, despite the lack of personnel and extra utilities to consider.
Print-on-demand (POD) vs Dropshipping: Main differences
After completing the overviews, let's begin to distinguish each business model based on its features and processes.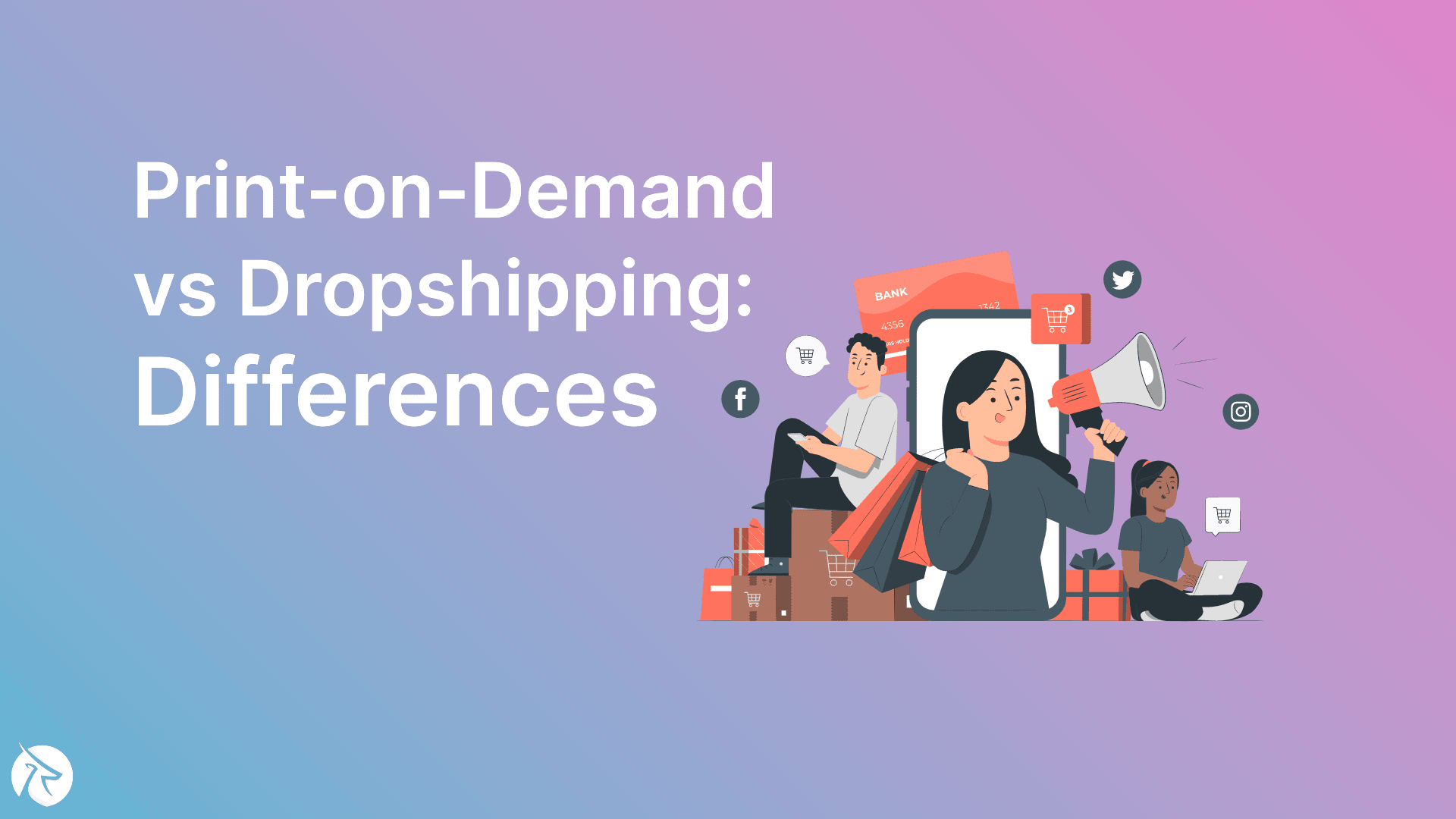 Product Range
Both dropshipping and print-on-demand businesses provide a broad selection of products. However, the kinds of products that these enterprises might offer vary.
Given that the items may be sent, dropshipping shops are able to sell any kind of product.
Print-on-demand stores, on the other hand, concentrate on goods that they can personalize and print on. Clothes and accessories are typical items.
In comparison to dropshipping, print-on-demand has a clearly less product selection.
Inventory and Processing Time
The majority of the time, dropshipping items are mass-produced and prepared for delivery when they arrive at a supplier's warehouse.
Because of this, dropshipping providers keep a stock of goods to fulfill orders as quickly as feasible.
Products are only processed and printed for print-on-demand enterprises when orders are transmitted to suppliers. This can result in the fulfillment process taking longer and costing more money.
For white label items, suppliers already have inventory on hand, but printing still requires time.
Customization
Let's examine how the two business models include customization in their own ways given that 90% of US consumers favor firms that provide it.
Print-on-demand has the advantage over the other in terms of personalization. The designs are created by the business owners and printed on the merchandise.
The product itself is unique based on the design chosen, as opposed to merely having personalized packaging.
Because the items were previously created, dropshipping doesn't provide much customisation. Dropshippers might look into bespoke packing if they wish to personalize their goods.
Shipping Times and Costs
In general, the locations of their suppliers and the third-party delivery providers they use will affect the shipping timeframes and prices for both dropshipping and print-on-demand enterprises.
Regardless of location or delivery options, print-on-demand products are likely to take longer to arrive than dropshipped items since they are made-to-order. But how much it will cost to send a thing may vary greatly. It will cost extra to send a product that is fragile, big, or heavy.
Profit Margins
Dropshipping products offer more leverage in terms of profit margins. Since these items are mass-produced, the products are more affordable, allowing dropshippers to take home bigger profits. The entire dropshipping process generates sales and profits much faster than print-on-demand.
But with print-on-demand, personalization is already necessary before the items are created. Despite being built to order, designs take time and effort to make and are not always simple. Some business owners may not view them as costs, but it's crucial to remember that they have an impact on the entire fulfillment process.
But don't fear, a sizable target market enjoys these tailored items. Properly managed print-on-demand businesses may potentially provide significant profit margins.
Scaling Opportunities
Dropshipping and print-on-demand businesses present different scaling opportunities.
Dropshipping is easier to scale because it only requires products to be listed on the online store. Owners can add as many products as they want, for as long as their dropshipping platform allows.
Print-on-demand, meanwhile, can only be increased up if additional designs are added to the collection.
Since few items may be printed, there is also a practical restriction when extending to other product kinds. This makes growing this firm difficult, despite the fact that it is conceivable.
Competition
The dropshipping market is expected to reach $196.78 billion this year. This is because of the low start-up costs and competition from other stores. Unless you sell unique products or offer a great customer experience, you're on the same level as other dropshippers.
In terms of print-on-demand, there isn't much competition. Despite the possibility of plagiarism, print-on-demand items differ slightly from one another.
Print-on-demand's selling point is its uniqueness. The more creative your designs are, the lesser your chances of being swallowed by the competition. You can offer niche products to cater to certain markets, like gamers or hobbyists, and not worry whether they get the same designs and products from other stores.
Print-on-demand (POD) vs Dropshipping: Pros and cons
Now that we are aware of the two different ecommerce models, we can more closely examine the areas in which each one excels.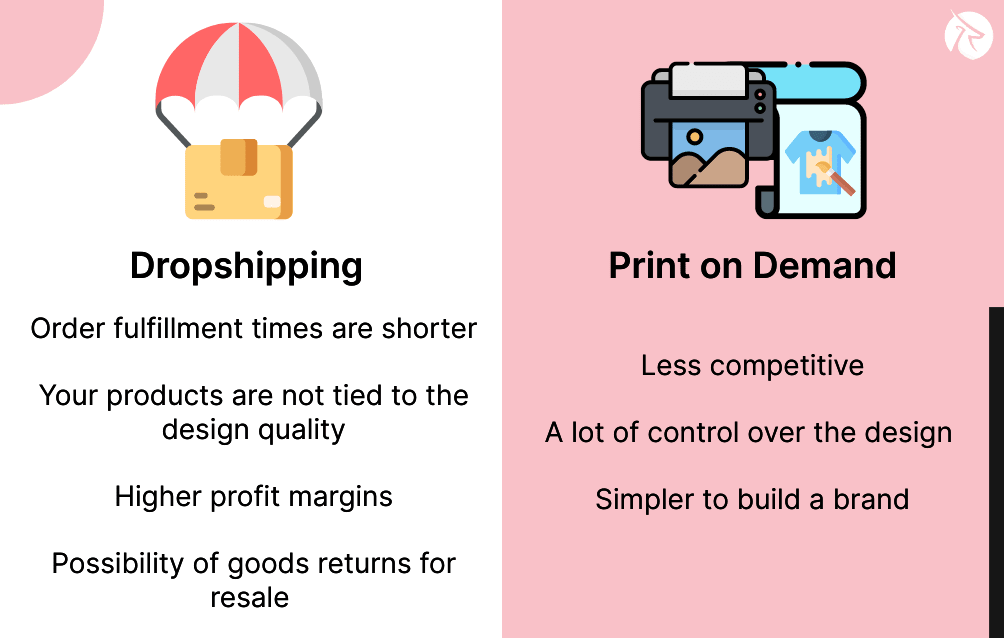 Note that there is no ideal model; it all depends on what you want depending on your abilities and the vision of your business.
Pros of dropshipping (or cons of print on demand)
Order fulfillment times are shorter. A dropshipping provider often keeps inventory of their goods so they can ship quickly after receiving an order. When using POD, the provider must print the product's design before shipping it. For your consumer to get it, an additional 1-3 business days may pass.
Your items are not dependent on the level of design. People consider designs to be the most important decision element when choosing POD firms. You don't need design expertise or to employ someone to do it when you dropship. The product is ready to use from the provider without any further work on your end.
Higher profit margins. Because there are more expensive items available without branding to support the pricing, dropshipping has opportunities to become more profitable. Additionally, because the supplier has to do less work than with POD, their expenses per order can be decreased.
Possibility of goods returns for resale. You may resale the item to another consumer as long as it is in excellent condition. Due to the bespoke nature of POD orders, it is typically hard to resell them.
Cons of dropshipping (or pros of print on demand)
Highly competitive. Dropshipping gives you little control over the goods, thus it might be challenging to convince customers to choose your product over a competitor's. POD enables greater uniqueness in the developed designs. There is still opportunity for them to stand apart from other PODs, even though they can compete over the same t-shirts, mugs, wallets, etc.
A lot of control over the design. Dropshipping gives you little control over the goods, thus it might be challenging to convince customers to choose your product over a competitor's. POD enables greater uniqueness in the developed designs. There is still opportunity for them to stand apart from other PODs, even though they can compete over the same t-shirts, mugs, wallets, etc.
Difficult to build a brand. One of the keys to the success of an online business is brand development. By doing this, you may establish credibility and charge what you think is fair rather than what the market will bear.
Dropshipping frequently has branding issues because so many of the items are already manufactured and might be too similar to those of other companies. There are methods to get through this obstacle, but POD's more customizability makes it simpler to establish a brand around.
Print-on-demand (POD) vs Dropshipping: Which one is best for you?
The key distinctions, advantages, and disadvantages are all listed. It's time to discuss what kind of business would be best for you.
Start by talking about dropshipping which is definitely not for the lazy people.
Although it may appear simple to launch a dropshipping company, the competition is fierce. Simply adding goods to your store is insufficient. You must also be adept at locating them.
Dropshipping is therefore fantastic for business owners who are persistent enough to search for winning items. This also entails staying current with fashion and making sure you're never early or late.
Now let's talk about the print-on-demand business.
If you have the creative juices—or at least the ability to recruit someone who does—consider beginning a print-on-demand company.
Adding new designs to the roster on a regular basis is challenging, particularly when branding is important. You must have a keen eye for the designs that captivate your target audience. You should have little trouble launching and running a print-on-demand business if you can regularly provide them with something new.
---
👉 Fordeer, which is a start-up software agency in 2022, is so honored to be founded with the mission of producing support tools for businesses all over the world. "The great assistance tools for the best businesses". Our highly qualified programming engineers, with all their passion, are always ready to dedicate themselves to creating the most useful apps for your business and Shopify online store.
💡
Entrepreneurs need to focus on customer service and maintaining a credible brand image if they want to achieve long-term and sustainable success, regardless of the business model they pursue. Therefore, finding and selecting the appropriate business support tools is extremely crucial. That's why we have launched an app in order to help you swiftly and conveniently resolve any invoice-related issues at a reasonable price. Let's experience it with our
Fordeer Invoice Order Printer
.