Summon the Thrills: Creative Halloween Promotion and Marketing Concepts
Halloween is fast approaching, and anticipation for the eerie season is building. It's a time when individuals of all ages can revel in their fascination with all things weird and otherworldly.
For e-commerce enterprises, it presents a chance to harness this enthusiasm and give customers enticing offers and discounts during this widely celebrated event.
In 2017, Americans collectively spent $9.1 billion on various Halloween-related expenditures, with a notable $3.4 billion earmarked exclusively for costumes.
This is precisely why, in this blog post, Fordeer will delve into some fantastic Halloween promotional and marketing concepts that will make your e-commerce store the focal point of attention.
Prepare to ignite sales and lift your business during this Halloween season.
Creative Halloween Promotion and Marketing Concepts
Now, let's venture into a realm of imaginative and motivating Halloween marketing campaign concepts. These ideas are designed to immerse you in the eerie atmosphere and ignite your marketing endeavors.
Showcase Tailored Halloween Discount Pop-ups
Crafting a personalized Halloween discount popup is a highly effective marketing tactic for boosting sales during the Halloween season.
To maximize the impact of this idea for Halloween, the popup should incorporate Halloween-themed colors, fonts, and graphics to capture the customer's attention instantly.
To optimize this marketing concept, consider offering a unique discount code or a complimentary Halloween-themed item with every purchase. This incentivizes customers to take advantage of the offer and purchase during the Halloween festivities.
Integrating a countdown timer can create a sense of urgency, further motivating customers to take action.
You can boost sales and attract new customers to your business by providing a unique discount or free product. To enhance the popup's effectiveness, ensure it features eye-catching visuals and messaging that align with the Halloween theme.
Tools like Fordeer's popup builder can be a valuable resource for creating such popups, allowing you to craft a customized Halloween discount popup for your website. This tool enables you to infuse Halloween-themed colors, fonts, and graphics, ensuring an engaging experience for your customers.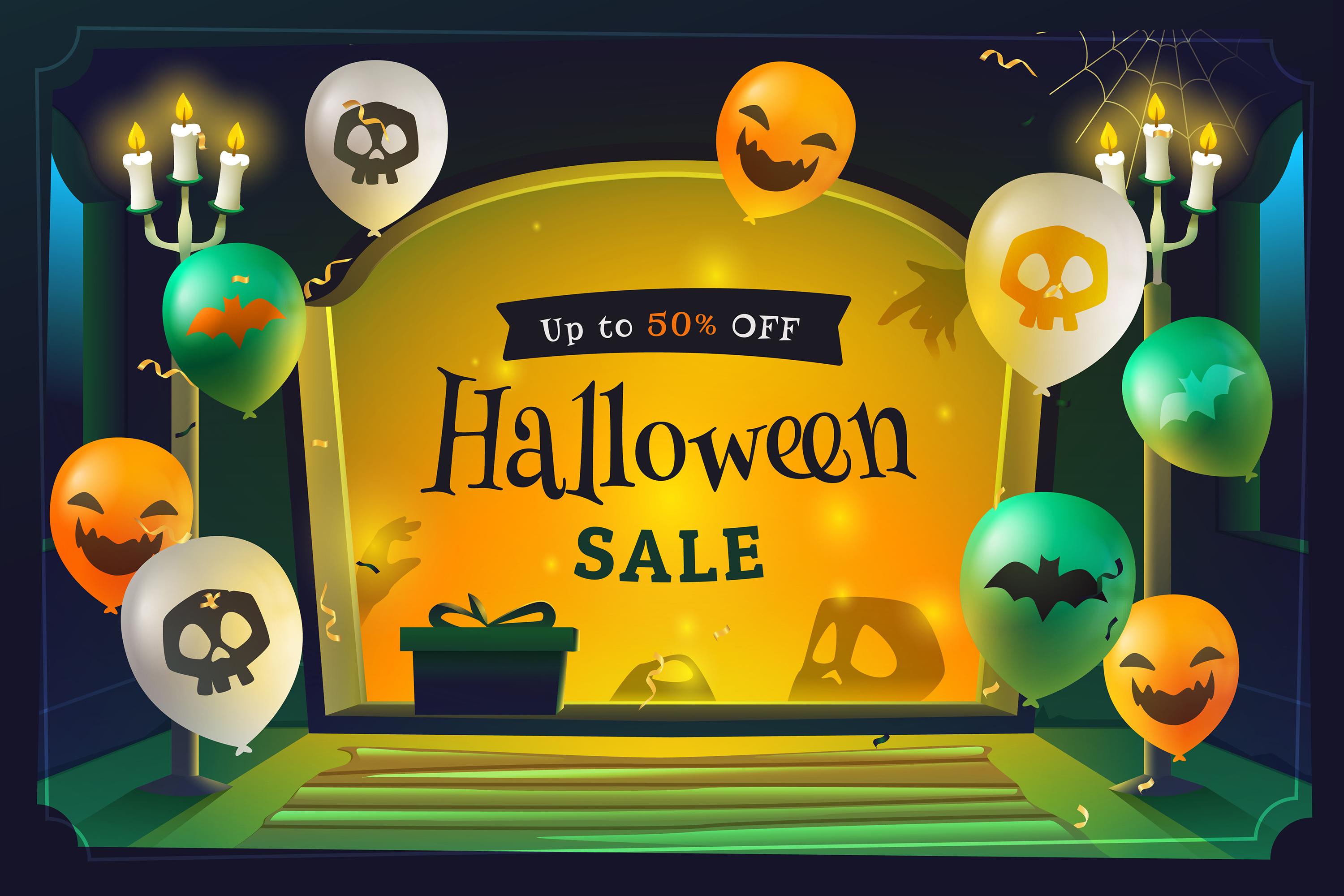 Introduce an Exclusive Halloween Limited-Edition Product
Halloween provides an ideal opportunity to unveil exclusive limited-edition products available during the season.
This approach generates excitement and a sense of urgency among customers, who understand that these products are fleeting. To tailor this marketing concept for Halloween, consider creating a limited-edition product that embraces the holiday theme.
This might entail offering a distinct Halloween-inspired product flavor, packaging it in a unique and spooky design, or even curating a product bundle featuring Halloween-themed items.
For instance, a coffee shop could roll out a limited-edition pumpkin spice latte with a specially designed Halloween-themed cup. A clothing brand might introduce a limited-edition Halloween t-shirt adorned with eerie graphics. A cosmetics brand could present a limited-edition Halloween makeup kit featuring colors and designs inspired by the holiday.
The creative possibilities are boundless!
Craft Halloween-inspired videos and Blog Articles
Generating Halloween-themed content represents an enjoyable and practical approach to connecting with your audience during the festive season.
An excellent strategy involves crafting Halloween-themed videos and blog posts, encompassing a wide range of topics, from makeup tutorials to DIY decorations and spine-tingling tales.
To execute this, you can brainstorm ideas for Halloween-themed content that align with your brand and cater to your target audience. For instance, a culinary blogger might produce a video tutorial on creating Halloween-themed snacks or author a blog post on eerie cocktail recipes.
Be sure to amplify the reach of your content by promoting it through social media channels and email marketing, thereby expanding your audience and encouraging engagement.
Craft Eerie Social Media Content
Halloween offers an ideal opportunity to inject fun and creativity into social media posts. Developing eerie social media content is an effective means of engaging with your audience and immersing them in the Halloween ambiance.
To execute this marketing concept for Halloween, consider fashioning a series of spine-tingling social media posts that reflect your brand's personality and inventiveness. These posts could encompass a variety of elements, ranging from Halloween-themed memes to haunting graphics and animations.
You could also devise a sequence of posts that narrate a spooky tale or enigmatic storyline across multiple days. Each post could feature a clue or fragment of the narrative, enticing followers to interact with your content and attempt to unravel the mystery.
Alternatively, you might initiate a Halloween-themed contest or giveaway, encouraging followers to share their eerie stories or photos. This fosters user-generated content and augments engagement across your social media platforms.
Adorn Your Website's Homepage with Halloween Imagery
Enhancing your website's homepage with Halloween graphics effectively expresses your brand's character and ingenuity, all while offering an enjoyable and engaging user experience.
To achieve this, it's advisable to craft Halloween-themed graphics that harmonize with your brand identity and resonate with your target audience. These graphics may encompass eerie illustrations, Halloween-themed typography, or even animated visuals that introduce an additional layer of interactivity to your homepage.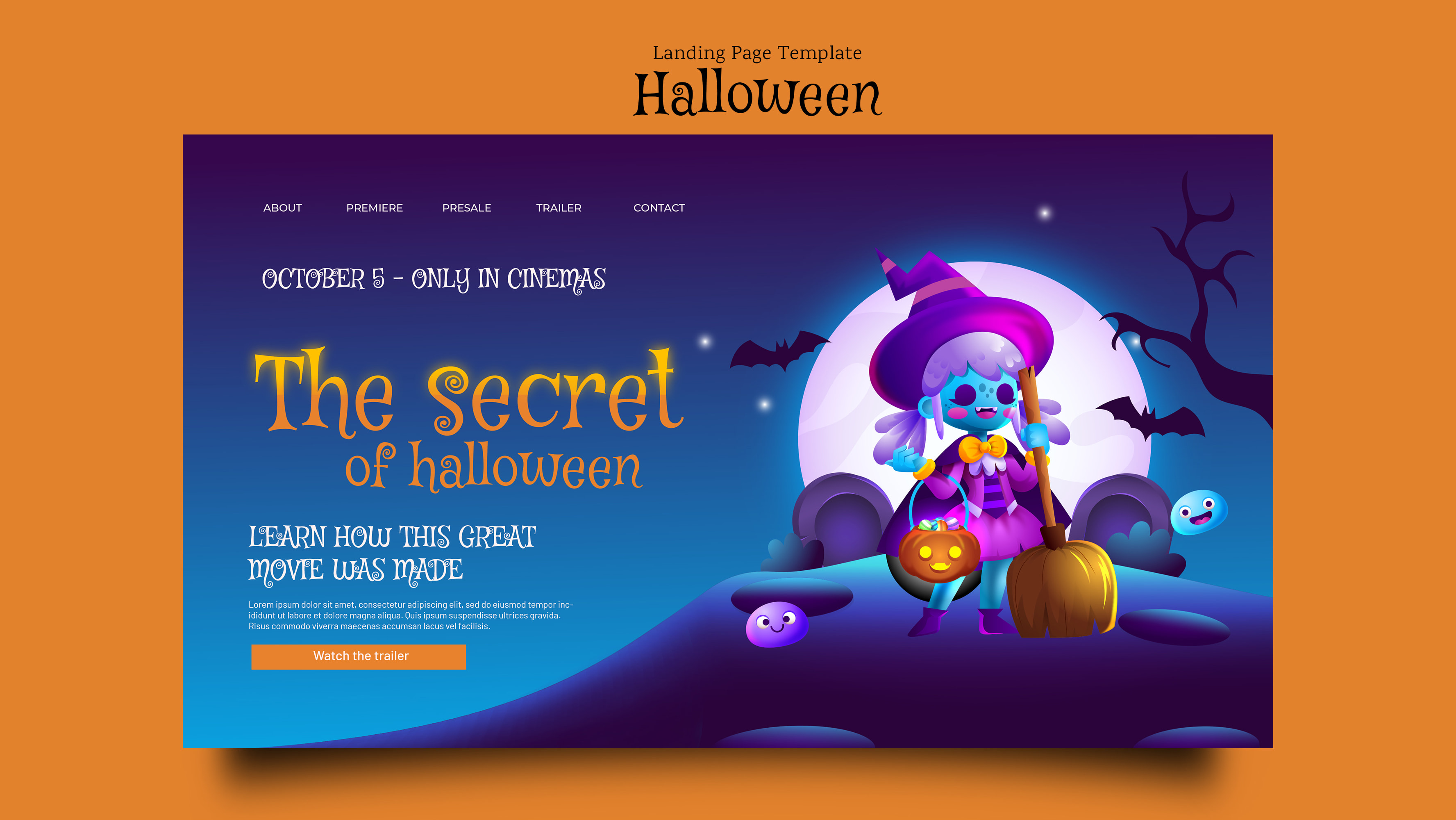 One creative approach involves creating a Halloween-themed banner that presents your brand's products or services playfully and festively. This is a superb means to capture attention, highlight your offerings, and instill a sense of urgency in the holiday season.
Alternatively, you could develop a Halloween-themed quiz, or game visitors can enjoy directly on your homepage. This interactive feature adds fun to the user experience and extends the duration of their stay on your website.
Reward Your Devoted Customers with a Halloween Token of Appreciation
Halloween provides an excellent occasion to express gratitude to your loyal customers by gifting them something special. This approach strengthens your bond with your customers and fosters a feeling of exclusivity and appreciation.
To execute this marketing concept for Halloween, contemplate crafting a unique Halloween-themed gift exclusively reserved for your loyal customer base. This offering could encompass various options, ranging from a Halloween-themed discount code to a complimentary product or service, accessible solely to individuals who have reached a specific purchase threshold or maintained their customer status for a specified duration.
One creative approach could involve curating a Halloween-themed gift basket with an assortment of Halloween-inspired products or treats. This imaginative gesture showcases your appreciation for loyal customers and delivers a memorable and enjoyable experience.
Organize a Halloween Prize Giveaway
Conducting a Halloween prize giveaway constitutes an entertaining and interactive strategy to generate excitement and foster engagement across your social media platforms.
To optimize the success of this Halloween marketing concept, consider designing a Halloween-themed prize package that harmonizes with your brand identity and resonates with your target audience. This package may include a selection of Halloween-themed products or valuable items like a branded gift card or coupon.
An especially practical approach involves orchestrating a social media contest that encourages followers to share their Halloween-themed photos or videos using a designated branded hashtag. This cultivates user-generated content and amplifies engagement on your social media channels.
Initiate a User-Generated Content Drive
Commencing a user-generated content campaign represents a potent means of connecting with your audience and forging a sense of community centered around your brand.
To execute this marketing concept effectively, you can conceive a user-generated content campaign infused with a Halloween theme. Encourage your audience to contribute their Halloween-related photos, videos, or narratives, employing a unique hashtag linked to your brand.
This participation might involve sharing Halloween costume snapshots, presenting eerie decorations, or exchanging favorite seasonal recipes.
To stimulate engagement and engender a feeling of exclusivity, one viable approach is to offer rewards or discount codes to participants. This serves as an incentive for active involvement and bolsters engagement within your audience.
Another consideration is showcasing the top user-generated content on your social media platforms or website. This practice spotlights your audience's creativity and cultivates a sense of community revolving around your brand.
Instances of Spine-Chilling Halloween Marketing Campaigns
Let's delve into some exemplary instances of eerie Halloween marketing concepts that brands have successfully executed in the real world
Mars Wrigley
Halloween carries diverse significance for each individual, but there's unanimous agreement on the pivotal role of chocolate during this season.
To commemorate this holiday, Mars Wrigley, a confectionery authority, has introduced a dedicated website, urging everyone to fully immerse themselves in Halloween with the rallying cry, 'Halloween it like you mean it.'
They take it a step further by furnishing an engaging and interactive online experience, complete with a Handy Candy calculator that aids in calculating the precise quantity of candy to procure.
Furthermore, the website offers Halloween recipes, convenient shopping links, imaginative decoration suggestions, and an exclusive promotional code. With all these elements at your disposal, what more could you desire for this Halloween?
Nike
While Halloween typically conjures images of candies and costumes, a Halloween-themed special edition Nike sneaker takes the celebration to another level.
Surprisingly, this has become a tradition. Nike consistently taps into the playful and childlike spirit that permeates people of all ages during Halloween by unveiling shoes meticulously crafted for the occasion.
For instance, the Nike Dunk Low style boasts Halloween-inspired black, cream, and orange hues. It also features a glow-in-the-dark overlay, an illuminated outsole, and a spooky spider pattern on the insole.
Nike enthusiasts eagerly anticipate these product launches, sparking excitement, discussions, and many unboxing reviews online. It is a quintessential example of a product seamlessly intertwined with the brand, where any new release is virtually guaranteed to pique interest.
Halloween simply provides a delightful excuse for this phenomenon.
Elevate Your Business with Top Halloween Promotions and Marketing Strategies
Halloween presents a fantastic opportunity for e-commerce enterprises to elevate sales and attract new clientele. By deploying imaginative Halloween promotions and marketing initiatives, you can augment brand recognition and engage with your audience entertaining and stimulatingly.
The options are boundless, from tailor-made Halloween popups to exclusive product releases and user-generated content campaigns. The crux lies in harnessing the Halloween ambiance to craft a memorable customer experience.
Fordeer: Sales Pop Up - Popups stand as a robust tool capable of aiding you in crafting personalized Halloween popups that are guaranteed to capture your customers' attention. Boasting a user-friendly interface and Halloween-themed templates, Fordeer: Sales Pop Up - Popups streamlines designing and implementing effective Halloween popups, poised to amplify sales and entice fresh patrons.
Embark on a free trial with Fordeer: Sales Pop Up - Popups via their website and commence the creation of compelling Halloween popups to convert your website visitors.