Streamline Shopify Invoicing Process with Top-rated Invoice Generator Software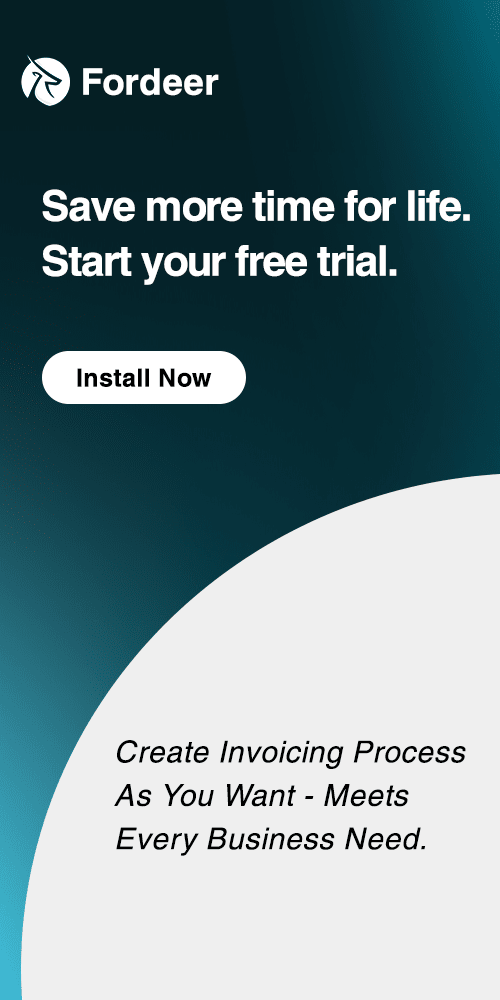 As an e-commerce business owner using Shopify, you understand how important it is to have a streamlined invoicing process. The faster you can create and send invoices, the faster you can receive payments and improve your cash flow.
That's where top-rated invoice generator software comes in. In this article, Fordeer'll discuss how invoice generator software can help streamline your Shopify invoicing process and provide an overview of some of the best invoice generator software available.
What is an Invoice Generator Software?
An invoice generator software is a digital tool designed to create and manage invoices for businesses. It is a computer program that automates the process of generating invoices, eliminating the need for manual calculations and paperwork.
With an invoice generator software, businesses can easily create and send professional-looking invoices to their clients or customers. The software typically includes features such as customizable templates, automatic calculations for taxes and discounts, online payment options, and the ability to track invoices and payment status.
Invoice generator software can be used by various types of businesses, including freelancers, small businesses, and large corporations. It helps to streamline the invoicing process, reduce errors, and improve cash flow by ensuring that invoices are accurate and sent in a timely manner. Many invoice generator software also integrates with accounting software, making it easier to keep track of financial records and generate reports.
Why Shopify Merchants Should Use an Invoice Generator Software
There are several benefits to using invoice generator software with Shopify. Here are a few:
Save time and effort
Creating invoices manually can be time-consuming, especially if you have a lot of orders to process. An invoice generator software can help you create and send invoices quickly and easily, saving you time and resources.
Improve cash flow and get paid on time
The faster you can send invoices, the faster you can receive payments. With an invoice generator software, you can improve your cash flow by sending invoices promptly and making it easy for customers to pay.
Build a professional image
Professional-looking invoices can help build your brand and make your business look more professional. An invoice generator software can help you create invoices that are customized with your business's logo and branding.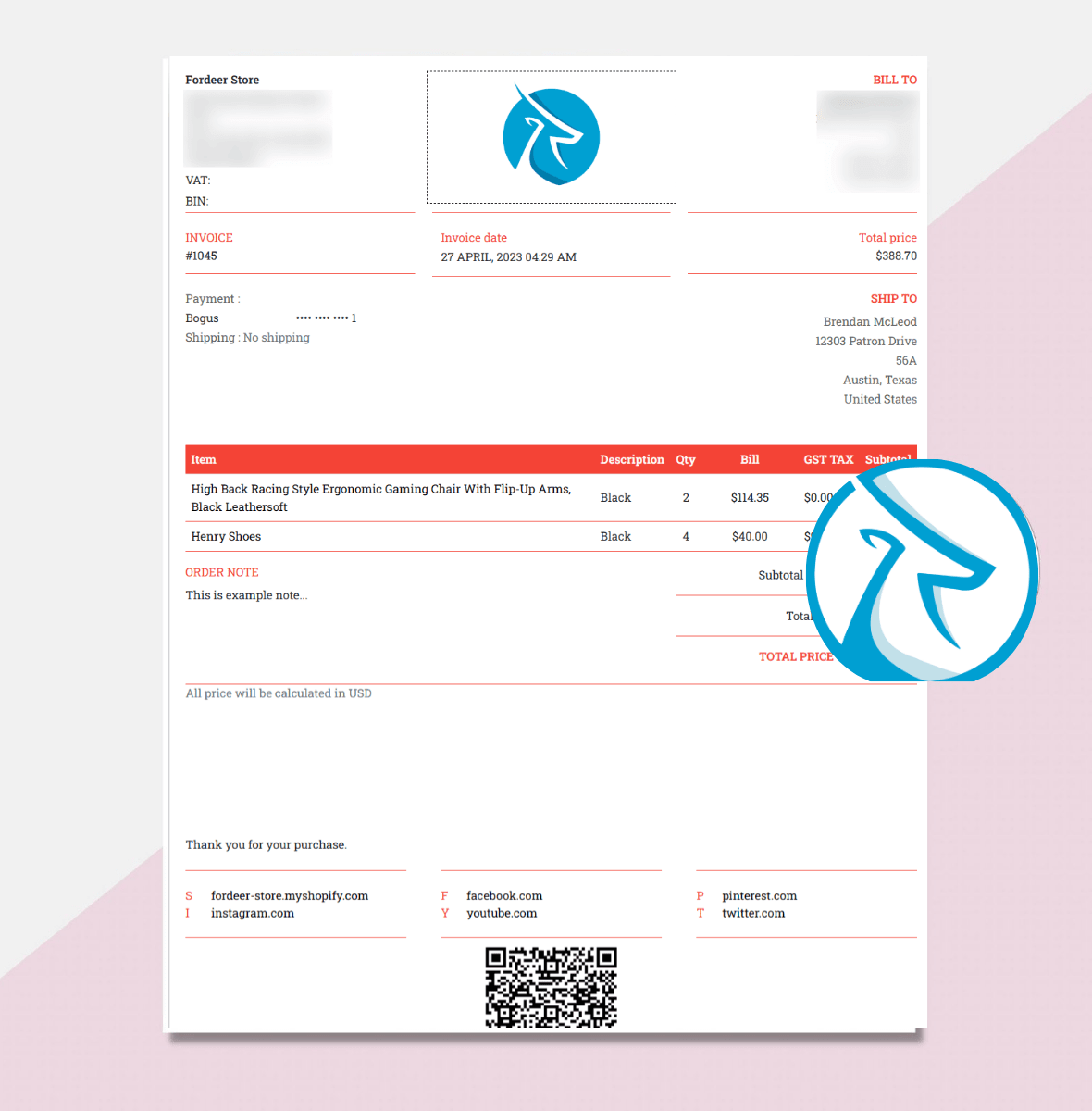 Reduce errors and common mistakes
Manual invoicing can be prone to errors, which can be costly for your business. An invoice generator software can help reduce the risk of errors by automating the invoicing process and standardizing the invoicing format.
Top-rated Invoice Generator Software for Shopify
Fordeer: Invoice Order Printer
This is a great program if you want to personalize your invoice with options and even additional fields effortlessly. It allows you to show/hide/edit numerous fields on invoice templates to make them as unique as possible.
Fordeer: Invoice Order Printer allows you to easily build up email automation that is triggered by specific events with a few easy clicks. All PDF invoice attachments will be discovered and distributed to your customers automatically based on their major language.

In the app, you may totally edit your templates, which include invoices, packing slips, orders, and refunds. You may also execute a range of mass actions, such as printing or downloading several documents at the same time. If you have any problems during your trip, please do not hesitate to contact them. Fordeer is always available to help users around the clock.
Order Printer: PDF Invoice App
The Order Printer: PDF Invoice App from Vify specializes in multitasking. Invoices, packing slips, and refund files are all generated in PDF format. You can automate the delivery of invoices to customers or other third-party recipients. Furthermore, it is simple to use and does not necessitate any technical knowledge.

Because customer care personnel are ready 24/7 to fix issues as they arise, the app allows minimal space for error. The software provides Shopify shops with numerous benefits, including the ability to draft orders, identify address formats, and create product information.
Simple Invoice ‑ Order Printer
The app's name implies that it will help you handle your PDF invoice as easily as possible. Simplio allows you to personalize the invoice and send it to your consumers immediately.

The software automatically produces invoices depending on your choices and allows you to submit bills directly from the Shopify dashboard! If you own many Shopify stores, you can manage them all from a single dashboard.
Simplio: Simple Invoice is simple to use and set up, with the promise of being ready in a minute. Processing bills, automatically sending invoice emails, altering all text fields, and so on are among the enhanced features.
Wizard Labs: Invoice Wizard
Invoice Wizard is an invoicing program that allows you to create and handle professional PDF invoices more quickly than ever before.
You enjoy running your store, but with tremendous flexibility and control comes the burden of making invoices for your orders and all other aspects of your business. Why not lighten the load on some of your less exciting administrative responsibilities, such as invoicing, with a few mouse clicks?

Invoice Wizard has everything you need to create professional invoices. It is extremely simple to use, saves time, and can be tailored to your specific business requirements. Begin exploring all of the invoicing features right away. Invoice processing is as simple as reading an email! Simply select one or more orders to print or download at the same time.
Order Printer Pro: Invoice App
This Order Printer Pro software is one of the best solutions for Shopify business owners. This improved invoice paper will make customers happy and more inclined to make additional purchases, making it simple to raise the revenue of this app.
The Order Printer Pro app's major features allow Shopify business owners to have the best experiences ever. This program saves customers time by allowing them to rapidly create and print PDF invoices, receipts, packing slips, credit notes, and other documents.
Furthermore, depending on the needs of the customer, this app may support many Shopify orders at the same time. These files will all be converted to PDFs in an instant. This software also allows users to write an order before completing their purchase.
Furthermore, the program provides customization options, allowing shops to personalize their print layouts fully. Furthermore, Order Print Pro supports several languages, allowing merchants to convert into multiple languages in order to sell in different countries.
Sufio: Professional Invoices
Sufio: Professional Invoices is yet another amazing invoice app alternative. It includes professional and simple-to-edit templates, and its invoices are reviewed by certified accountants, making it ideal for creating invoices for any firm. When orders are placed at your store, the software generates and sends bills automatically.

This application allows you to automatically generate invoices when orders are created, paid for, or fulfilled. You have control over when those PDF invoices are generated. You can email invoices to customers or let them download them from your store in their customer accounts. You may optimize invoice payment by offering information about how the consumer can pay with choices such as wire transfer, cash on delivery, or online with a credit card.
Wrapping up
Invoicing is an important part of running an e-commerce business, and it's important to have a streamlined invoicing process. Invoice generator software can help simplify the invoicing process by automating the process of creating and sending invoices.
By using one of the top-rated invoice generator software options we've listed above, you can improve your cash flow, build a professional image, and reduce errors in your invoicing process.
---
👉
Fordeer
, which is a software agency founded in October 2022, is so honored to strive with the mission of producing support tools for businesses all over the world. "The great tools for the best businesses". Our highly qualified programming engineers, with all their passion, are always ready to dedicate themselves to creating the most useful apps for your business and Shopify online store. Keep following our blog to get more helpful business knowledge and top trends daily.
💡
Fordeer: Invoice Order Printer
is a
free invoice generator
on Shopify. There are various fabulous templates available for invoices, orders, refunds, and packing slips. You can customize all these templates and print out the documents in bulk simply. The best thing is a reasonable pricing plan and multiple amazing features! Be faster, wiser, and more effective for your brand preferences with Fordeer.