Store Migration - How to migrate your eCommerce store to Shopify
You would want to explore a variety of things as a beginner. That is why moving to Shopify is appealing to many online retailers. You could want to switch from another platform where you built your website to Shopify. Thankfully, this is both possible and simple.
In particular, the Magento to Shopify migration service was one of the many migration services that emerged as a result. There are, however, three different ways to switch to Shopify, and each offers advantages and disadvantages. Thus, we'll review each method and determine which is ideal for your store.
Let's begin right away with Fordeer!
What is store migration?
Moving data from one eCommerce platform to another, such as items, orders, customers, collections, photos, manufacturers, etc., is known as store migration.
Your online store is expanding, but its eCommerce website is just unable to keep up. Is it too slow, expensive, or complex, or do you need more features to satisfy your clients and keep them coming back? Both sticking with it and starting over are not requirements. Consider Shopify if you're considering moving your eCommerce store to a new platform. You will see later that Shopify is a superb platform with many advantages.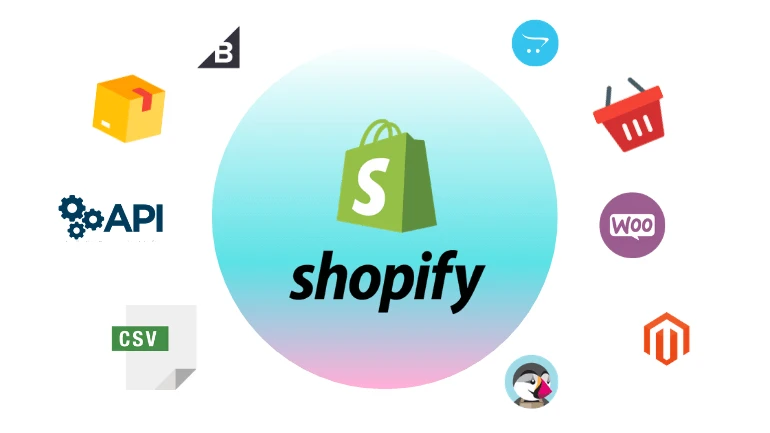 How does migration work?
Store migration refers to the process of transferring an existing e-commerce store from one platform to another. Here are the general steps involved in the process:
Choose a new e-commerce platform: Identify a new platform to which you want to move your store. The new platform should have the features and functionality you need and be compatible with your business needs.
Perform data backup: Before you start the migration process, it is essential to back up all your data, including product information, customer data, and order history.
Export store data: Export all your data from your current platform. Most e-commerce platforms have built-in tools that allow you to export data in a standard format, such as CSV or XML.
Set up the new store: Create a new store on the new platform and configure it according to your needs. This may include setting up payment and shipping options, configuring tax rates, and choosing a new theme.
Import store data: Import all the data you exported from your old store into the new store. This may include product information, customer data, and order history. Be sure to review your data carefully to ensure that everything has been imported correctly.
Test the new store: Once the migration process is complete, test your new store to ensure that everything is working correctly. This may include running test orders and checking that all your previous data has been migrated successfully.
Launch the new store: Once you are satisfied that the new store is working correctly, you can launch it and start promoting it to your target audience.
How to migrate the website to Shopify without any data loss?
Way 1: Use 3rd-party apps
You may easily import your product information and store contents from your current online store to Shopify by using 3rd-party apps. Many importing and migrating apps, both free and paid, are available in the Shopify AppStore. To migrate an online store to Shopify, you can utilize one of the third-party migration tools like Litextension, Cart2Cart, Matrixfy, etc. that are available in the Shopify AppStore.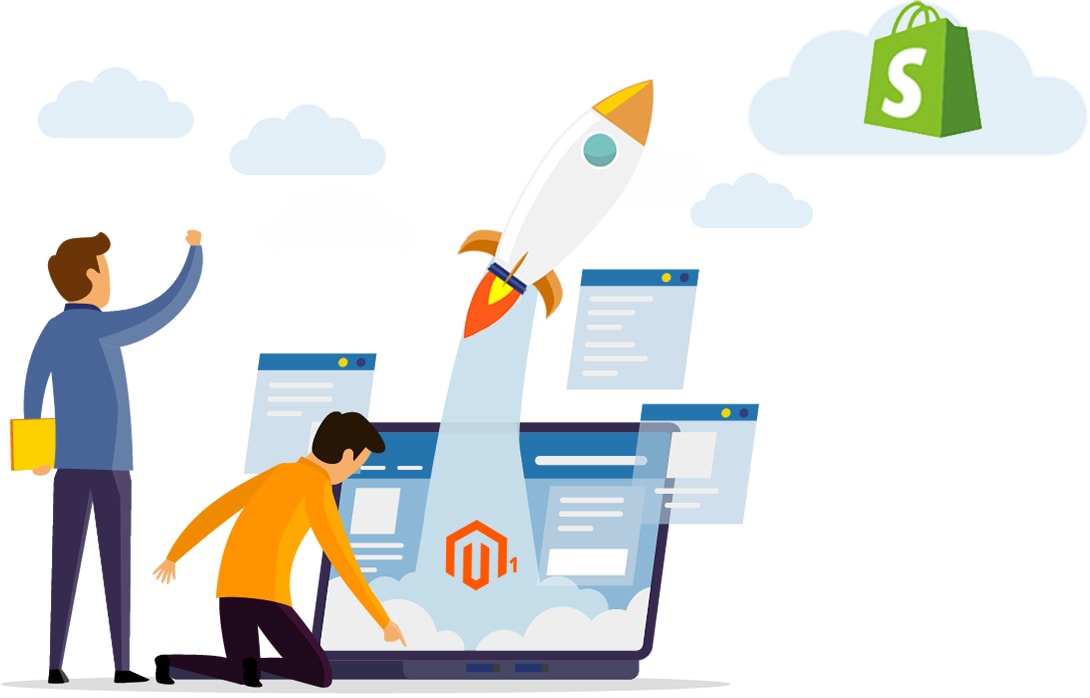 This migration to the Shopify approach is straightforward. Also, you can remove the data you moved using the application afterward if you're not satisfied with it and start over.
But ultimately, the choice is yours. Shopify alerts you to a possible danger, such as the failure of some of your products to transfer. If you are delayed with the same, you will have to do it manually, which will take time out of your day.
Way 2: Manual migration
Step 1: Configure your basic administrative settings
Before you add products and set up payments, there are a few managerial tasks you should finish:
To make sure that your eCommerce store conversion goes as swiftly as possible, first evaluate the store migration elements. Next, finish the initial setup to make sure that the address, email address, and other information for your store are up-to-date. Then, find out how to access your account's billing information and make changes to it.
For more information on creating a Shopify account, see managing your Shopify account. Finally, add users to ensure that everyone on the team has a login and that all sensitive information is protected.
Step 2: Import your store's content and data to Shopify
When migrating from Magento to Shopify, there are two options for manually migrating data: copying and pasting the old site's content, or manually transferring data. Shopify has an import method to help you get most of your product information into the platform, and it is important to import your product, customer, and previous order data in the correct order. If you follow this procedure, you will access your client's entire transaction history in Shopify, and the transferred orders will also be linked to the items and customers. CSV files can be used to import data to your Shopify store if you wish to import your products and customers manually.
Step 3: Organize your products after migration
To double-check your products after the migration, do the following:
Product descriptions, photos, variations, and meta descriptions are all items to go through.
Create a collection to categorize your products and make them easier to find for your customers.
On your storefront, you may construct drop-down menus and connections to collections.
To keep track of the products available in your store, become familiar with product inventories and transfers.
Step 4: Make your website look great
Lastly, when you create an account with Shopify, a default theme is installed on the Themes tab of your admin to assist you in getting started. If you wish to change the look of your online store, you'll need to add a new theme to your admin.
Way 3: Hiring Shopify migration services
The final option is to employ Shopify migration services, which have all the technical knowledge and experience needed to transfer your store to Shopify. This is the most relaxing option, as delegating your work to an expert will allow you to devote your time to more important duties. BSS Commerce will handle everything for you, ensuring a smooth and safe Shopify migration.
Additionally, BSS Commerce knows how to customize designs so that your site looks great and works well on all platforms, even those used by persons with impairments or those using low-bandwidth connections in developing nations. Hiring a pro can save you money by ensuring that performance, user experience, and accessibility are all met.
Tips for Shopify migration more smoothly
Let's look more closely at Shopify's migration to see what you can do to make the shift go smoothly. After selecting a migration strategy, we'll move on to some recommendations.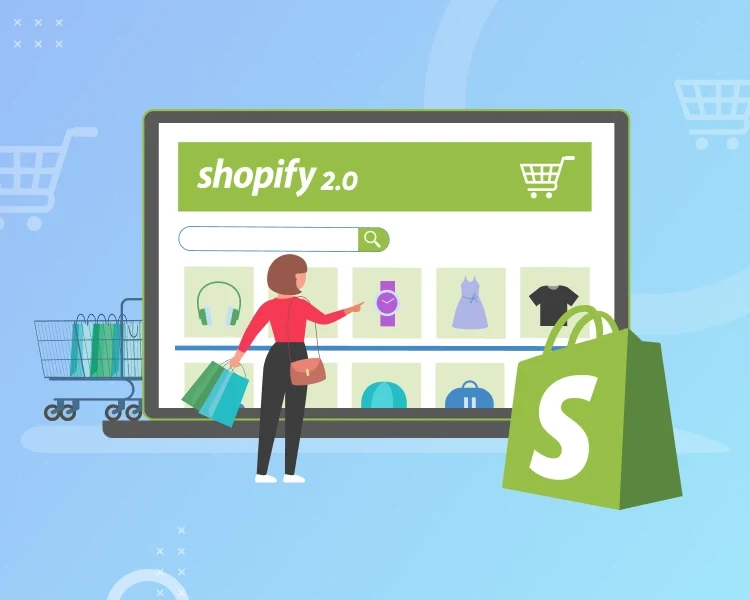 There are four factors you must take into consideration:
Protocol-independent assets: To make sure that all of your store's assets (theme files, stylesheets, or images) are always accessible, remove specific protocols like "http:" and "https:" from their URLs.
URL redirects: Verify that URL redirects are configured on any websites that customers have bookmarked. This lowers the possibility of losing customers who visit a page after switching to Shopify only to discover it is inaccessible.
Passwords for customers: Because they are encrypted, you cannot transfer customer passwords from another platform to Shopify. As a result, Shopify receives only the customer records and not the customer accounts.
Blog posts and articles: With the tools offered by Shopify, you may transfer your blog posts and articles. But, you must use a relative path when changing embedded photographs in blog articles. To help with the transition, think about leveraging Shopify third-party apps or outside hosting media assets.
Therefore, it's frequently recommended to let a technical migration partner handle the migration. Shopify migration services will be able to assess the data you'll be migrating, carry out modifications and integrations, and create an ideal migration strategy utilizing the right tools.
Conclusion
Overall, migrating an e-commerce store can be a complicated process, and it is important to carefully plan and execute each step to ensure a smooth transition for your business. In many cases, it may be helpful to seek the guidance of a professional to help with the migration process.
We expect that you now have all the information you desire for Shopify's migration. If you follow the aforementioned rules, your journey will be straightforward, error-free, and speedy.
The most crucial information is that your store's size will determine how easy or difficult it is to migrate to Shopify, and that you must plan your time wisely to prevent wasting resources or becoming burned out. A competent Shopify development company can also assist in preventing costly mistakes in these areas. You might not be as familiar with the platform's complexity as a Shopify developer with years of experience working with Shopify stores.
---
👉 Fordeer, which is a start-up software agency in 2022, is so honored to be founded with the mission of producing support tools for businesses all over the world. "The great tools for the best businesses". Our highly qualified programming engineers, with all their passion, are always ready to dedicate themselves to creating the most useful apps for your business and Shopify online store. Keep following our blog to get more helpful business knowledge and top trends daily.
💡
Entrepreneurs need to focus on customer service and maintaining a credible brand image if they want to achieve long-term and sustainable success, regardless of the business model they pursue. Therefore, finding and selecting the appropriate business support tools is extremely crucial. That's why we have launched an app in order to help you swiftly and conveniently resolve any invoice-related issues at a reasonable price. Let's experience it with our
Fordeer Invoice Order Printer
.