Shopify's Top Apps for Explosive Sales Growth
Over the years, Shopify has proven itself to be one of the most reliable and user-friendly platforms for e-commerce businesses. From small startups to large corporations, Shopify has been a go-to platform for businesses that want to create a unique online presence and take their sales to the next level.
One of the most significant benefits of using Shopify is its app store, which is home to thousands of apps designed to enhance the platform's features and capabilities. Whether it's marketing, customer service, or store management, there's an app for virtually everything. In this article, Fordeer will look at some of the top apps you can use on Shopify to increase your sales growth.
Klayvio
Klayvio is an email marketing app designed to help businesses create highly targeted campaigns and boost their conversion rates. The app integrates seamlessly with Shopify, allowing you to track your visitors' behavior, segment your audience, and send them targeted messages.
With Klayvio, you can customize your email campaigns and send them automatically based on specific triggers such as an abandoned cart, post-purchase follow-up, and win-back campaigns. What's more, Klayvio's-powered email flows use machine learning to optimize your messages and increase your open rates and click-through rates.
Mega Menu Creator Pro
Mega Menu Creator Pro helps store owners create customized and visually appealing menu items for their online stores. It provides a user-friendly and intuitive interface that allows users to easily create and customize menus using drag-and-drop elements. It also provides different design options, such as custom fonts, colors, and images, as well as configuration options to control how and where menu items appear.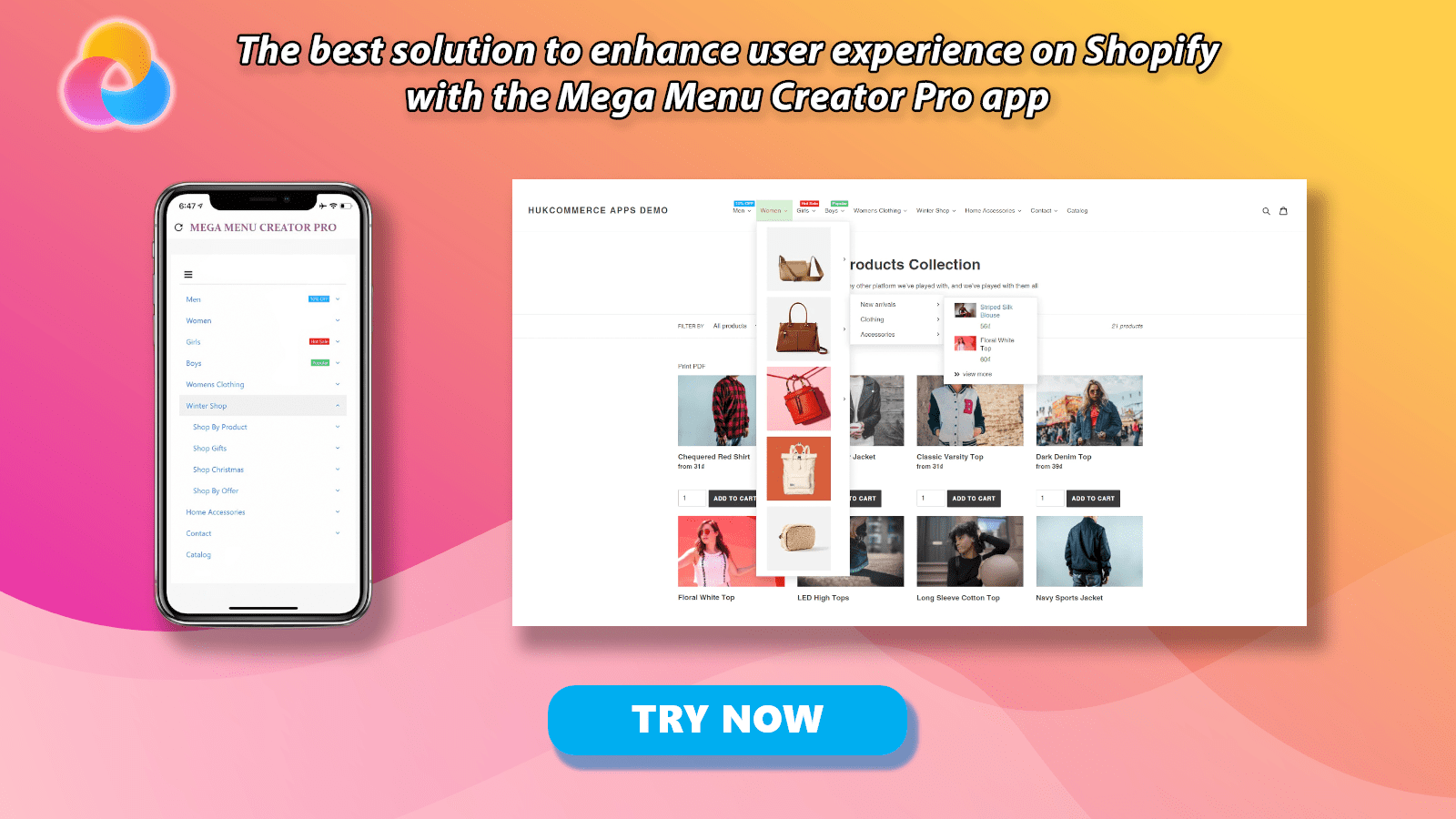 Additionally, it contains an integrated analytics tool that offers information about how customers behave and interact with the menu, enabling store owners to adjust their menu designs for the highest levels of interaction and conversions. Overall, Mega Menu Creator Pro is an outstanding app for building huge menus that are both visually appealing and useful for Shopify sites.
UpPromote Affiliate & Referral
With over 90,000 users globally, UpPromote is the top-recommended affiliate marketing/referral app in the Shopify App Store. It is an all-in-one app that enables businesses to drive growth and boost loyalty through affiliate and referral programs. With UpPromote, brands can power affiliate, referral, loyalty, and influencer marketing to create growth loops around affiliates and customers.

UpPromote is the ultimate app that makes it easy for businesses to find and manage their affiliate networks and brand ambassador collaborations. With customizable forms, links, coupons, and affiliate portals, businesses can easily tailor everything to their brand. Shopify merchants can also create referral programs that incentivize word-of-mouth marketing and reward customers for referring their friends. Additionally, UpPromote offers flexible pricing options to cater to the needs and growth of any business.
Yotpo Product Reviews & UGC
Yotpo is a customer review and rating app that helps e-commerce businesses build trust and social proof. With Yotpo, your customers can leave reviews and star ratings on your products, and you can moderate and respond to them.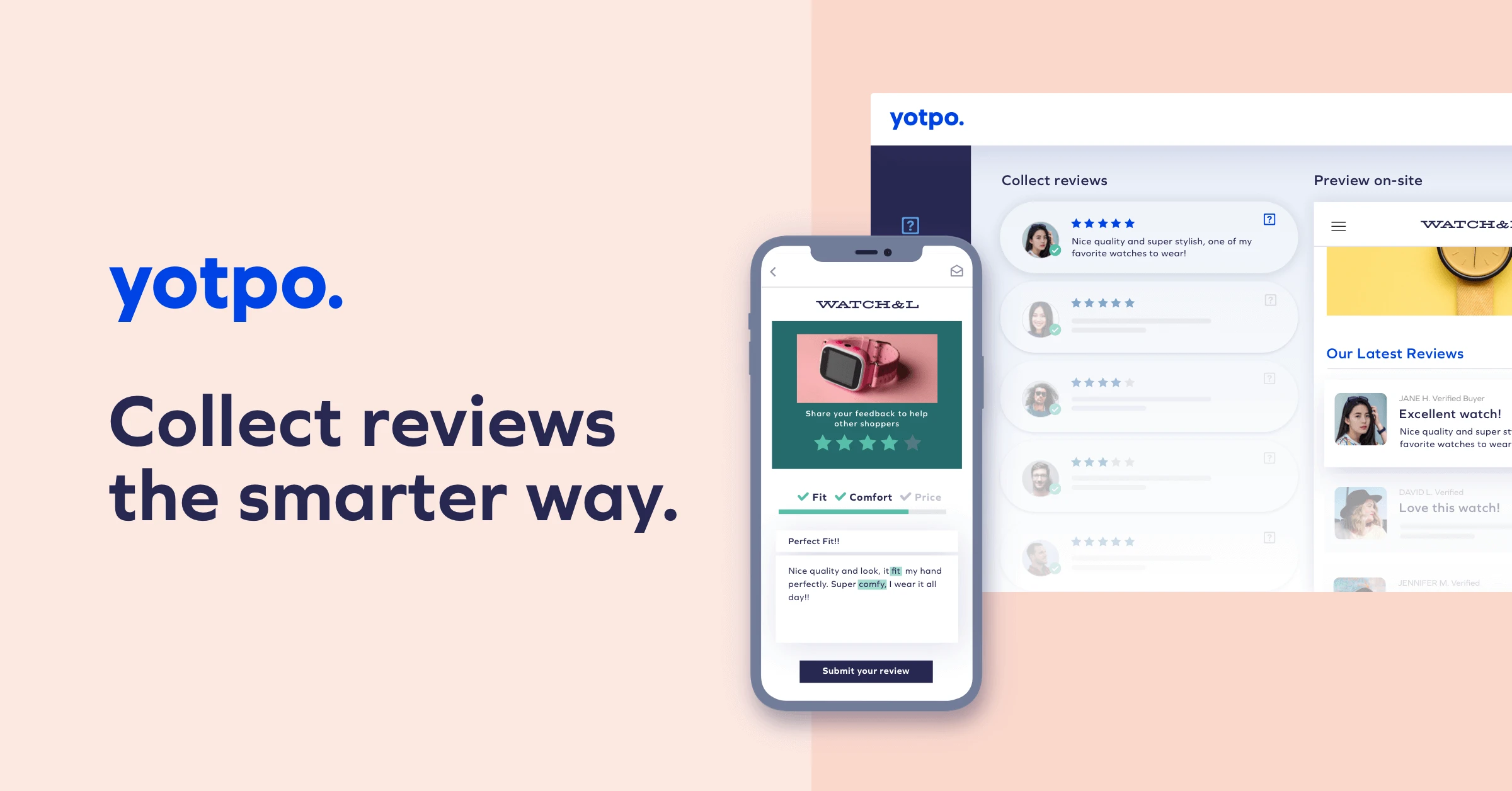 One of the unique features of Yotpo is its social integrations, which allow you to showcase your customer reviews on social media platforms such as Facebook and Twitter. This means that potential customers can see your star ratings and reviews on their social feeds, enhancing your brand's visibility and credibility.
ReConvert Upsell & Cross-sell
With ReConvert, you can add one-click upsells, post-purchase upsells, and discounted upsells to your checkout and thank-you pages. ReConvert's conversion-focused post-purchase upsell funnel helps you grow your AOV and maximize the profit of every sale.

With the ReConvert thank-you page, you can also: collect birthdays, upsell customers to a subscription; track orders; reorder; offer bundle-style cross-sell; and more. With acquisition costs on the rise, ReConvert helps you increase your margins and hit new sales records.
Deploy checkout and post-purchase upsell funnels to get shoppers to spend more money;
Immediately boost AOV post-checkout with frictionless one-click upsell offers;
Upgrade your thank you page: run surveys, collect birthdays, and upsell products;
Easily build and manage your checkout upsell strategy with a drag-and-drop editor;
Use deep segmentation to trigger bundle upsells, cross-sell, one-click upsell, etc
Fordeer: Invoice Order Printer
Fordeer Invoice Order Printer 1.0 is a professional alternative to Shopify Order Printer that enables users to print and download invoices, packing slips, orders, etc., in bulk and send them directly to their customers with the "Email Automation" feature. Fordeer: Invoice Order Printer is a PDF invoice app that allows sellers to create their own dazzling invoice templates by adjusting the store details and currency standard on the setup page.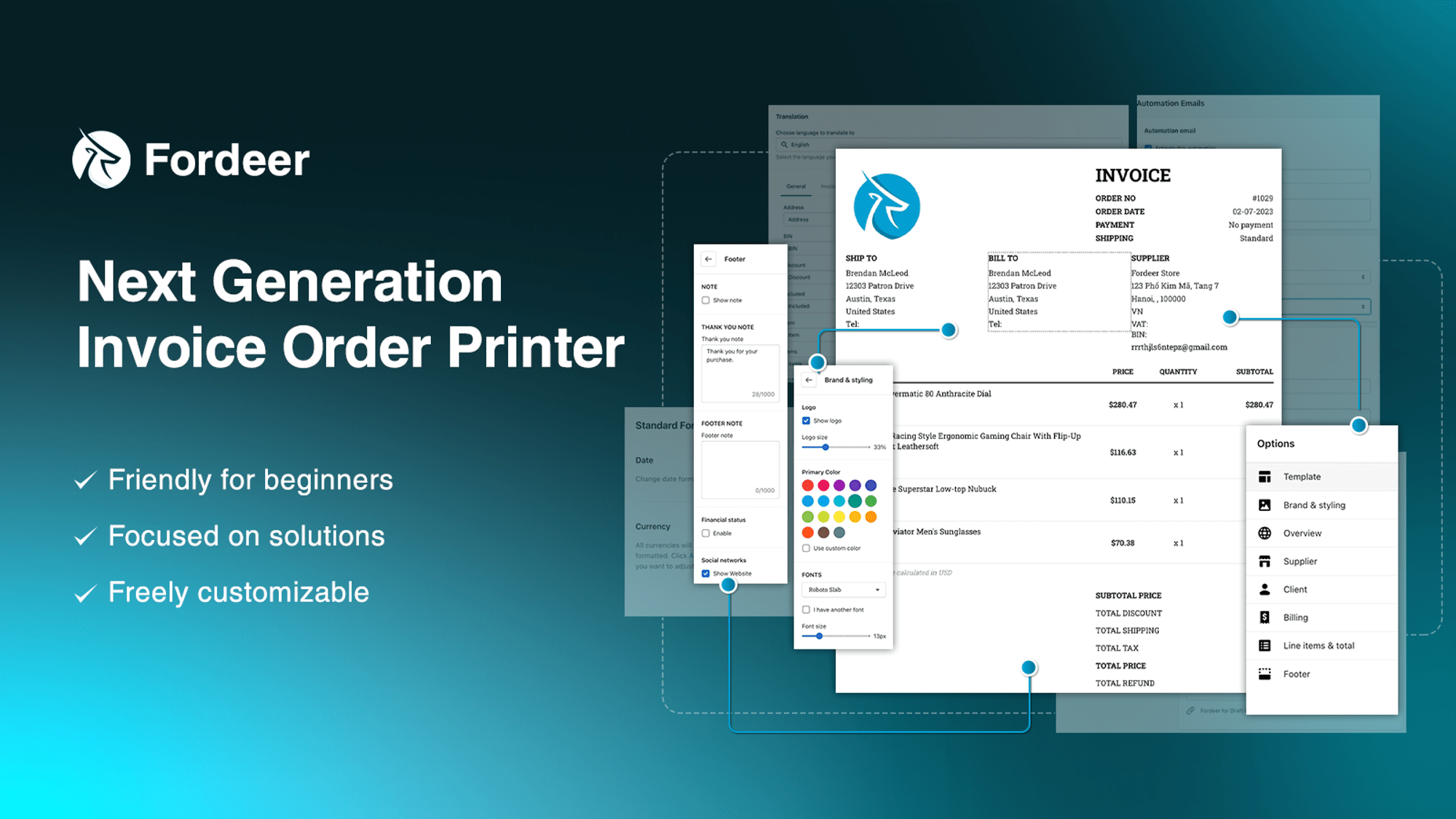 The app also allows users to create invoices in either the main language and currency of their business or the language and currency in which their customers make purchases from them. Additionally, the app is optimized for all POS and mobile devices and can be translated into up to 10 foreign languages. Above all, by being compatible with the Shopify Admin API, Fordeer supports users to work every time and everywhere they want.
Conclusion
Shopify's app store is a vast and ever-evolving ecosystem of apps designed to help businesses enhance their online presence and grow their sales revenue. Whether you're looking to automate your customer service, optimize your marketing campaigns, or increase customer loyalty, there's an app for everything.
In this article, Fordeer has looked at some of the top apps you can use to boost your growth. By using these apps and their unique features, you can enhance your store's functionalities, engage your customers, and increase your sales revenue. So why wait? Look over to the Shopify app store today and start exploring these apps to take your business to the next level.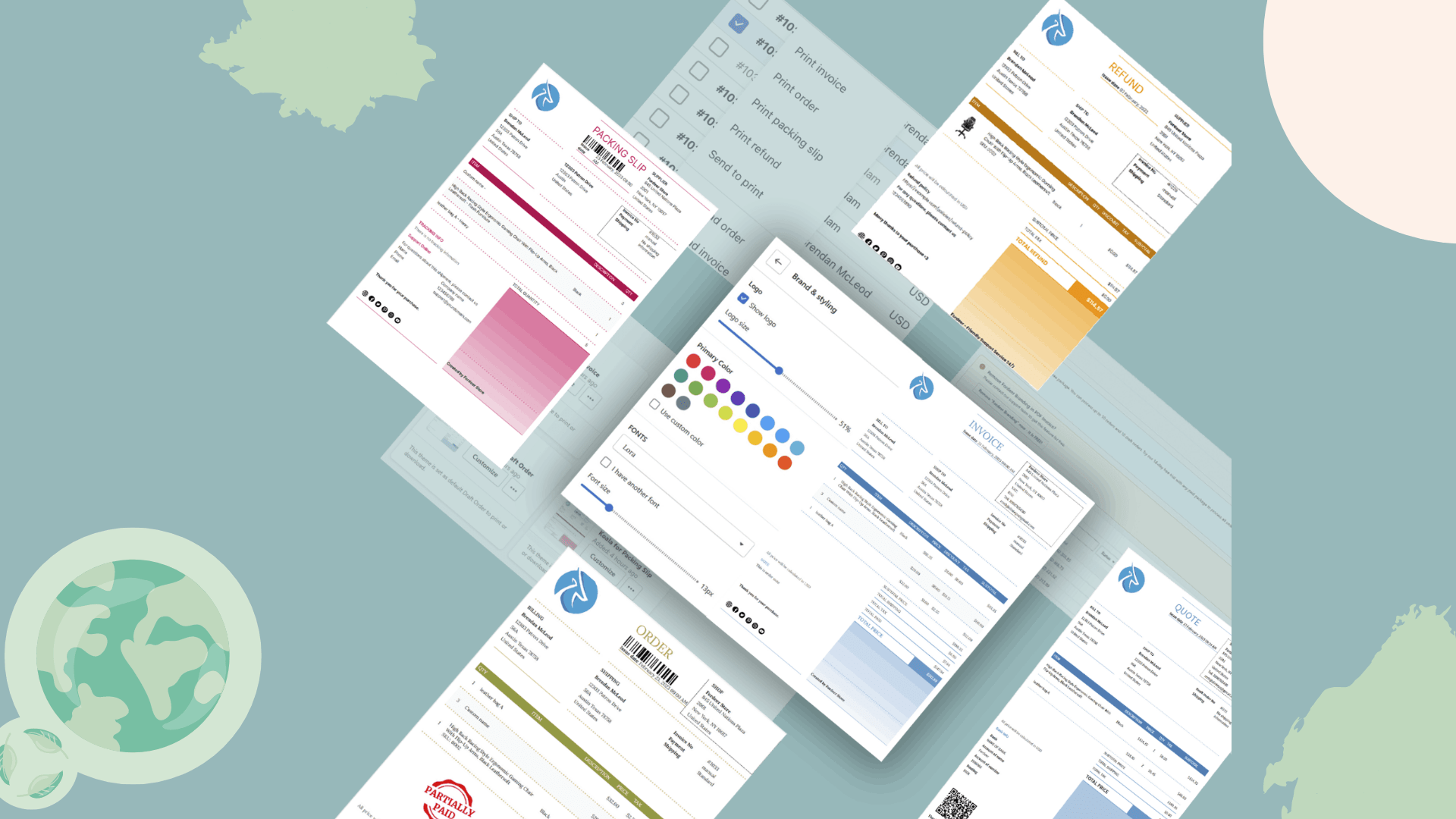 Don't hesitate to send us a message if you're seeking the best app to manage the billing process more efficiently. Fordeer offers top-notch branding and sales growth solutions, with a free plan available.
With our powerful advanced features in the billing process and reasonable pricing plans, we can help you get your business to where you want it to be in no time. Contact us today and grab the chance to grow your business with the promo code "FORDEER50" to enjoy 50% off right away!
You can also become a member of our vibrant eCommerce community to stay updated on all the latest and useful advice! Enjoy reading on the Fordeer Blog!
---
👉 Fordeer, which is a start-up software agency in 2022, is so honored to be founded with the mission of producing support tools for businesses all over the world. "The great tools for the best businesses". Our highly qualified programming engineers, with all their passion, are always ready to dedicate themselves to creating the most useful apps for your business and Shopify online store. Keep following our blog to get more helpful business knowledge and top trends daily.
💡
Fordeer: Invoice Order Printer
is a PDF Invoice app on Shopify. There are multiple beautiful templates available for invoices, orders, refunds, and packing slips. You can edit all these templates and print out the document simply. The best thing is a reasonable pricing plan and various amazing features! Be faster, cheaper, and more effective for your brand preferences with Fordeer.