Shopify Packing Slip - Things you should know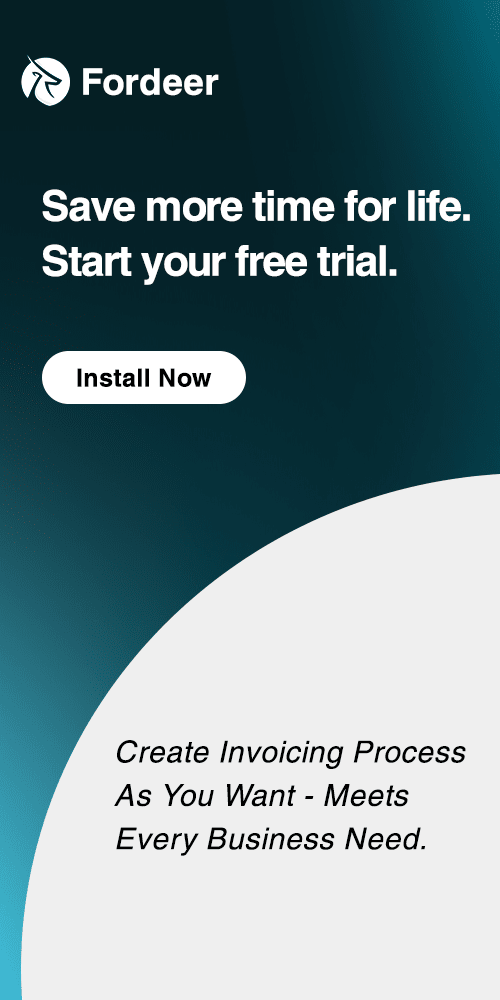 Today's consumers make purchases online, receive payment receipts online, and may even examine their whole purchasing history online. However, packing slips don't get much attention from them. They could view it as a pointless or shallow paper. However, the packing slip actually has a significant impact on both the buyer and the seller.
Packing slips are simple to complete and may help you save time and money, despite the fact that you might want to ignore them. A packing slip may act as a safety net, ensuring that your goods are packed and sent out correctly.
This Fordeer's article will define packing slips, explain how to make one, and explain why it could be essential to your shipping procedure.
What is a Shopify packing slip?
In order to inform the customers to add the inventory needs to be sent out to complete the purchase, a Shopify Packing Slip is prepared as a comprehensive list of all the products included in a shipment order and delivered to the shipping department. In contrast to an invoice, a packing slip often serves as a receipt for tangible products, making it different from one. An invoice, on the other hand, displays the financial record of the order and contains details such as the price at which each product was sold as well as the conditions and mode of payment.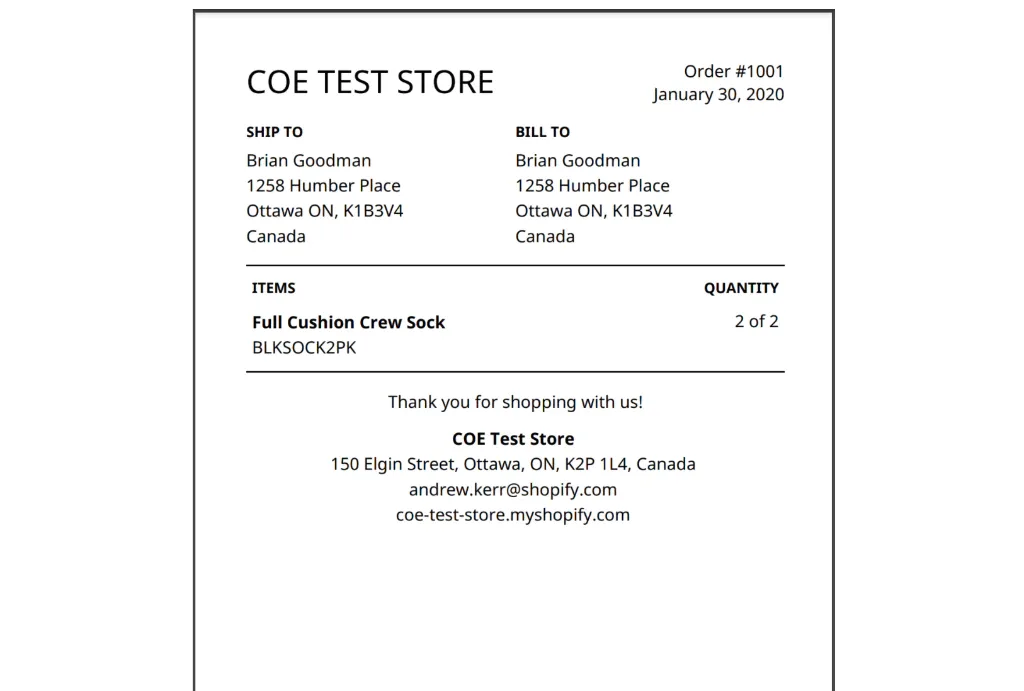 Particularly, packing slips are what maintain your organization whether you are mailing one purchase at a time or several. Typically, you need to print the packing slip and the shipping label for the client when you prepare items that are ready to ship. The packing slip should include a list of everything the customer requested. The products in the orders must then be selected, packaged, and sent.
A packing slip on Shopify is often printed in one of two formats, either 4x6 or 8x11. It may be modified to contain the name of your business, a logo, or special instructions for consumers. Additionally, Shopify announces that in the upcoming days, they will be adding more capabilities including bulk printing for packing slips and support for numerous template types.
What is the difference between a packing slip and an invoice?
Despite having similarities in nature, an invoice and a packing slip have different functions. A packing slip serves as proof that the buyer or recipient has received the items. On the other hand, the selling price of the item, the payment terms (COD or prepaid), and the date are all included in an invoice, a financial document.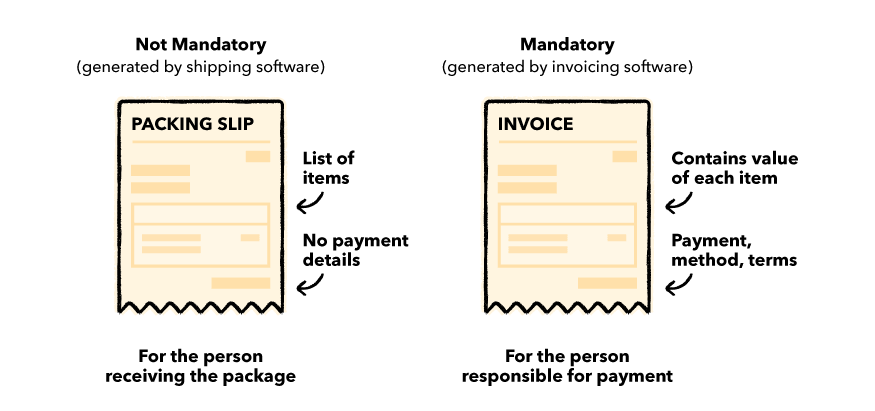 Both the packing slip and the invoice have various uses. An invoice is issued to the party in charge of product payment. The product's recipient is responsible for the packing slip. Yes, the person who receives the thing may also be the one who pays for it. On the other hand, if you purchase anything as a gift, you will get the packing slip and the receiver will get the invoice.
Notably, the eCommerce store is in charge of both documents. The packing slip, on the other hand, is provided by the shipment or fulfillment center, while the invoice is provided by the payment platform.
Why are packing slips important for eCommerce businesses?
On the packing slips, everything the buyer purchased is listed. Packing slips are important shipping paperwork that are used in ecommerce transactions because you aren't purchasing the goods from a real store. This helps link the virtual and physical worlds together. Having packing slips is important to:
Ensure that everything is in the shipment
In the process of fulfilling orders for online purchases, verifying and double-checking are crucial. The contents of a box should be checked by the packer before it is sealed and labeled, including accurate counts of numerous SKUs. A packing slip is a record of the actual items listed on the shipping label and reflects all things that were ordered. Once it has been confirmed, they may package the order and dispatch it after inserting the issued packing slip.
Track all items in the order easily
An order could need to be split into many shipments depending on the quantity of the products and the size of the order, as well as the distribution of the SKUs throughout the various warehouses (meaning certain items are sent in different boxes). A packaging slip can assist the seller and recipient keep organized if an order is split up across many boxes.
Detect any damaged goods
Whether a fragile item broke in transportation or the entire box was damaged, packing slips can be used to locate and classify damaged goods. These kinds of delivery hiccups do occur, but having a packing slip as a backup might hasten the process of getting a refund or resending the goods.
Confirm that everything was received
To find missing products and confirm that everything requested was delivered, packing slips are employed. It functions as a paper trail or a record of the contents of the cargo. If the ecommerce order monitoring indicates that all of your parcels have been delivered even if your order came in several, you can more easily keep track of any errors.
Allow customs to evaluate a shipment's value
A packing slip may be used by customs to determine the worth of an overseas cargo. However, in order to clear a shipment, customs will often always prefer a commercial invoice (which must include the description of the products, their value, the shipping addresses of the seller and the shipper, as well as the delivery and payment conditions).
How to create a packing slip?
There are several ways for creating a packing slips. Packing slip templates are available for Google Sheets and Excel. Using a labeling provider or generating them from inventory management software, you might select to print packing slips. Moreover, you also can try third-party PDF invoice apps on Shopify such as Fordeer: Invoice Order Printer. This app will help you customize your packing slip templates, which will support you in improving your brand identity.
However you choose to go about it, make sure your packing slips are straightforward, understandable, and comprehensive. Not to mention, they must possess the data you'll discover in the next section, which is essential.
What information is included on a packing slip?
Date of order, shipping address, and contact details
Similar to an invoice, this fundamental information, such as the purchase order number, contact details, and any issues with the item during transit, is helpful for filing purposes. Of course, shipping providers use the shipping label by default, but a packing slip might be a valuable fallback in case there are problems during transportation.
Itemized list of the goods that were shipped
To ensure they are receiving what they paid for, many buyers compare the products they receive to this list of what was bought. Although they may also refer to their confirmation email, some people might find it more convenient to have a packing slip on hand.
Detailed list of unavailable things
Line items of anything that was ordered but not sent will be listed on the packing slip along with the invoice so they may be reordered. It is quite uncommon for there to be no communication before the order is submitted or completed; if it does, it will be made very apparent.
Quantity of each item
The product name or SKU is insufficient to check in each individual item from a packing slip because many merchants order more than one of a particular item. If numerous of the same item is ordered, a quantity field helps shorten the list so that a packing slip is not several pages long.
SKU or UPC of every product
Customers may not understand what SKUs or UPCs (unique identifiers or codes) signify, but a seller utilizes these numbers to track their inventory. It is what the vendor will use to identify the source of a problem if you need to get in touch with them.
Slip number or PO number
In order to make sure the correct order was sent and received, shippers and purchasers can compare the PO number and the slip number, depending on how many reference numbers you have for your orders.
All in all
To sum up, Shopify Packing Slip represents the worthwhile chances to connect with your consumers. It can be fully utilized to increase future sales and to control customer expectations.
Hopefully, the information in this post may assist you in some way in comprehending Shopify Packing Slip. It's now time for you to start making your own packing slips for your store for each purchase. However, if you still have a question, please let us know so that we may answer it in detail.
Don't forget to frequently check out our Fordeer Blog website to learn more insightful information on using Shopify for selling and shopping.
---
👉
Fordeer, which is a start-up software agency in 2022, is so honored to be founded with the mission of producing support tools for businesses all over the world. "The great tools for the best businesses". Our highly qualified programming engineers, with all their passion, are always ready to dedicate themselves to creating the most useful apps for your business and Shopify online store.
📌
Fordeer: Invoice Order Printer is a PDF Invoice app on Shopify. There are multiple beautiful templates available for invoices, orders, refunds, and packing slips. You can edit all these templates and print out the document simply. The best thing is a reasonable pricing plan and various unique features! Be faster, cheaper, and more effective for your brand preferences with Fordeer.
Learn more about the app.