Review and Compare Top 10 Shopify Popup Apps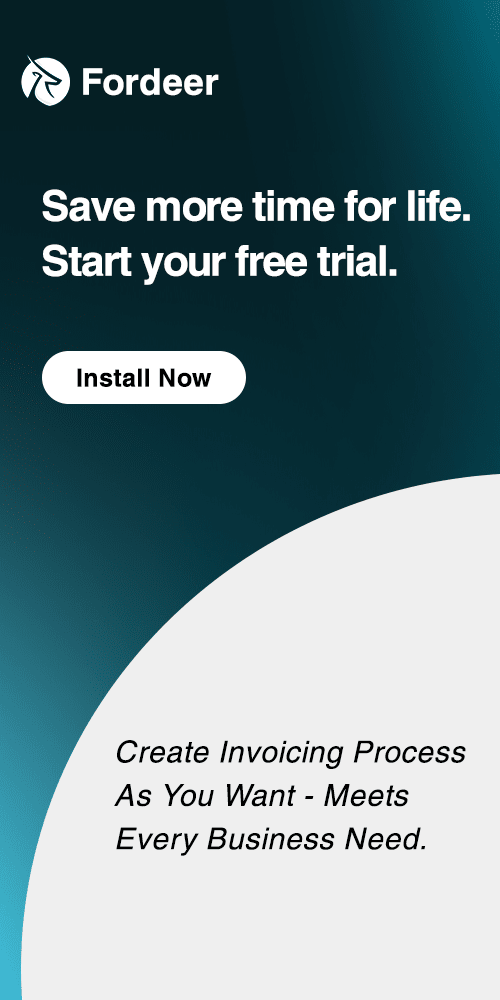 Popups are practical tools for enhancing your conversion rates and increasing sales, making a popup app a valuable resource.
Our review of the Shopify App Store identified the top 10 Shopify popup apps capable of significantly improving your conversion rates and making your efforts more rewarding.
By comparing these apps, you can quickly assess some features to determine which aligns best with your business needs. Let's, with Fordeer, explore the top 10 Shopify Sales Popup apps.
Why You Should Utilize Popups on Your Online Store
For e-commerce businesses, integrating popups into their websites, particularly exit-intent popups, is one of the most effective strategies.
While it's not an absolute requirement, the potential for significantly boosting conversion rates makes incorporating popups into your website a compelling option to enhance your online impact.
The primary purpose of a popup is to deliver a compelling call to action, precisely what you require.
Leveraging a popup app has numerous advantages, such as promoting your store's top-selling products or offering special discounts to incentivize purchasing.
First, let's begin with  Sales Pop-Up ‑ Popups, a powerful tool to enhance conversion rates. It stands out as one of Shopify's most efficient popup builders, allowing you to engage your website visitors and transform them into dedicated customers.
You can employ this tool independently or in conjunction with the Shopify app for your Shopify store. It seamlessly integrates into Shopify stores, enabling you to develop popup campaigns that are primed for conversions swiftly.
It includes email sequences designed to attract customers and encourage their return to your website. Additionally, it provides pre-designed popup templates that can be personalized while maintaining your brand's unique voice.
Outstanding Features:
Gather your email marketing list through opt-in pop-ups or email sign-up forms.
Increase conversion potential with customizable pop-ups offering discounts, vouchers, and more.
Deploy sales pop-ups that seamlessly integrate with any app or theme, requiring no coding.
Leverage social proof by showcasing recent purchases, sales pop-ups, and a visitor counter.
Utilize the Smart Dashboard to monitor campaign metrics, impressions, clicks, and other essential data.
Shopify Rating: 5.0
Hextom: Quick Announcement Bar
As the name suggests, Hextom is a valuable Shopify popup application primarily used for making announcements.
The Hextom website features a blue background with a clear call to action explanation alongside imagery depicting individuals involved in e-commerce activities.
You can keep your clients informed using a display banner on your website. Including a 'call to action button' on the flag enables visitors to access the relevant page with a single click.
In essence, Hextom allows you to achieve an unlimited number of impressions quickly and effortlessly without requiring the expertise of a developer.
Hextom empowers you to provide targeted discounts tailored to your business dynamics, convey the holiday and promotional spirit to your customers, and boost your sales!
Outstanding Feature:
Showcase your sales promotions using a personalized bar to enhance visibility and drive sales.
Utilize advanced targeting options such as geo-location, customer demographics, specific pages, products, and device targeting.
Take advantage of scheduling to pre-plan sales events well in advance, such as Black Friday.
Enjoy complete customization with rotation and animation options, background images, and styles.
This feature supports all pages, and enabling it is as simple as a one-click action, with no coding expertise necessary.
Shopify Rating: 4.9
ToastiBar ‑ Sales Popup
The MakeProSimp Sales Notification website features a light blue background and an illustration of a person working with apps and requirements.
MakeProSimp offers four distinct Shopify apps: Notify Me, Buy Me, Promote Me, and Sales Notification.
Sales Notification is designed to boost sales and improve conversion rates through timely notifications.
While it has the potential to build trust and credibility, it's essential to consider the advantages and disadvantages of using MakeProSimp Sales Notification from the Shopify app store.
Outstanding Features:
Minimize instances of cart abandonment and enhance conversion rates.
Showcase various popup types to create a bustling store environment.
Offer multi-language support, presenting popups in English, French, and 74 other languages.
Access robust analytical data to monitor clicks, impressions, click-through rates, and more.
Enjoy full compatibility with Shopify's Online Store 2.0 (OS 2.0) themes.
Shopify Rating 4.8
Picreel
Picreel is an announcement-focused Shopify popup app with various features to enhance your online business.
It offers functionality aimed at improving conversions and increasing sales.
By providing customizable popups, exit-intent technology, and A/B testing capabilities, Picreel empowers you to design visually appealing banners. These banners can be used to inform your clients and offer targeted discounts.
Whether you want to provide discounts, promote new products, or simply communicate with your customers about your business, Picreel allows you to do so without needing a developer.
Outstanding Features:
Popups for Capturing Leads
Popups Triggered by Exit Intent
Effortless Integration
Shopify Rating: No Rating
Rivo Popups
If you're new to Shopify popup apps and prefer a user-friendly experience without feeling overwhelmed, Rivo Popups is an excellent choice. This specialized popup app primarily focuses on Shopify email capture popups.
One of the standout features of Rivo is its beginner-friendly popup editor, which enables you to swiftly and effortlessly create campaigns. Additionally, to assist you in capturing emails, this free Shopify popup app offers both automatic and manual discount code options.
Outstanding Features:
Email popup triggered on exit intent
Automatically generated discount coupons
Persistent coupon bar for customers who haven't copied the code
Fundamental popup timing and display regulations
Shopify Rating: 5.0
Poptin Popups
Poptin offers noteworthy campaign automation capabilities as well. You can design simple elements such as newsletter popups and more sophisticated campaigns like exit-intent popups featuring customized offers.
One distinctive feature that sets Poptin apart is its inclusion of chat widgets, providing customer support for visitors to your store.
Outstanding Features:
User-friendly drag-and-drop popup builder
Popups optimized for SEO and mobile devices
Comprehensive campaign analytics and reporting
Fundamental targeting options like exit-intent triggers
A/B testing for campaign optimization
Shopify Rating: 4.9
Privy
Privy offers a robust set of popup tools designed to assist in building your email list and driving sales. However, it's not exclusively a Shopify app; it is just one component of its broader marketing functionality. Privy is a suitable choice if you're seeking a marketing suite that enables you to gather both email and SMS subscribers.
In terms of popups, Privy provides a wide range of significant popup types essential for converting website traffic, including exit-intent and spin-to-win popups. Its numerous targeting features allow you to present your offers to the most relevant customers.
Key Features:
Diverse popup types
Exit-intent technology
Capability to collect both email addresses and SMS numbers
Analytics dashboard with basic reporting
Targeting options based on device, location, device type, and URL
Shopify Rating: 4.6
Email Pop-Ups & Coupon Popups by Getsitecontrol
This Shopify popup app provides essential core functionalities, including newsletter, exit-intent, and upsell popups. Moreover, you can use targeting options based on cart conditions and subscription status, allowing for tailored offers to your customers.
Getsitecontrol also includes a convenient dashboard for tracking revenue generated through this Shopify popup app. This feature is exceptionally user-friendly, making it easy for beginners to monitor the number of orders placed within specific periods.
Outstanding Features:
Easy-to-use popup builder
A library of over 100 pre-designed popups
Age verification popups
Basic audience targeting capabilities
Dashboard featuring conversion and sales metrics
Shopify Rating: 4.5
MailMunch- Email Popup
MailMunch is a trusted choice for more than 400,000 businesses and is regarded as one of the top Shopify popup apps for converting website visitors.
With MailMunch, you can effortlessly craft visually appealing email popup forms and seamlessly synchronize your email subscribers with your service provider.
Outstanding Features:
User-friendly and intuitive
Utilizes exit-intent technology
No coding experience is required
Smooth integrations with other platforms
Mobile-friendly design
Easy-to-use design interface (WYSIWYG)
Detailed tracking and analytics
Shopify Rating: 4.6
POWR
It's most appropriate to highlight the critical features of POWR, such as its email popup, sales, and coupon popup functionalities.
The POWR popup webpage features a blue and white background with popup examples displayed on the right side.
If your goal is to expand your subscriber list, the effective POWR Email Popup can help you convert your website visitors.
While POWR offers several other capabilities, they are less advanced. For instance, you can use it to gather feedback through a survey popup or create a sense of urgency by incorporating a Countdown Timer. Additionally, you can display special discount codes or promotions using a custom call-to-action button to direct users to your sales page, similar to other popular popup tools.
Outstanding Features:
Mobile-responsive design
Access to over 50 POWR apps
Utilizes Exit-Intent technology
Offers frequency control
Integrates seamlessly with Mailchimp, Zapier, and Google Sheet
Shopify Rating: 4.3
Conclusion
Popups are typically straightforward yet impactful, and their utilization often results in increased conversion rates and more significant lead generation. As a result, when selecting the most suitable tool to align with your business goals, these top 10 Shopify popup apps can prove invaluable in reducing cart abandonment.
To explore additional popup builder options, consult a valid popup builder directory to understand the available choices better.
FAQ
Who Should Utilize Popup Applications?
If you're experiencing low conversion rates and seek to enhance your business's performance, popup applications can be a powerful tool. Whether you operate a small or large business, popup templates can be valuable for lead generation, and they can also pleasantly surprise your website visitors before they convert into customers.
What Characteristics Should Popup Applications Possess?
Popup applications should be efficient and concise, aligning with your specific objectives. As a result, they should offer customizable templates, be user-friendly, require no coding skills to save you time, and provide a free trial or plan for experimentation. Ultimately, popup applications should be capable of providing marketing benefits, mainly serving as a form of social proof, while requiring minimal effort on your part.
---
👉
Fordeer
, which is a software agency founded in October 2022, is so honored to strive with the mission of producing support tools for businesses all over the world. "The great tools for the best businesses". Our highly qualified programming engineers, with all their passion, are always ready to dedicate themselves to creating the most useful apps for your business and Shopify online store. Keep following our blog to get more helpful business knowledge and top trends daily.
💡
Entrepreneurs need to focus on customer service and maintaining a credible brand image if they want to achieve long-term and sustainable success, regardless of the business model they pursue. Therefore, finding and selecting the appropriate business support tools is extremely crucial. That's why we have launched an app in order to help you swiftly and conveniently resolve any invoice-related issues at a reasonable price. Let's experience it with our
Fordeer PDF Invoice Generator
.