How to sell digital products - Smart Business Tips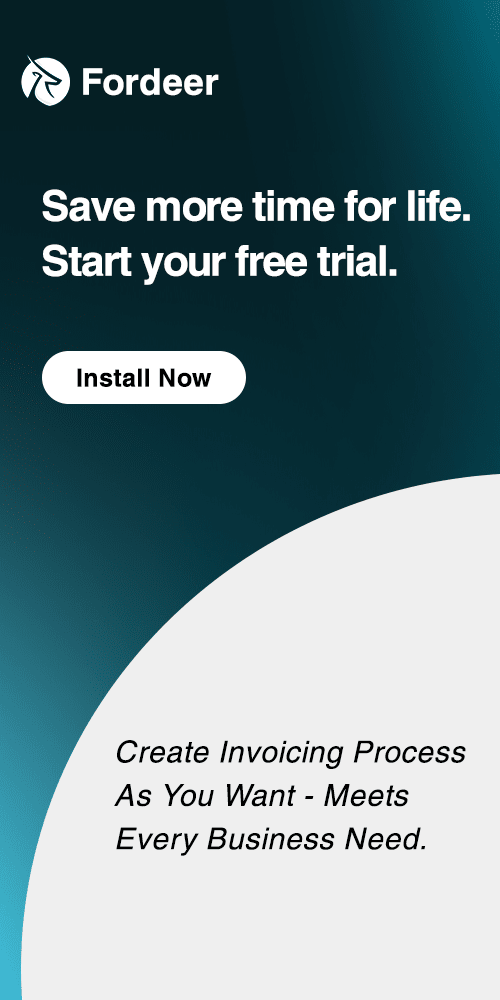 Everyone uses digital items, which range from music to films, eBooks to online courses, and more, even though they can't be held, tasted, or felt. Due to their popularity and ease of distribution, many business owners create entire organizations around these intangible things, or they introduce digital products to complement their physical goods or services.
For bloggers, educators, freelancers, and other online professionals searching for passive income streams, digital items are fantastic. They don't require inventory replenishment because they may be produced once and sold frequently to various clients. Follow this Fordeer's article to learn how to sell digital products online.
Top advantages of selling digital products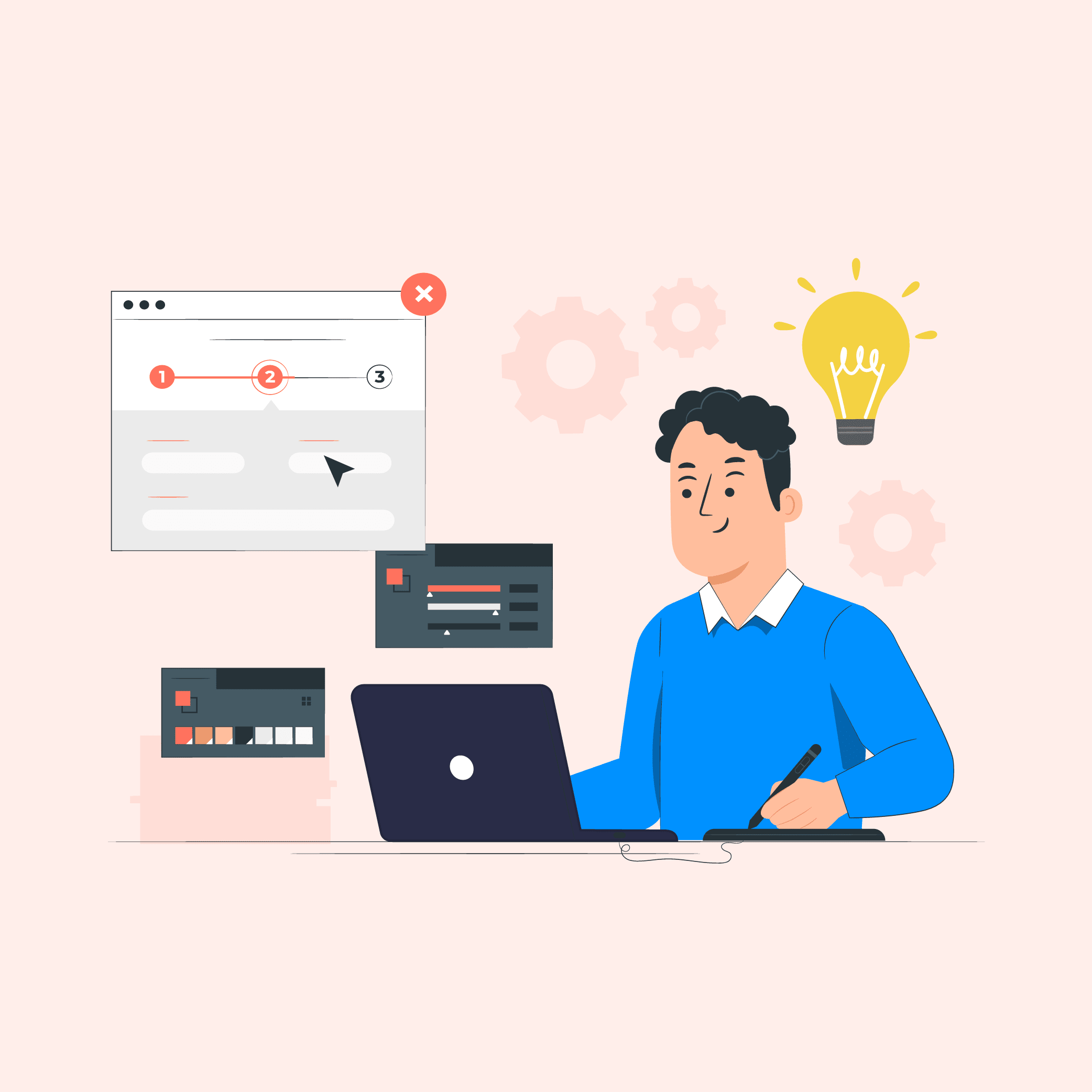 Save time: When selling digital products, you don't need to source or manage inventory. You also don't have to deal with shipping and logistics.
Save money: Sourcing, storing, and shipping physical products costs money — as does managing inventory. With digital products, you can avoid these overheads entirely.
Scalable: Digital products are infinitely scalable. There's very little difference between delivering 10 units per day and delivering 10,000 units per day. (However, as you scale, you'll need to hire more customer service specialists and upgrade your website to handle the additional traffic.)
High profit margins: Without the need to purchase and manage physical inventory, the profit margins on digital products are considerably high.
Automation Potential: It's relatively easy to automate digital product delivery, which allows you to focus on growing your business.
Flexibility: At any point, you can create new products or change the way you sell your products. For example, you may decide to give a digital product away to build your email list or sell a monthly subscription to access multiple products.
Opportunity: E-learning was growing rapidly before COVID-19, and now more people than ever are working and learning from home. As a result, the e-learning industry is expected to be worth a whopping $374 billion by 2026.
How to sell digital products online?
How can you get started now that you are aware of the kinds of digital goods you may sell online? Here are the six steps you may take to produce and market digital goods online.
Brainstorm and research ideas
Priorities first Take out a pen and paper, and jot down every concept you have for a digital product.
You don't have to be an expert to create a digital product - you just have to offer value in some way. Start with your current ideas and see what other people are selling online. If you already have a business, can you create digital products that support your physical products?
Could you, for instance, create an online course that teaches individuals how to enhance their skating abilities if you sell skateboards?
What values do you hold? Can you instruct individuals on how to put such principles into practice? Can you educate people how to live a more sustainable life, for instance, if you have a strong sense of environmental responsibility? Research should be done when brainstorming is completed.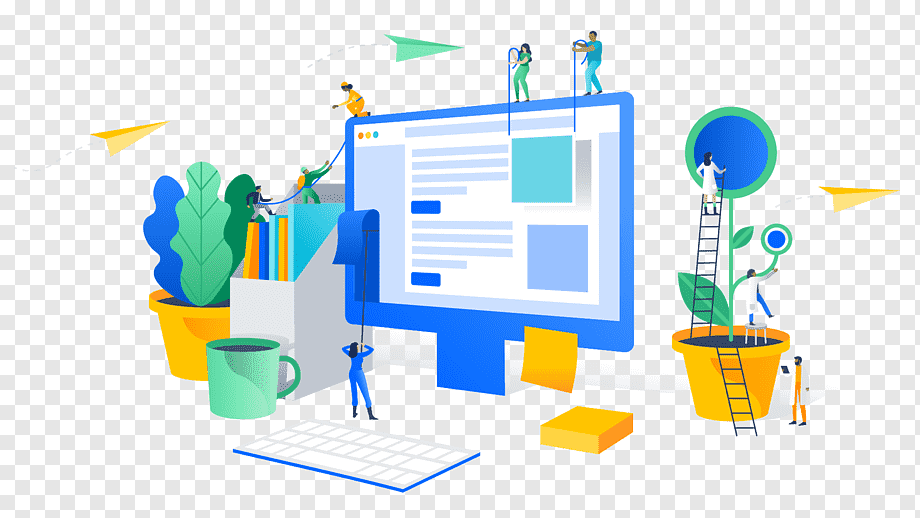 Pick a difficult issue to solve
It's time to shift gears and begin examining your ideas once you've compiled a sizable list of them. Think carefully about the issue that each suggestion addresses as you go forward.
As an illustration, suppose you wanted to assist individuals by teaching them how to exercise at home without any equipment:
Improve their health;
Boost their self-assurance;
Save the time and money that they would often spend on a trainer, gym, etc.
Here's the thing: Your digital product will be simpler to advertise and sell if it solves a large and painful need.
Therefore, order them from most painful to least painful after determining the issues that each of your suggestions addresses. Then, pick a solution to one of the most upsetting issues.
Niche down and define a target market
"The riches are in the niches." - Anonymous
Setting goals for a specific target market enables you to:
Make your digital goods more useful and interesting by tailoring them to the particular demands of your niche.
To make your message more impactful, adjust your marketing communications to the specific requirements, preferences, and even linguistics of your target market.
Become the go-to authority in a very tiny niche to establish authority and crush the competition.
For instance, you may instruct wounded people on safe exercise techniques rather than instructing people on how to become in shape. You may also demonstrate to women how to work out at home while their kids are with them in order to help them become more energetic and fit.
Be quite detailed.
Validate your ideas
You don't want to put all of your heart and soul into producing digital goods that fail to attract customers. So it's best to test your idea before creating your first digital product.
Do some fundamental research first:
To find out how many people are looking for phrases associated with your concept, use Google's Keyword Planner.
To make sure that there is a rising, or at least stable, demand for your concept, check Google Trends.
Use social media to connect with your target audience and get their opinions on your concept. Even better, you could design a poll or survey.
Then, to test your idea in the actual world, develop a minimal viable product, or "MVP."
For instance, start by providing online fitness courses rather than creating an 8-week video course on how to get healthy. You may test your product-market fit in this manner without spending a lot of effort on it.
Create your digital products to sell online
It's time to start developing your digital product once you've found a successful concept. You must decide on a format if you haven't done so before.
If at all feasible, start with a straightforward structure; you can always add more features as you learn more about your customers' wants and needs.
In keeping with the previous scenario, you could want to keep providing coaching calls while also developing the downloaded resources if you want to create a video course with them.
Create an online store
Where can I sell digital goods, you ask? Let's get right to the point: Shopify is the greatest online storefront for selling digital goods, and it's only $29 per month.
You may personalize your business with the more than 100 website themes that are included with our ecommerce website builder. Additionally, the Shopify app store offers a ton of applications that let you customize the functionality of your website to meet your unique requirements.
Sales and marketing tips for selling digital products
Keep the following advice in mind whether you're starting a new business or expanding your current one by selling digital goods online:
Create a great product. The primary need for developing digital products is to make your consumers' lives better. Invest in creating a product consumers can't get anyplace else because you're up against free stuff on the internet.
Promote a lead magnet. Create a lite version of your product at no charge, regardless of how much it costs. You may create an email list of potential customers with a free product. Additionally, it makes it possible to upsell and retarget potential clients with various promos. Trust between your company and potential customers is increased by free.
Start an affiliate program. For makers of digital items, affiliates are a major source of traffic and sales. Locate influencers that are well-known and dependable in your sector and give them a commission for each sale they generate. If someone has a large following, you may give them a greater commission rate to market more and draw buyers. You can generate varying percentages for different affiliates.
Collect pre-orders. Offering a reduced "early bird" price is a fantastic method to generate early purchases. If you're launching a new digital product, you may give the first 100 purchasers a 50% discount, followed by a 25% discount for the subsequent 100 purchasers, before releasing the product at full price once the 25% discount expires. Only your current audience may receive the 50% discount, which you can do to thank them for their support, solicit comments, and boost pre-launch sales.
Offer a money-back guarantee. It makes sense if you're afraid to provide a guarantee for your items. Some customers could purchase your goods, utilize it, and then want a refund. But all of it is a necessary aspect of operating an internet business. Higher conversion rates offer benefits that exceed the tiny number of persons who could misuse the rule. A money-back guarantee demonstrates to potential customers that you are willing to take the risk rather than shifting it to them.
Top platforms to sell digital products
There are several ways for creators and retailers to sell digital products including software, courses, and ebooks.
Here is a list of eCommerce platforms where you may buy and sell digital products. There are places for delivering courses and subscriptions, tools for selling digital goods, and sophisticated services for DRM.
Teachable is an online course creation and sales platform. Teachable offers limitless video hosting and administration, integrated payment processing, student management, lecture feedback, and simple quizzes.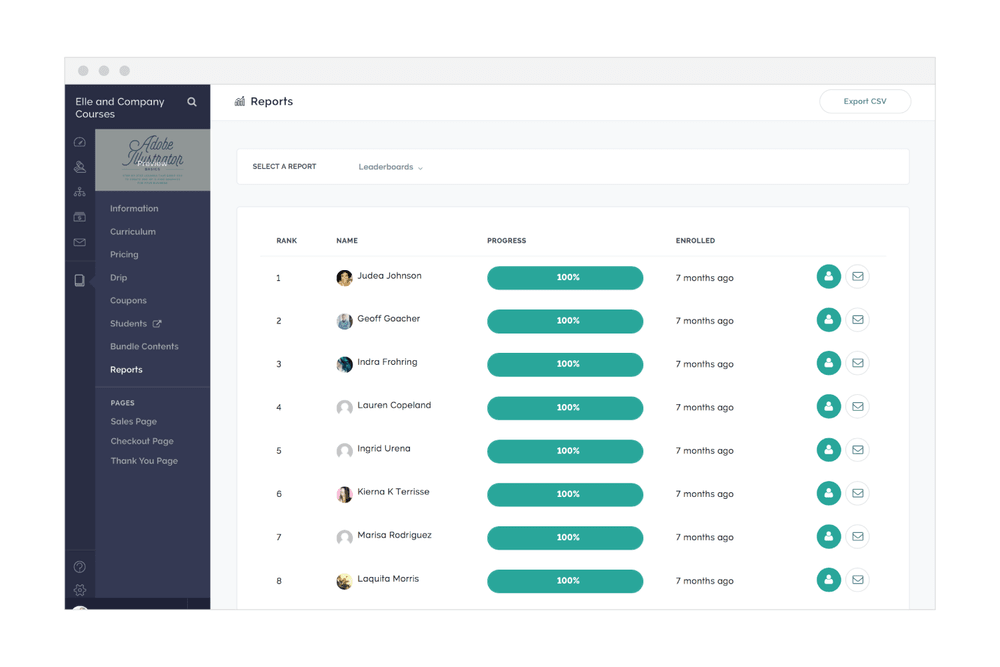 Connect Teachable to your website with a custom domain. Monitor sales and enrollment. Plans start at $1 plus 10% of each transaction. No charges for free goods.
Sellfy is a marketplace for the sale of print-on-demand items and digital goods. Make digital subscriptions and charge once a week, once a month, or once a year.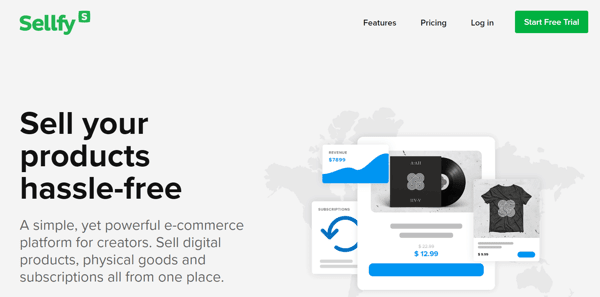 Add your logo and layout to the storefront, or add a connection to your domain. Make your current pages into a store by adding "purchase now" buttons. Free for a maximum of 10 goods. Beginning monthly at $19 are premium plans.
Gumroad is an online marketplace where users may sell digital goods and grow their fan bases. Sell products such as software with license keys, subscriptions, courses, and eBooks. Sell additional variants at a higher price.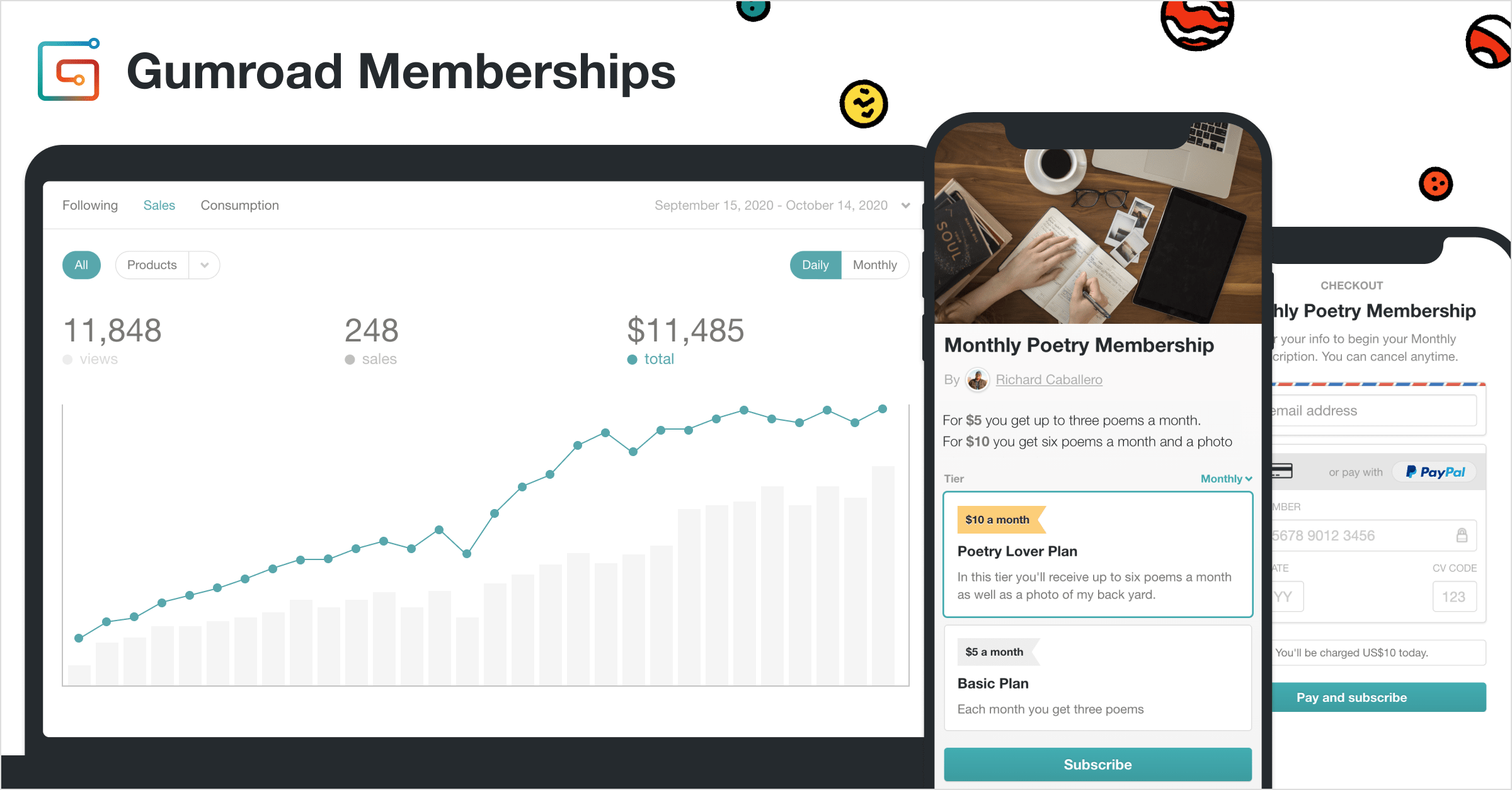 Make a simple DRM to safeguard your work. With any significant credit card or PayPal, including the "pay what you want" function, buyers may make payments in a variety of currencies. Price: 9% + 30 cents every transaction starting at.
Payhip is a platform for selling digital goods, courses, and subscriptions. Use an online storefront or integrate Payhip into your website. Following a transaction, customers may download files right away.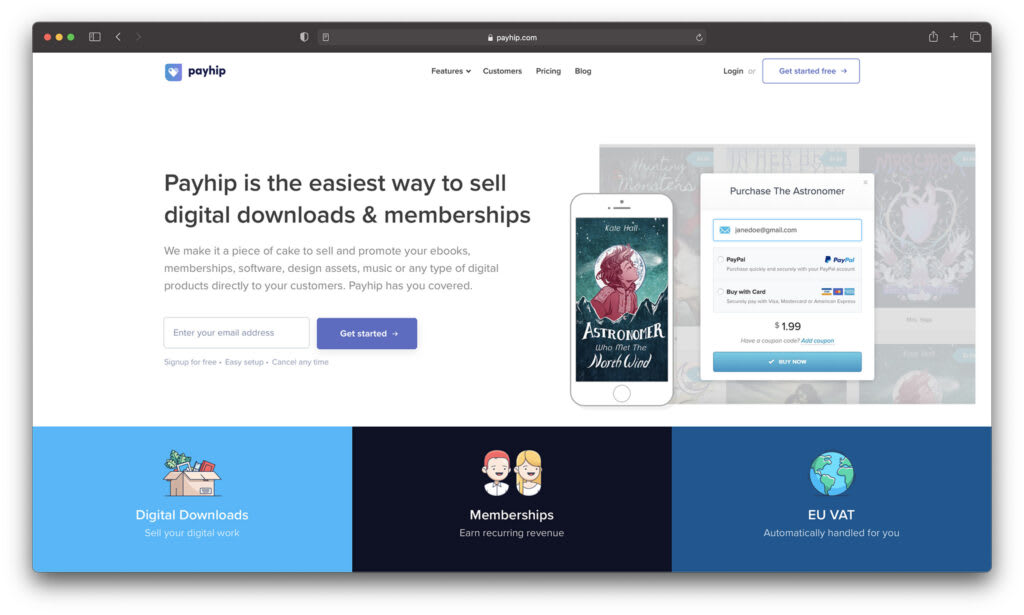 Run marketing campaigns with movable coupons. Sync your clients with Mailchimp, Campaign Monitor, and other mailing lists. Plans start at 5% per transaction in price.
Selling digital goods is easy with Sellwire. Connect your payment processor, add your digital files for Sellwire to host, and choose the price.

Share the URL to your product, and you'll instantly get paid when customers purchase and download the file. Set download limits or time limits for expiry. Price: For 10 files, plans start at $9 per month.
Thinkific gives business owners the tools they need to design, promote, sell, and deliver their own online courses. Create adaptable content that may include things like communities, live courses, limitless video, evaluations, and more.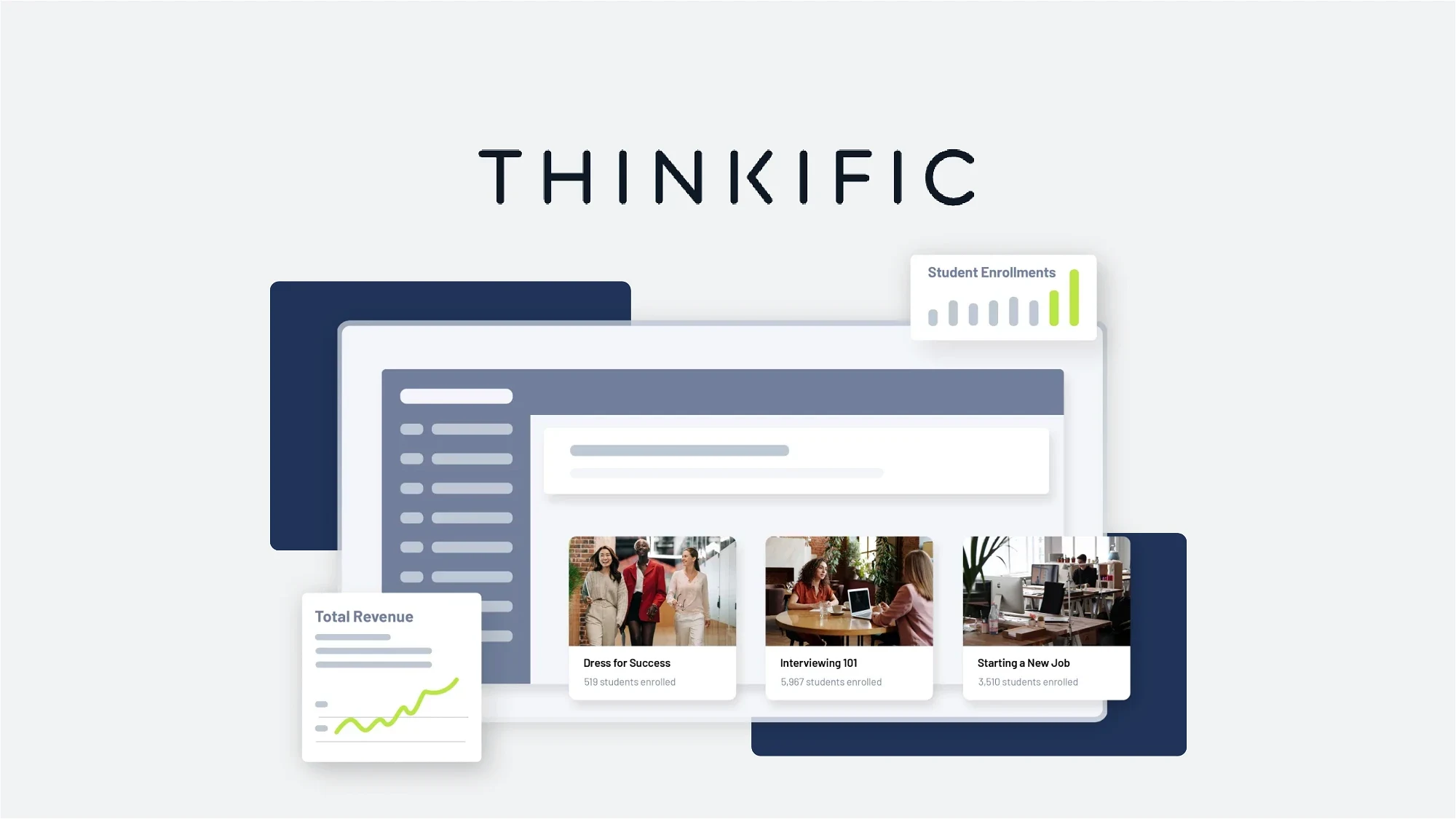 Sell your expertise in the form of memberships, packages, digital downloads, or stand-alone courses. With discounts, recurring payments, or subscriptions, you may customize price. Free for a single admin account. Starting monthly at $39 are premium plans.
In order to sell digital products including music, films, photographs, ebooks, PDFs, and software, FetchApp integrates with well-known platforms like Shopify, WooCommerce, and PayPal.
When orders are received, FetchApp immediately provides a secure download link along with a history of each transaction. Price: Free storage and up to 25 daily orders. With no sales commission, premium plans start at $5 per month for 50 MB of storage.
DPD (Digital Product Delivery) is a one-stop online store and fulfillment service. Manage several stores using a single DPD account. Sell services, goods, downloads, and key codes.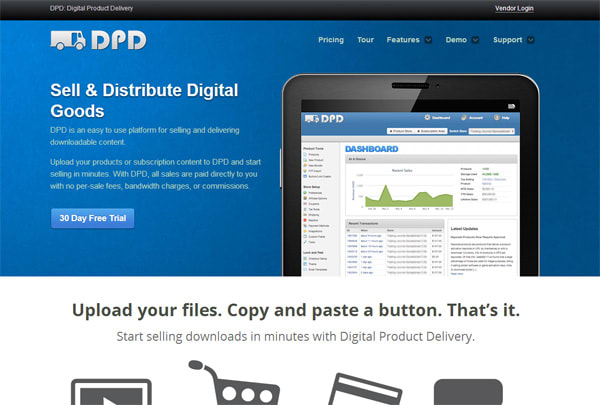 A PDF eBook's purchase information is stamped on it, and it is then encrypted to prevent printing or copying. Plans begin at $10 monthly for 20 items and 1 GB of storage.
An all-in-one software called SendOwl enables users to sell and distribute products including audio books, ebooks, photographs, software, memberships, subscriptions, event tickets, online courses, license keys, and more. Use the API, social media, email payment links, or your website or blog to sell.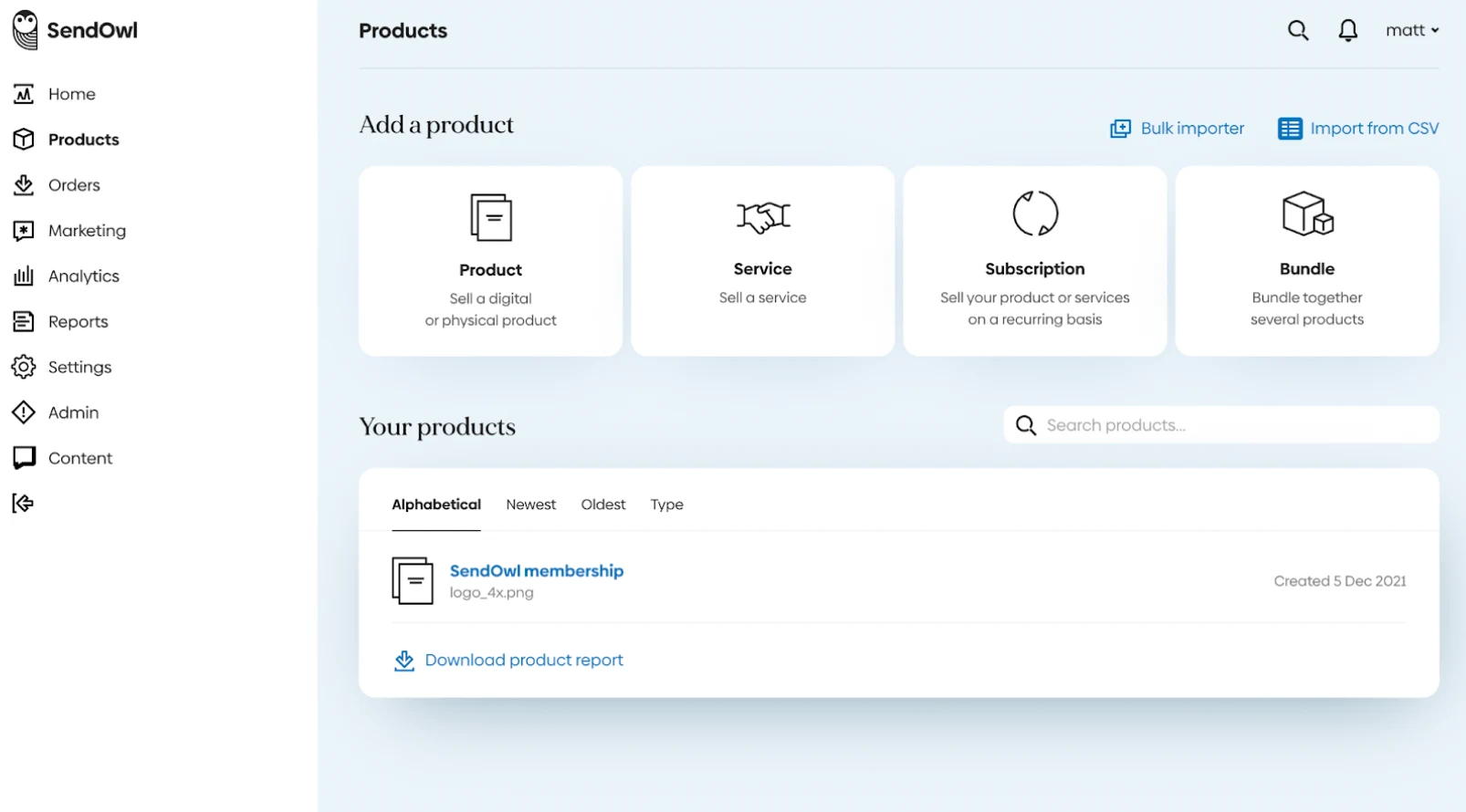 Access the Shopify integration directly. To gradually distribute your stuff, use the drip functionality. Manage your promos and give your customers—all or some—discounts. Offer pay-what-you-want rates and one-click upsells. Price: The basic plan is $15 per month and includes 3 GB of storage and 30 goods.
To sum up
All kinds of digital items can be effective online business ideas since they don't need to hold inventory or the expenses related to selling physical goods.
You may make the greatest digital material in a variety of methods and use it in your business to sell and resell. You may dish up the tempting value that can more than pay for itself over time with a little creativity and an initial time commitment.
---
👉 Fordeer, which is a start-up software agency in 2022, is so honored to be founded with the mission of producing support tools for businesses all over the world. "The great tools for the best businesses". Our highly qualified programming engineers, with all their passion, are always ready to dedicate themselves to creating the most useful apps for your business and Shopify online store.
📌 Fordeer Invoice Order Printer (FIOP) is a Shopify app, which was built as a professional alternative to Shopify Order Printer. With FIOP, you are able to "print" or "download" invoices, packing slips, orders, etc., in bulk and send them to your customers directly.
Learn more about app
.