How to increase sales successfully for your small business?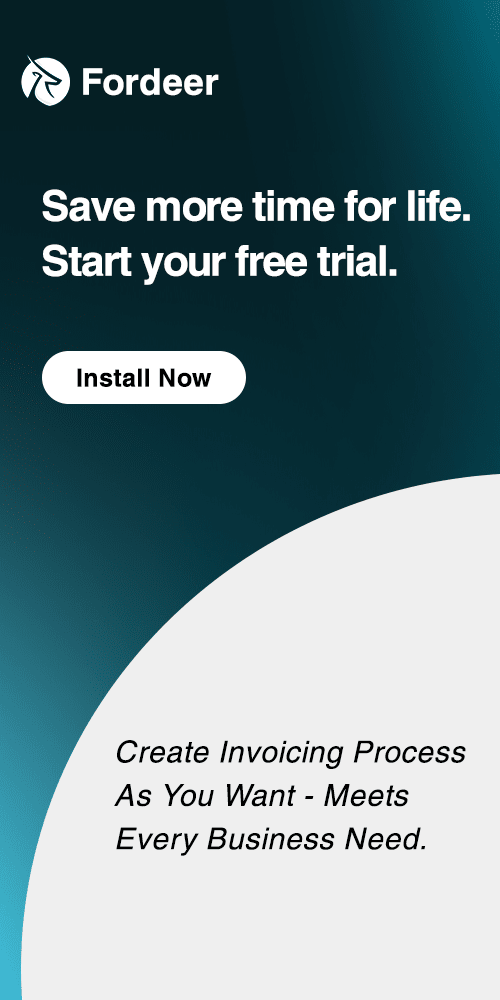 Any firm that wants to succeed has to use principal method acquisition and revenue-boosting techniques. It's critical to comprehend the strategies you may apply to earn more money and develop enduring ties with customers if you are in charge of expanding your sales volume. In this article, Fordeer explains the value of boosting sales, how to do it, and practical advice for growing sales in a small business.
The reason increasing sales plays a significant role in business
Any firm, large or small, would benefit from increasing sales since doing so would boost profitability. All well-known firms started out as startups. They discovered how to increase sales and foster gratifying connections with their clients as they developed into a sizable, prosperous business.
The department responsible for boosting sales is not just the sales team. Every department in a company has to be aware of the methods and ideas that might increase sales. By developing a sales strategy that outlines the objectives that must be accomplished, businesses may motivate all departments to contribute to sales.
A list of tasks that the sales team and other departments must do should be included in the plan. Having a sales strategy is similar to having an instructional manual since it provides guidance and aids in achieving your objectives.
Tips to increase your small business sales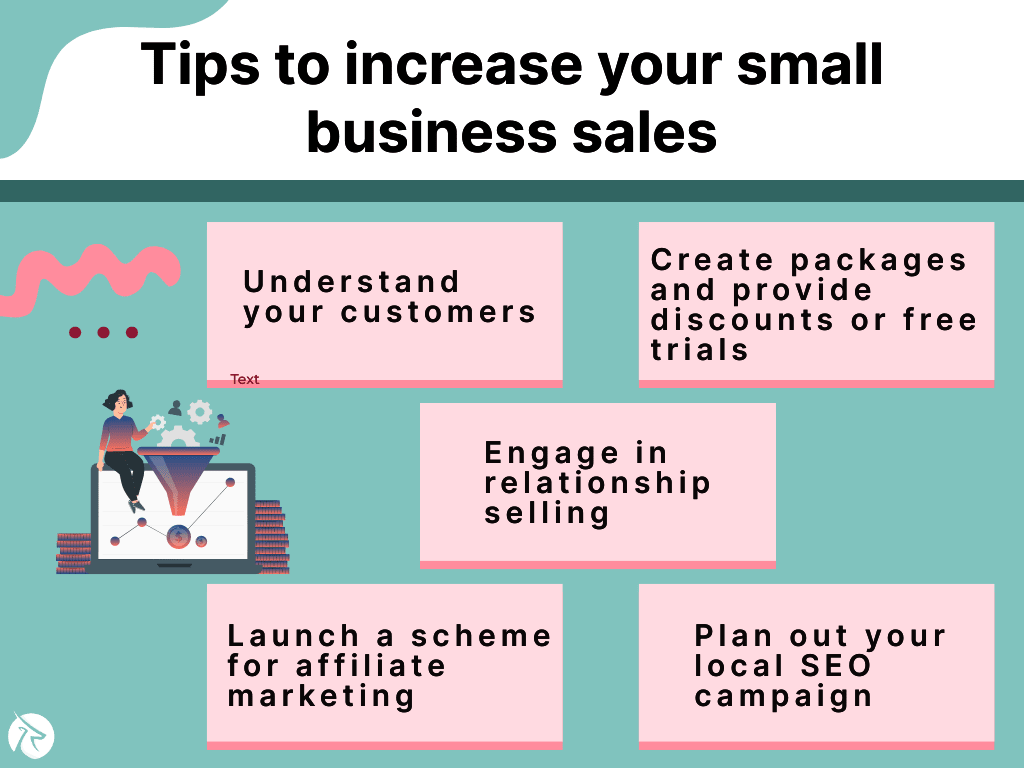 Understand your customers
"Treat the customer like you would want to be treated. Period!"
- Brad Schweig
The most valuable resource for a company is its clientele. You may market a good or service that suits their demands by being familiar with their difficulties, wants, worries, and concerns. You may better comprehend their issues and take actions to enhance your product or service when you interact with your consumers and actively listen to their thoughts and inquiries. You gain your customers' loyalty and confidence when you take care of their wants and worries because you provided excellent customer service.
Sending a survey that requests feedback from existing and prospective consumers is one technique to have a deeper understanding of them. On the basis of the survey's findings, you may then make the required changes to goods or procedures.
To draw customers, create packages and provide discounts or free trials
Imagine it. When you go to your neighborhood ice cream shop, trying out different flavors is free. Of course you're tempted. You sample a few varieties, decide you like one, and before you know it, you've purchased one entire pint.
This tactic is fantastic for any kind of business!
Customers want to test out your goods or services before making a purchase. Before they spend their hard-earned money, they want to experience, comprehend, and investigate.
In the event of a free trial, deal, or bundled offer, your solution speaks for itself rather than you having to convince a potential customer of how great your product or service is via your website, brochure, or email advertising.
Particularly, we adore product bundling! Consumers like the "extras" they will be receiving from their expenditure when you design a packaged deal.
Bundled offers can be made by:
Combining things that are comparable or complementary into a single bundle;
Making thematic packaging or bundles (like Christmas-themed decoration boxes);
Providing reductions for package purchases.
Additionally, combining and matching discounts, bundles, and offers will increase your opportunities to upsell, re-engage, and retarget your current customers.
Engage in relationship selling
The foundation of any small business is connections and trust. However, how can you interact with your customers and build connections without seeming spammy? It's easy. Give them something worthwhile on a regular basis. Even though you can't continue offering freebies every other week, releasing a helpful resource might be a great way to increase your credibility and even your sales.
For instance, publishing a newsletter provides you the opportunity to maintain your authority and be at the forefront of your audience's minds. Consider your clients' concerns, list them, and discover a solution using your product or service by offering your knowledge via a newsletter. Choose a common topic for your company and provide advice, resources, and any time-limited offers or discounts that customers may take advantage of.
Even better, you don't have to do it manually. You may utilize email drip campaign software to remain in touch with prospects once you have their email address. It allows you to create lengthy chains of automated email sequences so that your prospects receive follow-up emails based on how they responded to your earlier emails.
Keep in mind not to overly push your solution or be spammy. Instead, work to improve your subscribers' lives, and you'll find that they come to you for assistance whenever they do.
Launch a scheme for affiliate marketing
Why not recruit others to represent you in sales?
On each successful sale, an affiliate program pays its participants a certain percentage of revenue. According to industry data, 40% of US retailers use affiliate marketing as their primary method of acquiring new customers (including small business owners). By establishing an affiliate network, you may encourage current clients and the broader public to promote your company. An affiliate management platform and a choice about simply three issues are all that are required:
Your commission rate: What you'll pay your affiliate marketers;
Terms & conditions: The fundamental requirements for joining and running the affiliate program;
Tracking mechanism: How you'll track all sales.
Always remember to be kind to your affiliates! Only then will you be able to draw in marketers willing to promote the goods and services offered by your company.
Plan out your local SEO campaign
Your website must be optimized for local search, including Google Maps, as part of local SEO. Because consumers constantly research online before making a purchase, local SEO is something that small businesses need to consider. Local SEO makes sure that local customers in and around your operating city can find you.
Following are some suggestions for organizing your local SEO strategy while considering your website and online activities:
By utilizing the embed API, add Google Maps to your website;
Request evaluations from both your current and potential customers for your GMB listing;
Add connections to your website on review sites like Yelp and other specialized websites to get backlinks to it;
For your business, create local citations (online mentions of it) on sites like Yahoo, Facebook, Yellow Pages, etc.;
Create a content marketing channel, then generate pertinent material centered on local keywords to get backlinks.
Additionally, you may collaborate with regional influencers, approach regional media sources for mentions, or even guest post on reliable websites. If done properly, every mention and piece of content you create will increase your authority and improve your rankings locally, regionally, and nationally.
---
👉 Fordeer, which is a start-up software agency in 2022, is so honored to be founded with the mission of producing support tools for businesses all over the world. "The great tools for the best businesses". Our highly qualified programming engineers, with all their passion, are always ready to dedicate themselves to creating the most useful apps for your business and Shopify online store.
💡
Entrepreneurs need to focus on customer service and maintaining a credible brand image if they want to achieve long-term and sustainable success, regardless of the business model they pursue. Therefore, finding and selecting the appropriate business support tools is extremely crucial. That's why we have launched an app in order to help you swiftly and conveniently resolve any invoice-related issues at a reasonable price. Let's experience it with our
Fordeer Invoice Order Printer
.