How to customize packing slips on Shopify?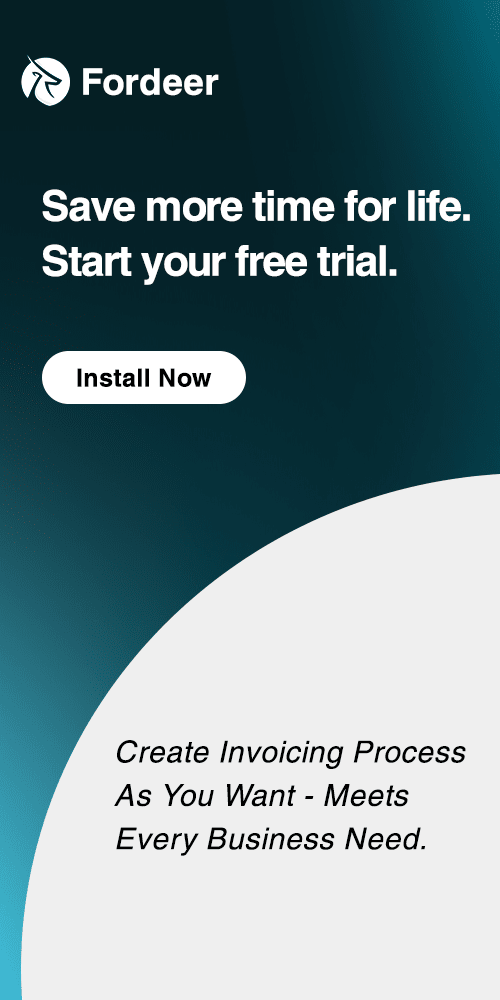 Quick and accurate order fulfillment is crucial for operating an online business. For this reason, sellers need packing slips—a customizable form that lists what and how many items are in a shipment.
Packing slips keep shipments organized, whether the business prepares one order at a time or several orders. Items are selected for shipment using packing slips, which also let the customer know what's inside the package. Earlier, it was extremely hard for Shopify merchants to use a third-party application to make their own packing slips. Today, Fordeer offers you a professional app with dazzling ready-made templates available right in Shopify, and shows you how to customize your own packing slip template with it.
If you use Shopify for your online store, you might be curious about how to modify your packing slip. A packing slip is a document that is often given with the package to give your customers further details about the items they've bought. This can include information on product descriptions, images, pricing, and more.
To be able to modify and customize your own packing slip templates, you first need to install a PDF invoice, which allows you to customize flexibly all billing documents. This article will give you information about how to customize packing slips directly on Shopify admin.
How to customize packing slips on Shopify admin?
First of all, make sure that you've installed successfully the Fordeer: Invoice Order Printer. Click "Apps" on the menu bar of the Dashboard and choose Fordeer: Invoice Order Printer.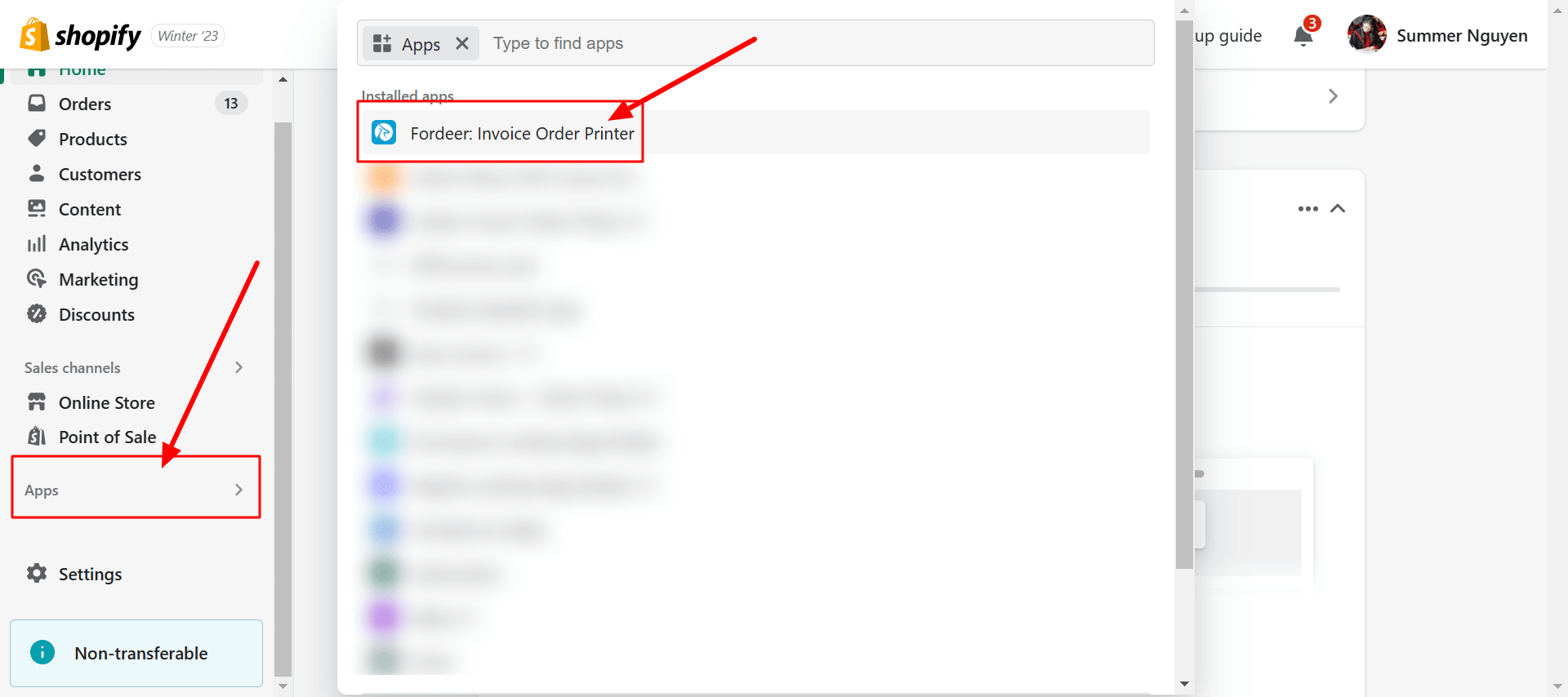 To customize your packing slip directly on Shopify, access "Templates" from the sidebar menu of the app.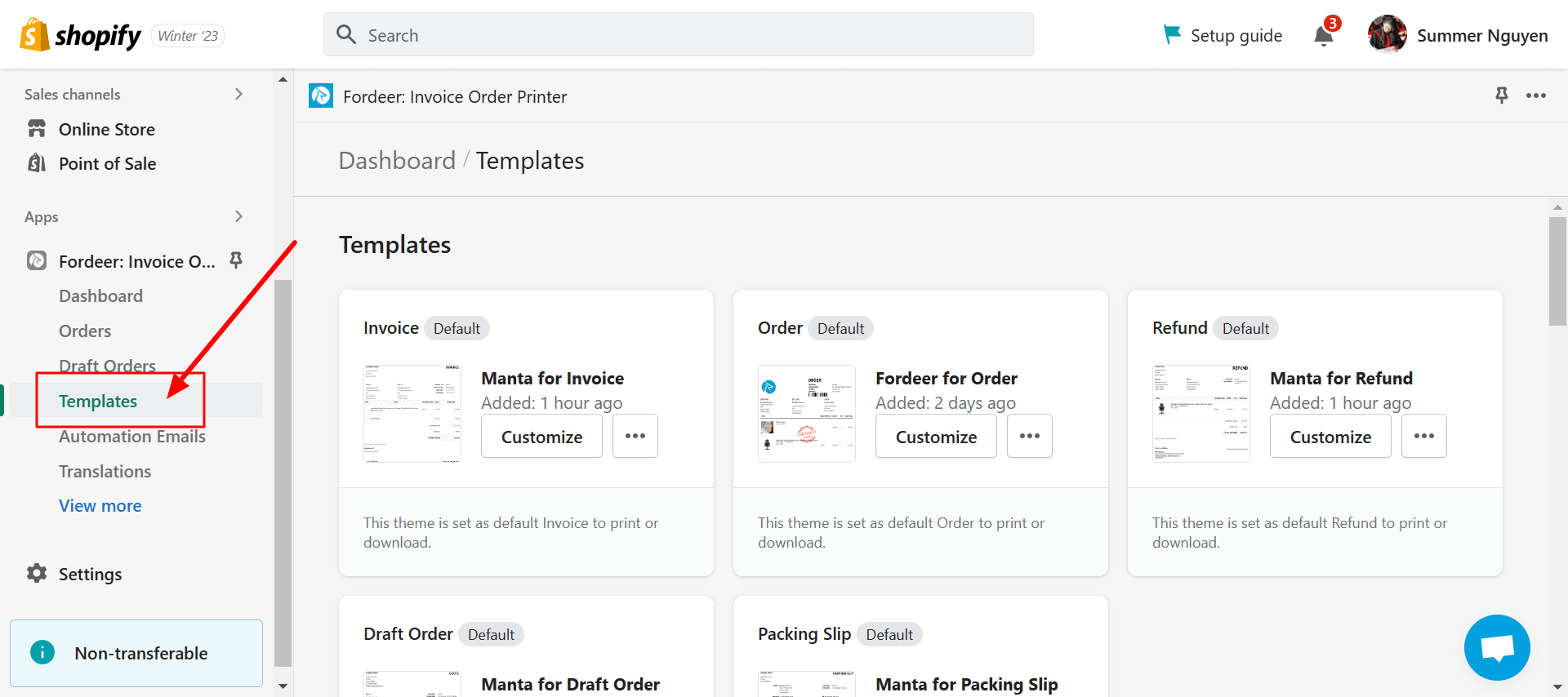 You can see in the Fordeer templates gallery that we have a number of pre-made invoice templates that are all beautiful and dazzling with accuracy and legal compliance. Click "Install" to enable you to customize them to fit your requirements.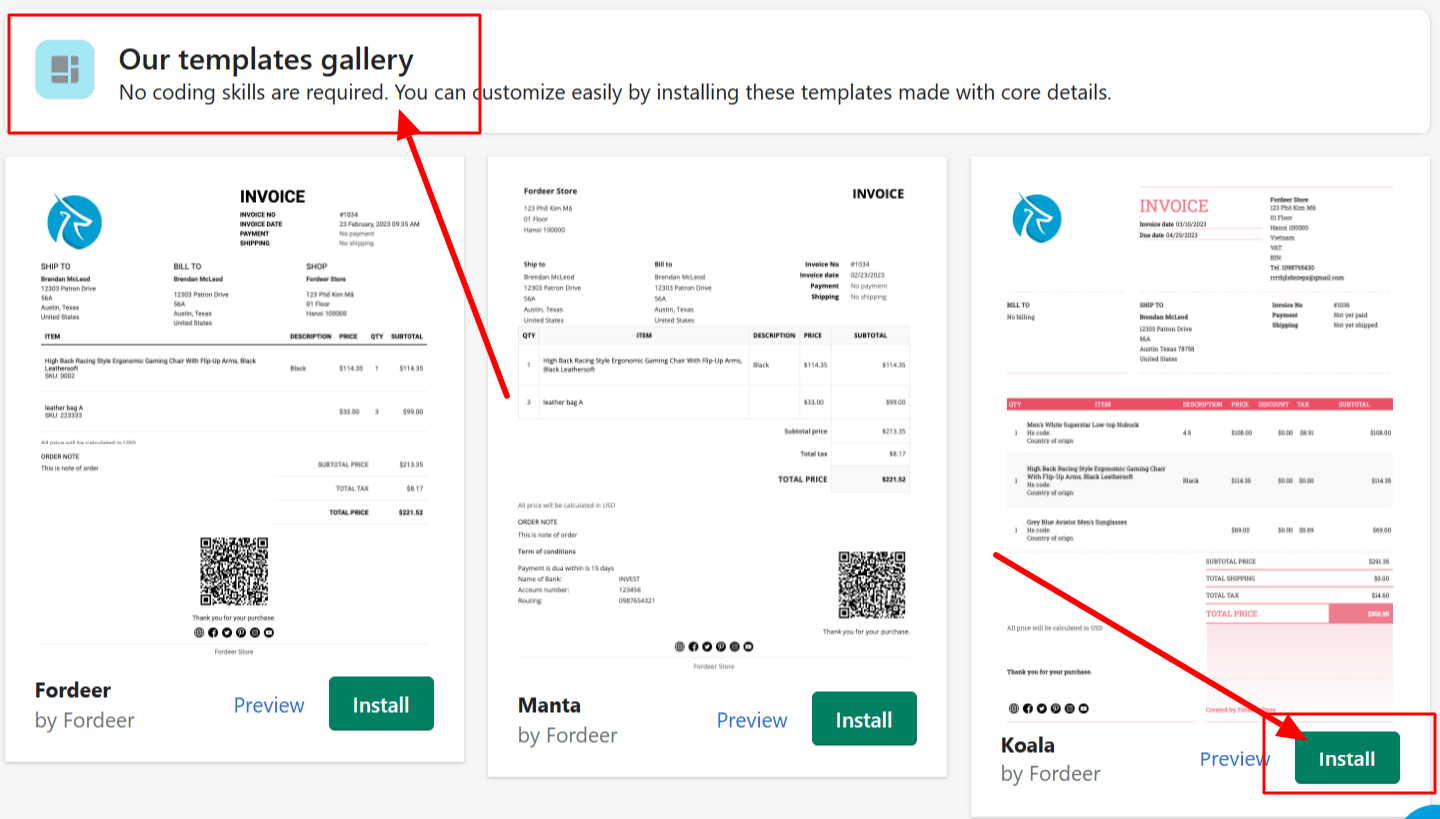 After installing successfully, click "Customize" to start modifications, or you can click  "..." then select "Edit code" to access the liquid variables and make changes to the code.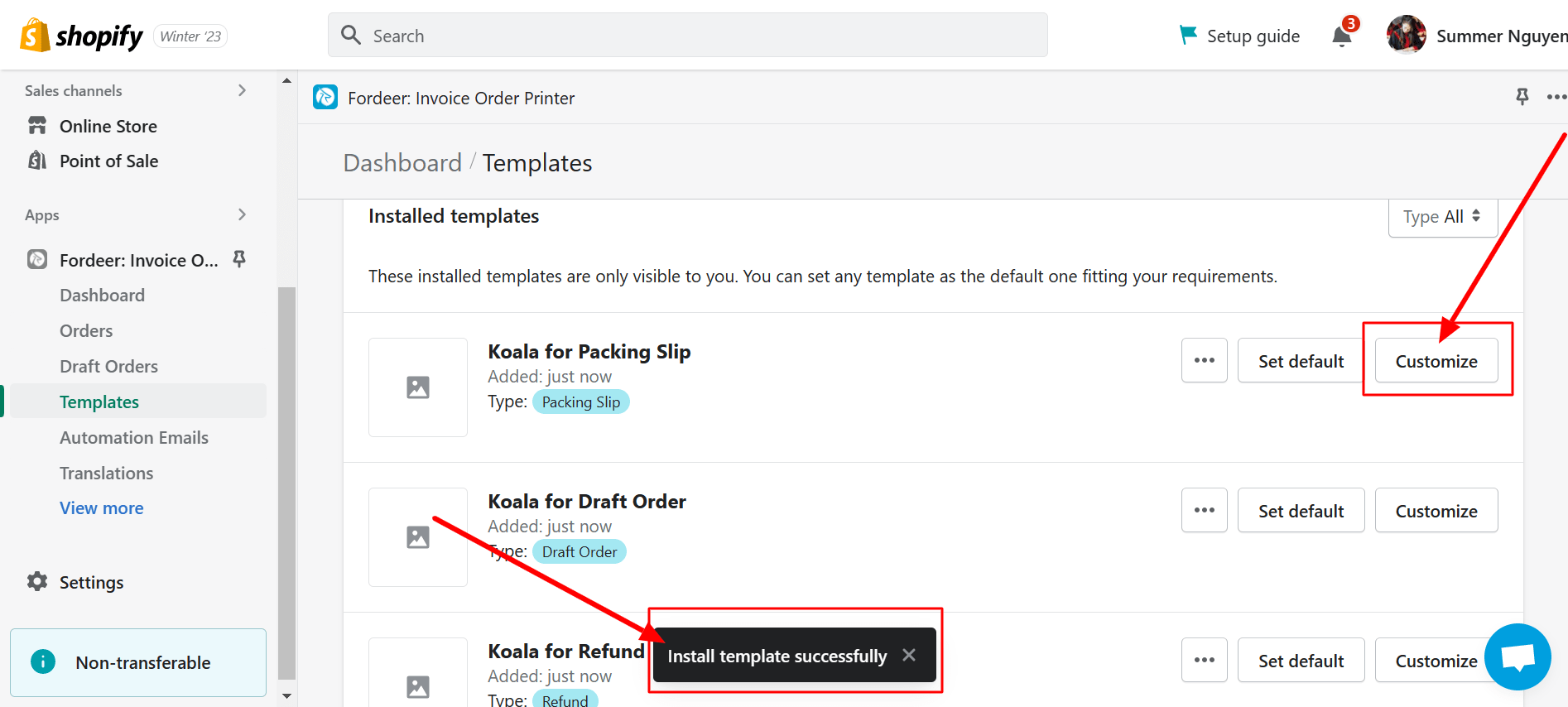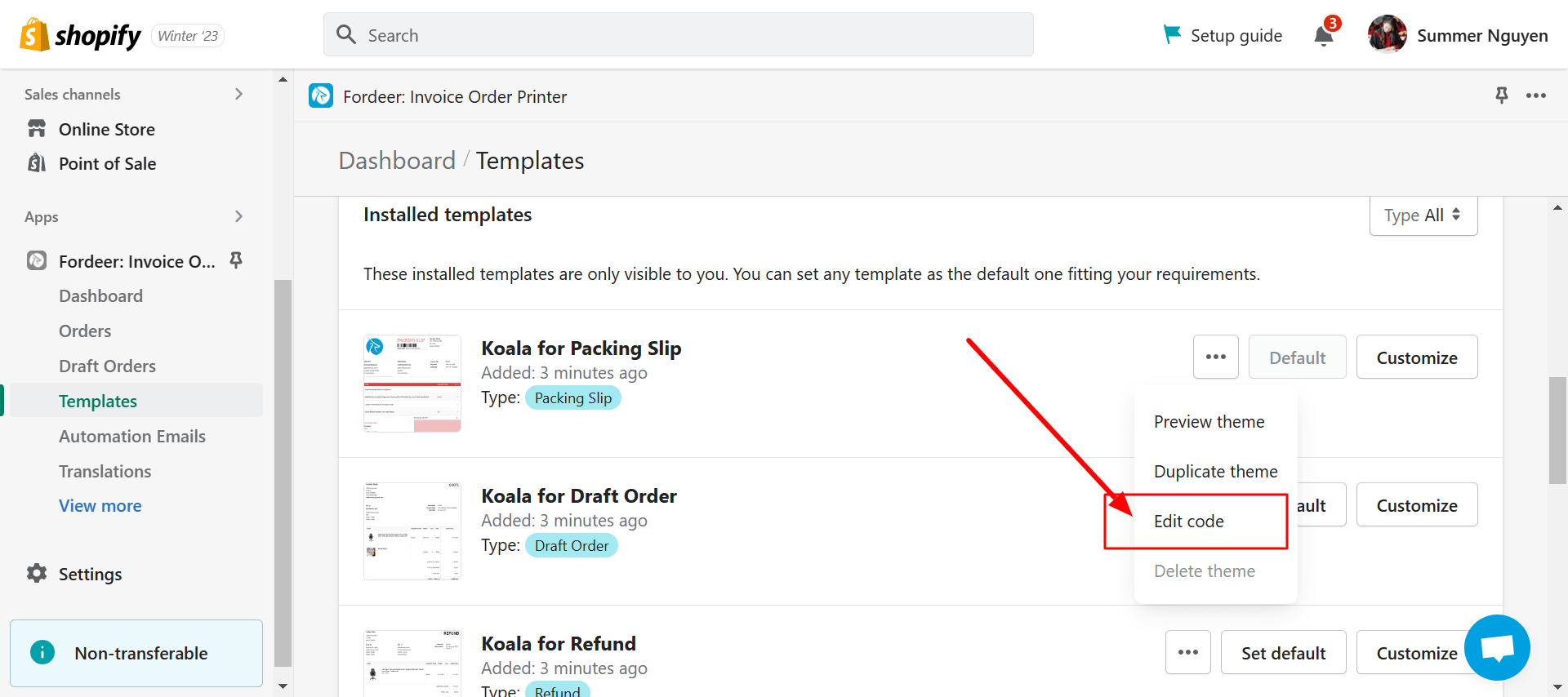 When editing your packing slip template, it's essential to keep a few things in mind. Most importantly, you'll want to make sure that all of the information on your packing slip is accurate.
This includes things like product names, prices, and shipping information. Moreover, you'll want to make sure that your packing slip looks good and is easy to read. Remember that this is a document that your customers will see, so you'll want to make a good impression. Fortunately, Fordeer can completely support your branding efforts through packing slip templates.
Show logo
Put a checkmark in the checkbox "Show logo." Just with one click, your company's logo will be displayed on the packing slip.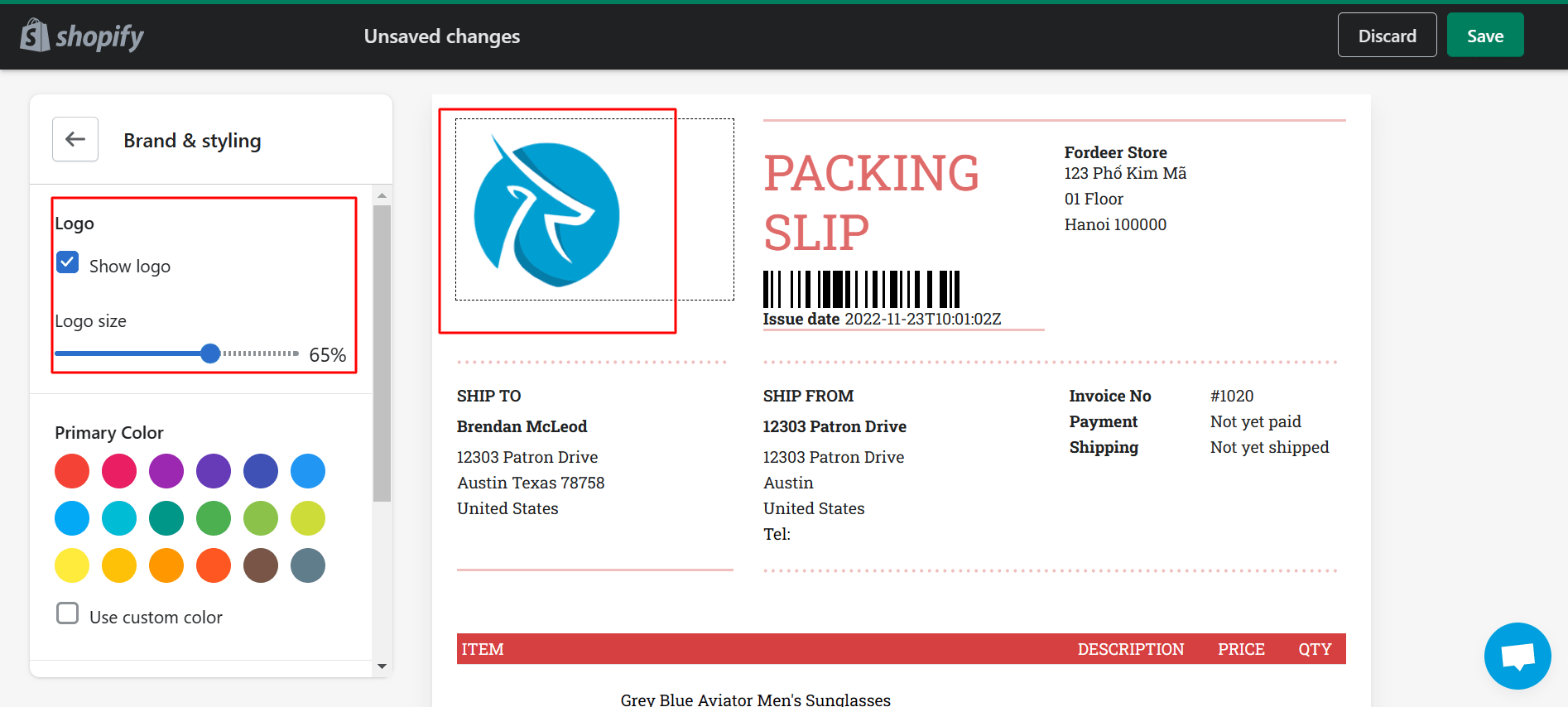 In the template, the previously set logo will be immediately filled in. Additionally, you may define any other characteristics and adjust the logo's width and height.
Primary color
There are a number of things that could be shown with the color you choose.
Not only the available color bar, but you also can use your favorite color or the main color of your business by putting a checkmark in the checkbox "Use custom color".
Fonts
There is a font system available that you can apply to your documents. More than that, you can also use your own font by putting a checkmark in "I have another font." Then, you enter your font URL on the blank bar to apply your font.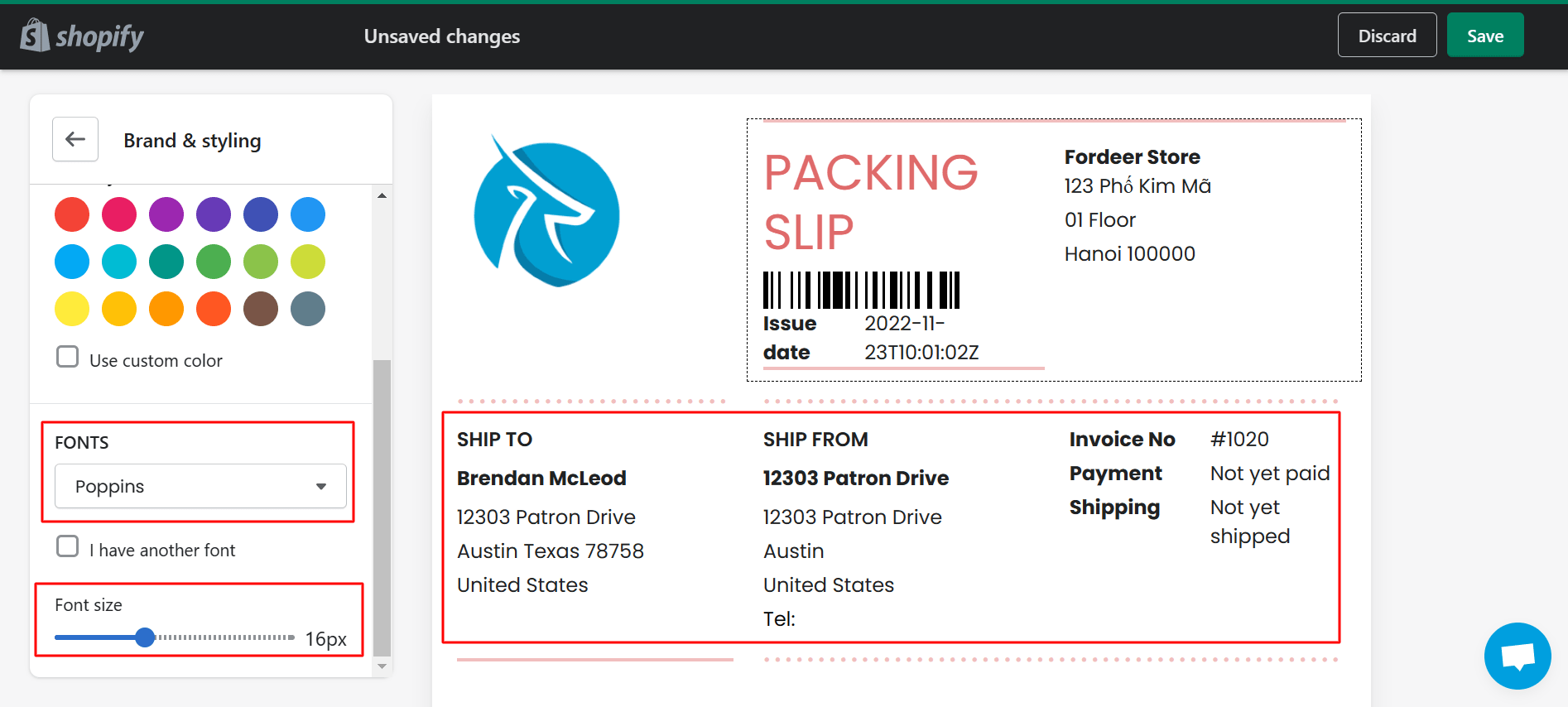 Its font size and head color are customizable. You can substitute your company name alone for the logo. Again with the provision to modify its font and other details.
With the "Thank-you note", you can create a special line that expresses your brand's message. This part allows you to make a great impression on your customers.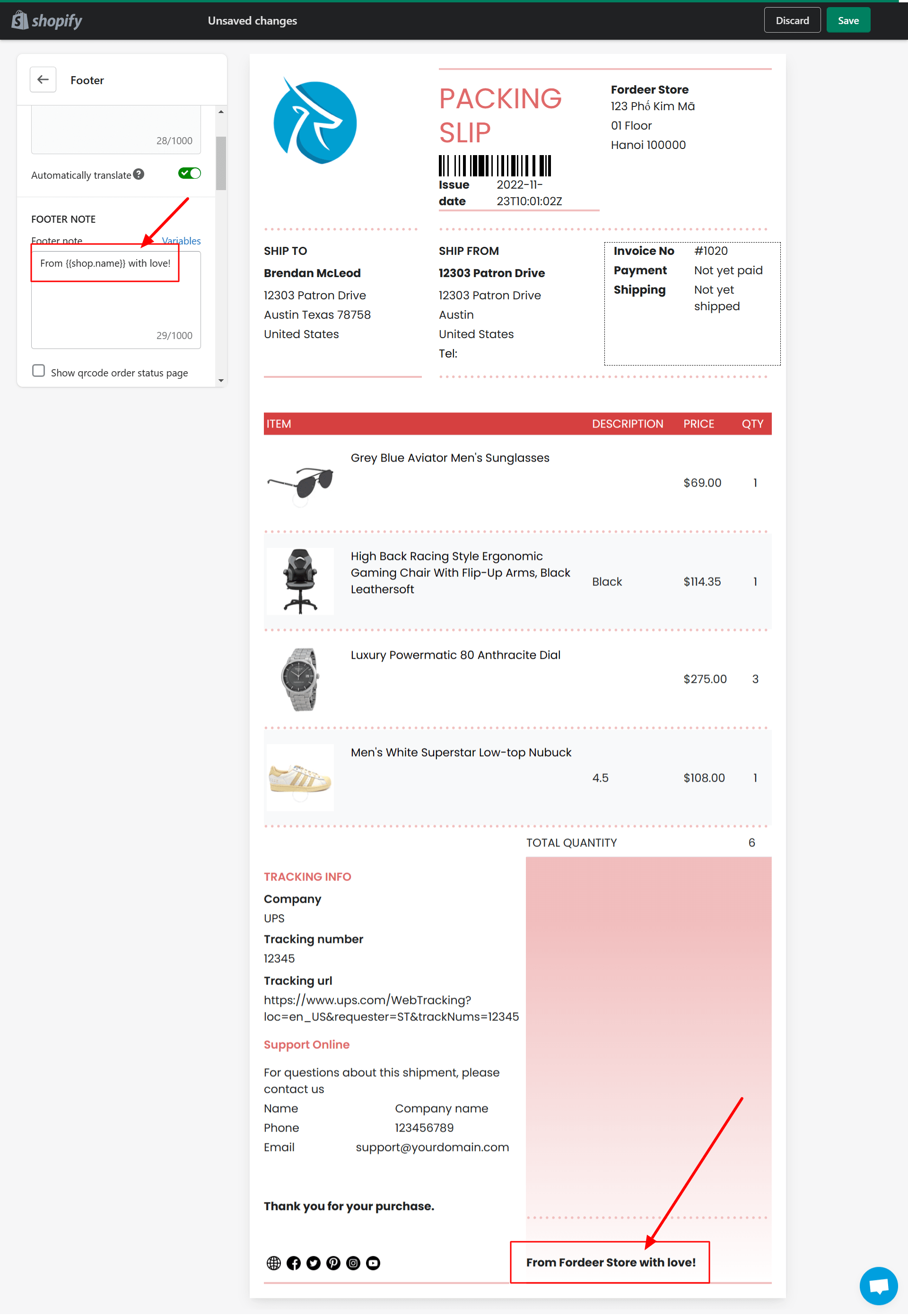 After all the customization, do not forget to click "Save" to have your unique packing slip, allowing you to easily increase your brand identity.
The free Fordeer Invoice Order Printer allows you to fully design your own eye-catching and legally acceptable packing slip templates. It might be wise to include your brand idea with your packing slip once you have one. Your company's identity is reflected in your brand.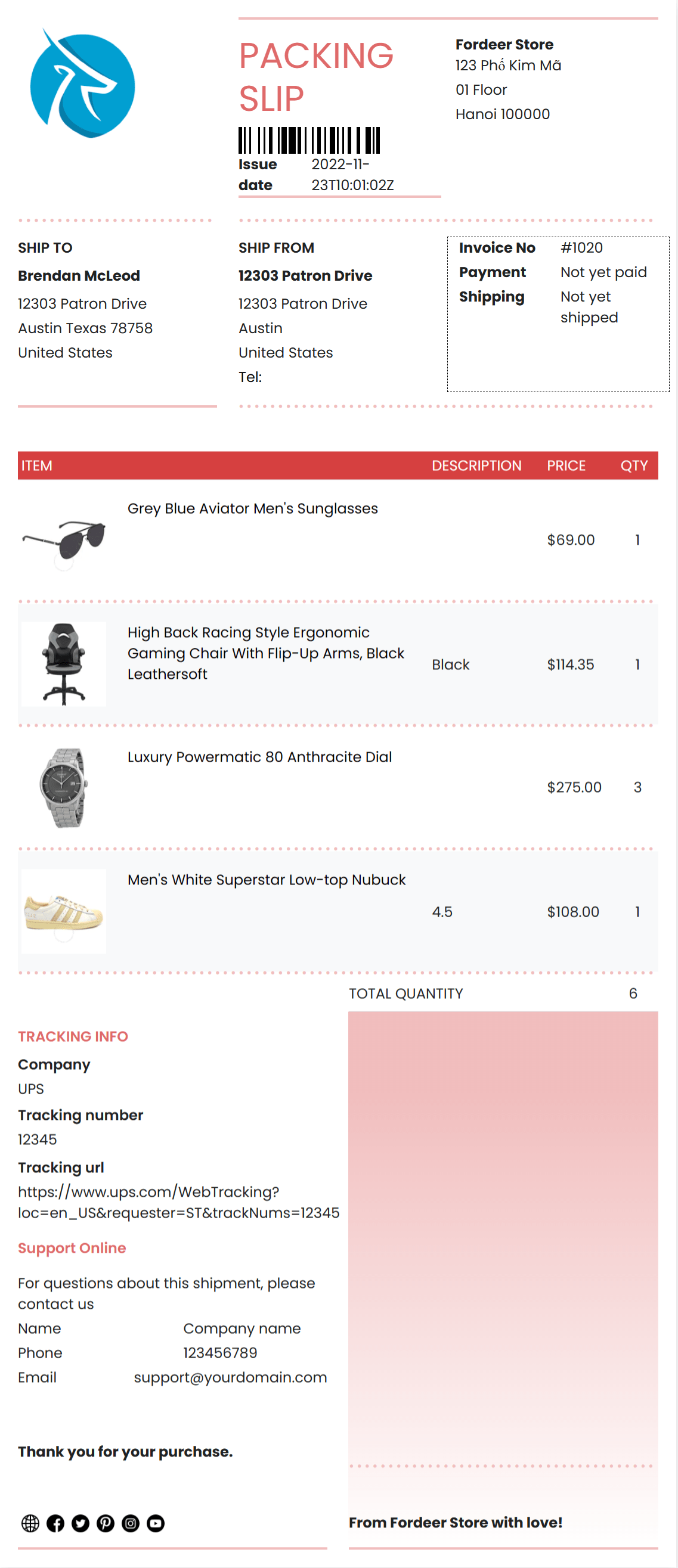 To the same degree of clarity and organization as your blog, social media profiles, and online storefront, ensure that your packing slip, packaging, and other invoicing paperwork are. Don't provide your customers with unclear information.
Explore more deeply here.
Wrap up
Make sure to save your modifications when you've finished making all the required adjustments to your packing slip template. Then, preview your packing slip to ensure that everything looks as you intended. Use your new packing slip with your orders once you're satisfied with how everything looks.
There you have it, then! Making changes to your packing slip is a simple process on Shopify that takes only a few minutes to complete. When using your packing slip with orders, be sure to double-check all the information on it. You should also always check it before printing and downloading to send it to customers and keep it in storage.
---
👉 Fordeer, which is a start-up software agency in 2022, is so honored to be founded with the mission of producing support tools for businesses all over the world. "The great tools for the best businesses". Our highly qualified programming engineers, with all their passion, are always ready to dedicate themselves to creating the most useful apps for your business and Shopify online store.
💡
Fordeer: Invoice Order Printer is a PDF Invoice app on Shopify. There are multiple beautiful templates available for invoices, orders, refunds, and packing slips. You can edit all these templates and print out the document simply. The best thing is a reasonable pricing plan and various amazing features! Be faster, cheaper, and more effective for your brand preferences with Fordeer.