How to create your brand identity with Fordeer Invoice Templates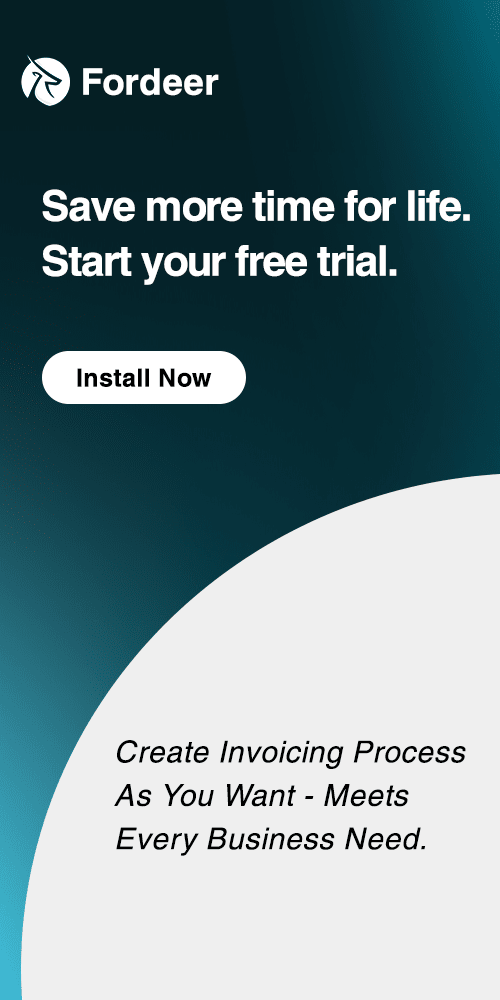 "On an average day consumers are exposed to six thousand advertisements and, each year, to more than twenty-five thousand new products… Brands help consumers cut through the proliferation of choices available in every product and service category."
- Scott M.Davis -
Your brand identity is the secret ingredient that makes your firm stand out from the competition, just as your personal identity makes you who you are. And the design of your brand identity? It is what molds your business.
What, though, is brand identity? What is it related to design? And how can you develop your brand identification using the Fordeer invoice templates to advance your company?
Let's continue reading to dive deeper into this topic.
What is "Brand Identity"?
Brand identity is the collection of all elements that a company creates to portray the right image to its consumer. It is tangible and appeals to the senses. You can see it, touch it, hold it, hear it, watch it move. Brand identity fuels recognition, amplifies differentiation, and makes big ideas and meaning accessible. Brand identity takes disparate elements and unifies them into whole systems.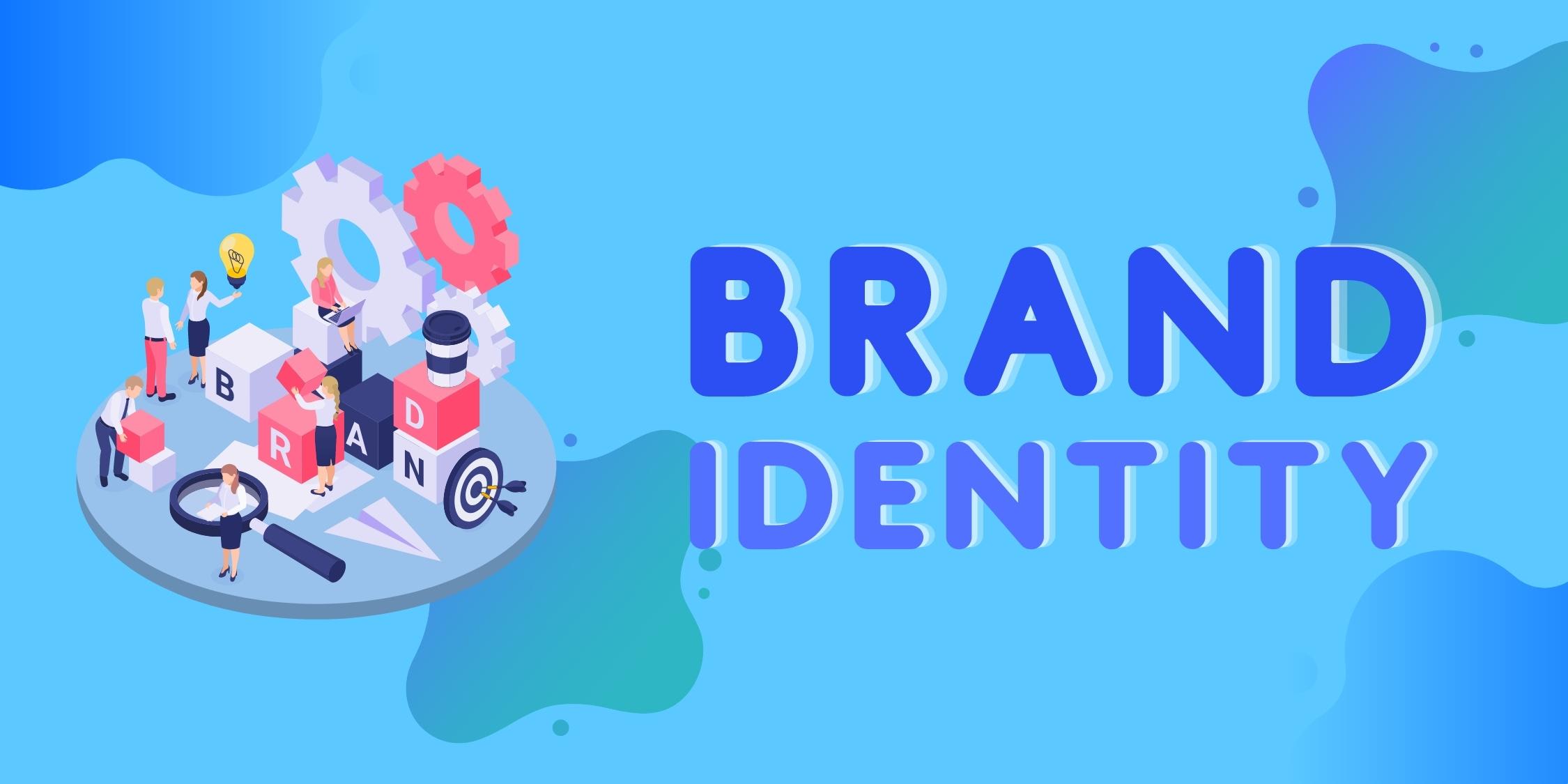 "Design plays an essential role in creating and building brands. Design differentiates and embodies the intangibles-emotion, context, and essence - that matter most to consumers." - Moira Cullen -
To your business, logo and slogan are your brand's identity. It allows customers and prospects to recognize your company when viewing marketing collateral. As a result, it is critical to use your company logo on business cards, brochures, packaging, signage, and other materials, as well as your company invoices.
This will inform customers about your brand. Because logo is important in branding, Fordeer highly recommend you to incorporate them in all your billing documents.
How to create your brand identity with Fordeer Invoice Templates
With Fordeer Invoice Order Printer app, you can easily add the logo and other branding information to your Shopify PDF Invoice. Let's be unique, and only by customizing your own templates just with a few clicks. Following these guidelines below, you will succeed in creating your brand identity with invoice templates.
Step 1: Install the "Fordeer: Invoice Order Printer"
First of all, install and set up all your information. You can search and install this app directly from Shopify App Store.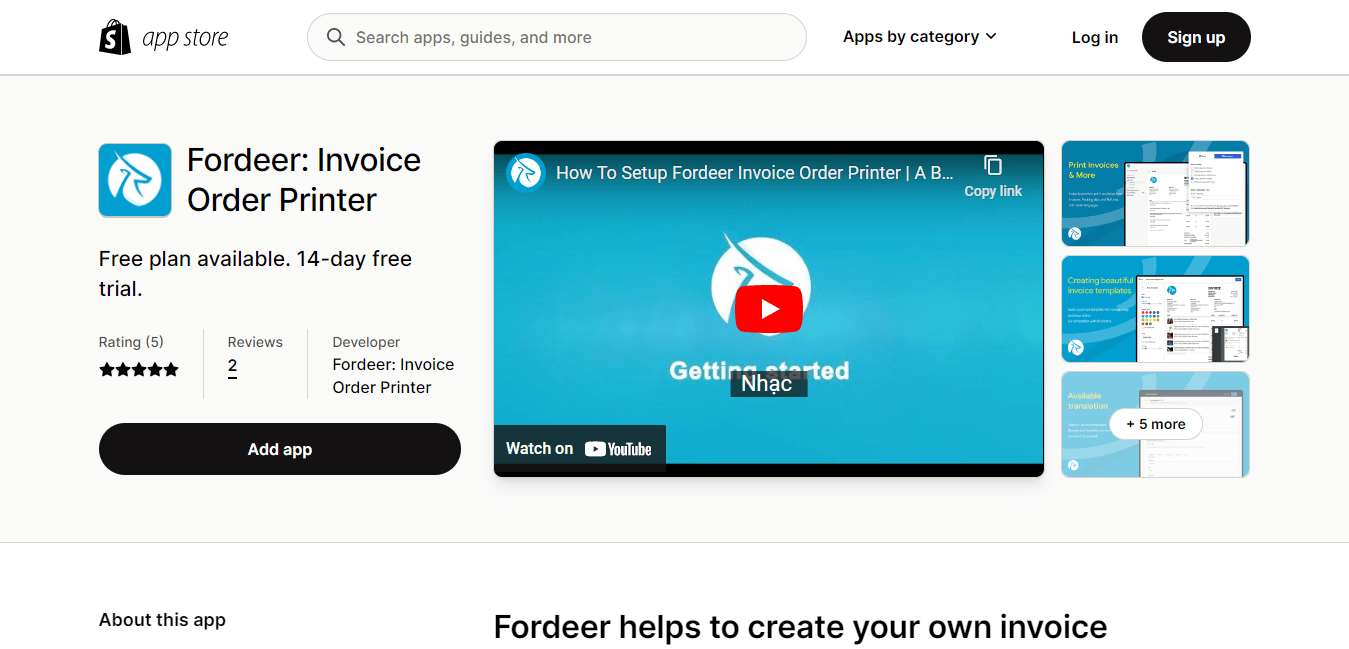 To learn more about the installation as well as activation of the app - refer to this guidelines.
Step 2: Navigate to "All templates" from the Dashboard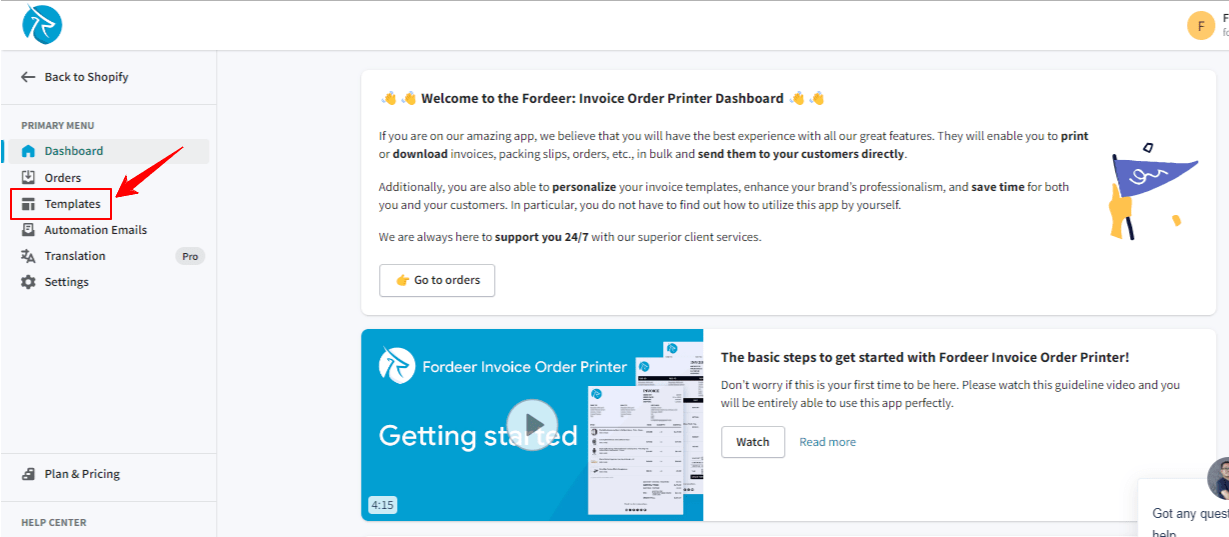 Step 3: Select an order you want to update logo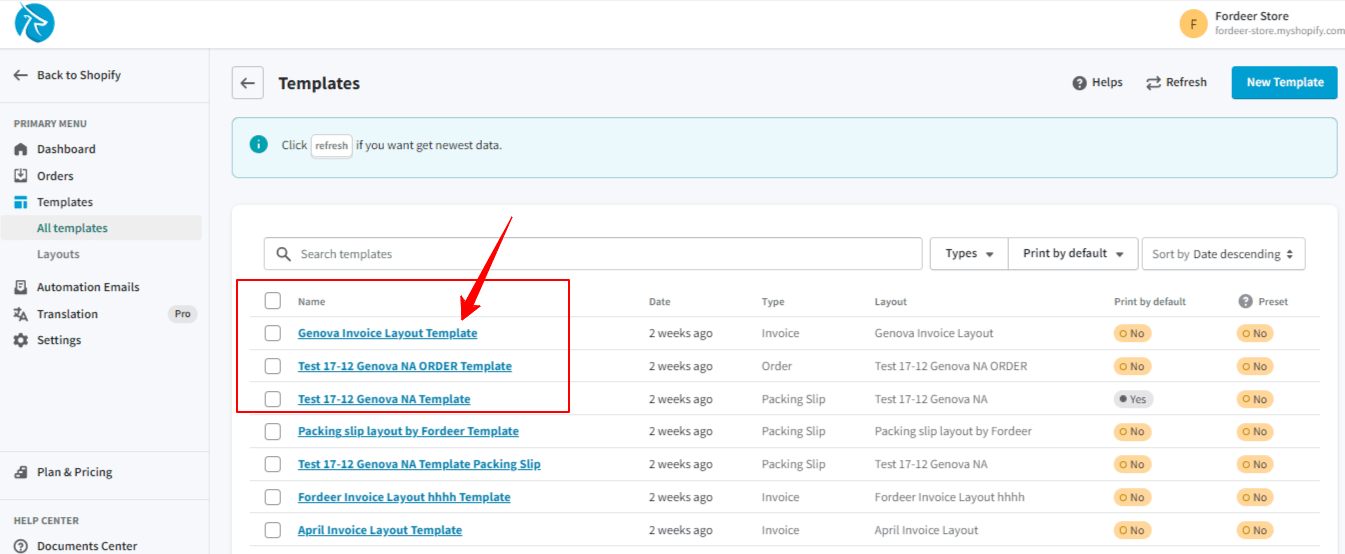 You can either click directly on the order you want or find it in the search box.
Step 4: Click "Brand & styling"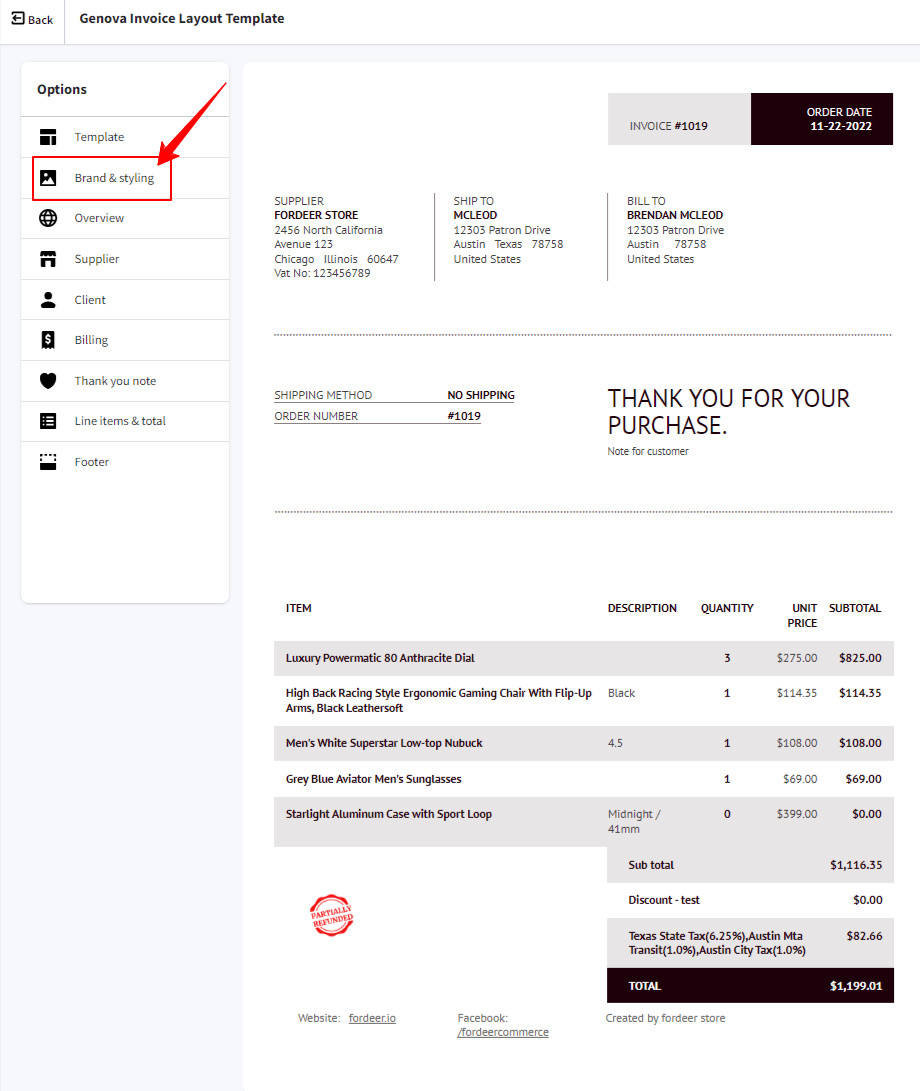 Step 5: Put a checkmark in the checkbox "Show logo"
Just with one click, your company's logo will be displayed on the billing documents.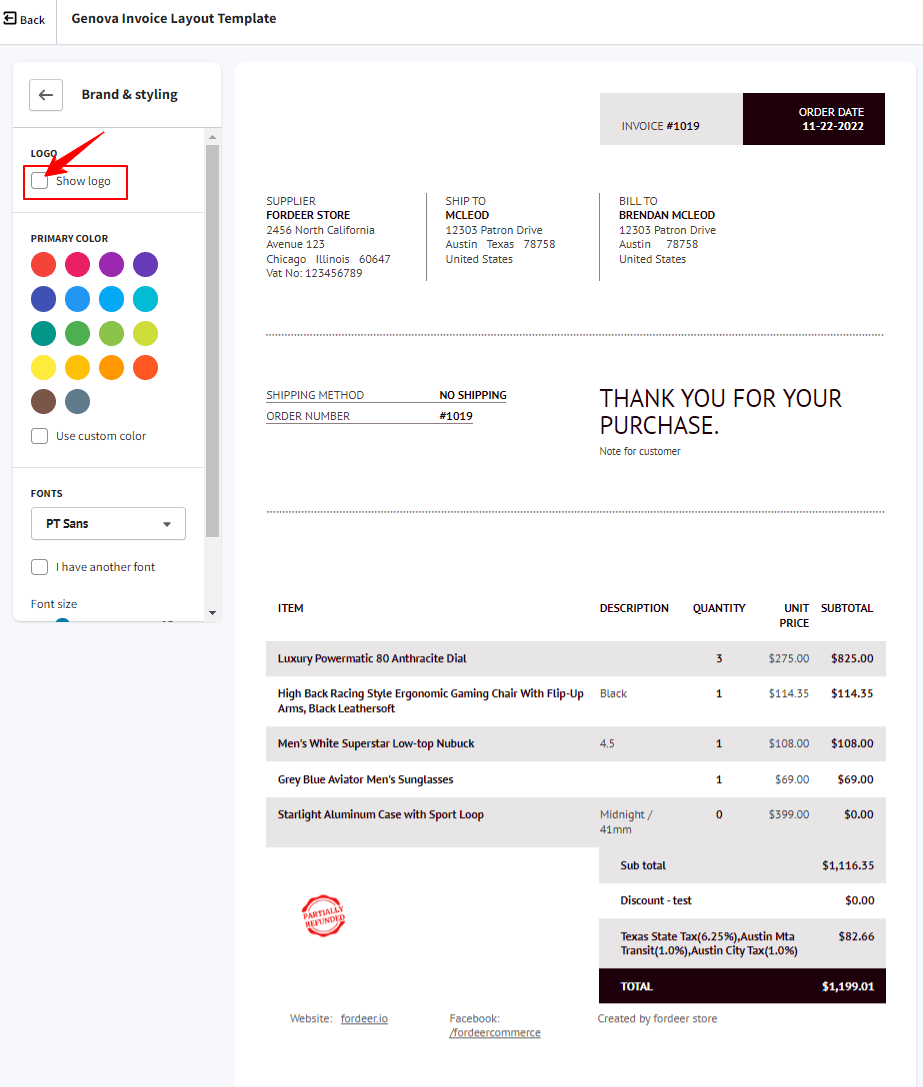 In the template, the logo and other previously set information are immediately filled in.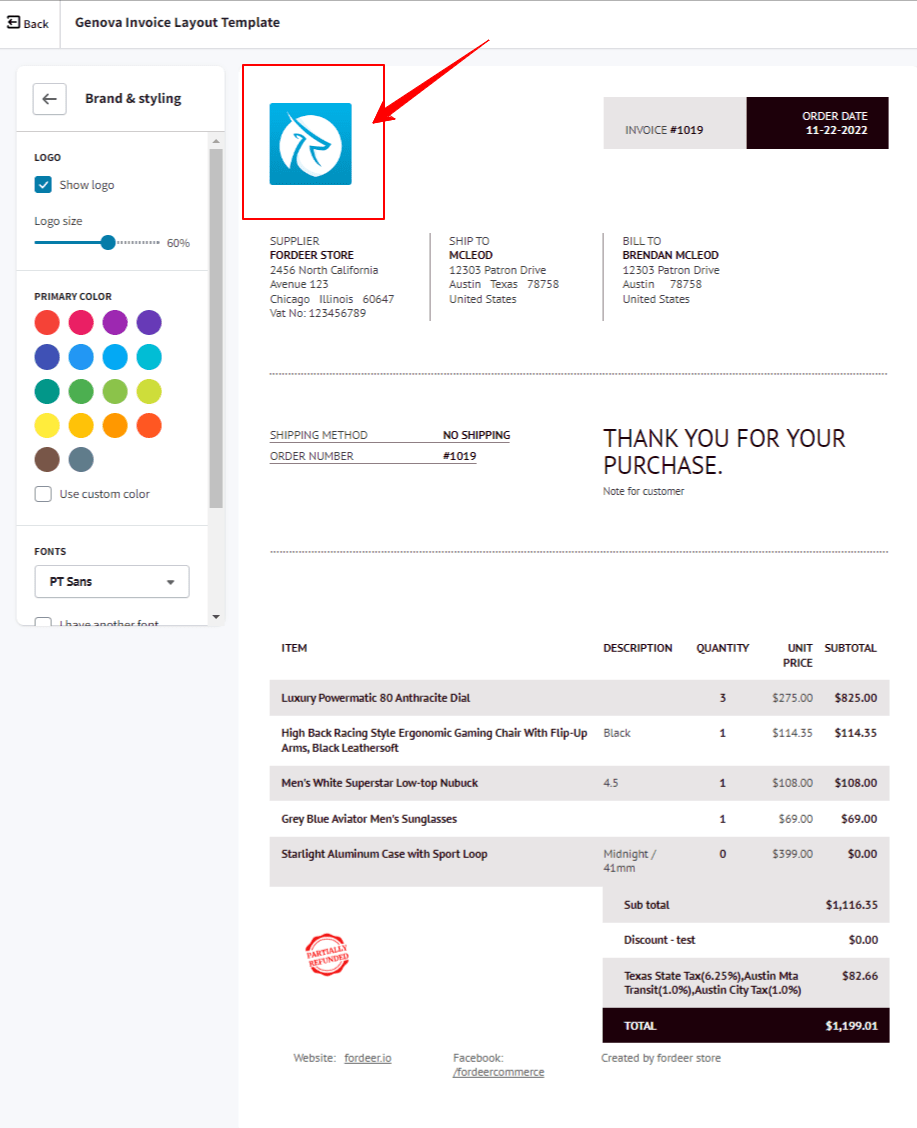 Additionally, you may define any other characteristics and adjust the logo's width and height. Its font size and head color are customizable. You can substitute your company name alone for the logo. Again with the provision to modify its font and other details.
Sample invoices with the logo will be as shown below: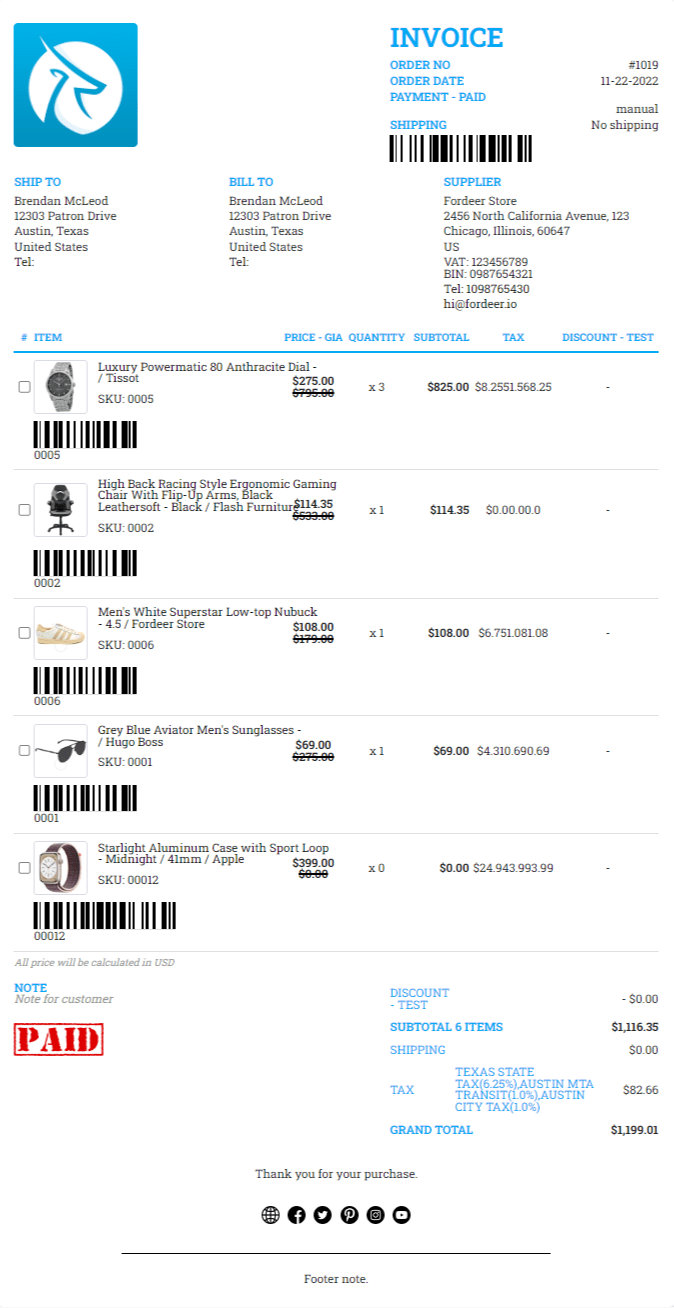 Step 6: Click "Save" to update your logo on the billing documents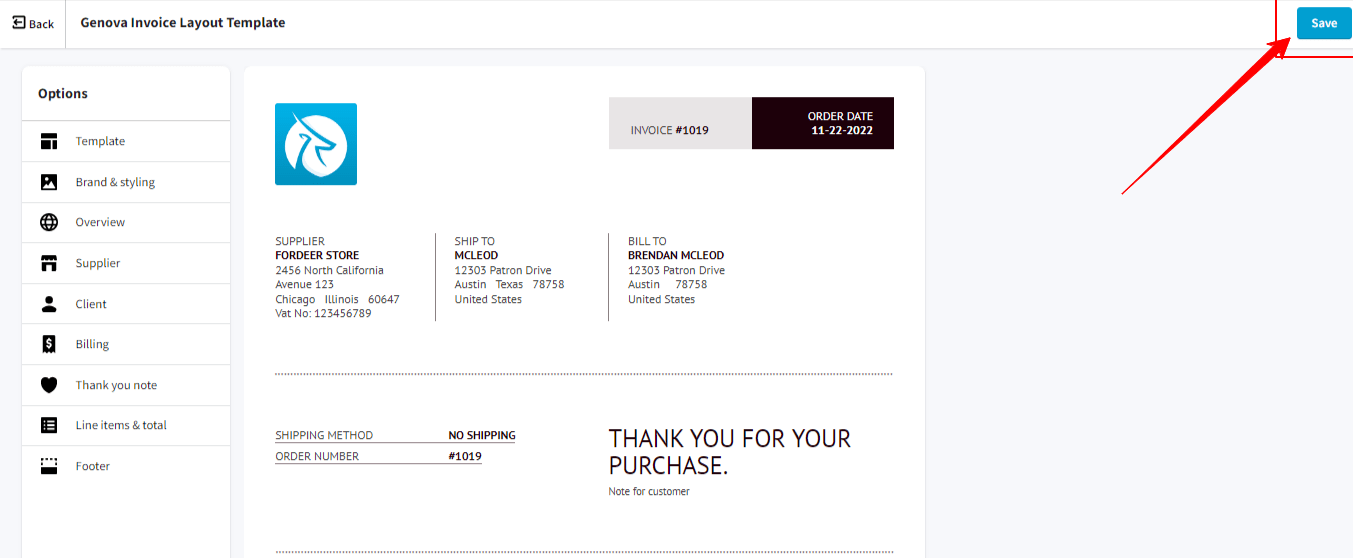 Do not forget to save all the modification of your invoice templates, which helps you create your brand identity successfully.
Why should you use your company logo on invoice templates?
A brand identity may motivate customers and foster greater brand loyalty since it embodies practically everything your company is and does. Therefore, brand identity is essential to the future of your company.
How can you imitate what companies like Coca-Cola have done and incorporate additional distinctive components into your company's identification if your brand is more than simply your logo?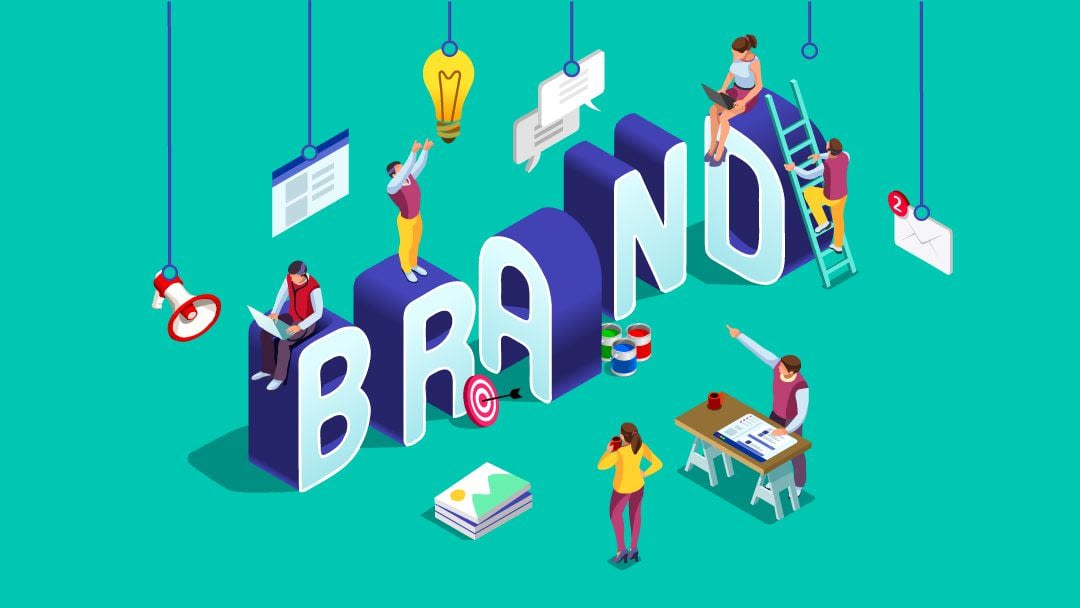 Here are six elements of a strong brand identity and the reasons why you must create them.
The face of business
The "face" of your company is essentially represented by the logo for your brand. However, that face should be more than simply visually appealing or intriguing; a logo also contributes associatively to company identification. The audience is informed that [this image] represents [your company's name].
Credibility and loyalty
Having a distinct brand identity gives your goods greater recall value and increases your brand's authority in the marketplace. A brand builds credibility among its rivals and customer trust by establishing a face and keeping that face constant throughout time.
Marketing impressions
A brand identity serves as a blueprint for every element of an advertisement for your company, whether it be in print, online, or as a YouTube preroll. A brand that has a name and reputation in its field is well equipped to market itself and leave an impact on potential customers.
Attracting new customers while satisfying existing ones
People who support what your business has to offer are drawn to it by a strong brand identity that has a face, can be trusted, and has a goal. However, once they start using the product, that same brand identity makes them feel like they belong. A good brand creates advocates as opposed to just customers with a good product.
Conclusion
Your brand identity is what sets you apart from the endless sea of competitors and shows your customers who you are and what they can expect from working with you. And if you want your brand to be perceived in a positive light, it's crucial that you nail your brand identity and create designs that accurately portray who you are to your customers. And now that you know how to nail that identity, it's time to start designing.
It will require effort on your part to establish your company as a well-known and adored brand name. With the help of Fordeer, you can quickly and simply add important branding elements to the Shopify PDF Invoice, such as the business name and logo. Refer here for further information about the Fordeer: Invoice Order Printer app.
---
👉 Fordeer, which is a start-up software agency in 2022, is so honored to be founded with the mission of producing support tools for businesses all over the world. "The great tools for the best businesses". Our highly qualified programming engineers, with all their passion, are always ready to dedicate themselves to creating the most useful apps for your business and Shopify online store.
📌 Fordeer Invoice Order Printer (FIOP) is a Shopify app, which was built as a professional alternative to Shopify Order Printer. With FIOP, you are able to "print" or "download" invoices, packing slips, orders, etc., in bulk and send them to your customers directly.
Learn more about app
.