How to Add Reviews On Shopify Within 4 Steps?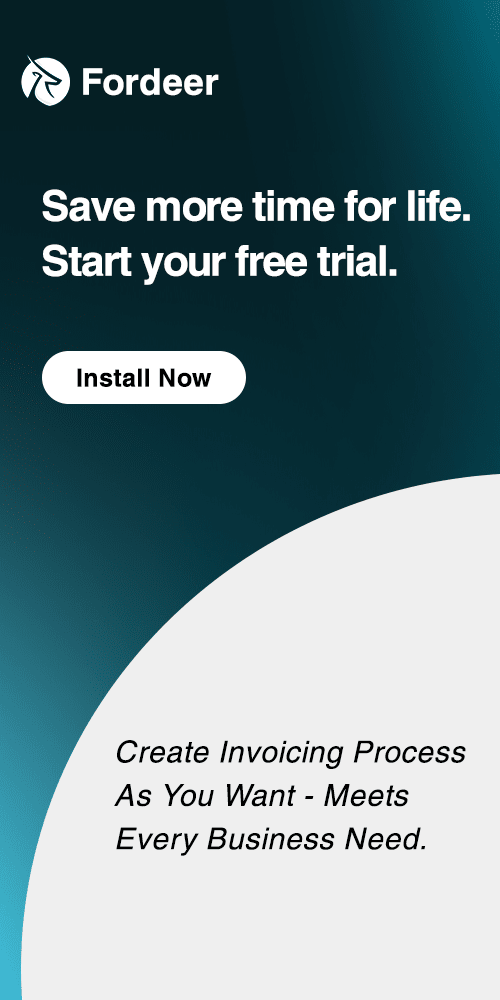 Currently, customer reviews have become a vital element of success in the world of eCommerce. With potential buyers relying on the experiences and opinions of others, incorporating customer feedback into your Shopify store is a powerful way to build trust, enhance brand reputation, and boost conversions. Shopify, a leading eCommerce platform, offers a range of features and integrations to integrate customer reviews seamlessly.
In this article, Fordeer'll provide a step-by-step guide on how to add reviews on Shopify store. By following these instructions, you'll be equipped to leverage the power of customer feedback and take your online business to new heights.
Let's explore these points in detail.
Why Should You Add Customer Reviews to Your Shopify Store?
From my point of view, adding customer reviews to your store can have a profound impact on your business.  
Provide social proof: Instill trust and confidence in potential buyers, leading to increased conversions
Identify strengths and areas for your improvement: Offer valuable insights into your products or services
Enhance SEO: Create fresh and unique content for your website.
Contribute to your brand reputation: Showcasing your commitment to customer satisfaction.
By incorporating customer reviews, you demonstrate transparency and authenticity, fostering customer loyalty and setting your store apart from competitors in the crowded online marketplace.
Ryviu - The Best Shopify Review App to Build Trust

Based on my experience, to add customer reviews to your Shopify store, you'll need a Shopify product reviews app. Among a variety of review apps out there, Ryviu is considered the best option.
Ryviu is an affordable reviews app Shopify suitable for all business sizes, including small, medium, and large. This app offers a range of cool features to help you showcase product reviews and build customer trust.
Let's start reviewing the Ryviu Product Reviews app.
Key features:
Multiple templates review: You can display customer reviews on your store with multiple themes.
Import reviews from multi-sources: You can import Amazon reviews to Shopify. Besides, you can export reviews from other sources like Aliexpress, Etsy, CSV, then import them to your Shopify store.
Emails request reviews: You can send emails to ask customers to leave reviews on your store after completing a purchase.
Question & answer section: This allows customers to ask questions about products, and you can respond promptly.
SEO Friendly Score: Add a review score to your Google search results
Boost Sales Popup Feature: Show real-time comments on your store.
How to Add Reviews on Shopify in 4 Steps?
#Step 1:  Install the Product Reviews app
In this tutorial, I will show you the way to add reviews on Shopify store using Ryviu app
To add the Ryviu app to your Shopify store, you can go to Apps, then find Ryviu app, then click Add button.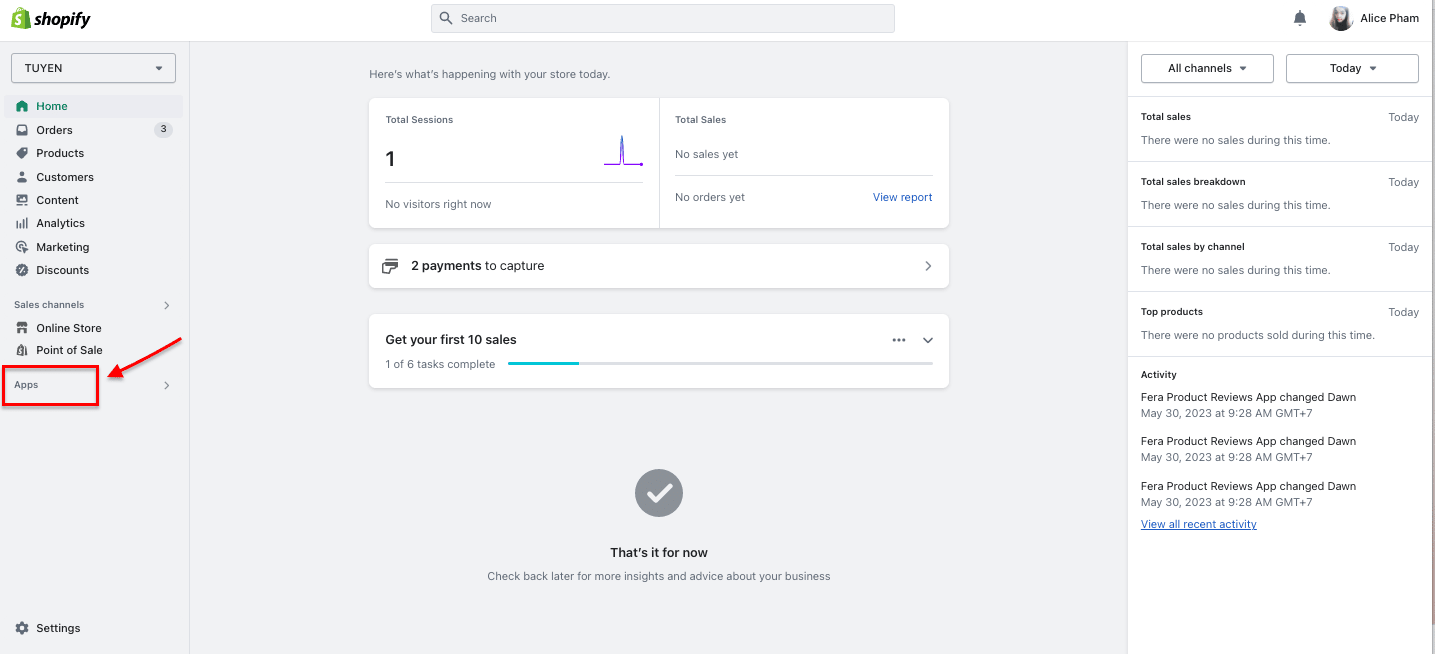 Or you can directly find the Ryviu app page on Shopify App Store and click Add app.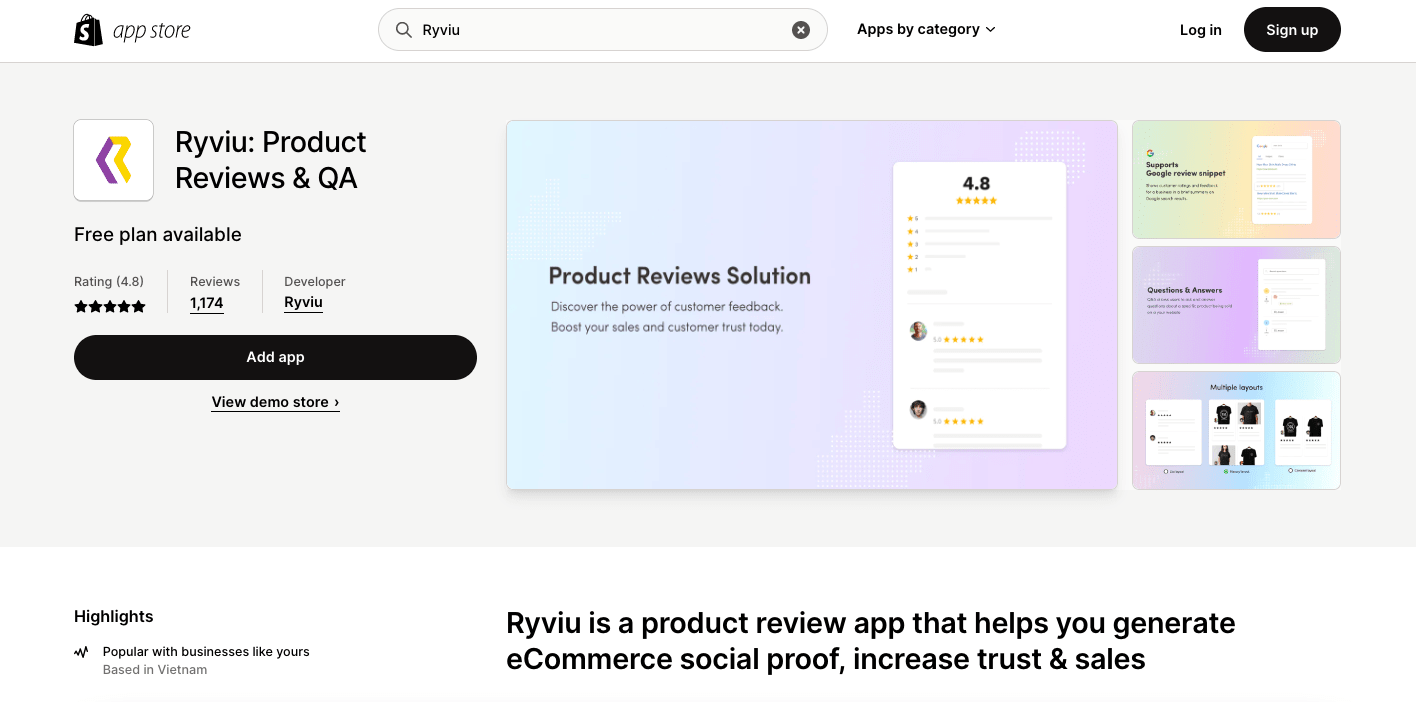 Once you have installed the app successfully, it's time to learn how to add a review section on Shopify product pages.
#Step 2: Add a review section on the product page
Most Shopify review apps have an onboarding flow on adding reviews to Shopify store. Just follow them accordingly.
First, open the theme you want to customize by going to Online Store > Themes > Customize. In this tutorial, I am editing the Dawn theme.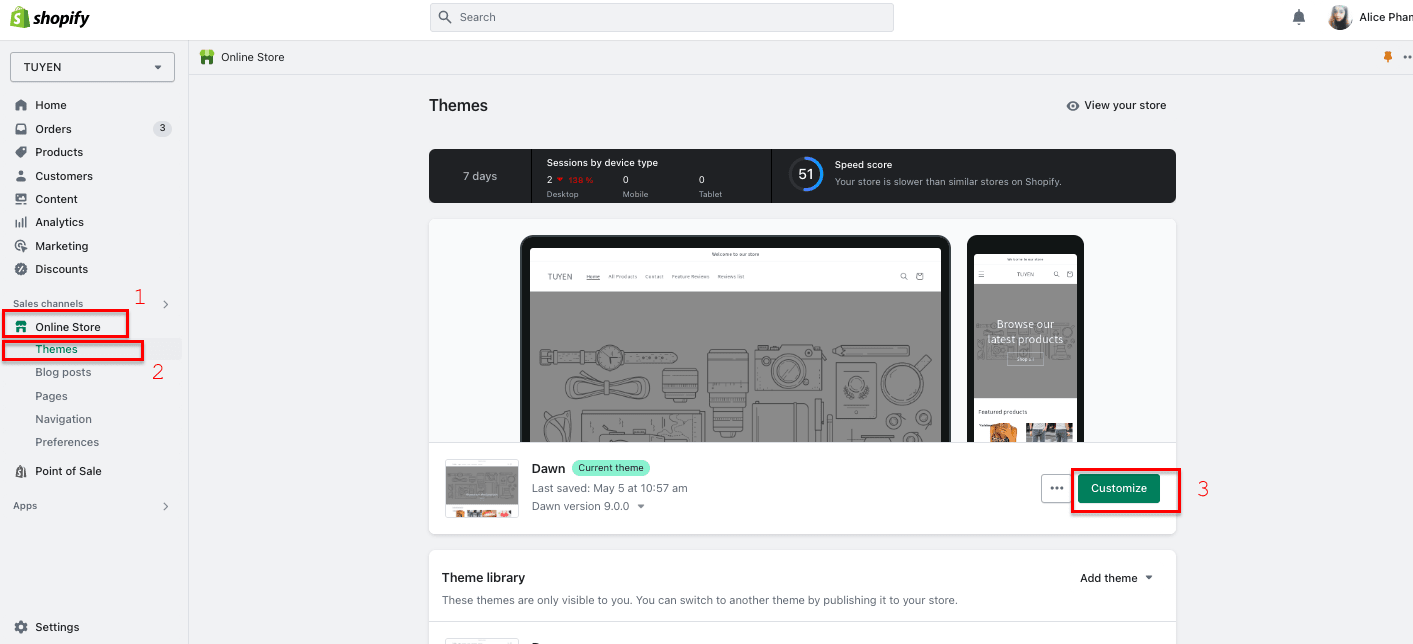 In the theme setting page, choose Products selection from the dropdown options to visit the product template you want to add Shopify product review section.
Then, click Add section.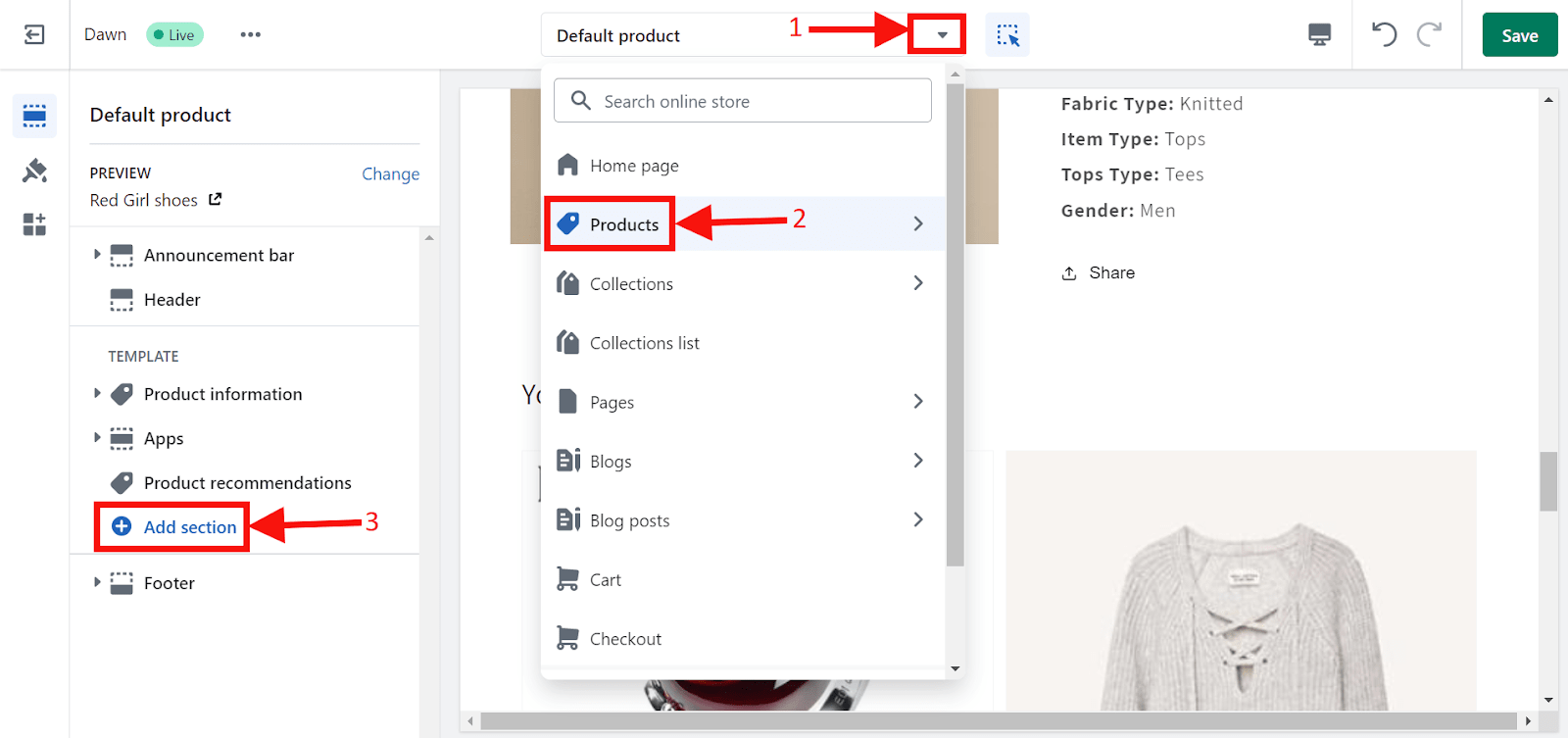 After that, select the Featured Reviews or/and Questions & Answer and/or Product Reviews Widget and/or Specific product reviews and/or Star Rating block in the Apps section from the dropdown menu.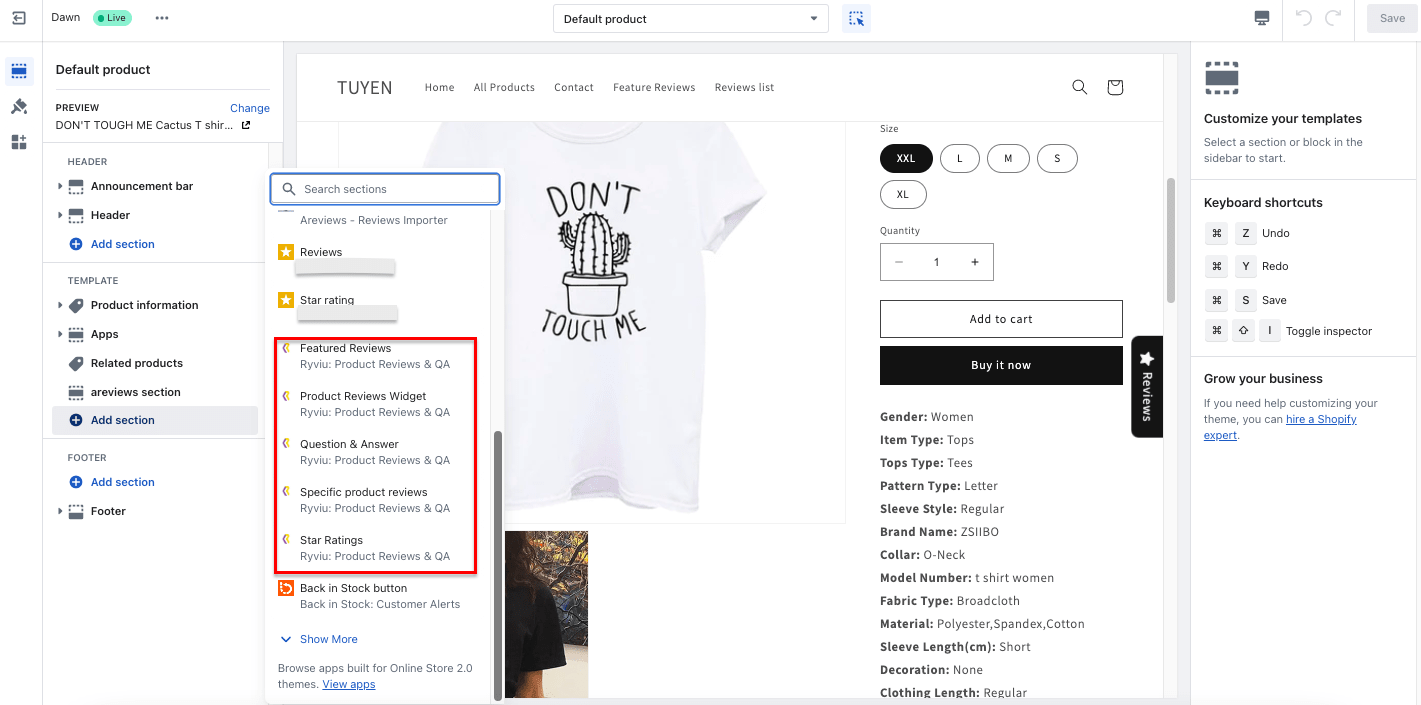 Finally, hit the Save button.
#Step 3: Customize the product review blocks
Now that you know how to add reviews on Shopify, let's learn how to customize the review blocks.
Each review block you have added in step 2 has its own setting and customization options.
In this block, you can edit the Padding left and right, title, title align, show/hide title, and change the layout.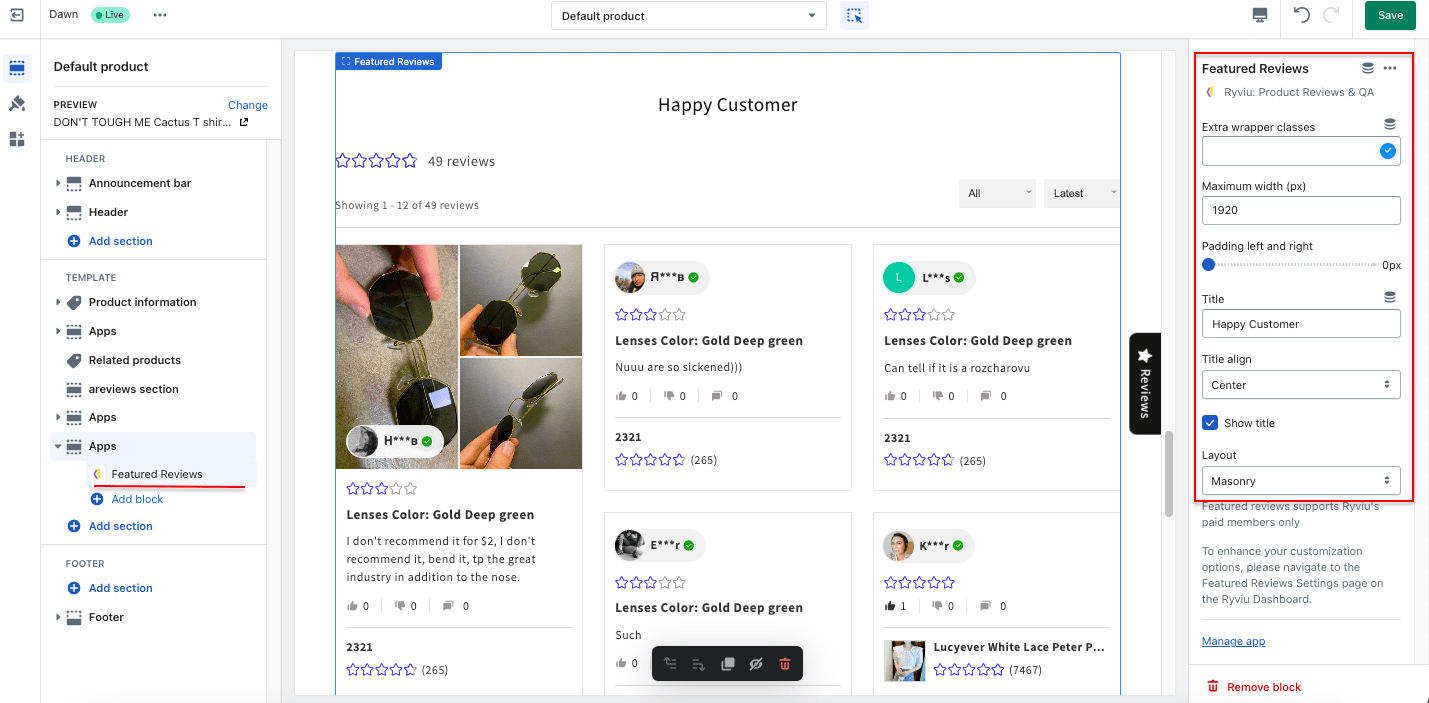 In the Reviews widget, you can show/ hide reviews widget when there is no review, edit Extra wrapper classes, maximum width (px), and Padding left and right.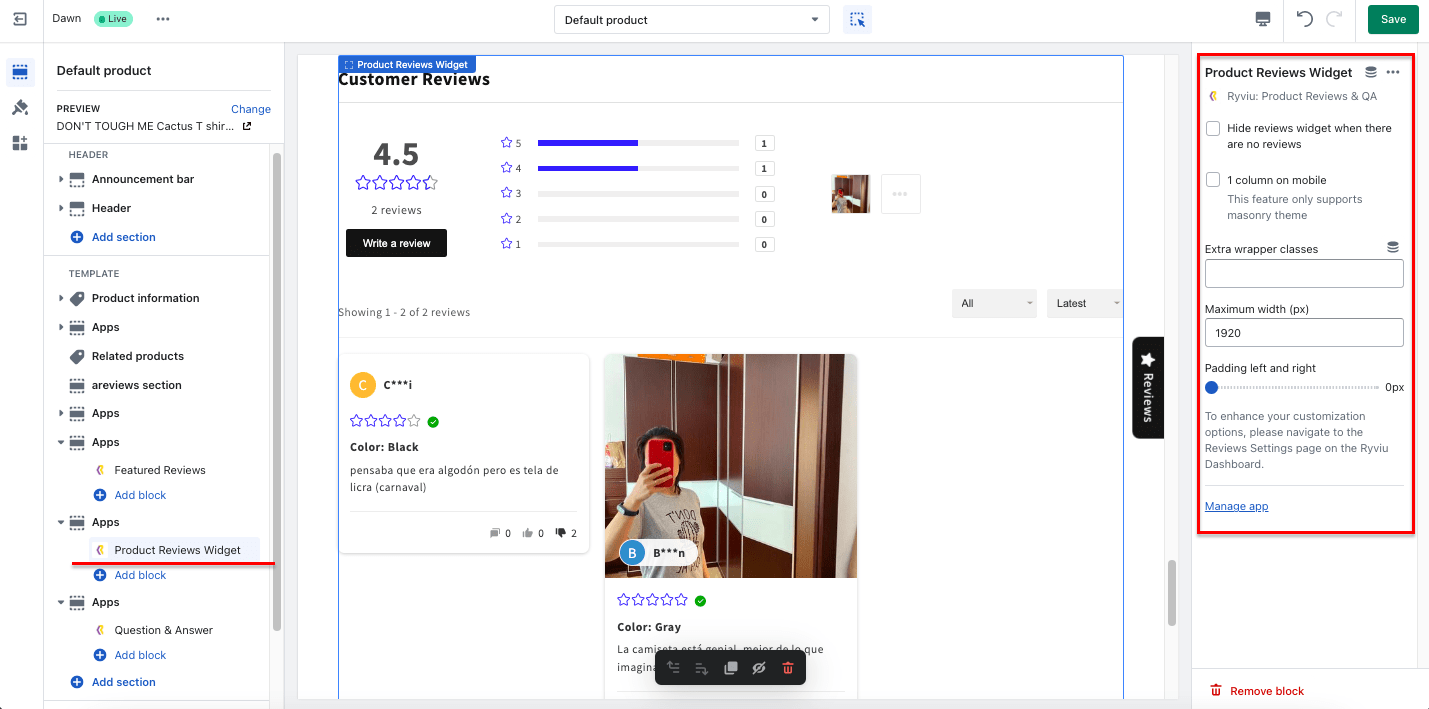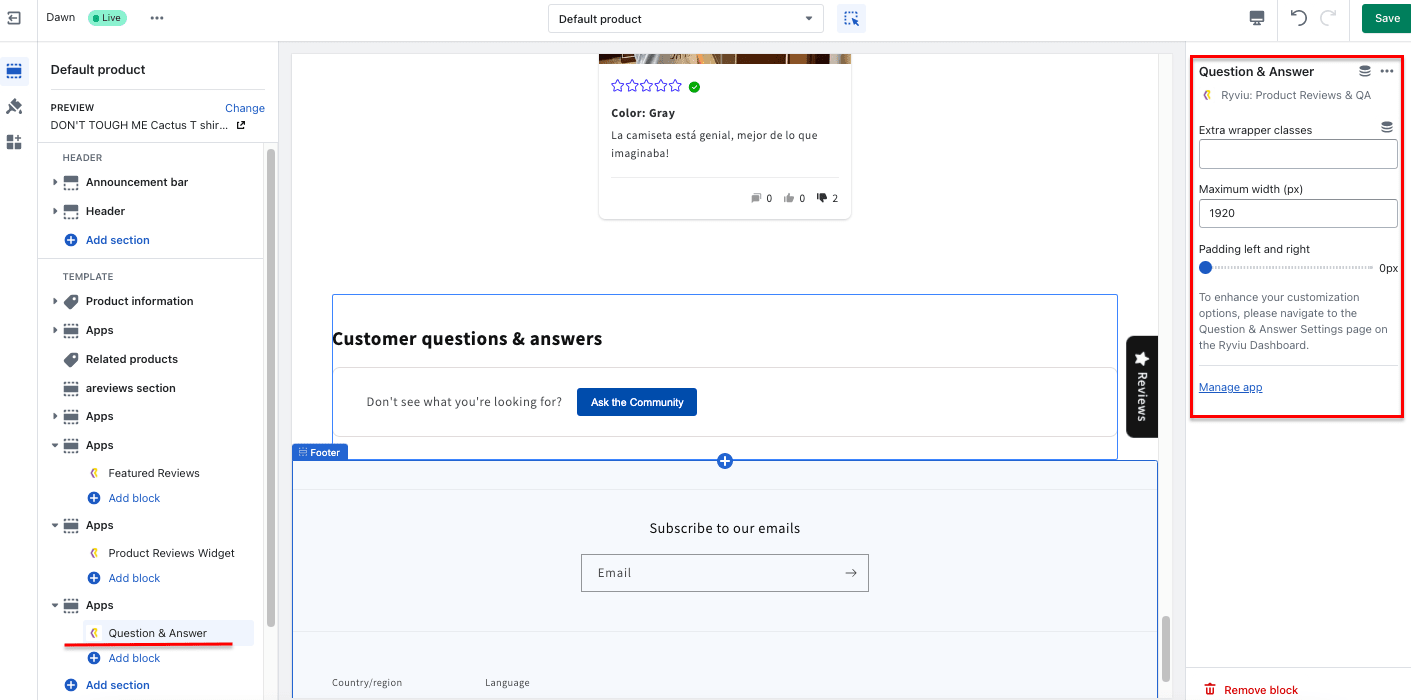 In this block, you can change the Extra wrapper classes, maximum width (px), and Padding left and right.
Specific Product Reviews block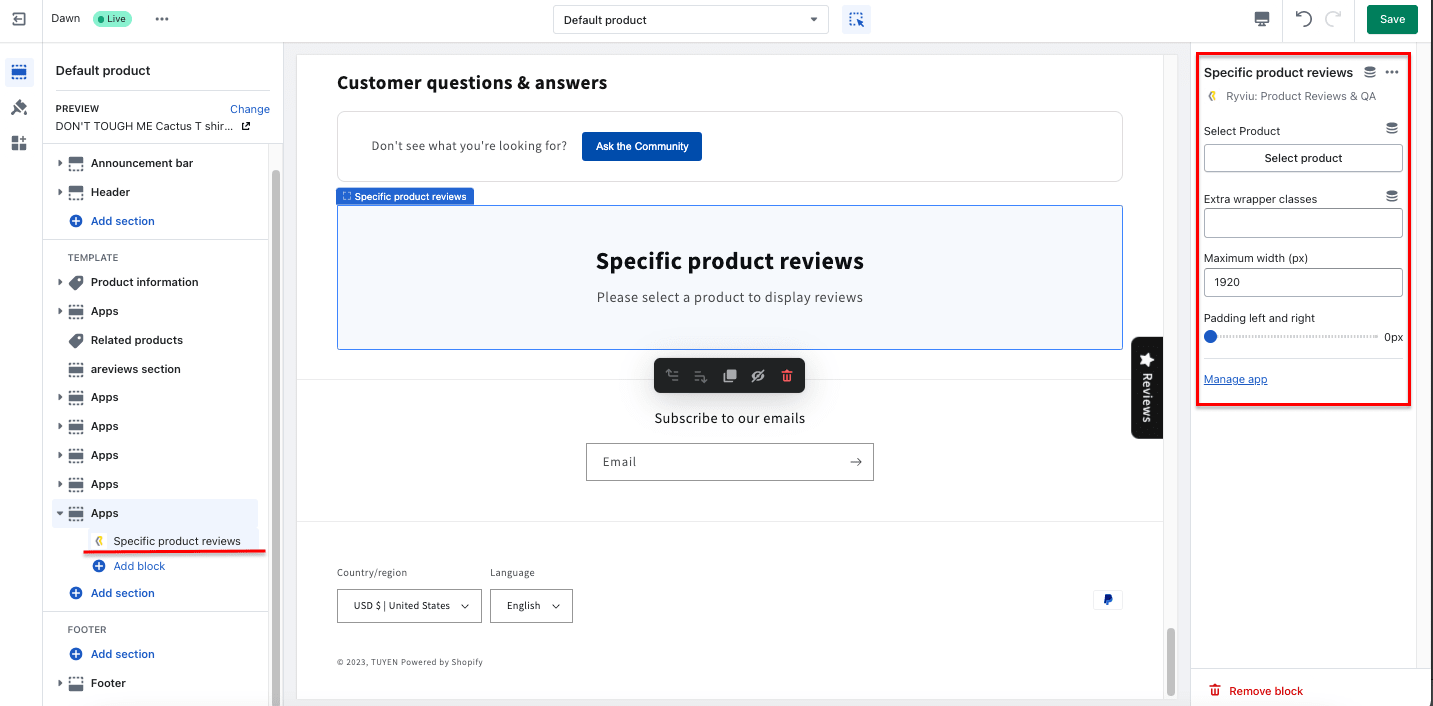 In the Specific product review block, you can choose the featured product to show, change the Extra wrapper classes, Maximum width, padding left and right.
In this block, you can change the product, extra wrapper classes, maximum width, padding left and right.
#Step 4: Preview customer reviews
Once you finish, don't forget to preview to see the Shopify product reviews you have added to your store.
Bonus: Import Reviews from Marketplaces to Shopify with Ryviu
Ryviu app is especially suitable for dropshipping and print on demand stores. With Ryviu app, you can easily export reviews from famous marketplaces like AliExpress, Amazon, Esty, DHgate, … and import them to your Shopify store to build trust.
For example: To import reviews from AliExpress, let read this tutorial.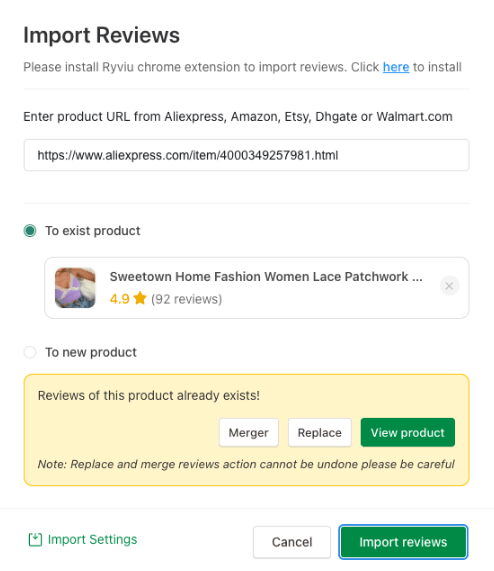 Conclusion
To sum up, adding customer reviews to Shopify stores can significantly affect your revenue and overall success. Make sure your reviews are sincere and accurately represent the worth of your products. Use social proof to increase your store's credibility and gain potential customers' trust. We recommend the Ryviu app, an easy-to-use app with many useful features suitable for most Shopify stores.
---
👉
Fordeer
, which is a software agency founded in October 2022, is so honored to strive with the mission of producing support tools for businesses all over the world. "The great tools for the best businesses". Our highly qualified programming engineers, with all their passion, are always ready to dedicate themselves to creating the most useful apps for your business and Shopify online store. Keep following our blog to get more helpful business knowledge and top trends daily.
💡
Fordeer: Invoice Order Printer
is a
free invoice generator
on Shopify. There are various fabulous templates available for invoices, orders, refunds, and packing slips. You can customize all these templates and print out the documents in bulk simply. The best thing is a reasonable pricing plan and multiple amazing features! Be faster, wiser, and more effective for your brand preferences with Fordeer.