Grab the chance and grow your business with Fordeer
A PDF invoice is becoming standard procedure when making an online purchase, thus, all online store owners ought to provide one. Most likely, if you're here, you're the proud proprietor of an online store powered by Shopify. Every order that is placed in your shop needs to have a PDF invoice attached to it.
Fordeer PDF invoices can be generated automatically for each order placed in your store. With Fordeer, you have a variety of choices for creating invoices, including the Invoice Order Printer. We will explain the effects of PDF invoices if you are unclear about them.
Hence, it is important to follow the crowd when it comes to good practice, as customers expect a PDF invoice from you, and if you don't provide one, you are going against their expectations. To build a strong relationship with your customer, you should constantly be thinking of innovative services to use.
Shopify PDF Invoice apps
All organizations must now keep an accurate and proper invoicing system in place. Billing is now simpler and more efficient than ever, thanks to the Shopify app store.
Most crucially, it raises the level of professionalism in your store. Spreadsheets or paper-based invoices are a thing of the past. With today's invoicing software, you may complete a lot of different duties.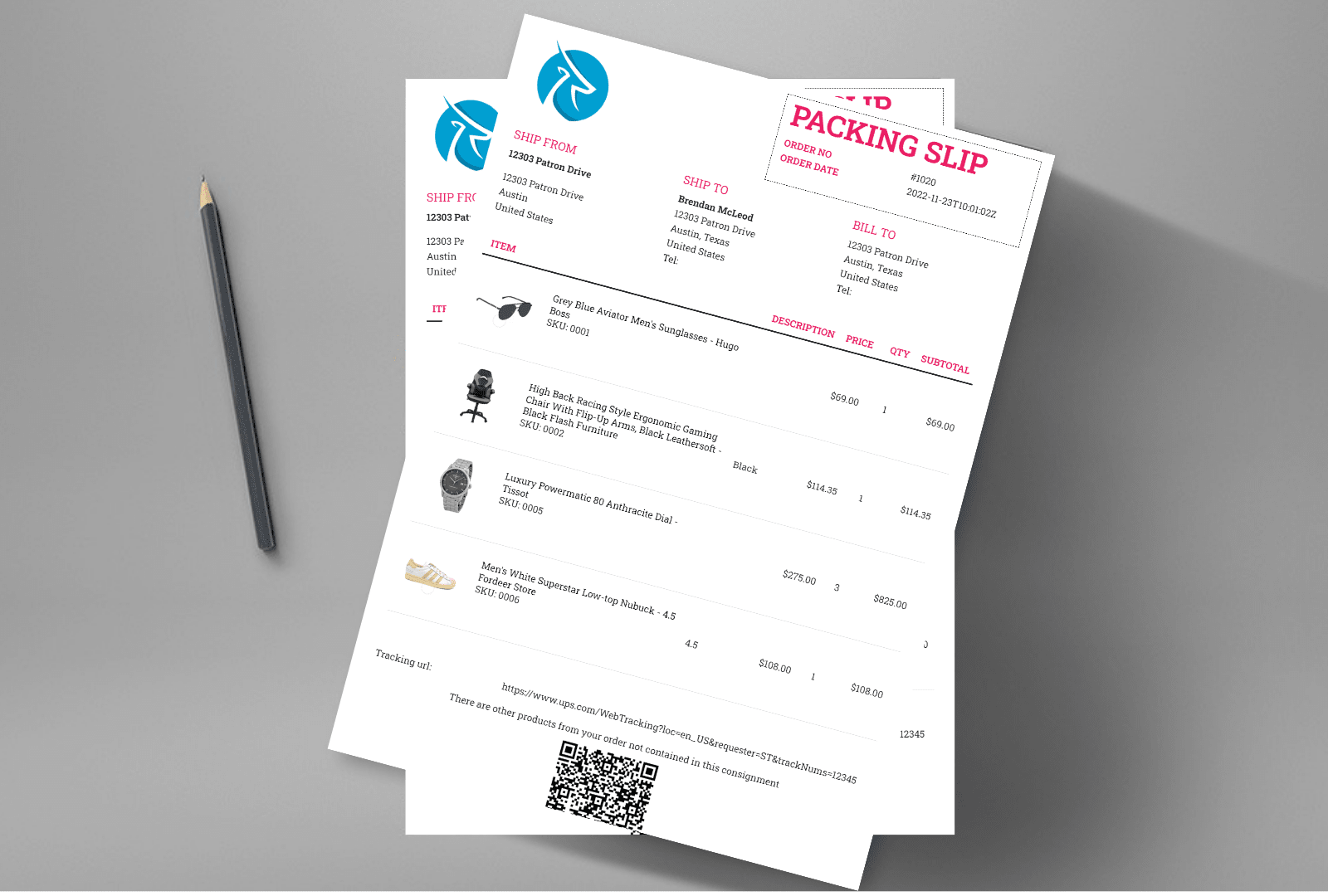 They include producing lovely billing records, managing clients and financial information, and keeping an eye on payments, all of which can help you have complete control over all of your dealings and ensure that your company doesn't incur losses.
There are many top-notch Shopify invoicing applications available. You might prefer a simple app that keeps track of payments and invoices, or one with more advanced features like creating invoices, keeping track of inventory, and connecting to accounting software.
Then, finding the most suitable invoicing software for your company seems a little bit hard. Let's start looking at how to grow your business with Fordeer.
Fordeer Invoice Order Printer 1.0
Shopify sellers often struggle with time-consuming invoice issues, so it is important to maintain an accurate and proper invoicing system. With the Shopify app, billing is now easier and more effective than ever. Invoices help customers determine how much to pay, keep track of sales and taxes, and enhance the store's professional awareness. The invoicing software available today enables you to perform a large number of tasks.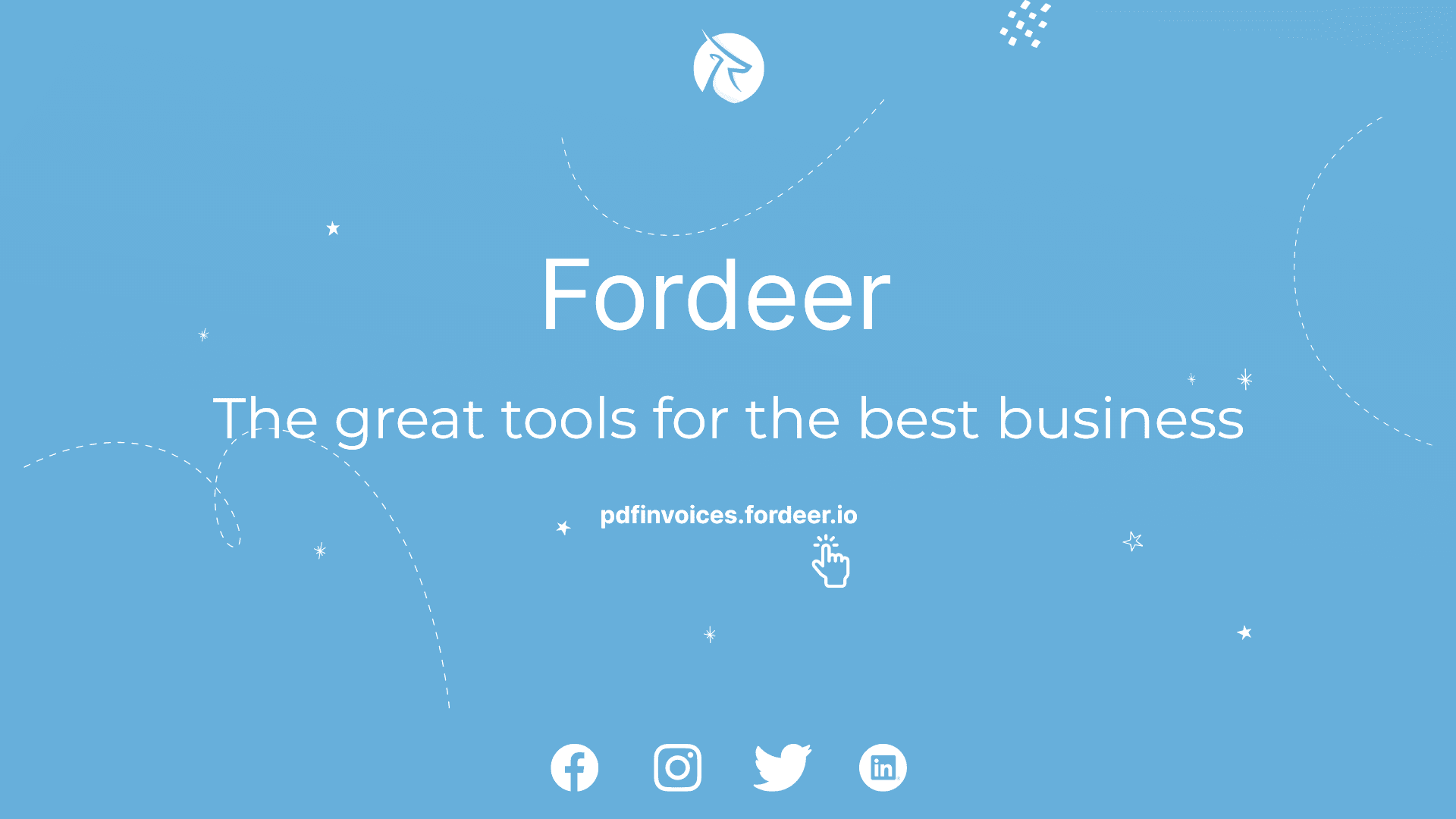 Fordeer Invoice Order Printer (FIOP) is a Shopify application developed to be a more professional alternative to Shopify Order Printer. You can do the following with FIOP:
print and download invoices, packing slips, orders, etc., in bulk and send them directly to your customers with the "Email Automation" feature. With the automation emails function, you can completely speed up the email delivery procedure. This step supports you to save either time or effort in answering your customer's frequently asked questions with the PDF billing attachment.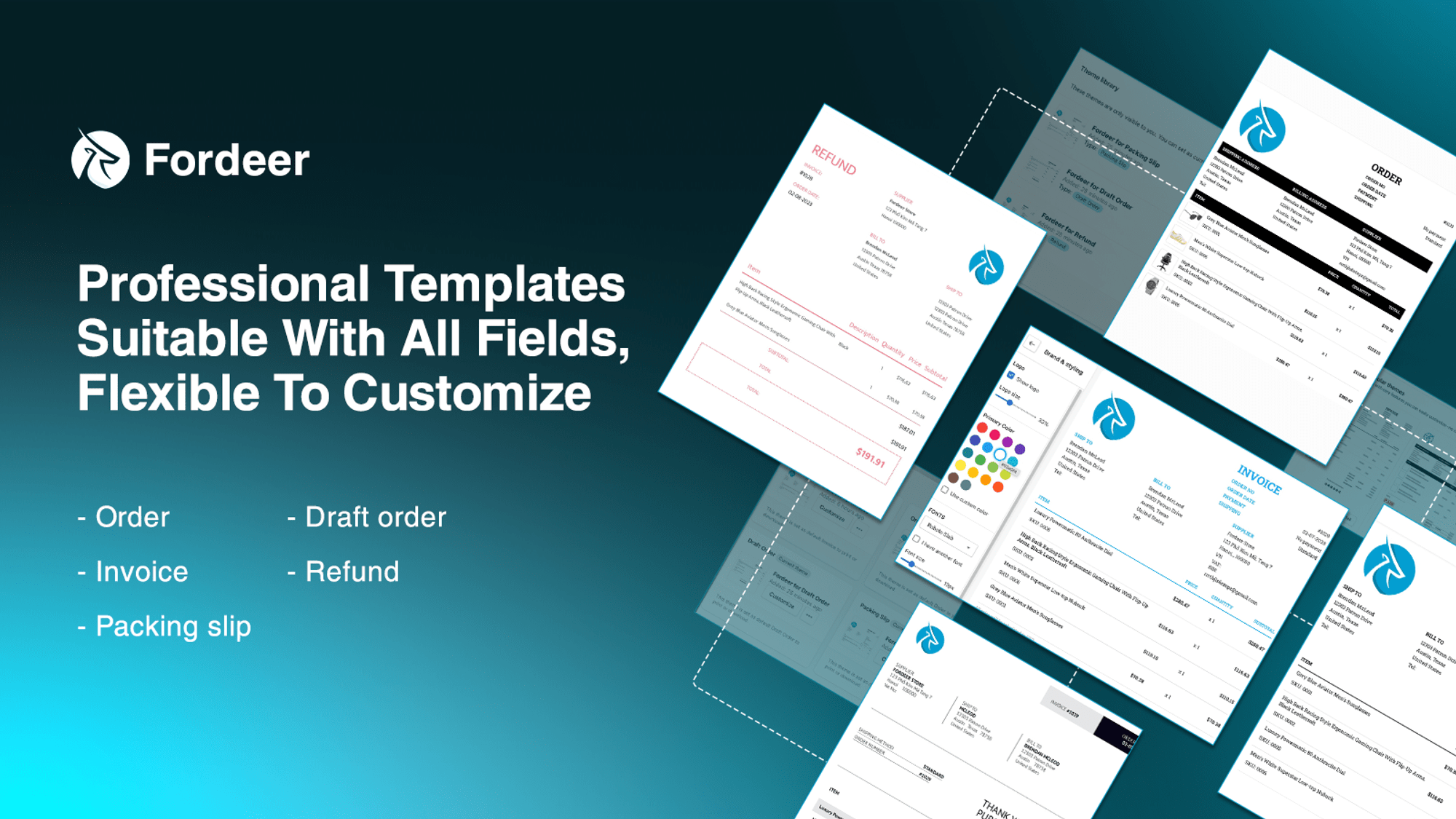 More than that, you can:
make your own dazzling invoice templates by adjusting the store details and currency standard on the setup page;
modify every detail shown in your documents according to your demands;
create your own invoice layouts with the available liquid variables.
When you use a PDF invoice app like Fordeer: Invoice Order Printer, you can easily experiment with different styles to find the one that best represents your brand. You don't have to worry about whether your invoice complies with local legal requirements because our team ensures that every invoice does.
Furthermore, you can use our program to generate invoices in either your company's main language and currency or the language and currency in which your customers make purchases from you. You can also use the app to create billing documents from anywhere because it was designed to be optimized for all POS and mobile devices.
Grow your business with Fordeer
Fordeer brings to the Shopify platform a PDF invoice app that allows all sellers, including beginners, to use it without any obstacles, based on three main criteria: friendly - easy - flexible. This app allows you to grow your brand and business with the appropriate plan based on your needs.
A PDF invoice is more than just a digital copy of a physical invoice that you send to customers who buy from your online store. It also has other values. To begin with, the PDF invoice demonstrates your professionalism with your customers.
When customers place orders in your store and receive the Fordeer PDF invoice, they will have a very positive impression of your profeslism. People tend to trust professional store owners, so this will benefit you in the long run. To build trust with your customers, you must take great care.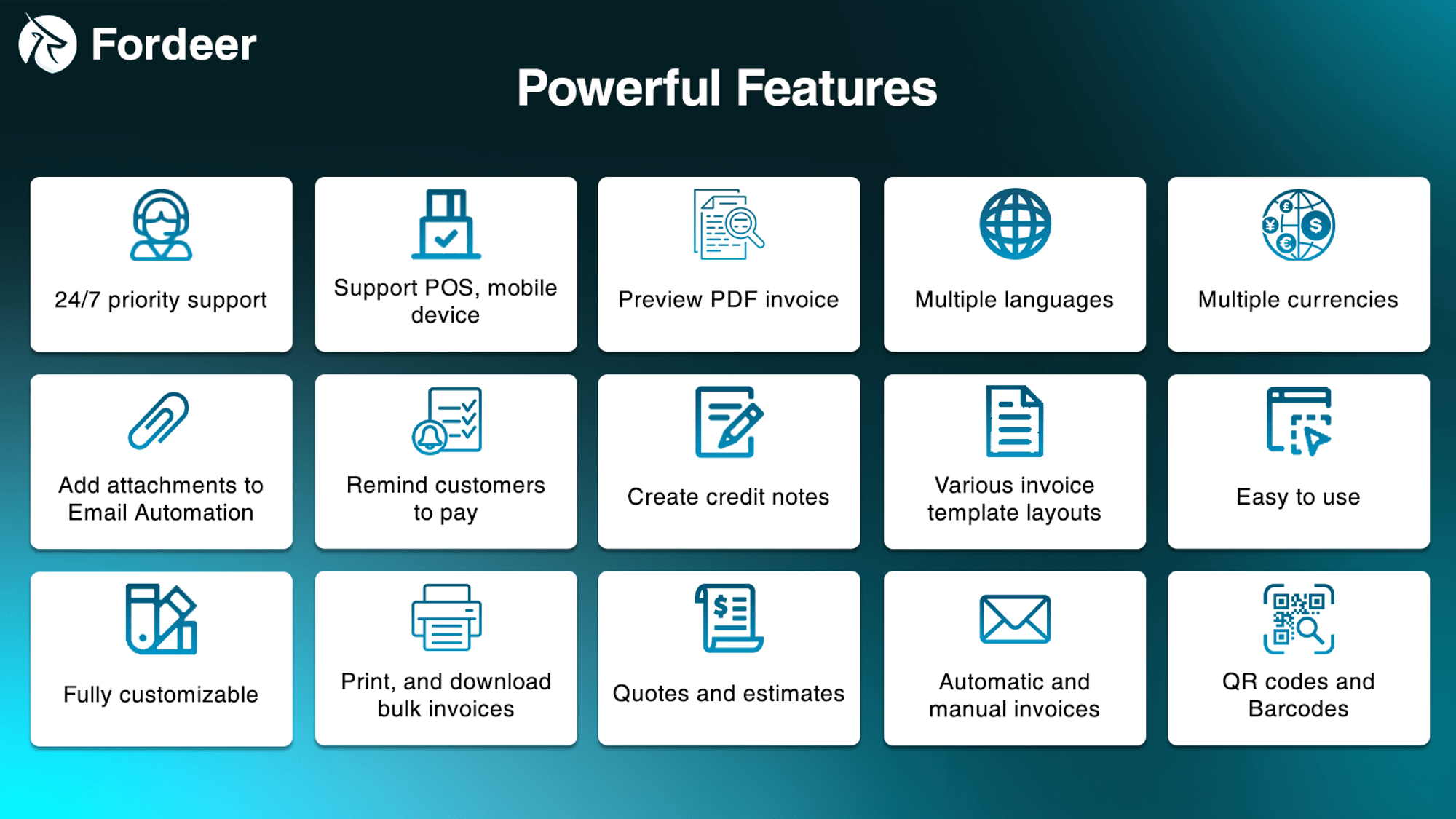 Your competitors are already using a Fordeer PDF invoice app
Today's world is extremely competitive. The world's current infrastructure, as well as the availability of services and goods, made life easier for everyone. Setting up a business is also relatively simple, but competition is fierce in all business sectors.
Online stores are a popular option these days, and they are simple to set up.
Your competitors' stores may already be using the Fordeer PDF invoice app to generate PDF invoices for every order automatically. As a result, they have a better chance of demonstrating professionalism to their customers.
Why don't you try to get the Fordeer PDF Invoice app for your store even though your competitors are not using one?
Customers may request a PDF invoice from you
Customers may request a PDF invoice from you as proof of purchase. In addition, PDF invoices are required for official purposes and other important issues.
If you do not provide PDF invoices by default and a customer requests one, it will be a humiliating situation for you because you are missing out on a common practice. Manually creating PDF invoices is not a professional practice, and it is also extremely error-prone.
Fordeer Invoice Order Printer contributes to the creation of a substantial brand value
If you want to establish a strong connection with your customers, you should concentrate on developing a brand. Brands are essential for connecting with your customers on a personal level.
A strong brand helps a business grow by providing positive energy to create future brands and increase profits. Please visit here to learn more about the importance of brand building and how it can benefit your business.
Custom Fordeer PDF invoices can help you promote your brand to customers. This guide will be very useful if you want to create a custom Fordeer PDF invoice.
All in all
Although billing is an essential issue for every e-commerce business, it can be automated and does not require your personal attention. With the help of an invoice automation app, you can save time and focus on growing your business.
In terms of functionality, customer service, and cost, Fordeer: Invoice Order Printer is guaranteed to be the most suitable. The latest version has just been released, with full-power advanced features and appropriate pricing plans. Consider your company's needs and don't hesitate to enjoy Fordeer 1.0 for FREE right away!
---
👉 Fordeer, which is a start-up software agency in 2022, is so honored to be founded with the mission of producing support tools for businesses all over the world. "The great tools for the best businesses". Our highly qualified programming engineers, with all their passion, are always ready to dedicate themselves to creating the most useful apps for your business and Shopify online store. Keep following our blog to get more helpful business knowledge and top trends daily.
💡
Based on our long-term mission and a clear vision for eCommerce tool development, Fordeer believes that our brand affiliate program will have things that are useful to you. Especially, our team would like to express our gratitude to the affiliate partners with the
50% lifetime commission.
Read on to learn more about the
Fordeer Affiliate Program
.