Elevate Your Customer's Shopping Experience with Hukcommerce Mega Menu Creator Pro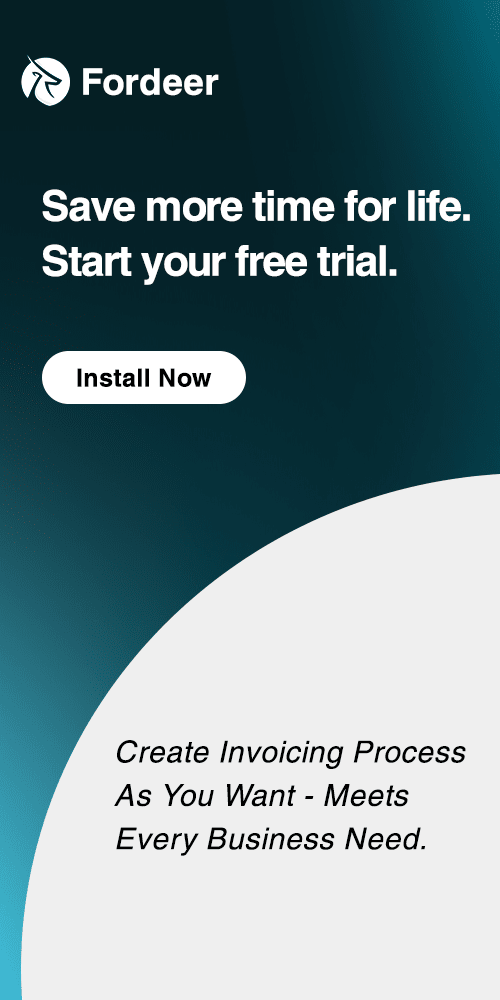 In the modern era of the internet, e-commerce is taking over the brick-and-mortar stores. The e-commerce platform is growing faster than ever, and it provides customers with an excellent opportunity to browse and buy products with just a few clicks. Shopify is among the best e-commerce platforms that allow businesses to set up their online stores in a short period. However, with the upward trend, it is essential to streamline the websites and make the customers comfortable browsing through the product pages. An organized, user-friendly menu is crucial for making the online shopping experience simple and intuitive. In this article, Fordeer will be discussing how to elevate the customer's shopping experience with Mega Menu Creator Pro by Hukcommerce.
Introduction to Mega Menu Creator Pro

A smooth customer experience helps businesses with customer retention, and a great user interface forms a part of that endeavor. Mega Menu Creator Pro by Hukcommerce is an essential application that can provide powerful tools that can help enhance the customer's shopping experience on a Shopify store. A well-designed menu not only looks great but also eases the users' navigation while browsing. The objective of the Mega Menu Creator Pro application is to provide customizable, user-friendly, and aesthetically pleasing menus that can elevate the shopping experience on a Shopify store.
Why Optimize the Menu for Your Shopify Store?
Optimizing the menu for your Shopify store is essential for several reasons, including:
Better User Experience: The menu is a crucial navigational element on an e-commerce website. It helps customers find the products or information they need on your website quickly and easily. By optimizing your menu and making it more user-friendly, you can reduce the time it takes customers to find what they are looking for, boosting their overall experience and satisfaction with your store.
Improved Website Navigation: The menu also improves the website's overall navigation capabilities. By organizing your menu correctly and grouping similar products together, you can help customers move through your site's pages with greater efficiency which can result in getting to the important pages on your website.
Higher Engagement: An optimized menu can also lead to higher engagement rates. By offering a clear and concise menu with visually appealing designs, customers are more likely to interact with and explore your website in-depth. Spend more time on the site exploring, customers may feel more connected to your brand and could lead to higher potential to purchase.
Better SEO: Search engines, including Google, bots use your website's menu to navigate around the website and identify the most important pages on your site. By optimizing your menu, you can improve SEO, essentially signaling crawlers the essential content on your website and its structure.
Improved Site Performance: A well-optimized menu minimizes bugs and page load errors, which can lead to high bounce rates and poor user experience. A well-optimized menu with fast page loads and a seamless browsing experience can ultimately contribute to a higher conversion rate and a better Shopify store experience.
Optimizing your menu is crucial for improving the user experience, engagement rates, website navigation, and SEO. By focusing on menu optimization, Shopify store owners can boost sales, brand loyalty, and customer satisfaction, essential goals for any e-commerce business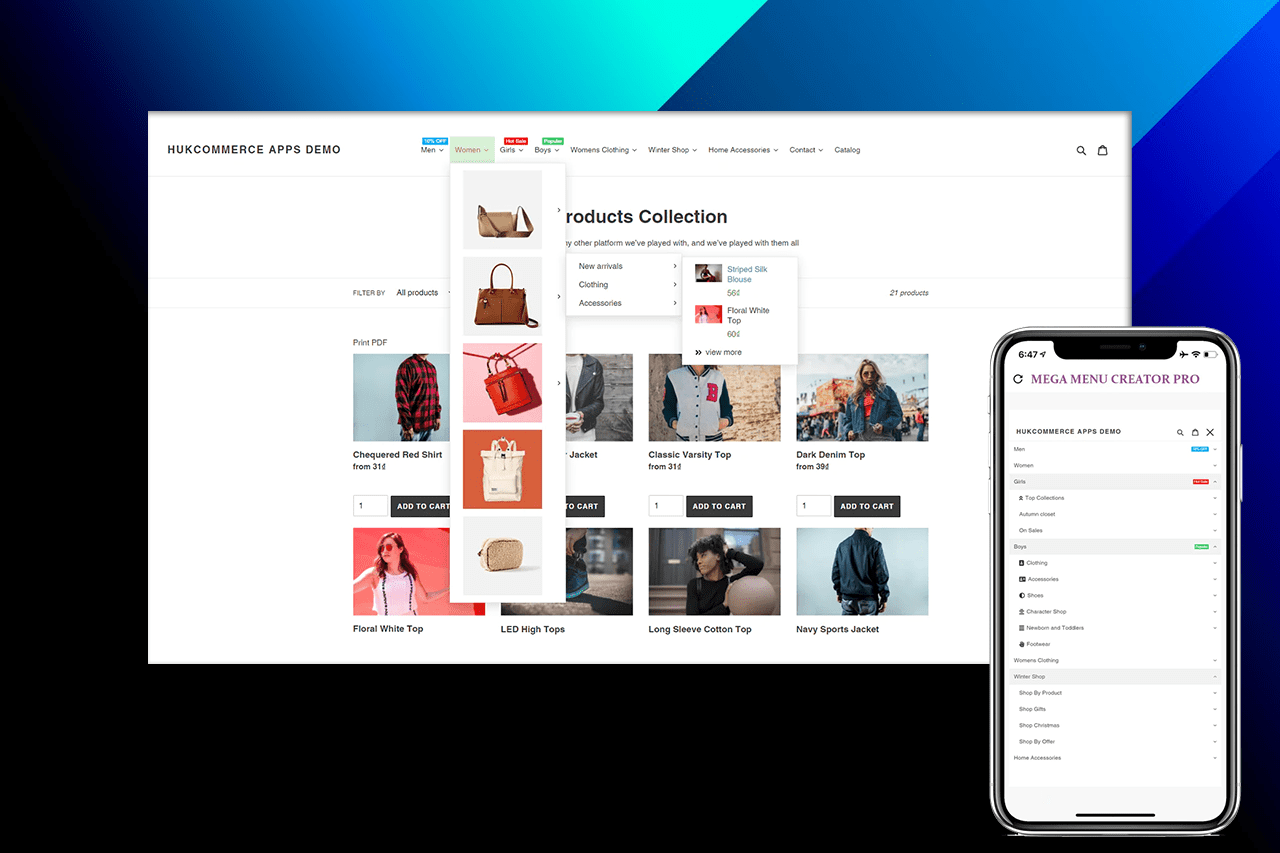 Key Features of Hukcommerce Mega Menu Creator Pro

Mega Menu Creator Pro by Hukcommerce offers an array of features that can take the menu design to a higher level. Here are some key features of the application:
Drag-and-Drop Menu Builder: With the Smart Menu Creator, users can design their menus using an easy and intuitive drag-and-drop interface. This feature eliminates the need to reload the page, making the menu creation process faster and more efficient.
Custom HTML and Widget Integration: The app allows users to add custom HTML, shortcodes, maps, contact forms, and any other widgets they like to their menus. This enables users to create highly personalized menus that match their brand and customer needs.
Menu Preview: One of the best features of Mega Menu Creator Pro is the ability to preview any changes before applying them to the website. This feature is crucial when working on big projects or when making significant changes to the menu. It enables users to see how their changes will impact the website before executing them.
Enhanced Mobile Experience: The Smart Menu Creator is designed to be fully responsive and touch-enabled, making it simple for customers to browse menus on mobile or tablet devices. This feature ensures that all customers can have an optimal shopping experience, regardless of the device they are using.
Flexible Menu Layouts: The app offers flexibility when it comes to menu layout designs, including the ability to customize menus with different types of menus such as mega, dropdown, sidebar-style, and more. Menu items can be rearranged and organized in different sections, giving users complete control over their menu design.
Optimized for Fast Loading and SEO: The Smart Menu Creator is caching optimized and ergonomic, ensuring its menus load quickly, even on large e-commerce stores. Additionally, search engine optimization (SEO) optimization has taken into account to ensure that menus are optimized, which improves their visibility, organic reach and conversion rates.
By providing these impressive features, the Smart Menu Creator offers a user-friendly and highly functional application that can elevate Shopify stores' menus and improve customer satisfaction.
The Benefits of Using Hukcommerce Mega Menu Creator Pro
By now, it is quite clear that Mega Menu Creator Pro has a lot to offer, both from a design and functionality perspective. Here are some benefits that you can relish when using Mega Menu Creator Pro by Hukcommerce:
Streamlined User Experience
There is no denying that Shopify is a great e-commerce platform. However, while the store's backend provides excellent functionality, it often lacks intuitiveness. The default menu setup on Shopify is relatively basic and can impede the user experience. Mega Menu Creator Pro mitigates these shortcomings by providing intuitive and well-designed menus. The application simplifies the navigation and helps users browse through the products with ease.
Enhanced Aesthetics
An aesthetically pleasing homepage creates a lasting impression on the visitor's mind. By using Mega Menu Creator Pro, you can provide an aesthetically pleasing menu to users. Mega Menu Creator Pro provides a customizable design and menu preview feature, allowing users to get creative and try out different designs before finalizing them. The app also offers an extensive range of advanced styles, making it easy to customize your website's menus.
Increased Sales
An intuitive browsing experience often translates into an increase in sales. When users find a website easy to navigate, they're more likely to stay and browse through what the website has to offer. Mega Menu Creator Pro's ability to simplify user navigation helps increase the time users spend on your website. This, in turn, can improve your conversion rates, encouraging customers to make purchases.
Easy to Use
One of the biggest drawbacks of using a new application is the extensive learning curve associated with the app. However, Mega Menu Creator Pro is very intuitive and has a user-friendly interface. The drag-and-drop interface is effortless to use, and users can quickly become comfortable with it. The app provides a real-time preview feature, allowing users to see how their menu will appear before applying the changes.
Conclusion
In conclusion, having an optimized and efficient menu is crucial to providing customers with a great online shopping experience. The Hukcommerce Mega Menu Creator Pro is an excellent application for improving the customer's shopping experience on a Shopify store. The app provides a wide range of features that can optimize your website's menu and give it a professional touch. The key advantages of using the app include a streamlined user experience, enhanced aesthetics, increased sales, and ease of use. So, if you're looking to take your Shopify store's menu to the next level, Mega Menu Creator Pro is definitely worth considering.
---
👉 Fordeer, which is a start-up software agency in 2022, is so honored to be founded with the mission of producing support tools for businesses all over the world. "The great tools for the best businesses". Our highly qualified programming engineers, with all their passion, are always ready to dedicate themselves to creating the most useful apps for your business and Shopify online store. Keep following our blog to get more helpful business knowledge and top trends daily.
💡
Fordeer: Invoice Order Printer
is a PDF Invoice app on Shopify. There are multiple beautiful templates available for invoices, orders, refunds, and packing slips. You can edit all these templates and print out the document simply. The best thing is a reasonable pricing plan and various amazing features! Be faster, cheaper, and more effective for your brand preferences with Fordeer.