Effective Sales Popup Practices to Boost Sales and Conversions
How to utilize effective sales popup practices to boost sales and conversions is a hotly debated topic.
Popups can be bothersome at times and, if not used properly, can drive customers away from your store. They are so despised that the inventor of the popup issued a public apology for creating them.
Popups, despite their poor reputation, can improve a customer's online experience. What is essential is that you think about how you create and display your popups.
In this post, let's, with Fordeer, go over effective popup practices and strategies for conversion rate optimization, increasing sales, and keeping consumers satisfied.
What is A Popup and How Does It Work?
A popup is a little window that emerges when someone is viewing a website. It shows a message that is intended for the audience. Marketers utilize it to promote their products and generate new leads.
The introduction of an e-commerce popup window that emerges out of nowhere would undoubtedly disrupt the user experience.
Popups must be inconspicuous and easy to close. Every popup must have specific characteristics. Let's go over them again:
Key Features of Every Successful Popup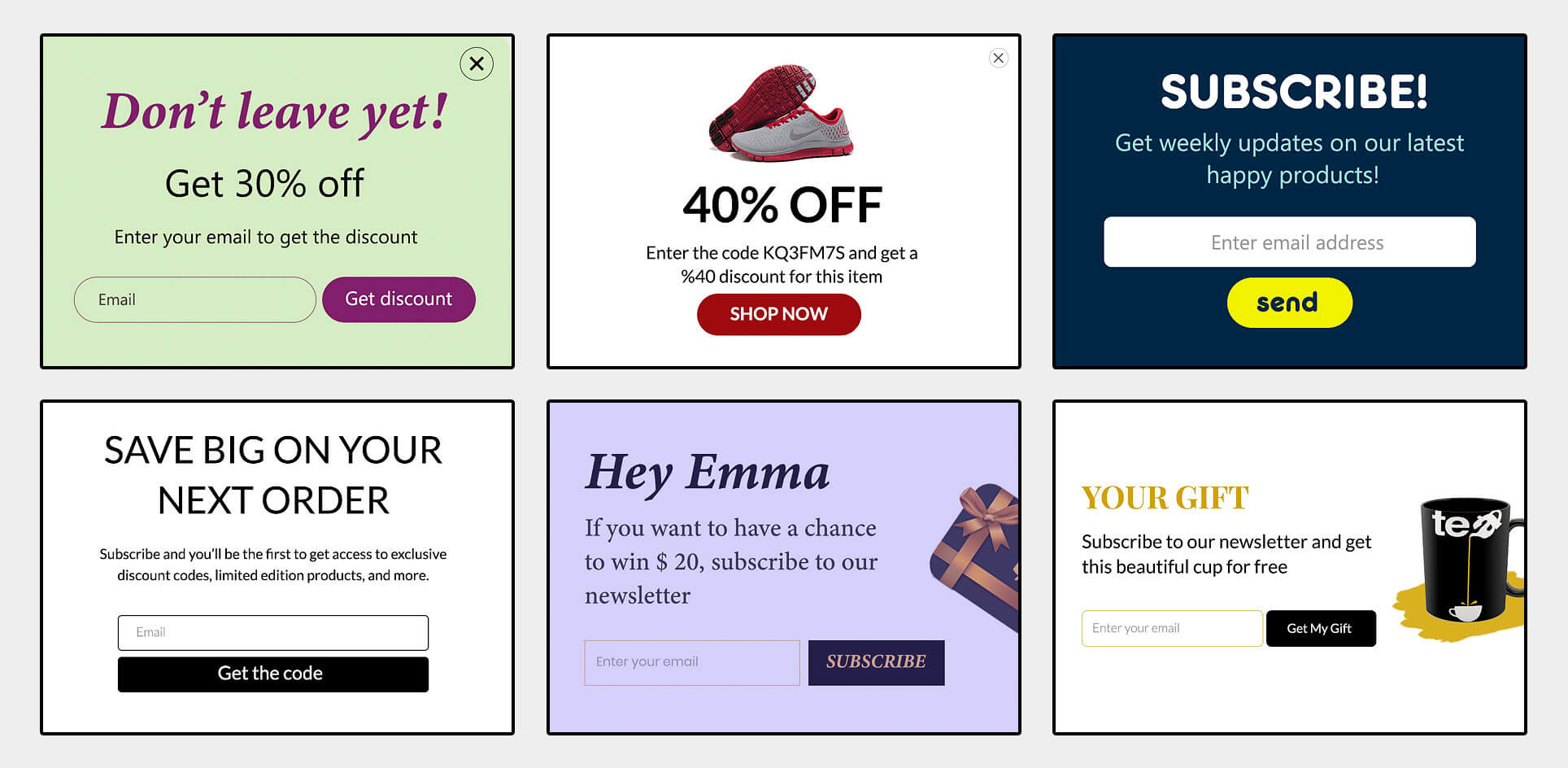 Every successful e-commerce popup consists of four key elements that work together to engage and convert visitors:
Context
The context of a popup is crucial for its effectiveness. It should align with the existing website content and provide relevant information or offers to the visitor.
By ensuring that the popup is closely related to the specific page or product the visitor is viewing, you can capture their attention and increase the likelihood of engagement.
Copy
The copy or text used in the popup plays a vital role in catching the visitor's eye and generating interest. It should be concise, compelling, and convey the value proposition clearly.
By crafting attention-grabbing headlines, persuasive descriptions, and strong calls to action, you can make the popup more attractive and encourage visitors to take the desired action.
Design
The visual design of a popup is a critical aspect of its success. An aesthetically pleasing and well-designed popup creates a positive user experience, captures attention, and enhances the overall brand perception.
Utilizing eye-catching colours, high-quality images, clear typography, and an intuitive layout can make the popup visually appealing and engaging to visitors.
Offer
The offer presented in the popup needs to be irresistible to entice visitors to take action. Whether it's a discount, a limited-time promotion, a freebie, or exclusive content, the offer should provide clear value and address the visitor's needs and desires.
By making the offer compelling, you can increase the chances of conversion and encourage visitors to complete a purchase or provide their contact information.
In addition to these core elements, there are several other factors to consider for a successful popup, such as timing, targeting, and customization.
Timing the popup to appear at the right moment, based on user behaviour or exit intent, can significantly impact its effectiveness.
Targeting the popup to specific audience segments or individual visitors based on their preferences, browsing history, or previous interactions can enhance personalization and engagement.
Customizing the popup's appearance and content to match the website's branding and create a cohesive user experience is also essential for building trust and credibility.
5 Best Popup Practices to Boost Sales on Black Friday 2023
To better prepare your eCommerce site for Black Friday 2023, we've compiled a list of best practices for increasing sales with this not-so-secret weapon, pop-ups.
Popups are simple to incorporate into your sales plan and can help you achieve lower cart abandonment, increased sales and email list growth, and a better user experience.
Let's get started!
Entry popups: Usher visitors to your Black Friday Deals page
Even if they are at work, online visitors have their gadgets ready as soon as the day begins. Because most Black Friday customers are likely to be in a hurry for unique discounts, expect them to jump from one online store to another and rarely stay on a single site.
To avoid unwanted bounce rates, display them an entry popup that, when clicked, will instantly redirect them to your Black Friday Deals website. If you do not tell them soon away, you will reduce your chances of converting them into paying clients.
You can make a Black Friday popup quickly by using Fordeer: Sales Pop Up ‑ Popups. You have effectively assisted your visitors to see the offerings you have for them with only one click.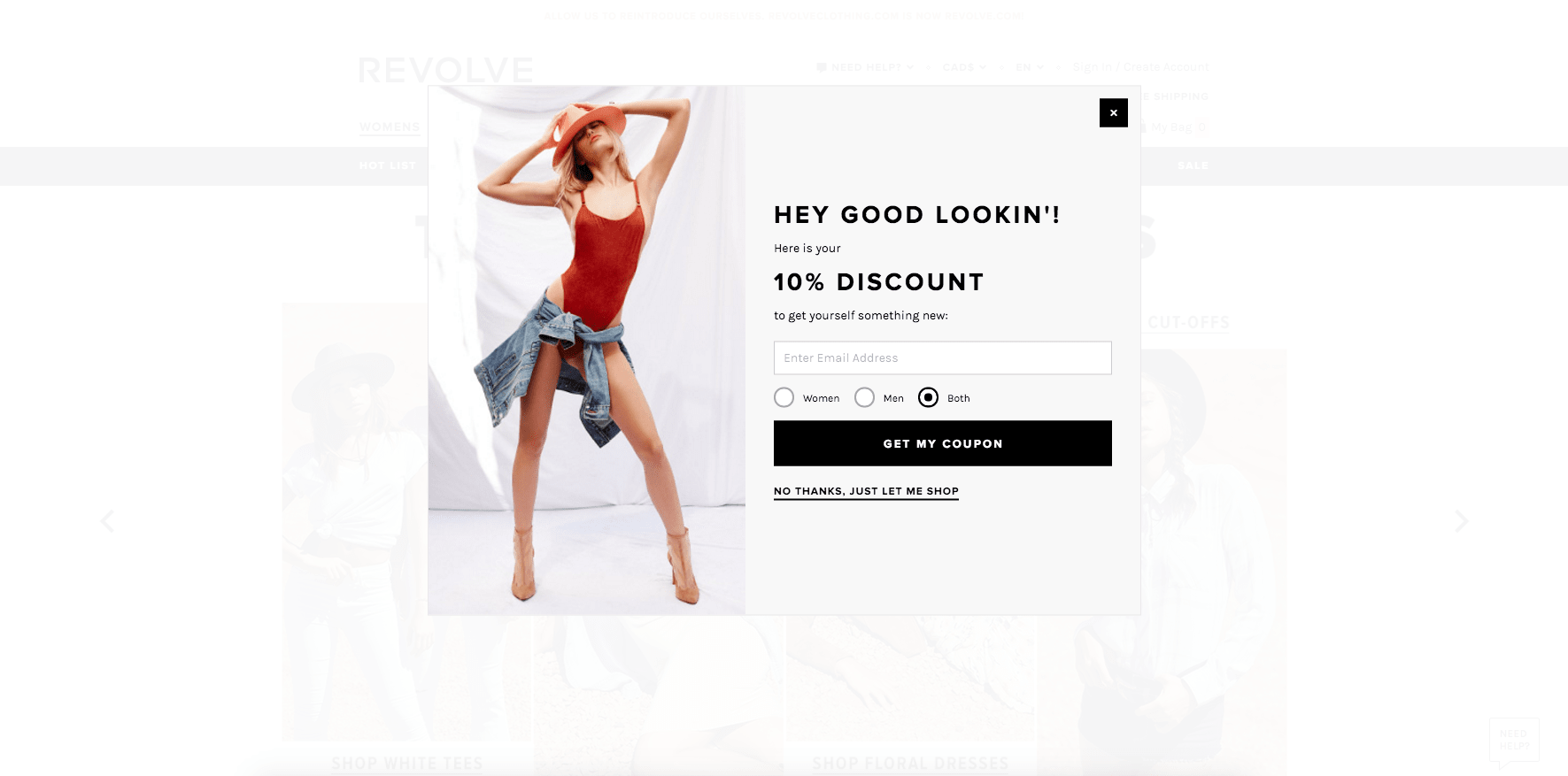 Bonus Tip: Show this entry popup after they've been on your page for at least a few seconds. Also, if they're on your site for another purpose, make sure you've put up an easy close button.
First-time visitor popups: Give your best shot to create a lasting impression
The holiday season is a time when everyone is overjoyed about pretty much everything. Some people are ecstatic to finally receive those Nike shoes they've been eyeing for a long time, to get the latest collection of Marvel Mac lipsticks, or to upgrade to the most recent iPhone available on the market.
The Black Friday Sale is the ideal moment to show all shoppers what you have to offer. It's the ideal moment to attract new visitors and establish positive relationships with them.
To do this, display your first-time visitors an attractive pop up with an impossible-to-refuse discount. This is a busy season, so if you miss it, it will be difficult to obtain a second chance to make a lasting impression.
You can provide them with better discounts, freebies, or promo coupons for their first purchase than others. Take a look at this sample pop-up design:
This allows you to build connections with prospective customers and foster brand affinity, which is especially important during the holiday season. Furthermore, it conveys to them that they are important to you and that you want them to have a pleasant and memorable shopping experience.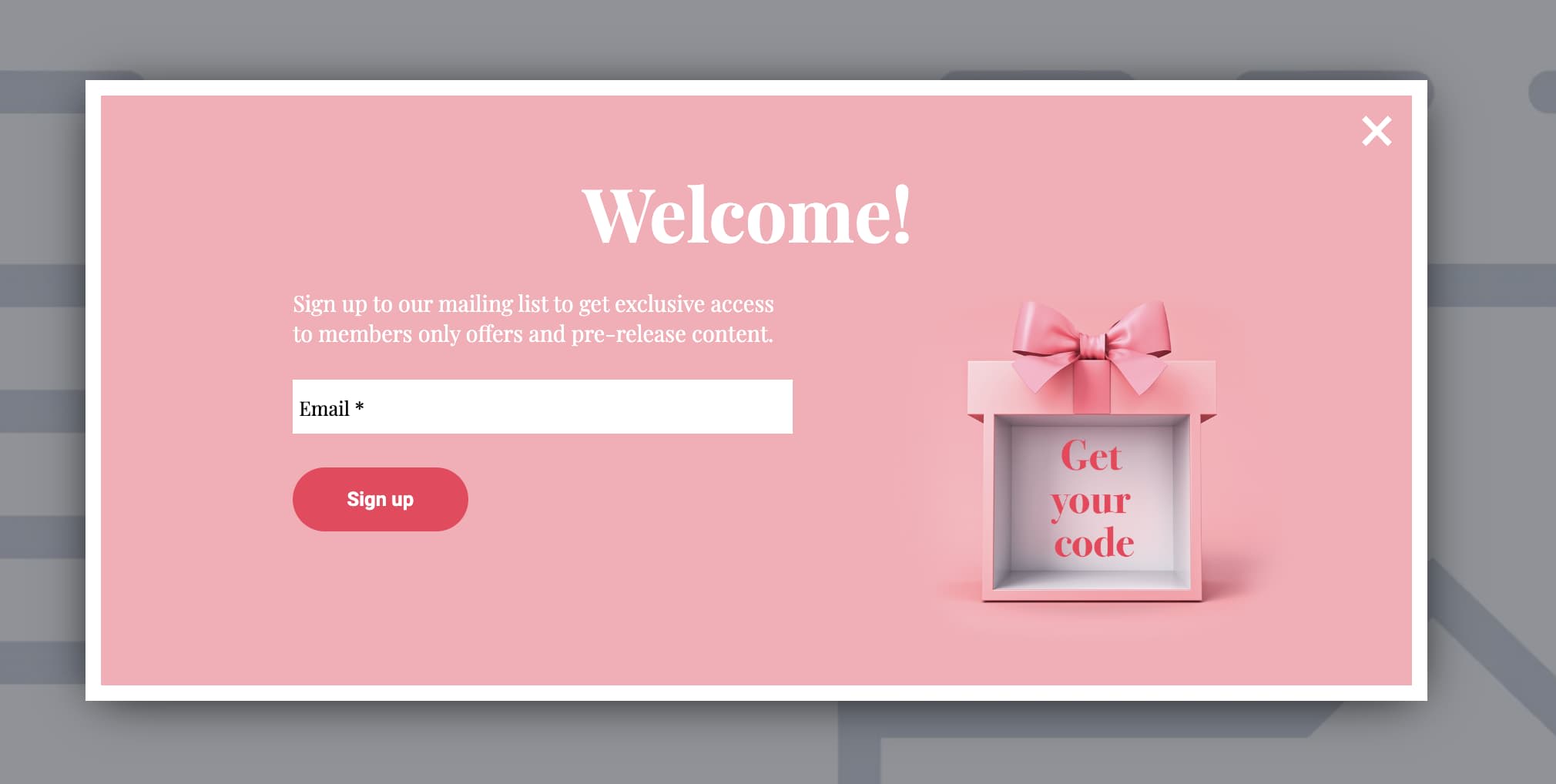 Bonus Tip: Always make it clear on your popup what benefit they will receive if they buy something from you. In addition, stress that they received this additional discount or gift during the checkout procedure.
Meanwhile, this applies to repeat purchases as well. You can also offer them compelling deals, resulting in a more cultivated relationship with the customers.
Countdown popups: Elicit urgency and excitement with time-limited offers
People value things more psychologically when they know they are restricted rather than when they are always available.
One tried and true method is to convey a sense of urgency and enthusiasm. This can help you convert more website visitors in a shorter amount of time without any additional distractions.
Because everyone is in a hurry right now, it is difficult for them to resist a deal that meets their requirements. This is an excellent moment for eCommerce marketers to create time-limited, targeted deals.
Include a countdown timer on your popup to push prospects to make an immediate decision. Make it more visually appealing by including an image of the item and emphasizing a clear and straightforward offer.
This is an example of a countdown popup created with the Fordeer Sales Popup Builder:
These offers can be used to promote limited-time deals and discounts. You can also use this to inform customers of limited slots, inventories, or sizes.
Bonus Tip: When displaying a time-limited deal, please ensure that it is accurate and precise. Use a countdown timer to generate panic and increase sales. If you keep doing this, you'll wind up losing more.
Coupon popups: Promote in advance by giving away Black Friday coupons beforehand
Every part of the Black Friday Sale is crammed with numerous types of online discounts. Not to mention the potential for heated competition.
Do you know that you can avoid the fear while still increasing your revenue?
This is where coupon pop-ups come in.
You do this by providing them with advance coupons that they may use during the actual Black Friday sale. This ensures that you will have a lot of traffic and a lot of sales on the day of the event.
Here's an illustration: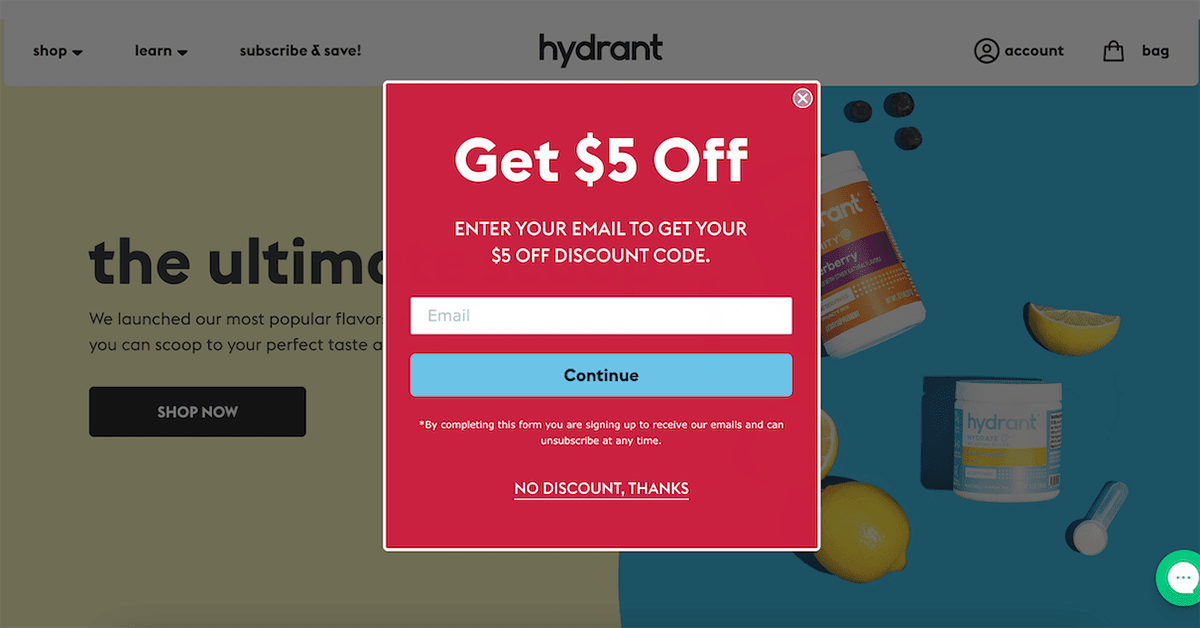 In exchange for their email addresses, you may also give away reservation slots for your high-demand or time-limited products.
Bonus Tip: Offer discount coupons (possibly at much lower rates) as early as October to promote your participation in the Black Friday Sale 2023.
Exit-intent popups: Rescue abandoned carts and boost sales
As you may be aware, the holiday season is also when employees receive their annual bonuses for their efforts throughout the year. Of course, it's reasonable that shoppers are so concerned with getting the best price and getting their money's worth.
Experienced eCommerce stores can attest that an increase in abandoned carts is unavoidable during this period. Because each company has its own set of promotions to lure customers, it's difficult to stay up with this tough competition now that everyone is comparing pricing and discounts.
The good news is that you can circumvent this barrier by using exit-intent popups.
They are activated when a visitor is about to depart your website's interface. You may persuade them to take a second look by deploying exit-intent popups, which can offer extra discounts or other appealing offers.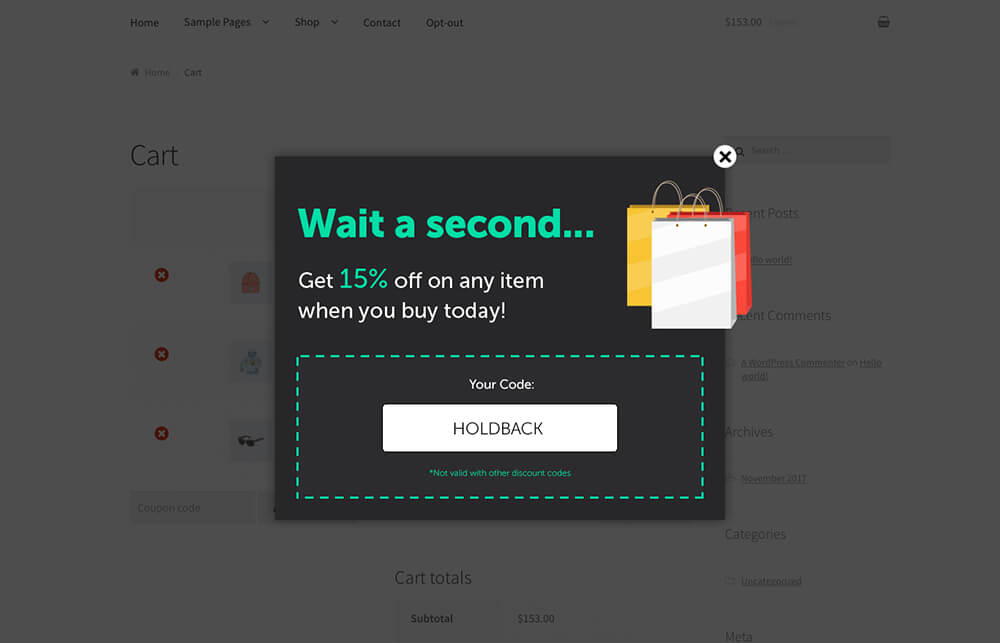 Bonus Tip: In exchange for the exclusive offer, you can also employ exit-intent pop-ups to collect their email address (as shown in the image above) or gain more social media followers. You now have another opportunity to engage with them and retarget them by obtaining their email addresses.
In a Nutshell
Now that you have a list of the top 5 greatest popup practices for Black Friday 2023, it's time to chat with your team about how you can improve things.
During this busy shopping season, popups could be your best friend in terms of achieving your sales goals. Give it a shot and see what happens. Remember that the holiday season is rapidly approaching, and the clock is ticking!
If you're looking for a popup builder that can help you achieve better results, check out Fordeer: Sales Pop Up ‑ Popups. You can play around with all its advanced features: a user-friendly interface, beautiful premade templates, targeting options, smart triggers, A/B testing, and more.
Perhaps, it has all that you need for effective Black Friday pop-ups that convert. May you have the best Black Friday experience to date this 2023!
Frequently Asked Questions
What is the effectiveness of e-commerce popups?
Popups are useful for gaining subscriptions and increasing revenue. Just make sure to use them effectively rather than in an aggressive manner.
Pro tip: Make them mobile-friendly as well.
When should e-commerce popups be used?‍
When you have anything to communicate, you should use popups. Do not squander a visitor's time.
Set the popups to appear 5 seconds after a person visits your site. Add some incentives and keep the popups simple.
---
👉
Fordeer
, which is a software agency founded in October 2022, is so honored to strive with the mission of producing support tools for businesses all over the world. "The great tools for the best businesses". Our highly qualified programming engineers, with all their passion, are always ready to dedicate themselves to creating the most useful apps for your business and Shopify online store. Keep following our blog to get more helpful business knowledge and top trends daily.
💡
Fordeer: Sales Pop Up ‑ Popups
popup tool with many features to promote purchases, create credibility, increase revenue, and power your store. Inspire visitors effect FOMO to boost your conversion rates, generate more sales, and grow trust by showing purchases are being made in real-time and visitor counters. Popups with discounts to grow your email marketing list, retain exit intent and convert leads, fully customizable to match your brand. Fordeer works without a single line of code. Need help? Contact us to set up basic 24/7.