5 eCommerce Trends to Boost Your Business's Sustainability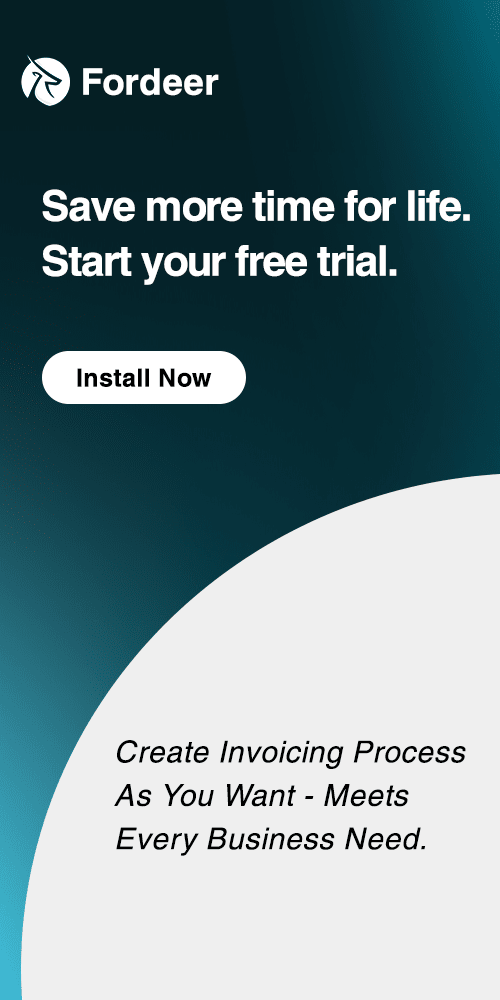 Sustainability in e-commerce, or green e-commerce, is the practice of conducting online transactions in a way that doesn't harm the natural environment or drain natural resources. Sustainable practices meet the needs of current generations without compromising future ones.
You can make all operations within an e-commerce business more sustainable, from product manufacturing, marketing, and packaging to shipping and returns.
In this article, Fordeer will show you top eCommerce trends can help you boost your business's sustainability and tips to develop a more sustainable eCommerce.
Why is sustainability important in eCommerce?
Sustainability is an essential goal for all businesses, as scientists and consumers are increasingly concerned about the future of the planet and the impact that production methods and consumption habits have on it. Companies are largely responsible for the direction that climate change will take in the short term, and working on sustainability is both ethical and practical.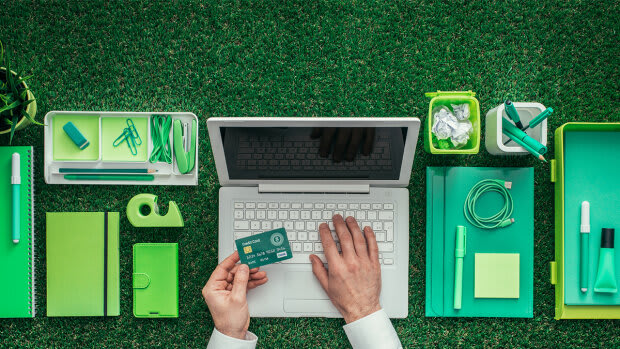 According to Nielsen, 73% of shoppers have readjusted their habits to reduce environmental impact and 72% are buying more sustainable products. Being sustainable as a manufacturer or seller means choosing production, management, sale, and distribution processes that take the use of resources more into account while also searching for an appropriate balance between sales objectives, the urgent needs of a world that is less frenetic in terms of consumption, and wasting resources.
The three fundamentals of brand and retail sustainability
Three categories can be used to categorize the sustainable practices that any business can implement, both for the organization as a whole and for the system:
Environment: Developing enterprises with a lower environmental impact is the primary goal of sustainable approaches and strategies.
Economy: This has to do with striking a balance between a company's desire for profits and the necessity for the consumer society not to advance too quickly for the earth and its inhabitants.
Social: The previous two pillars come together through social commitment, encouraging businesses to adopt procedures that are considerate of both the environment and the supply chain's participants.
5 eCommerce trends to boost your business's sustainability
Social commerce
Brands have been using social media to increase awareness and generate leads, and e-commerce companies have started to sell their products directly through social networks. 59% of the world's population now uses social media platforms, and they are expected to generate 2.9 trillion by 2026.
The most popular social media platforms offering social commerce are Instagram, Facebook, TikTok, Pinterest, Snapchat and now Twitter. If your online business is not already using these platforms, now is the perfect time to set up alternative strategies that can increase sales.
Going green
Yes! Did you know that 73% of consumers globally claimed they would be willing to alter their purchase habits in order to lessen their environmental impact?

The world is genuinely going green, and businesses that use sustainable practices and green materials are predicted to thrive. If your company hasn't thought about doing this, then perhaps it's time!
Study the principles of having a sustainable business and implement them as soon as you can. Additionally, you should start telling your clients that you are going green and pushing it in your advertising. You must begin evaluating the impact of your product manufacture and process on society, the environment, and human well-being if you want to run a sustainable eCommerce business.
Eco-friendly packaging
Eco-friendly packaging reduces carbon footprint, demonstrates sustainability knowledge to customers, combats "over-packaging", reduces shipping costs, and reduces contamination of recycling or compost. It also encourages customers to be more mindful of the waste they produce. Recycled, recycled, or recyclable packaging can have a significant impact, diverting waste away from landfills and encouraging customers to be more mindful of the waste they produce.
Omnichannel marketing
Omnichannel marketing is coming in 2023 and can help boost businesses and build a strong relationship with customers. It is important to be flexible enough with customers across different channels to give them the option to return items or exchange them.
AR in online shopping can help boost customers' experience and ensure all channels are integrated. 75% of buyers use multiple channels before purchasing and 73% of e-commerce consumers report using various channels during their customer journey. Knowing how customers like to shop and understanding their needs is essential for successful omnichannel marketing.
Ethical consumer
In 2022, 36% of customers continued to favor brands with strong sustainability credentials, reflecting the growth of the ethical consumer. According to research, the UK national blackout in March 2020 increased this trend, with 6% more individuals indicating a desire to make more ethical purchases.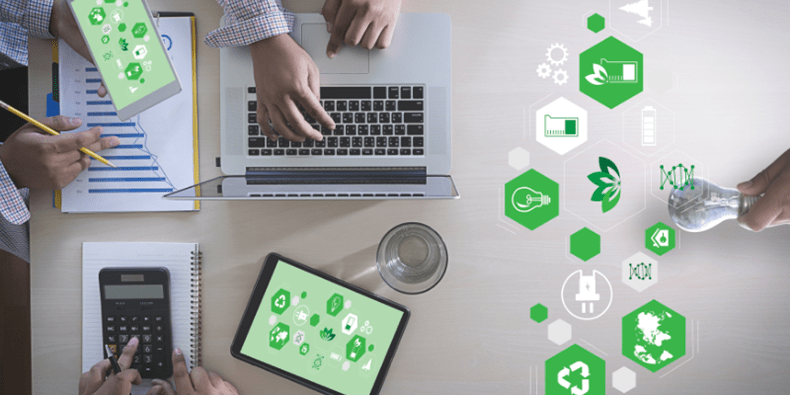 Genuine eco-friendly brand activities will improve consumer purchasing behavior and boost customer loyalty. For instance, 4ocean employs environmentally friendly packaging and has incorporated ethical behavior into every aspect of their business strategy. Businesses should think about using biodegradable packaging, saving energy, buying goods from fair-trade organizations, and clearly explaining their ethical principles to customers.
5 practices for a more sustainable eCommerce
More sustainable production and shipping methods
Nielsen noted that consumers look at sustainability when buying products. This depends on the materials and production methods used by the company, as well as whether the business is based on products that move fast or aim to be used for a long time.
Zara has promised to use only organic and recycled materials by 2025. Online order shipments and the transport of goods between warehouses and points of sale have the greatest environmental impact on the buying process.
The most sustainable decision for any brand or seller is to use more environmentally friendly packaging for shipments, and it is advisable to put together all the shipments to the same customer instead of dividing their purchase into several shipments. Many courier companies like UPS and FedEx already offer sustainable shipping programs to prevent pollution from road transport or offset the carbon footprint caused by their trucks.
Lower returns rate
Imagine adding a second negative environmental impact going the other way if shipping a product from the warehouse to the client already has a negative environmental impact.
Minimizing product returns is both beneficial for the sales team and the planet. To do this, it is important to ensure that product information is accurate, complete, and up to date. A PIM system (Product Information Management) can help to review all product data to ensure it is complete, while also helping to enrich that data and send it to websites, apps, marketplaces, retailers, etc.
Software that increases your resources and team efficiency
PIM software is one of the greatest solutions for businesses looking to sustain their clientele, as we just discussed, and this kind of system is crucial within the team as well. You may improve productivity and cut down on wastage of time and resources by allowing for better organized catalog workflows and automating the procedures of reviewing and connecting product data.
Additionally, several e-commerce platforms, including Shopify and WordPress, include plugins for sustainable business practices that enhance this part of operations and foster client confidence among those worried about this issue. For instance, a plugin can encourage you to do your part to lessen the carbon footprint left by each purchase you make from an online retailer.
Recycling and reuse initiatives
Beyond the time of the sale and the reception of the package, businesses must commit. Businesses can use techniques that promote the circular economy rather than mass, destructive consumption to uphold the commitment to sustainability in e-commerce.
In order to prevent material waste and excessive recycling, which also requires resource investment, some businesses encourage customers to reuse the packing materials from deliveries. This encouragement extends beyond returns and exchanges and includes receiving these materials back in exchange for a reward.
Reselling a brand's products that have already been used by customers who no longer want them is another strategy. Reselling goods in a market with lower prices promotes reuse over recycling and creates a sense of community around the products.
Transparent, committed business ethics
All of these practices should, of course, be readily apparent to customers so that they are aware of the company's beliefs and the steps it is doing to be sustainable. Customers can select products in this way that align with their values.
Manufacturers and sellers that are committed to sustainability should detail their processes, initiatives, and ongoing projects. These values must be reflected in all actions undertaken by the company and over all communication and sales channels. By investing time and resources in creating a more sustainable business, they will save on time and resources and bring about a positive impact on their target audience, society, and the environment.
Conclusion
Setting up an e-commerce site is one issue, but successfully expanding it is a totally different challenge. You'll need to include some of these trends into your sustainable projects for 2023 if you want to remain competitive and make your website stand out from the competition.
However, customer experience is the overarching trend under which all the others may be categorized. You must give your consumers the finest experience conceivable. Having a website that works on all devices, providing a variety of payment choices, and offering total openness and flexibility regarding your shipment delivery options are all examples of this. All in all, build for your customers a strong trust, and a powerful sustainability credential.
Fordeer hopes that this article is helpful for your business operation. Wish that you find the ideal aspects to grow a sustainable eCommerce.
---
👉 Fordeer, which is a start-up software agency in 2022, is so honored to be founded with the mission of producing support tools for businesses all over the world. "The great tools for the best businesses". Our highly qualified programming engineers, with all their passion, are always ready to dedicate themselves to creating the most useful apps for your business and Shopify online store. Keep following our blog to get more helpful business knowledge and top trends daily.
💡
Entrepreneurs need to focus on customer service and maintaining a credible brand image if they want to achieve long-term and sustainable success, regardless of the business model they pursue. Therefore, finding and selecting the appropriate business support tools is extremely crucial. That's why we have launched an app in order to help you swiftly and conveniently resolve any invoice-related issues at a reasonable price. Let's experience it with our
Fordeer Invoice Order Printer
.